On a special edition of the Restream live session, host Anya Razina spoke with Guy Kawasaki about using live video as an influencer. Guy is the Chief Evangelist at Canva and the creator of the Remarkable People Podcast. He's also a speaker and New York Times bestselling author, and he has worked for several brands as an evangelist and ambassador, including Apple, Wikipedia, and Mercedes Benz. Guy and Anya talked about what inspired him to make a podcast, his thoughts on multistreaming, and what the future of content looks like.
🎙 Adding live video to a podcast
When Guy started his podcast, Remarkable People, he thought the hardest part would be getting guests on his show, recording interviews, and production. He realized the most difficult aspect of podcasting was marketing.
When promoting his podcast and trying to attract listeners proved to be much harder than he expected, Guy turned to live streaming. People love watching live content, so now he interviews his guests and records the podcast live. For Guy, it's been a great way to open up his reach.
👀 Why go live on multiple social platforms?
Whenever Guy is live, he's broadcasting to four platforms simultaneously. To him, it doesn't matter where people see his live stream, as long as they see it. Before Restream, he would've had to do separate streams on each platform, but now he can easily multistream.
Of course, when you're live across multiple platforms, you have several live chats to handle. Fortunately, Restream centralizes all your chat messages in one dashboard, so you can read and respond to all your viewers in one place. Both Guy and Anya pointed out that Restream lets them run a show completely on their own. For their live conversation, there were no producers or engineers; it was just the two of them.
🕺 How interactive live video helps evangelists
"Evangelist" comes from a Greek word meaning "bringing the good news." For Guy, getting the "good news" out is easier in four places instead of just one. Because evangelism is fundamentally outward-focused, the more, faster, and easier ways to get your mission out, the better.
💁‍♂️ What can live video companies do to lower the entry barriers for live streaming?
In live streaming, the barriers are pretty low already. It doesn't take a lot of equipment, expense, or expertise to start a live show. The only "barriers" that new live streamers might face is their camera, microphone, and lighting. Guy invested about $1,500 in his setup, but considering that he does 50 to 60 virtual speeches each year, it's worth it for him. That $1,500 wouldn't even pay for travel and expenses to speak at an in-person tradeshow, for example.
For Guy, your live streaming setup needs some investment. In today's virtual world, viewers are increasingly judgemental about the quality of your video, and a bad setup could turn viewers off. Unfortunately, your content alone won't distract viewers from video and audio quality.
Why would you want to convince yourself that you are better than your physical setup says you are?
And if you're just starting out, you don't necessarily need to spend as much as Guy on your setup. You can get decent equipment that provides excellent video and audio quality for a fraction of that price.
👉 The three key elements of influencing
What three qualities do you need to be influential, according to Guy?
Likability
Trustworthiness
Competence
If you have some power but none of those three qualities, it's highly likely your influence will be temporary. Without likability, trustworthiness, and competence, you won't change hearts and minds.
😇 How to foster likability virtually
Likability is subjective, so how do you establish likability as an influencer? Guy's number-one tip is making eye contact. This is easy to do when speaking to someone in person, but how about over live streaming or video chatting? You have to train yourself to look directly into the camera lens, not at the other person's face on your screen. Looking into the camera, although unnatural, will make it seem to viewers that you're making eye contact.
⚙️ Don't mess with your setup!
One of the top tips Guy has for live streaming is to find your perfect setup with your equipment — and never move anything again. Once your camera is in position and you've ironed out any audio issues, set up your lighting, connected your cables, and confirmed that everything works, do not change anything. If you stream with a DSLR camera that you also use to take photos outside of live streaming, you'll have to recalibrate your settings each time you go live, which is a hassle.
Setting up your studio or live streaming space is a process. You probably won't nail it on the very first try, but you will find your ideal setup after small modifications over time.
Easy live streaming for everyone
Run professional live streams from your browser.
Get Started
🔗 Building an audience: social media vs. email vs. SMS
Guy uses his large social media presence to leverage podcast subscribers but admits that he doesn't get as many downloads as he'd like. He posts about each episode four or five times on Facebook, Twitter, LinkedIn, and Pinterest, going against the "rule" that you shouldn't post about the same thing more than once because your followers will complain. In Guy's opinion, if nobody's complaining, then you're not posting enough.
You can't assume that with one post for ten million people, all ten million people saw it.
In addition to posting on social media, Guy also uses email campaigns and the text messaging (SMS) service Subtext. Emails are a more direct way to reach people than social media posts, but text messages are even more direct than email. For Guy, the hierarchy of audience-building outreach methods goes as follows:
Text messages
Emails
Social media
🤓 Guy Kawasaki hasn't hit his stride yet
When it comes to live streaming, Guy feels like he's still exploring. He's only been doing his live streaming program for three months, and he learns new things constantly. Each day is trial and error, and every day brings a different community. When measuring how successful your live stream is, look at engagement. One hundred viewers who participated in the chat are better than one thousand people who only watched for forty seconds.
👌 How live streaming is a powerful vehicle for amplifying voices
For Guy, live streaming represents the democratization of news casting. Anybody can have a channel on a variety of platforms. Today, there are millions of live streaming channels you can tune into; we're no longer limited by traditional channels found on television. If you have a powerful message to deliver, there's an audience out there for you, and it's easier than ever before to reach them.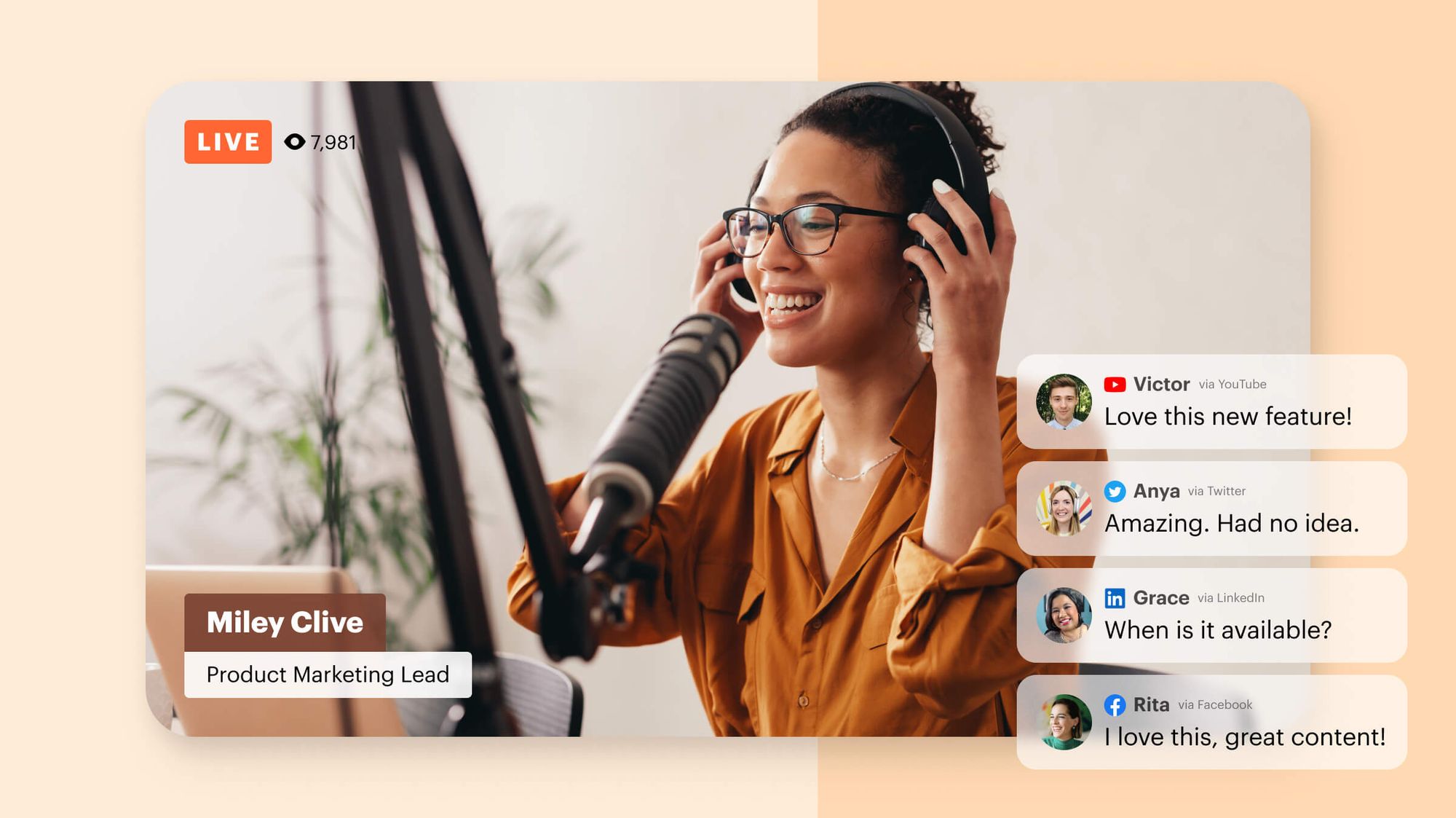 Why live video is a must for marketers
Get closer to your customers with a live product launch, webinar, Q&A or giveaway and create opportunities to interact in real time.
👉 Get Started
💬 What is the future of content?
It's impossible to predict which content will be the most popular in the future, according to Guy. He points out how everyone thought Myspace would be bigger than Apple, or how six months before Clubhouse blew up, nobody predicted how popular it would be.
To illustrate his point further, Guy mentioned virtual events and conferences. Since the pandemic started over one year ago, virtual events have taken over — and they're not going away. A huge conference of 25,000 people not only costs more, but it also requires much more logistical planning. You have to hire entertainment, attendees have to travel to get to your conference, and it takes longer to organize. Live streamed events accomplish the same goals for a fraction of the cost.
If 10,000 people can come to a $2,500 conference plus expenses, then 50,000 people could come to a $500 virtual conference. If you're the CMO of a company, which would you prefer?
Not only has the pandemic proved that live streaming works, but it's also made many companies, organizations, and individuals invest in live streaming equipment and tech. Once the pandemic is over, people aren't going to abandon their investments. Hybrid and virtual events will stick around.
Wrapping up
Guy Kawasaki had some excellent insights for influencers and brand ambassadors who want to embrace live streaming. For example, blasting your message across multiple platforms helps you evangelize, virtual likability is key for today's influencers, and virtual events aren't going anywhere. Big thanks to Guy for appearing on this Restream Special!