Take your streaming to the next level with an amazing lineup of game-changing new features and updates for Restream Studio.
These new features help you level up your streaming capabilities (RTMP Source), produce high-quality podcasts and promos (Split Track Recording), interact with your community (Chat Overlay), make your stream more engaging (Background Music and Animated Backgrounds), and overall just stream easier (improved Local Videos and full-screen mode)!
We know it's tough to keep up with every single Restream update and we're excited to catch you up with a brief recap to help you take advantage of all these new updates for your stream. Let's dive in!
🤩 RTMP Source
Available on premium plan and above
One of our major updates was RTMP Source, which allows you to connect Restream Studio directly to other software like OBS Studio, Zoom, vMix, XSplit, and more. This gives you the best of both worlds: all of Restream Studio's features plus the features from the software of your choice!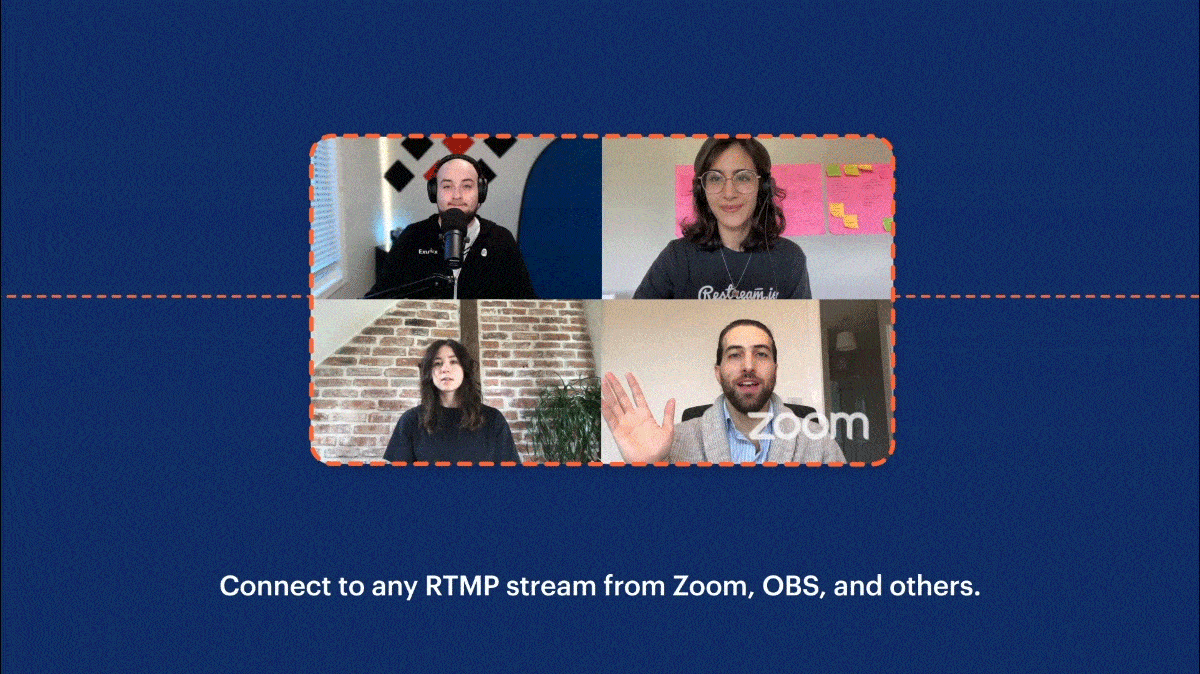 With RTMP Source you can unlock up to 1,000 stream participants through Zoom, and connecting to OBS lets you apply additional overlays, change lower thirds, and keep your branding displayed regardless of the camera source. You can also connect two cameras and use RTMP Source as a fallback for your broadcasts to protect them from sudden drops.
Learn more: RTMP Source in Studio: How it works 🔥
🔈 Split Track Recording
Available on professional plan and above
Our new Split Track Recording feature gives you the ability to download the recorded audio tracks as separate files after your stream has ended. With separate audio files at your fingertips, editing is a snap! Split Track Recording lets you easily produce professional podcasts, high-quality highlights of your broadcasts, and clean teasers to promote your live streams on social media.
Learn more: Split Track Recording in Studio: How it works 🔥
💬 Chat Overlay
Available on all free and paid plans
Do you want your live streams to be even more engaging? To build your community across multiple platforms faster? With Chat Overlay you can display incoming messages from all streaming platforms, allowing you and your audiences from different platforms (such as Facebook and YouTube) to interact with each other all in one place!
In addition to fostering cross-platform discussions between your audiences, Chat Overlay also allows you to see the avatars of viewers who connect their Facebook accounts to Restream, making it that much easier to build personal connections and highlight the most active people. Try it for yourself!
Learn more: Chat Overlay in Studio: How it works 🔥
🎵 Background Music
Available on all free and paid plans
Tired of searching for copyright-free music for your stream? The perfect soundtrack for your stream is now at your fingertips! Our new Background Music feature lets you add free music to your stream so you'll never have to worry about copyright, licensing, or royalties again.
Background Music can quickly communicate your brand and help attract the right audience. Choose from genres including chill, pop, hip hop, and more to find just the right sound for your stream. All tracks are generated by AI and are infinite in length — meaning you'll have music for your entire stream without needing to change tracks or playlists.

Learn more: Restream Background Music 🔥
💫 Animated Backgrounds
Available on all free and paid plans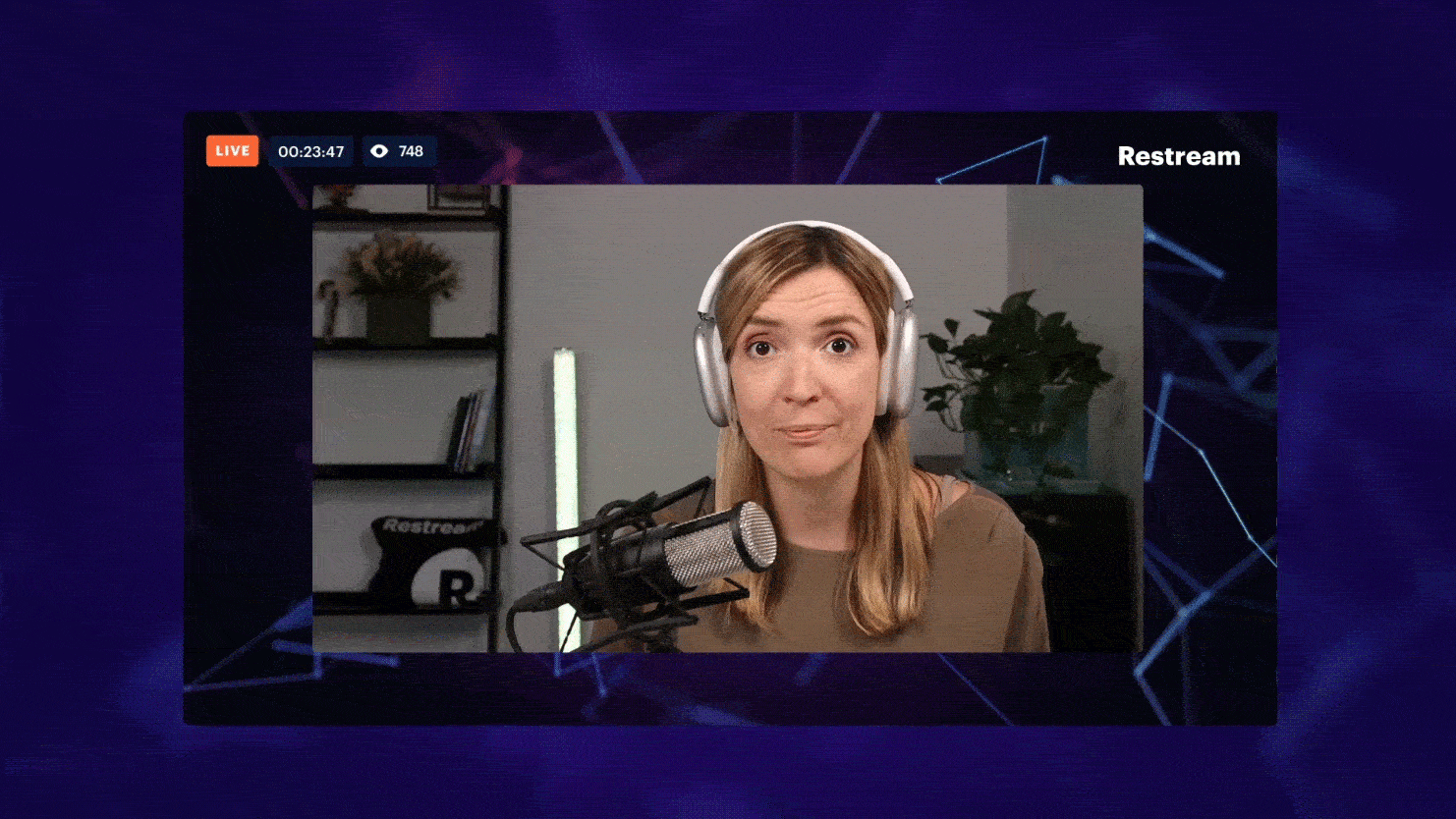 Delight your audience and keep them engaged with our new Animated Backgrounds in Restream Studio! Choose from four Animated Backgrounds in the Backgrounds tab or upload your own. Adding an Animated Background is a great way to establish the vibe of your stream, increase its polish and production value, and stand out from the crowd.
✅ Improved Local Videos
Available on all free and paid plans
With our new and improved Local Videos feature you can now play video files from your computer! We've optimized the performance and stability of this feature and have expanded access so your guests can also play their Local Videos during your stream.
Sharing a Local Video is a super easy way to enhance your stream with pre-recorded content such as product demos, educational videos, pre-rolls, post-rolls, and more. Try it out and take your event, interview, or talk show to the next level!
🖥 Go Full-Screen in Studio
Available on all free and paid plans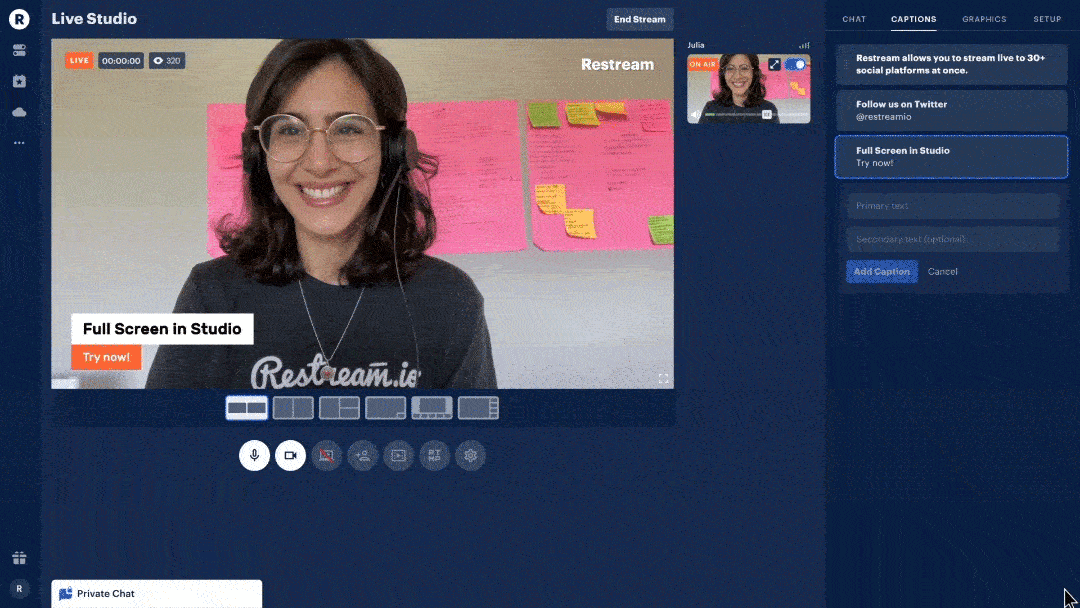 Our new full-screen option in Restream Studio lets you expand your host stream preview so you can focus purely on your broadcast or your guests and hide Studio's UI elements from your view. This feature is especially great for interviews, podcasts, and educational webinars. And don't worry — you can still enable the Chat Overlay feature in full-screen mode!
Wrapping Up
We're always working to make Restream easier to use with more powerful features, and we're excited to share all of our amazing updates with you!
The latest Restream updates include:
RTMP Source
Split Track Recording
Chat Overlay
Background Music
Animated Backgrounds
Improved Local Videos
Full-screen option
Now that you're all caught up, head over to Restream Studio to enhance your stream with these awesome new features. And as always, stay tuned for more exciting updates coming your way as we continue to create, experiment, test, and add new improvements to your favorite all-in-one streaming solution!