Intro
Podcasting as an industry keeps growing at a startling rate. In just two years, the number of podcasts available globally reached 1,500,000 active shows and more than 34 million podcast episodes.
Podcasting has become a sweet spot for content creators, advertisers, and marketers. As for the year 2018, brands spent $479 million on podcast ads. This number is expected to double, with estimated podcast advertising revenues of about $1 billion annually by 2021.
Not sure if creating podcasts is worth the trouble? Wondering how to start your own podcast? We've got you covered! In this guide you'll learn:
What a podcast is and whether it's worth creating
How to start a podcast
What equipment you'll need
How to record and edit your podcast
How to promote a podcast
Let's dive into this 😎
What is a podcast?
A podcast is a pre-recorded audio show focused on a specific topic, like business or travel, that can either be streamed online or downloaded for listening.
A typical podcast has different episodes you can access anytime from different platforms like Apple Podcasts, Google Podcasts, SoundCloud, or Stitcher.

Podcasting, in the way we used to know it, became popular quite recently with the launch of the first iPod at the beginning of the 2000s. The way podcasts functioned back then was by uploading pre-recorded audio files to audio devices or attaching them to RSS feeds. The word "podcast" emerged later as a combination of two words — "iPod" and "broadcast" and was also called audio blogging.
Audible was one of the pioneers of downloadable radio programs and audio books. They sold subscriptions to the recordings of popular American talk shows and audio versions of the New York Times and Wall Street Journal.
Podcasts were a breakthrough that gave listeners the ability to choose when and where to listen to their favorite programs. For program creators, it became easier to make their shows available and reachable by new audiences.
Is creating a podcast worth it?
Yes and no. To be clear, it all depends on your goals, the value of your content, and your readiness to invest time and resources. The fact is that podcasts as a format have definitely reached a new level as of today, and their popularity keeps increasing. Here's why:
Podcasts are easy to consume

As people get busier and have less time to grip information, they multitask. Podcasts became a real time-saver and an easy format to consume content. People can listen to podcasts while driving or commuting on public transport, working out, or just winding down at home after a busy day.
Audience connections are genuine
Podcast listeners are usually dedicated to the shows they subscribe to — they listen to an average of seven different shows per week and spend more than seven hours per week tuning into podcasts. That's more than an hour a day for each listener, sometimes even more than a person would spend on social media.
Your brand loyalty gets stronger

Making a podcast helps you build a better connection with the audience and a community of fans. Podcast subscribers not only truly wait for new episode releases but also get eager to support your mission and brand. Around 54% of podcast listeners tend to purchase from a brand after hearing its ads or mentioning on a podcast.
Monetization opportunities are huge
Podcasts can become popular ad placements with different options for monetization — sponsored ads, paid partnerships, or upselling premium content. It's an untapped but promising area for advertisers, as the audiences are extremely loyal and have high paying potential — an average of $250,000 annual household income per listener.
Podcast setup is simple
Podcasts are relatively simple to begin with little overhead or technical experience. You can start making a podcast with just your iPhone and a computer. Still, the basic foundation of a more or less quality podcast setup includes:
A good podcasting microphone to avoid background noise and low sound quality
Recording and editing software to capture the sound and make sound edits
A computer to use the software for recording, editing, and publishing podcasts
💪 Learn more about podcasting equipment options and which one is good to start with.
What do you need to start a podcast?
Once you decide to start a podcast, it's time to get ready. You might think your podcasting process will start with grabbing a microphone, talking, and recording. Not so fast! You'd better settle some basic issues as early as possible so you are clear in what you're doing:
1. Identify your podcast goals
As with anything else, goal setting in podcasting is also important. Clear goals help you define the format and content of your episodes, target audience, and promotional tactics. Here some goal examples for podcasting:
To generate additional traffic and leads to the existing business
To start a podcast as a business to generate revenue in the future
To build a personal brand as a thought leader in your industry
To share an important message and build a community
To have fun and entertain an audience
Also, goals serve as a good benchmark to measure your progress and analyze what you've managed to achieve during a certain period of time and what milestones to aim for next.
2. Define your niche
Your niche will depend on two factors: your expertise and your passion. For example, if you decide to create a podcast on startups, here are some potential niches:
B2B startups
Growth hacking
Founders' success stories
Before sticking with any idea, check the demand for it. You can go to the Apple Podcasts' recommendations and search for similar podcasts in similar categories. Pay attention to their ratings, the reviews, and followers on social media. If you see ten to fifteen similar podcasts and good feedback, it means there's high demand and competition around your topic.
3. Choose a name
Your podcast name should be descriptive but precise and catchy. Avoid getting too wordy or too clever; just make sure your name appeals to your audience and is easy to search and pronounce. Use a keyword that clearly describes what your podcast is about or your brand's name to let people recognize you immediately:
Entrepreneurs on Fire
StartUp Podcast
Achieve Your Goals with Hal Elrod
4. Decide on a format and length
Your podcast's format will depend on your topic and information density. Whereas talk shows are easy to consume and don't require too much concentration from listeners, psychological or historical topics are harder to digest without paying full attention. Different podcasting formats are good for different purposes:
Solo podcasts: for sharing your own expertise
Interviews: for learning from other industry experts
Multiple hosts: for bringing more dynamic into the conversation
Case studies: for focusing on the specific story and details
News recap: for summarizing the news within a specific industry
Educational: for teaching your audience a specific skill
Figuring out your podcast format will help you define the optimal length for your show — just enough to address the key message and not make your listeners bored or tired.

Keep in mind that around 20 to 45 minutes in length seems to be an ideal duration for a podcast. If you have one hour of valuable content, there's no need to chop it down, as long as you've got real value to share. Also, you can always divide the recorded episode in half and create two episodes.
5. Add cover design and music
Your cover should be catchy and grasp the attention of potential listeners. Take a look at the covers that catch your eye on Apple Podcasts and see what you like about them:
Easy to read
Has the name of the podcast on it
Has a single illustration or topic-related element
After some analysis, try designing the cover yourself. Design tools like Canva offer customizable templates for a faster kick-off and allow you to compile any illustration you need without any design skills. If you don't have time to explore such tools, consider outsourcing your cover image from a graphic designer on Upwork or Fiverr. It's a one-time investment, but design pays off. The same goes for intro and outro music or transitions. You can find some free music pieces on Free Music Archive or Audiosocket. Paying a small amount for the professional theme music from AudioJungle will give your podcast a better look and feel.
6. Find a podcast hosting provider
To upload and store your podcast episodes, you need to pick a reliable, good-quality hosting provider. Podcast hosting options differ in:
Price plans: the prices go up if you need more storage space
Difficulty to use: some podcast hosts are more intuitive than others
RSS feed: a possibility to pass your episodes to the necessary podcast directories, like Apple Podcasts or Spotify
Some of the most popular podcast hosts are SoundCloud, Podbean, Podomatic, and Libsyn.
7. Set up your schedule
Understanding how much time you're ready to invest in podcasting helps you shape your schedule. Obviously, the more frequent you are, the better. What's more important is to stick to the schedule you set up and launch episodes on a regular basis. With this, listeners will develop a habit of including your podcasts in their daily routines, and you'll notice the consistent growth of your show.

What are good podcast examples to check out?
At this point, you have basic tips on how to start a podcast covered. What you still might consider is to look up some successful podcasts and see how they picked up names, formats, lengths, and frequency. You'll find a few podcast examples below so you can see how topics and niches affect formats and frequencies. We recommend diving in deeper and exploring more details on how hosts lead the shows, what scenarios they follow, and how they promote.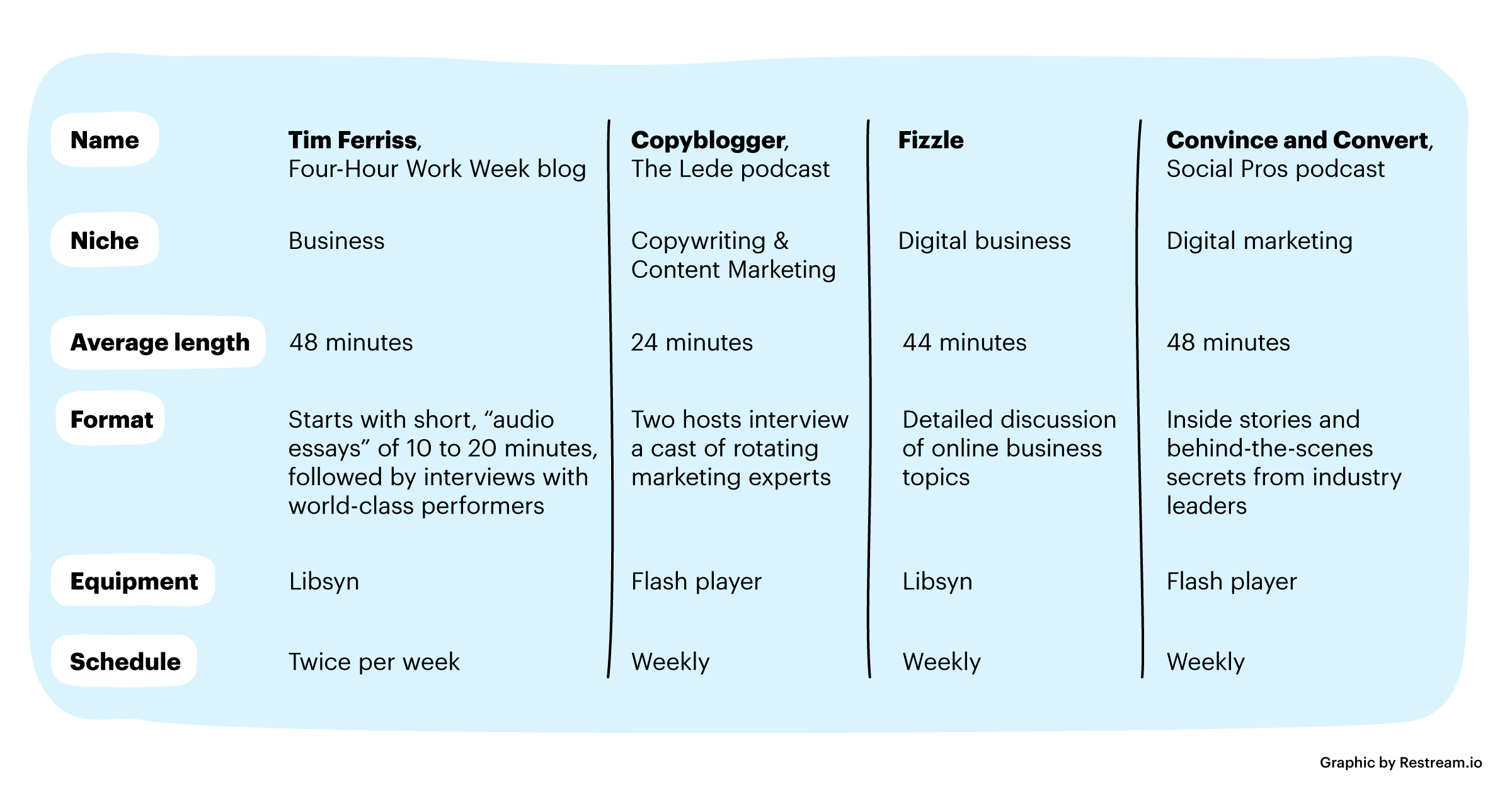 💪 Discover more popular podcasts of 2020 that cover the topics you didn't even know you wanted to hear about.
How do you record and edit your podcast?
And here you go — it's time to record your very first episode! For this, you'll need a recording and editing tool. The tool you choose will depend on the number of speakers in your podcast:
Solo podcasting
If you're the only host of the podcast, any USB microphone plugged into your computer will be enough for recording. Also, don't forget about audio recording software such as Audacity for Windows or GarageBand for MacOS. Make sure your microphone is the default input device for your recording software and that it's turned on. After that's done, press the Record button in your audio software and start talking. You can also use "voice memos" if you've got an iPhone or Quicktime Player on a Mac.
Multiple speakers on the spot
If you're recording your podcast with other people locally, you'll need everyone to have their own microphone. Your audio recording software has to support multiple inputs at a time. Tools like VoiceMeeter (free) or Virtual Audio Cable (paid) let you do so.
Multiple speakers remotely
For remote podcast recording, you'll need a tool that will both connect you with other speakers and record your conversation. Each speaker will be recorded on separate tracks, and later the tracks will be merged in post-production. You can go with Skype and use the MP3 Skype Recorder, or another option is Zoom.
Do you need a video for podcasting?
Creating a podcast can go far beyond the traditional audio format. Adding video to the mix can help you engage with your audience better and reach more people via video broadcasting platforms. Broadcasting your podcast is also simple to set up. You don't actually need to film anything — you set up a camera and let it record while you're recording a podcast. Turn your podcast into a live show and stream it seamlessly to different platforms such as Facebook, YouTube, or LinkedIn.
By using Restream Studio you can quickly go live directly from your browser without any third-party apps. Here's what you can do in Restream Studio:
👩🏻‍💻 Invite guests to your live streams with just one link.
📹 Live stream to multiple platforms to increase your reach.
🌄 Customize your live streams with your own logo and overlays.
Easy live streaming for everyone
Run professional live streams from your browser.
Get Started
Check out this interview with top marketer Neil Patel live streamed as a special edition of Restream's live show. Isn't it amazing how a regular talk has been turned into a live show in a matter of a few clicks? Live streaming your podcast like this lets you invite and introduce guests to the listeners, encourage more chats and questions from the audience, and multistream to get more people to learn about your show.
How to do podcast editing
Editing your recording is necessary, as you don't want the different volume levels, background pops, noise, mistakes, gaps, or loud breathing you might've accidentally created during your session.
To start editing an episode, make sure to save your recording as an audio file. MP3 is the most used format for saving audio files, as it's compressible and playable on most devices. Another format that gives you better sound quality while compressing audio to a smaller file size is called FLAC. The only issue with FLAC is that it isn't supported by a lot of devices.
You can use tools like Audacity or GarageBand to normalize your audio and make the flow smooth. Apart from fixing sound quality, remember to spice up your episode by adding intro and outros, sound effects, and background music where necessary. Once you finish the editing, save it as an MP3 file with a 44.1 Mhz sample rate and 128 kbps bitrate.
As with any part of the podcasting process, whenever you feel like it'll take too much time or an unjustified amount of effort from you, reach out to freelancers and let them edit your episodes for you.
How do you promote a podcast?
Seems like the first episode is in the right shape? Now it's time to think of how people will find your freshly baked show. Here are the tactics you can use before, during, and after your official launch:
👉 Pre-launch promotion tips
1. Record three podcast episodes before launch
Backing up at least three episodes gives you time to focus on the launch and promotion of your podcast without sacrificing content quality. After the launch, you will most likely be busy reaching out for feedback and building your initial listener base. What also might happen is that new listeners will start exploring your podcast for more content, and chances are that they will quit your podcast if they don't find enough.
2. Make your description catchy
After new listeners check out the podcast's name and cover, they'll take a look at the description to decide if it's worth listening to. A catchy description will bring you more listeners. Also, including relevant keywords to your description will help search engines (Google) or directories themselves (e.g., Apple Podcasts) suggest your podcast more often.
3. Submit your podcast to top directories
Publishing your podcast means submitting it to various directories, such as Apple Podcasts, Spotify, Google Podcasts, and other popular spots. Directories allow listeners to discover, subscribe to, and download your podcast. What you need is to make an RSS feed for your podcast on a hosting service and submit it to every podcast directory. You only have to submit it once, and later your RSS feed will automatically send new episodes to each directory.
👉 Launch day promotion tips
4. Pre-build a small base of listeners
Building a small base of listeners before the day of your launch will help your podcast get rolling. You can (or even should) let your followers on Instagram and Facebook know your podcast is coming and you'd like their help with it when it's launched — leaving reviews or giving feedback.
5. Leverage niche communities
You're in a good place if you've got a community for your brand or show that is waiting for your podcast to go live. No worries if you don't have one — you can join existing communities on Facebook or LinkedIn. Find niche communities where people have similar interests, and tell them about your podcast launch day. Relevant discussions on Reddit or Quora might also work if you post your highly relevant answers to the questions. Make sure you're adding value to those communities and discussions, not just blindly pitching your podcast.
6. Encourage your listeners to subscribe, leave reviews, and share
It sounds obvious, but sometimes both hosts and listeners forget that subscriptions and reviews help increase rankings in Apple Podcasts and other directories. Be open, and ask your listeners to help you grow and make your podcast more reachable for people like them. The best moment to include such a call-to-action is at the beginning and end of an episode. Just make sure you sound authentic, not too pushy.
👉 Post-launch promotion tips
7. Transcribe and repurpose your episode
Podcast transcription sounds like a waste of time, but it's a great way to boost your SEO and help people find you by googling. Services like Rev.com or Descript can allow you to outsource transcription. Squeeze the most out of a podcast transcription and repurpose it: create blog articles, post on social media, or send as a newsletter. Also, you can reach out to the relevant blogs or media and pitch your transcript to them. Offer them different formats of partnership: promoting their content or services on your podcast, sharing your podcast transcript with their readers, or even co-creating a piece of content together.
8. Collaborate with other podcasters
Other podcasters already have a built-up audience similar to yours. It's worth trying to connect with them and ask to do a cross-promotion: mentioning or even guest hosting each other — win-win! It's better to try connecting to shows with audiences of the same size as yours — more chances to get a response. You can also find podcast creator groups on Facebook, where you can get not only cross-promotion opportunities but also peer support and new connections.
9. Expand to your guest's audience
Inviting guests not only makes your content authentic but also opens the doors to reach the guest's loyal audience. They'll be happy to listen to your podcast and more likely to subscribe. Remember to make it easy for guests to share your podcast by creating quote images or wrap-ups of the episode. Tag guests as soon as your episode is published — let them share it with their followers.
10. Post episodes on social media
Sharing your podcast on social media doesn't mean just dropping your episodes to your page as soon as they're published. The key is to share useful, quality content on your social pages, interact with your listeners, and do it consistently. Create some Instagram backstage stories, share creative slides or infographics on LinkedIn, or live stream your podcast recording on Facebook. To make your podcast promotion consistent, you can schedule pre-recorded lives. It's extremely easy to live stream with pre-recorded video if you have a good scheduling tool.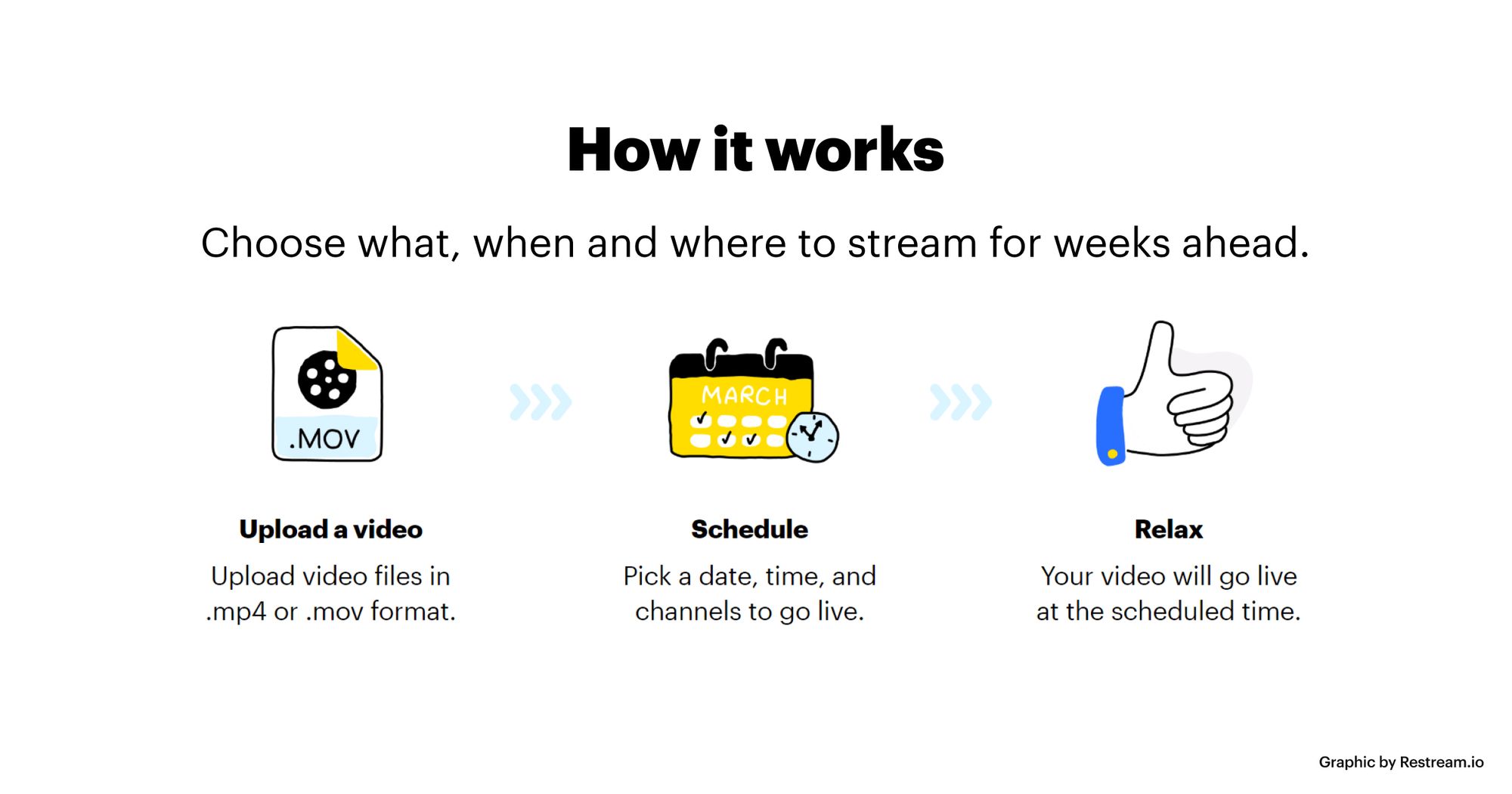 With Restream Events you can schedule your podcast, live streaming at the most appropriate time for your audience. It also allows you to distribute live videos across all your social channels at once. Your planned videos in Events will stream live automatically at their planned times,  and you can focus on creating another great episode of your podcast!
Schedule your videos live
Broadcast your pre-recorded video content to multiple social platforms at the same time.
Get Started
Final thoughts
If you've got valuable content to share, podcasting is a perfect choice to do so. The audio format is easy to consume and offers opportunities to connect with the audience, build brand loyalty, and monetize. Podcast setup is nothing complicated either — all you need is a USB microphone, audio recording software, and your computer.
Begin by clarifying your podcast's goals and niche, name, format, length, and frequency. Pick up your audio recording and editing software and start talking. As soon as your recording is done, take care of its promotion: submit your podcast to directories, ask your listeners to subscribe and leave a review, collaborate with other podcasters, invite guests, promote on social media, and live stream for a bigger reach.
A good idea is already enough to start a podcast. If you've got the idea, there's no better advice than to start doing your first episode, and all necessary knowledge will come on the way. Follow our tips on how to start a podcast, and you are all set to go!
---
Subscribe to Restream Friday Lives