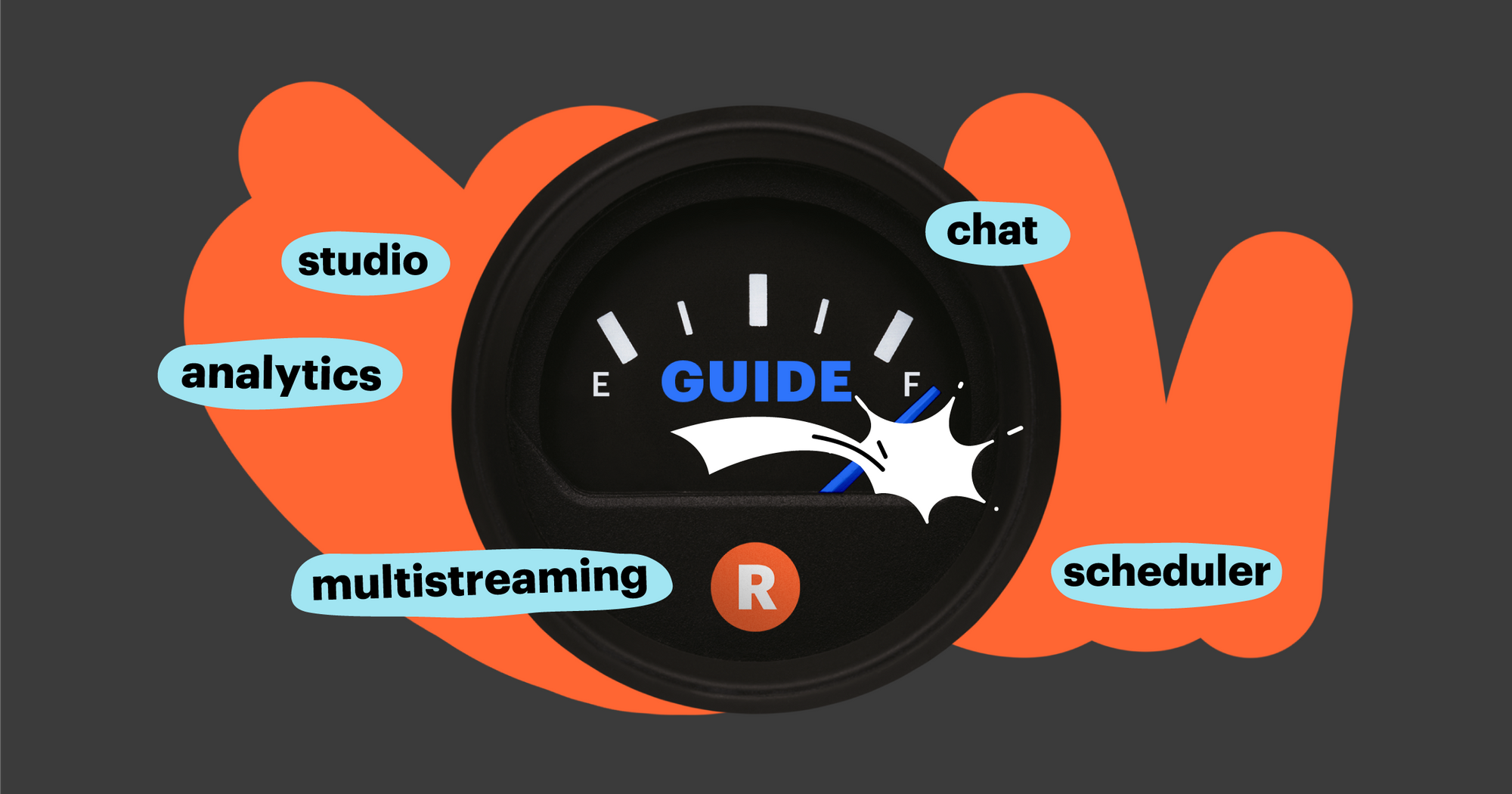 Live streaming sets high standards for everyone in the field of marketing, communication, and entertainment. And just like the Internet itself, live streaming keeps evolving, demanding more from both creators and businesses. Today, you cannot achieve success by simply having talent — you need to invest big, work hard, and analyze lots of information. Hopefully, there is an incredible tool to help you with all those tasks.
Restream is a go-to live streaming solution that helps you produce high-quality live content, truly maximize your audience reach, and overshadow your competitors. With Reastream you can broadcast to more than thirty top platforms, including the likes of YouTube, Twitter, Facebook, LinkedIn, Twitch, etc. Furthermore, you can live stream directly from your browser without any third-party apps or schedule a pre-recorded video to be broadcasted at any time.
Is Restream.io free?
A short answer is yes. Here, you will find lots of amazing free live streaming tools and features. However, besides our free products, we also offer a vast majority of effective features and services to facilitate, improve, and essentially level up your live streams for a reasonable price.
Free tools and features
All our users have a free preset of basic options available for them at any time. The free subscription plan includes the following perks:
Multistreaming to 30+ streaming services, like YouTube, Facebook personal page, Twitter, etc.
Live streaming directly from your browser with Restream Studio
Inviting guests to your live streams without any third-party tools
No time limits on your live sessions
Insightful data from Restream Analytics
Access to Restream Chat (a tool that combines your chats across all your streaming platforms)
Stream monitoring to detect any possible issues and ensure the best viewer experience
Restream paid features
Restream paid subscription plans and features allow users to attract more audiences, provide more safety and support, and offer insightful analytical data to better understand your viewers' behavior and stream performance. Check out our paid features!
🦑 Custom destinations
With Restream, you can multistream to 30+ platforms absolutely for free. However, broadcasting to some platforms may require a paid subscription plan. For instance, you can stream to your personal profile on Facebook with our free plan, whereas purchasing a paid one will allow you to stream to Facebook groups and public pages. A single custom destination provides you with the ability to broadcast your content to one platform not included in the free plan. Each subscription plan grants a different number of custom destinations.
⏱ Real-time channel toggling
Another super useful paid feature is real-time channel management. It allows you to turn on and off any streaming channel in your dashboard without any interferences or interruptions to your ongoing stream. For instance, you can end your stream on YouTube Live while still continuing to stream on your other selected channels.
🤩 No Restream branding
Our paid subscription plans allow you to turn off the Restream watermark on your stream. Moreover, you will be able to add your own logos and watermarks, as well as custom background images and overlays. You can apply all your custom visual effects in Restream Studio and start streaming in a matter of just two clicks.
Easy live streaming for everyone
Run professional live streams from your browser.
Get Started
🔗 RTMP Pull links
RTMP Pull is a feature that allows you to pull a Restream broadcast and use it in a different streaming software. In other words, it allows you to include another Restream broadcast in your stream as a source. You can think of it as simply adding a webcam on your stream. RTMP Pull links are most often used in real-time translations, commentary, esports casting, etc.
📈 Analytics
Restream Analytics is available for all users and allows you to learn tons of useful metrics that can help you better track and analyze your performance. Learn your monthly streamed time, average and maximum viewers, and your peak time. Meet your top chatters and discover the most popular phrases in your chat. These and more useful insights can be exported to your computer.
🌎 Proxy streaming
Do you want to broadcast to streaming services outside your region? Then Restream Proxy is just the feature for you. If a certain streaming platform is blocked in your region or if it's just too far away, Restream Proxy will help you get around such obstacles and reach the destination! This feature is especially useful if you are planning to stream to different distant countries.
💪 Fail-safe stream backup
Thanks to this next feature, you can protect your live streams from any interruptions. Fail-safe stream backup switches between your main and secondary streams in case of any issues. This feature ensures the optimal viewer experience. We do not recommend your streams to last more than 120 hours due to technical limitations.
😎 Premium support
The features described above require a paid subscription plan. We deeply care about our customers, thus we constantly improve our products. But most importantly, we provide 24/7 support for our premium users. Premium support means your tickets are prioritized and you get replies as soon as possible.
🎥 Restream Scheduler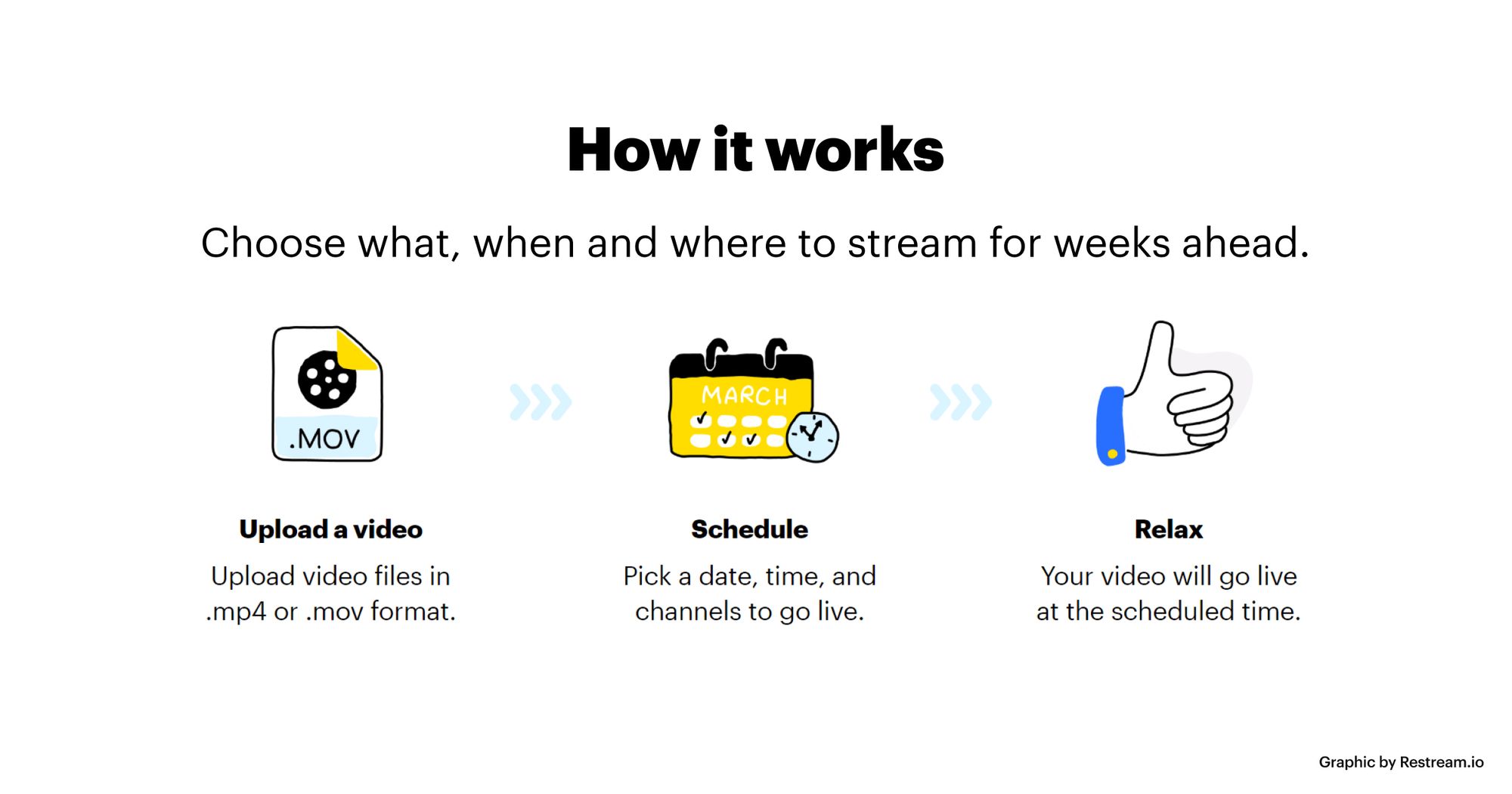 Restream Scheduler is an effective tool that allows you to upload your pre-recorded videos and broadcast them later to as many platforms as you like. You can schedule them to be live streamed at any time and date. This means you don't even have to be near your computer — Scheduler will automatically broadcast your videos on the selected channels.
👉 Learn more: Restream Scheduler: Everything you need to know
🔴 Stream recording
Restream is all about implementing new ideas and features to our users as often as possible. Our latest feature allows you to record and download your live streams to later repurpose them. Download your video or audio files and transform them into amazing podcasts and other social media content!
Let's wrap up everything
We at Restream want our streamers to have everything they need to produce professional live content. Our free users have access to all basic tools and features to facilitate this goal, including the ability to multistream to as many platforms as you want, along with access to Restream Studio, Analytics, Chat, the stream monitoring feature, and many more.
In order to help you truly maximize your audience reach and streaming performance, we offer a lot of incredibly efficient paid features via subscription plans. Let's quickly list them:
Custom destinations
Real-time channel management
Custom branding and visual elements
RTMP Pull links
Analytics export
Live streaming with proxy
Fail-safe stream backup
Premium support
Restream Scheduler
Let's discover the possibilities of live streaming together. Join the Restream team, and we will help you achieve your goals! Please, contact our Live Chat if you have any questions regarding Restream paid features or subscription plans.