Most people underestimate the impact that live stream chat has on the viewer experience. There's a reason every major live streaming platform has a live chat function — it makes a live stream more similar to an in-person event by allowing viewers to weigh in or ask questions.
Many people don't see the potential a well-moderated live chat has for their brand's growth, so they fail to run a safe, effective chat for their viewers. But moderating your chat is much more important — and tricky — than you might think.
We've put together a guide for moderating a live stream chat, with ten tips for moderators and streamers. But first, why does a good chat help grow your audience?
🔥 A well-moderated live stream chat can help grow your audience
The chat is an important part of the live stream because it reminds viewers that you're live. Without the chat, it would be like watching an on-demand video or even a television broadcast, where interaction from the viewers is nonexistent.
People watch live streams so they can engage — they want to ask questions, give comments, or exchange opinions with other people interested in the same topic. As the owner of the live stream, you should take advantage of your viewers' desire to interact by hosting a live stream chat that makes them feel welcome and helps them engage with you and other viewers.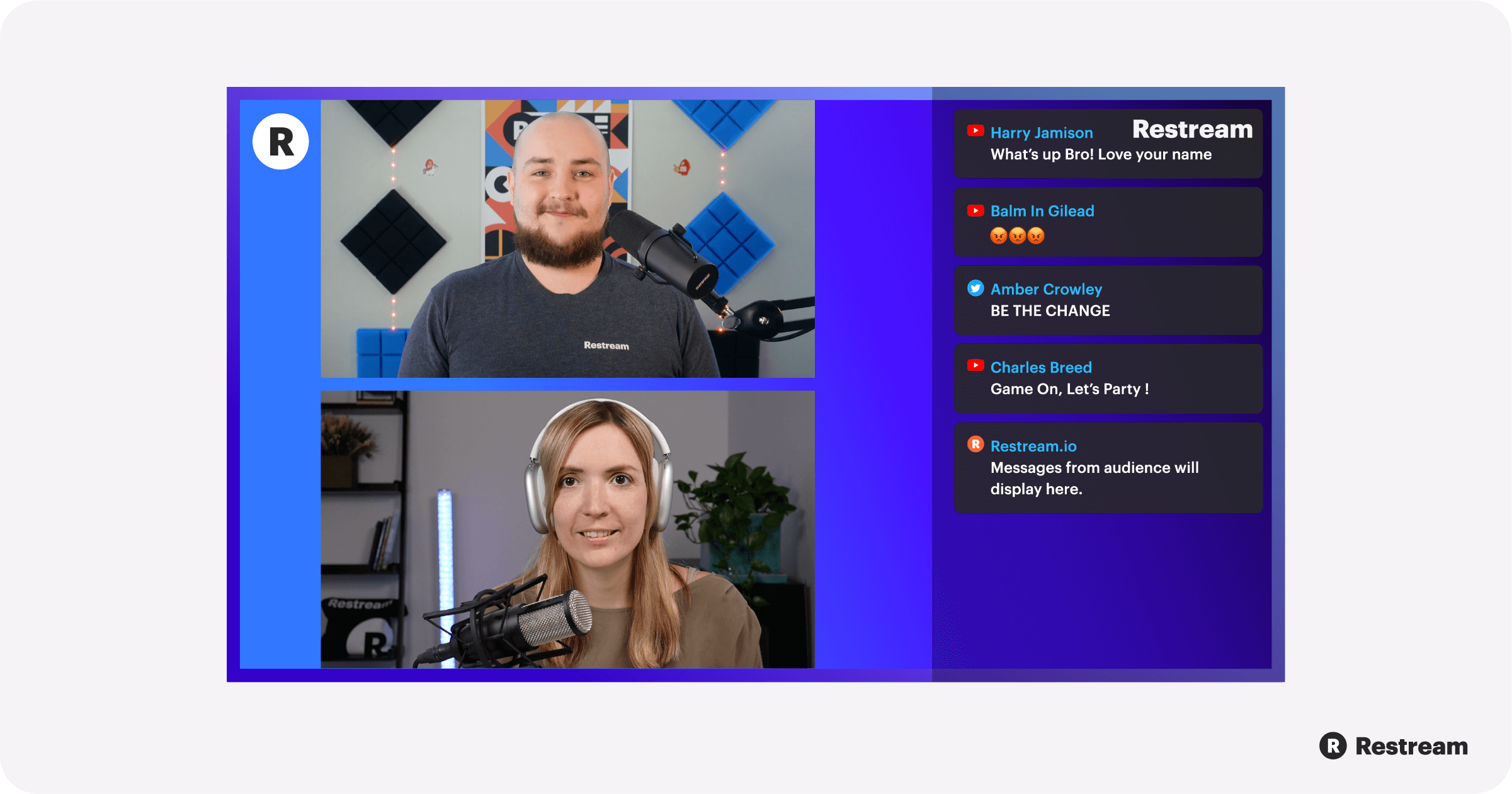 You can pay more attention to your live stream chat by setting rules, asking your viewers questions, creating custom emojis, and more. By setting rules and putting effort into cultivating your live stream chat, you'll make your viewers excited to come back to your stream again and again.
To make the most of your chat, check out these tips.
1. Split up duties
One of the most effective ways to make your live chat more enjoyable for everyone is by delegating chat moderation to another person. Most live streamers may have trouble dividing their attention between their streams and their chats, especially gamers, musicians, or webinar lecturers.

Even if you're doing a stream that emphasizes viewer participation, like a contest, having another person keep an eye on the chat, field questions, and look for spam lets the streamer focus on the stream and the moderator focus on the chat. It creates a better overall user experience.
2. Set rules for the chat
If you're a stream moderator, you should discuss the rules with the stream owner before going live. There's nothing worse than a moderator letting a banned word through because they misunderstood the stream owner. Some examples of rules you might discuss include:
Large passages of text are considered spam
Links are not allowed
Repeated text is spam
Violating rules is an instant ban
No typing in all caps
English only
No self-promotion
Be kind to each other
No spoilers (for gamers playing story-based games)
On Twitch, you can change your settings so that new viewers can see your rules before they enter the chat. Go to "Settings," then the tab "Channel and Videos." On the left-hand side, select "Moderation" and paste in your chat rules. While you're at it, consider turning on email verification so trolls can't quickly create new email accounts to spam your chat.
3. Be active
The live stream chat is a great place to engage viewers, and as a mod, you can help keep the conversation going. If you're moderating a live chat, give it your full attention — don't work on something else in the background. Welcome new viewers and pose questions to the group to spark discussion – be present in the chat.
Read later: Fun things to do on a live stream 📍
4. Block certain words
Block particular words to keep the stream chat on topic, avoid the use of profanities, or prevent viewers from asking the stream owner about issues they don't want to discuss. Both Twitch and YouTube live chat have features that try to filter out inappropriate content, such as hate speech or profanity. The filter will pause these messages, preventing them from being posted until the moderator can review and approve them.
On Twitch, you can change blocked words and phrases by clicking on the gear icon in the chat, going to "Manage Moderation Settings," then to "Blocked Terms and Phrases." On YouTube, go to "Settings" in YouTube Studio. Under "Community," scroll down to "Blocked words."
5. Use custom emotes and emojis
Enhance your viewers' chat experience by personalizing your emotes or emojis. As a Partner or Affiliate streamer on Twitch, you can create your own emotes that viewers can select from an emote menu on the chat and send during the live stream.

A lot of Twitch streamers make emotes of their faces with various expressions to convey different moods. On YouTube, Members can also make custom emojis for viewers to put in the stream chat.
6. Enable slow mode
If you have so many people commenting in your chat that you barely have time to read each message, that's great! But it's also impossible to be engaged when it's moving so quickly. Most streaming platforms let you turn on slow mode, which slows down the speed of the stream chat so you and your viewers can read everything that's coming through.
7. Follow the platform's community moderation guidelines
If you want viewers to follow your chat rules, then you need to follow the platform's community guidelines as well. These policies are also a great place to start when you're creating your personal stream chat rules. Always check the guidelines before you start streaming:
8. Limit chat to followers
You can make your chat more engaging by increasing exclusivity. Some platforms let you limit the live chat to followers or paid subscribers. Not only will this help cut down on potential bots and trolls, but it will also make your chat more relevant. The people who follow you are more likely to want to contribute to the discussion, ask you questions, or chat with other viewers. Opening your chat only to subscribers may also encourage an interested user to start following you.
9. Don't be afraid to ban
Knowing when to ban someone as opposed to warning them or timing them out can be difficult as a moderator. This is where the rules you discussed with the streamer beforehand come in handy.

In some cases, you might just give someone a time out for breaking a rule once. But if they repeatedly break the rules, then you may have to ban them. Mods and streamers should be on the same page when it comes to banning, and there are some situations when banning is warranted:
Violating the community guidelines or terms of service of the platform
Intentionally trying to start heated arguments on chat
Making sexual advances via chat
Hate speech, threats, or harassment
Unauthorized sharing of private information about the streamer (doxing)
Scammers who post malicious links in chat
Trolls who create new accounts immediately after being banned
10. Use chat moderation tools
Sometimes, being human isn't enough to make a safe, engaging live stream chat. Even if the stream has a dedicated moderator, using tools and automation can make managing the chat much easier. For example, an external chat client like Chatty can be helpful to a Twitch moderator with features such as seeing more information about a viewer or pausing the chat so you can select the right person to time out.
Although you don't want bots posting messages in chat, bots can help make your job as a Twitch or YouTube moderator easier. Chatbots are automated messaging systems that perform a variety of tasks. Some chatbots sync up your stream chat with your Discord channel, while others may send viewers a link to opt in to your email list at just the right moment during your stream. A bot that works well on YouTube and Twitch is Nightbot, which allows custom commands, filters spam, shows chat logs, and has many more features.
Restream Chat also has features that make moderators' lives easier. Many streamers and moderators may use multiple screens or separate tabs to watch the stream and keep an eye on the chat window at the same time. With Restream Chat, moderators can display your chat messages from multiple channels all on one screen using OBS or SLOBS. You can also add a chat overlay to your feed, filter out spam, and let viewers from different platforms participate in the same chat.
If you want to centralize your live streaming and chat functions, then Restream Studio will make it even easier. You can go live from your browser (no encoder needed!) and see all your chat messages from each of your channels on your dashboard. A moderator can monitor the chat through the dashboard while the streamer does their thing on camera.
Multiply your views and engagement
Reach a wider audience by streaming to multiple platforms simultaneously.
Get Started
🙌 Let's wrap up
Moderating a live stream chat is no small task. But you can make it more manageable with a set of clear rules and some mod tools. If you put time and attention into your stream chat, your viewers will notice and thank you for it by showing up at each of your streams.