Contests have always been a powerful marketing tool. Before the digital age, companies held sweepstakes, giveaways, and challenges to attract attention to their products or brands. Contests for marketing purposes haven't changed much with the advent of social media — they're just much easier to do now.
If you want to get people excited about your brand, there's no better way to do it than with a fun contest. Contests are also a great way to attract viewers to your live stream. But you have to host your contest right if you want to get the brand recognition you're after. Fortunately, we have a guide to live streaming contests and plenty of giveaway ideas to help you out.
Why use contests and giveaways to grow your audience?
Do giveaways work? Yes! Live contests and giveaways have several benefits that help grow your audience. Here are four reasons why giveaways marketing helps your business:
Building awareness: Contests that are well-promoted tend to go viral — everybody loves free stuff. Even people who have never heard of your brand before may enter your contest for a chance to win whatever prize you're giving away. Once they've entered, either by giving you their email address or following your account, you can stay on their radar much more easily. Contests are a great way to help more people learn about who you are and what you do.
Building community: In addition to increasing your number of followers or subscribers, you can also build a community with a contest. Having a ton of followers is great, but if they aren't engaged or don't feel connected to your brand, it doesn't bring you any benefit. With a contest, you can introduce your product to like-minded people who want to start conversations about your industry or niche.
Incentivize followers and subscribers: A contest or giveaway is the perfect opportunity to add followers or subscribers. You don't want to give away your prize totally for "free," so ask participants to either follow you on social media, like a certain number of posts, leave a comment, or sign up through a form with their email address. This flurry of activity will boost your social channels and give you a nice, long email list to send newsletters and promotions to.
Increase sales: Giving something away for free doesn't seem like it will be profitable. But you have to think long-term when planning a contest. Sure, nobody pays you to enter your giveaway, but that's why collecting their email or adding them as a follower is so important. You can convert those business leads into valuable customers. Plus, if you're giving away samples of your product, the winner may like it so much that they buy more later.
The most popular types of contests on social media
Hosting contests on social media is easy because you can follow a formula and adapt it to your product or brand. People recognize the same types of contests and giveaways, so it will be easier for them to participate as well. On social media, there are typically five types of contests: giveaways, sweepstakes, contests, lotteries, and challenges. Let's look at each one.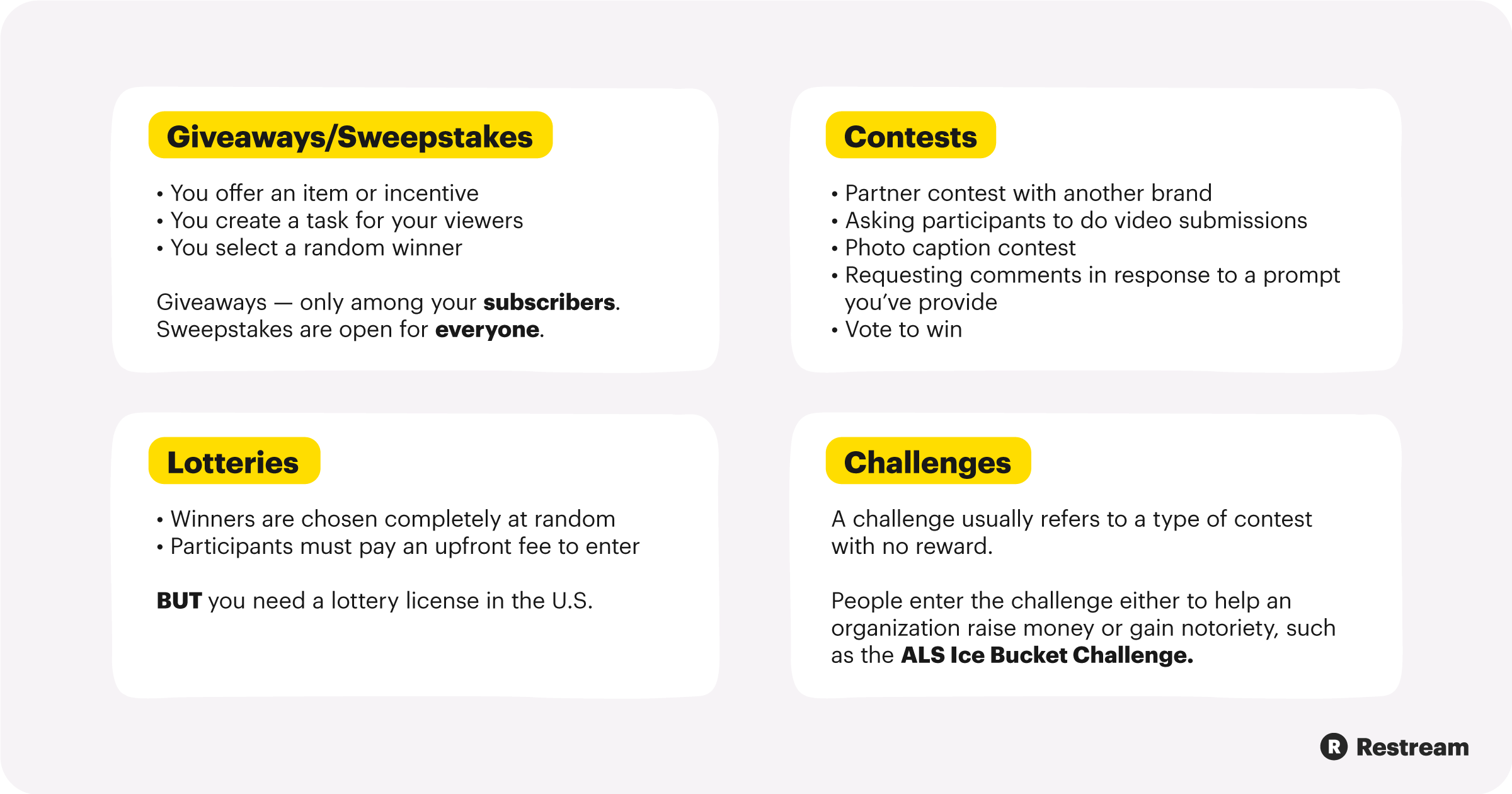 Giveaways
A giveaway is when you offer an item or incentive to your viewers, usually after they've completed some task or action (like following you or liking your post). During your stream, you collect entries for the giveaway prize, and toward the end, you select a random winner.
Sweepstakes
Sweepstakes are similar to giveaways — they both involve random selection of the winner. Unlike giveaways, however, where you can limit participation to your loyal followers, sweepstakes are open to everyone.
Contests
Legally, contests are skill-based challenges that require time and effort from your participants. Contests can take many forms, such as:
Partner contest with another brand
Asking participants to do video submissions
Photo caption contest
Requesting comments in response to a prompt you provide
Vote to win
Lotteries
Lottery winners are chosen completely at random but must pay an upfront fee to enter. Legally, to call something a "lottery" under U.S. law, you must be raising money. Also, it is illegal to require a purchase for your contest without a lottery license in the U.S.
Challenges
A challenge usually refers to a type of contest with no reward. People enter the challenge either to help an organization raise money or gain notoriety, such as the ALS Ice Bucket Challenge.
Read later: Fun things to do on a live stream 📍
Ideas for a live stream contest
You may understand social media contests in theory, but what are some good examples of contests to do on a live stream?
🤑 Add Twitch subs with equipment or console giveaways
Big-ticket items like gaming consoles or gaming PC equipment always draw attention on Twitch. A great example of a Twitch giveaway is Jimmy Donaldson, better known as Mr. Beast. He regularly gives away prizes worth thousands of dollars, and in October 2020 he chose 24 people to compete for a $1,000,000 grand prize on his live stream. You don't have to give away a million dollars, but definitely consider high-dollar prize items if they're in your niche.
🎙 Live Q&A and best question gets a prize
Live Q&As are one of the most engaging types of live stream contests because you get your viewers to submit content alongside you. A great example is when the marketing team for the film The Hobbit: The Desolation of Smaug held a live video Q&A with Peter Jackson. Fans were asked to record themselves asking a question for Jackson, then submit the YouTube URL of their question video beforehand. They showed fans' questions videos during the Facebook live stream and had Jackson reply.
🎹 Musical contest
A musical contest is a type of live skill contest that's perfect for music live streamers. You ask participants to compose or play a song as their entry. DJ Tech Tools asked his contest participants to record themselves playing a track in Ableton Live in order to win a Midi Fighter 3D controller. He featured the winning entry on his channel, and it's gotten over eight million views!
🎮 Play a game live with your followers
For the Twitch gamers out there, the prize for your contest or giveaway could be playing with you on-screen. You can use a live streaming platform like Restream Studio to easily bring another person's feed onto your stream and show your fans playing alongside you. If you're a Twitch channel that uses points, you can ask viewers to bet their points during a contest as well. Streamer xQc played a party game with his viewers to encourage people to watch the stream and participate.
Check out our 👉 Discord channel for more live streaming news, insights, and tips. You'll find lots of like-minded people there!
👀 Review and giveaway
One great way to create buzz around a product is to do a live review or demo of it. To generate even more excitement, why not give the product away for free to a contest winner? Showing how it works or why your product is so great will make people want to win it. And those who didn't win might be so taken with your product that they buy their own anyway!
Tips for hosting a successful contest
Hosting live stream contests on social media seems straightforward. Find a prize, give away the prize, gain lots of followers, right? But it's not always so simple. There are rules you have to follow and tips you should keep in mind to make your contest successful. Let's look at some tips so all your great giveaway ideas don't go to waste.
1. Don't violate the rules
On most platforms, you must follow certain rules regarding contests and giveaways. YouTube, Facebook, Instagram, Twitch, and Twitter all have policies for promotions on their platforms. Make sure you read through the guidelines of the platform you're hosting your live contest on and follow all the rules. The platform's policies on promotions may determine the rules of your contest.
2. Choose an appropriate gift
Choose a prize that people in your target audience will actually want. If you're an electronics startup, it wouldn't make sense for you to give away a makeup kit as a prize, for example. Always try to choose a prize that's branded. If it's not branded, at least pick something in your industry.
3. Plan your contest
Contests fail without planning. Determine your contest's rules, how people will enter, how to track entries, and the prize. If you don't put some thought into it, your contest will be a stressful disaster.
4. Promote
Nobody will enter your contest if they don't know about it! Hype it up on social media in the days or weeks beforehand, emphasizing your prize, so people will want to enter.
5. Choose the right platform
There are several social media platforms for your live stream contest, so ensure you choose the one that's right for your audience. Or, if you don't want to limit yourself, stream to multiple platforms at once with Restream Studio. Just make sure you follow the contest guidelines of each platform.
In addition to streaming your contest to multiple social channels, Restream Studio also lets you centralize your chat, so you can see participants' comments from each platform you're live on. You can also pull comments and questions from the chat and display them on-screen — perfect for comment-to-win contests. Restream Studio is also full of great templates, like a countdown timer so you can build up excitement before announcing your winner.
Easy live streaming for everyone
Run professional live streams from your browser.
Get Started
Let's wrap up
Contests, giveaways, and challenges are a tried-and-true marketing technique you can utilize on your live stream. As long as you adapt the contest to your brand and audience and follow the contest rules on your chosen platform, you're sure to attract attention to your channel or organization.