In the age when technology is bringing us new and exciting advancements at an increasing rate, avoiding the urge to be an early adopter of every new shiny piece of tech is often the sensible move — especially for a business owner.
It's risk management at its core — early adopters are the first to benefit if the technology succeeds, but they're also the ones who lose if it fails.
Being skeptical can save your business from sinking loads of money into the next big social network that will never really take off. However, it might also prevent your brick-and-mortar store from adapting to a customer journey that starts online and ends in a physical store, and thus you may lose valuable customers.
Business owners need to be careful where they devote their time, money, and attention. But it's with that in mind when we say that dipping your toes in live video streaming is a no-brainer. It might even be one of the best business moves you make.
The #1 live
streaming solution
Get started for free
How important is video in content marketing?
Whether you stream it or upload it, video content has the power to grab people's attention. If we want to see how well live video content is doing, it might be best to look at the broadest picture possible first. Let's see how video in general competes in the content marketing industry.
The 2020 edition of Wyzowl's yearly The State of Video Marketing Report shows that the share of marketers using video content went from 61% in 2016 to 87% in 2019. This year, 85% of marketers use video content in marketing. It's a dip from last year, but it's very slight. It doesn't change the overwhelming popularity of video.
It's not by mistake that video holds such a prominent place. 92% of marketers who use video see it as an important part of their strategies, which is an increase from last year's 91% or 2018's 85%. 99% of marketers who use video say they will continue to do so, even though 92% would agree that the competition — and the noise it creates — is getting stronger.
Still, video manages to yield results for the people who are using it. 94% of marketers believe video content was useful for explaining a product or service. 87% said video content helped them drive traffic to a website, and 83% said video supported lead generation. Interestingly, 43% of marketers said video content contributed to the reduction of support calls.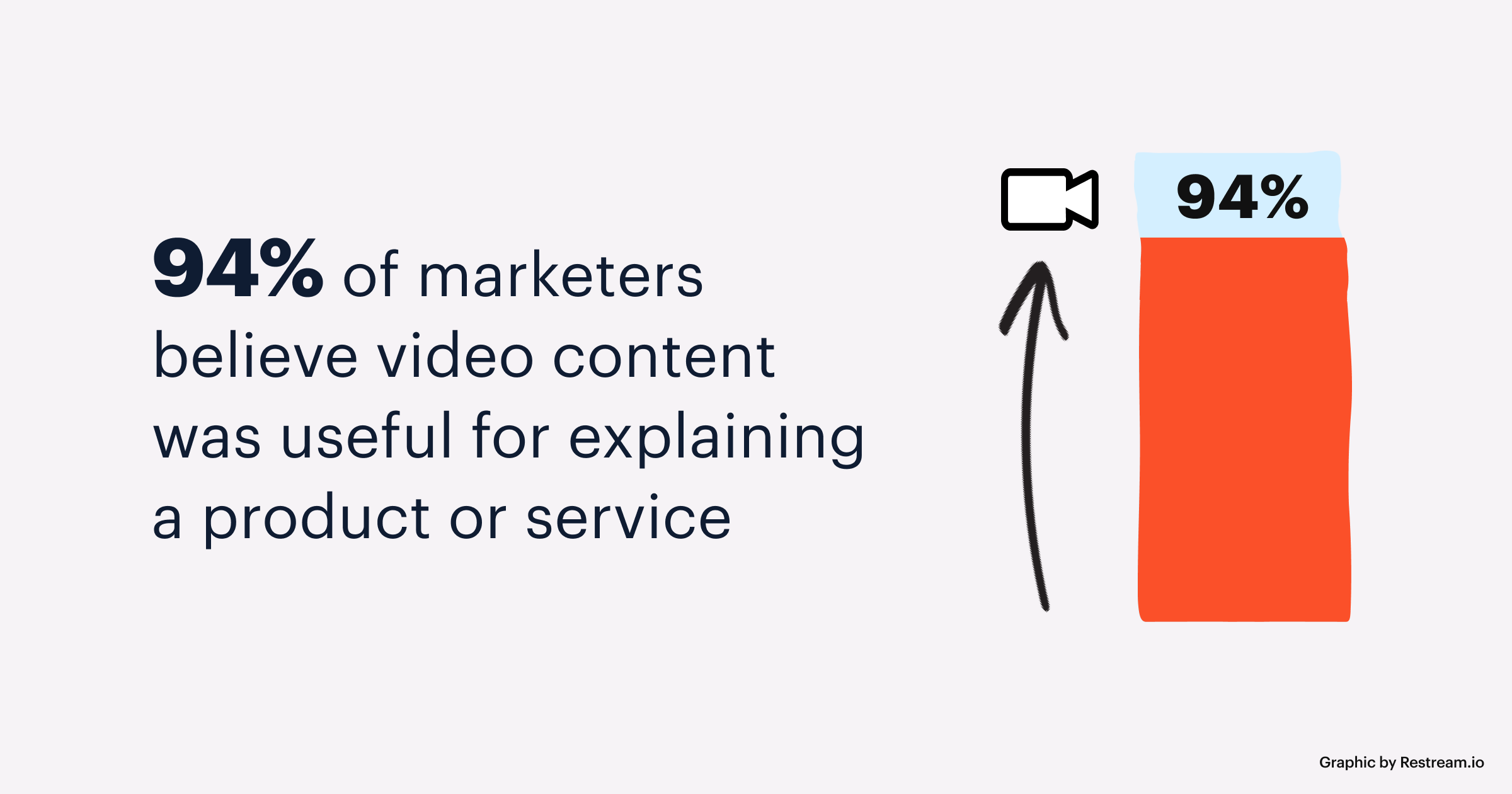 The video streaming market is doing very well
The video streaming market is huge, and it's only getting bigger. It's forecast to grow at a compound annual growth rate of 20.4% during the coming six years, reaching a size of $184.3 billion by 2027. It's not marketing that will drive the growth of the streaming market — it's corporate training and education.
Live video streaming has several key benefits that make it appealing to new entrants. Four out of five marketers who already use video content for their businesses also probably already have a good foundation of technical knowledge that will help them start live video streaming. But live video is appealing even to the one remaining marketer out of five who hasn't yet tried video marketing, because:
The learning curve for using live streaming isn't too steep — consumer-friendly solutions offer great ease of use.
The hardware is inexpensive and readily available, with only a smartphone being enough to start streaming.
Everyone has access to communication channels, as every major social network now offers a live streaming service.
There is a relatively low level of expectation when it comes to production value, as opposed to video-on-demand content.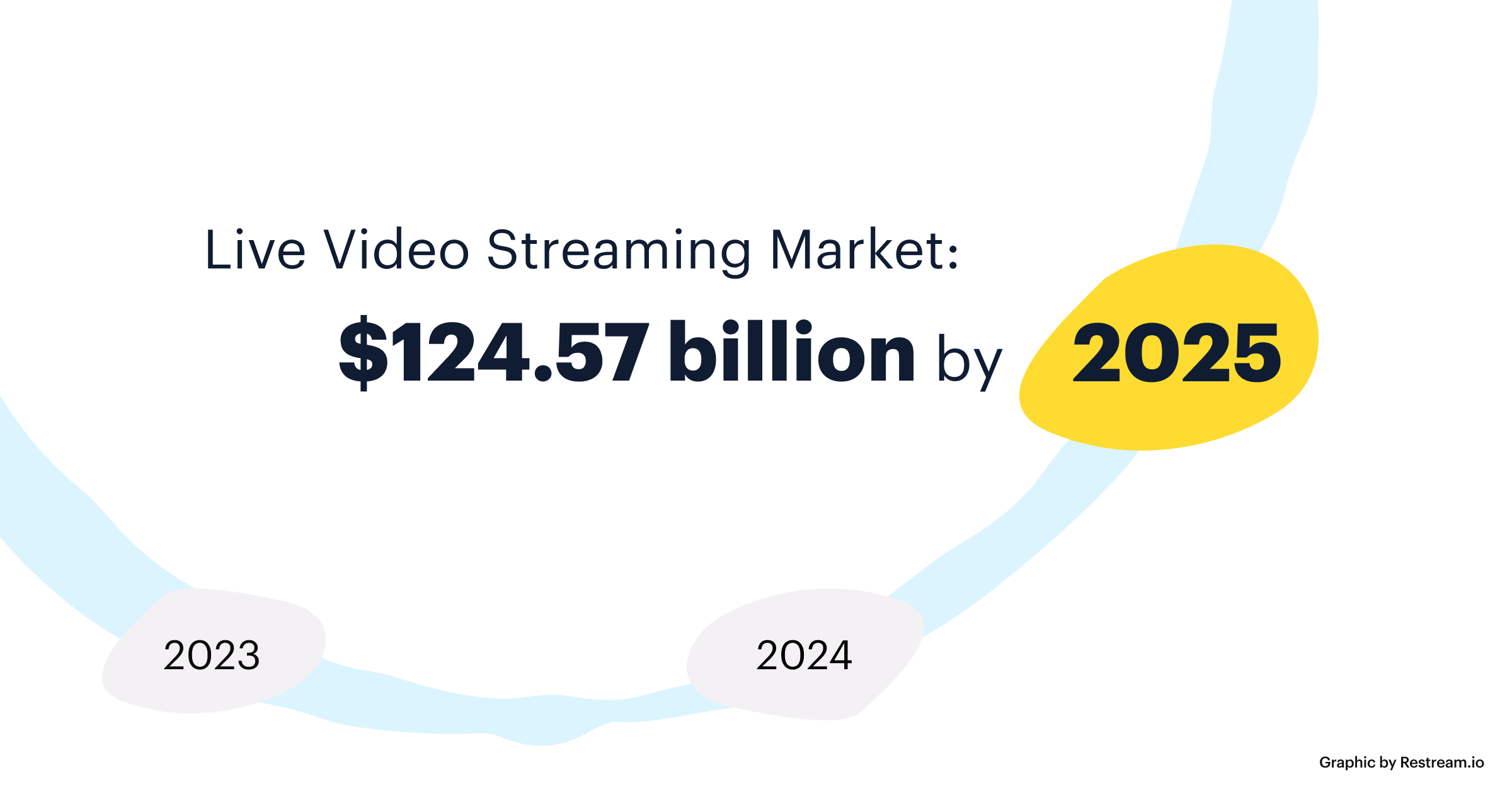 A booming streaming market is one thing. Having an audience willing to watch all that live streaming content is completely different. Thankfully, live streaming has an eager audience and a pronounced effect on the audience's willingness to engage with the content.
People want to see more live video
The biggest streaming-first platform, Amazon-owned Twitch, has over 5.5 million monthly active broadcasters. They create content that's watched by an average of 1.9 million concurrent viewers, who spend more than an hour and a half a day watching videos. All this comes with a small caveat — Twitch is oriented towards gamers, and it's not as marketer- or business-friendly as other social networks.
So let's take Facebook as an example. People love to watch videos on Facebook. Over 80% of the top 500 posts of Facebook in 2018 were video posts. The same survey noted that video posts get at least 59% more engagement than other types of posts.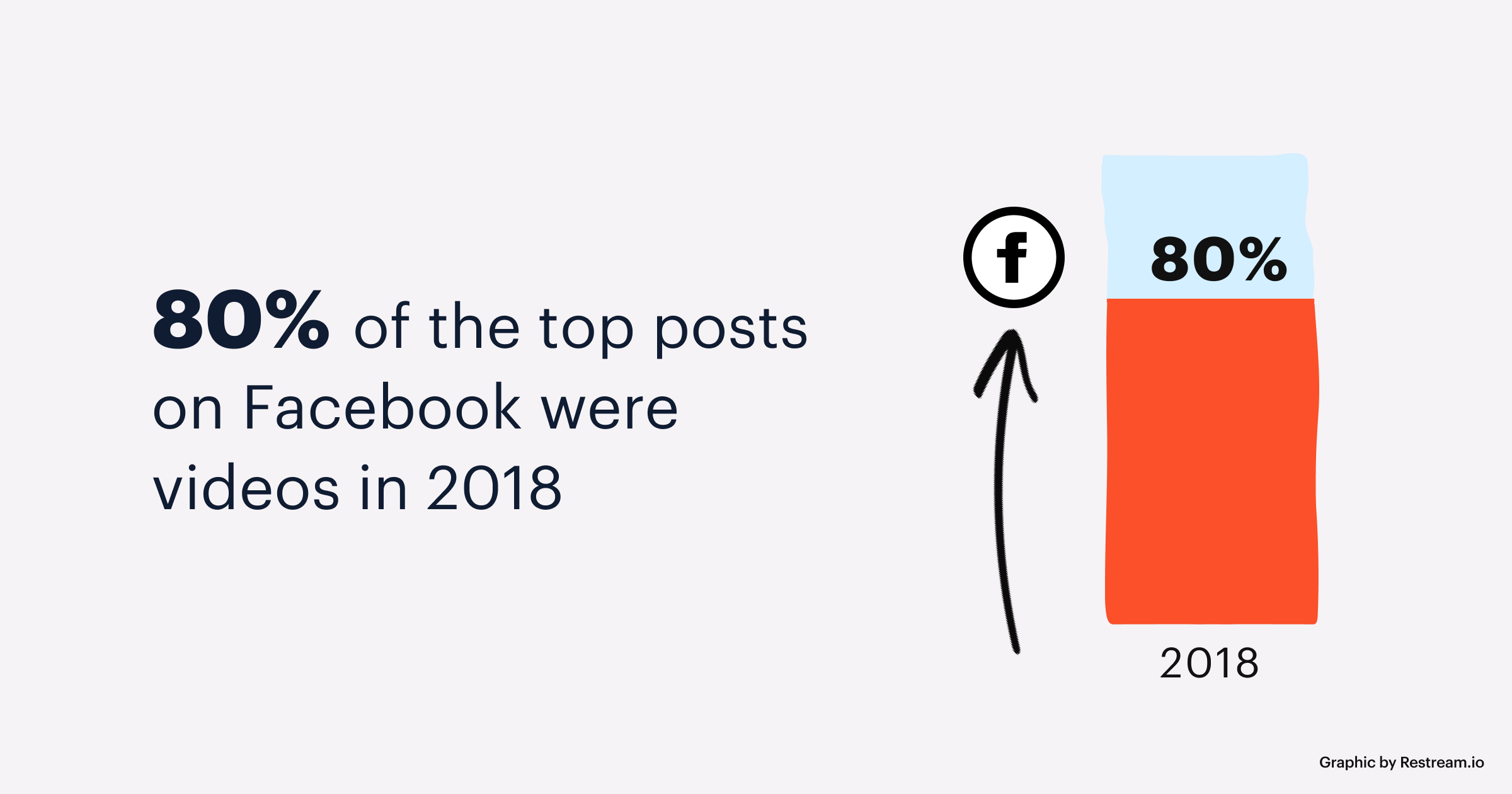 Back in 2016, when it launched Facebook Live, the world's most popular social network shelled out $50 million to 140 media companies and celebrities to get them to create live content for the service. Two years later, Facebook has enabled more than 3.5 billion video broadcasts since the service launched.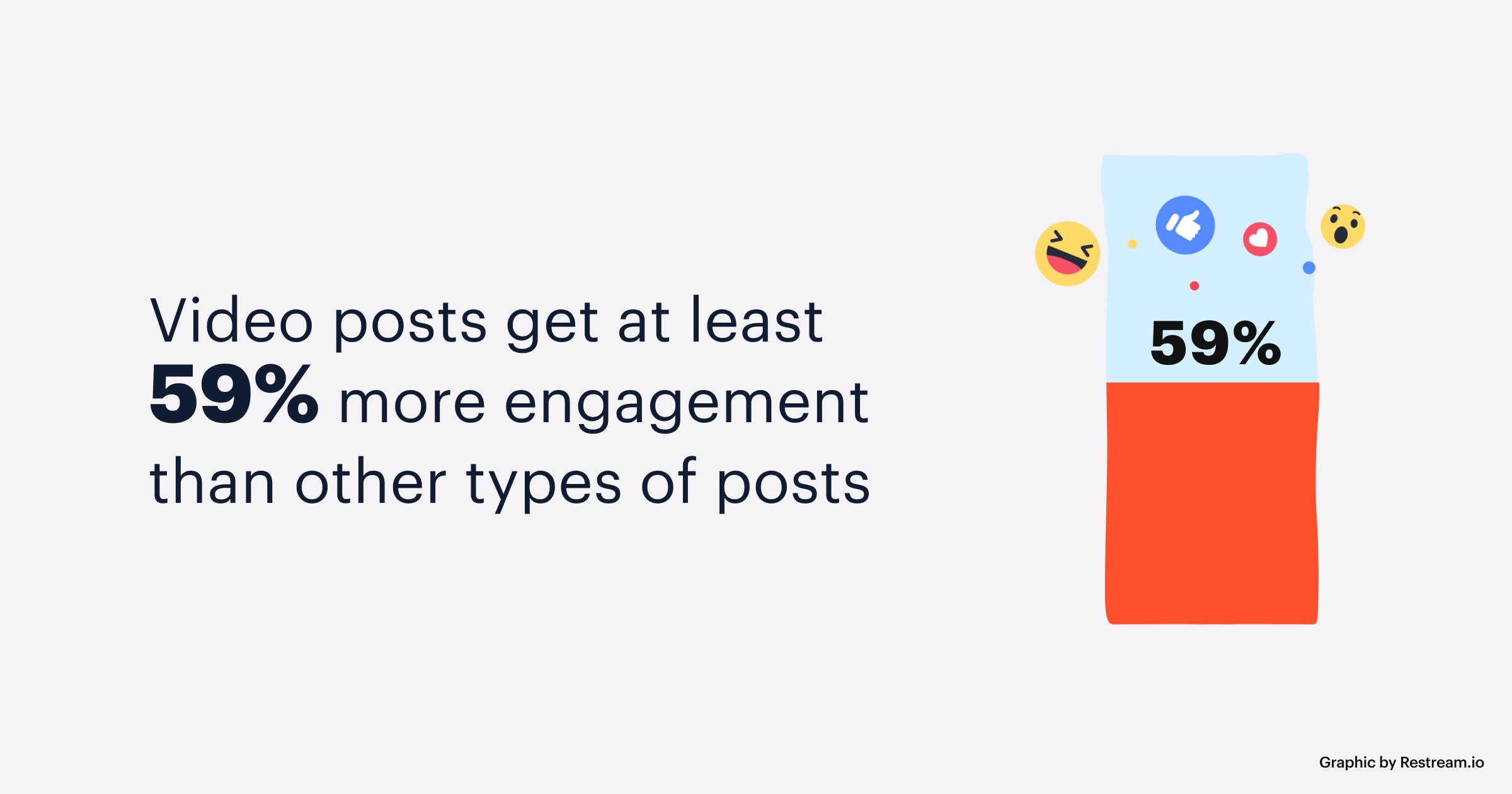 Facebook's and Amazon's bet on live video paid off, because people like to watch it. According to the Interactive Advertising Bureau's report on live video streaming, roughly two-thirds of consumers who have access to devices such as smartphones, tablets, or personal computers have watched live video content.
Nearly half of them, 47%, would say they are watching more live video content than they did a year before. 52% turn to social platforms in search of live-streamed content, followed by 41% who'd look at digital streaming subscription services. Gaming websites come fourth with 33%.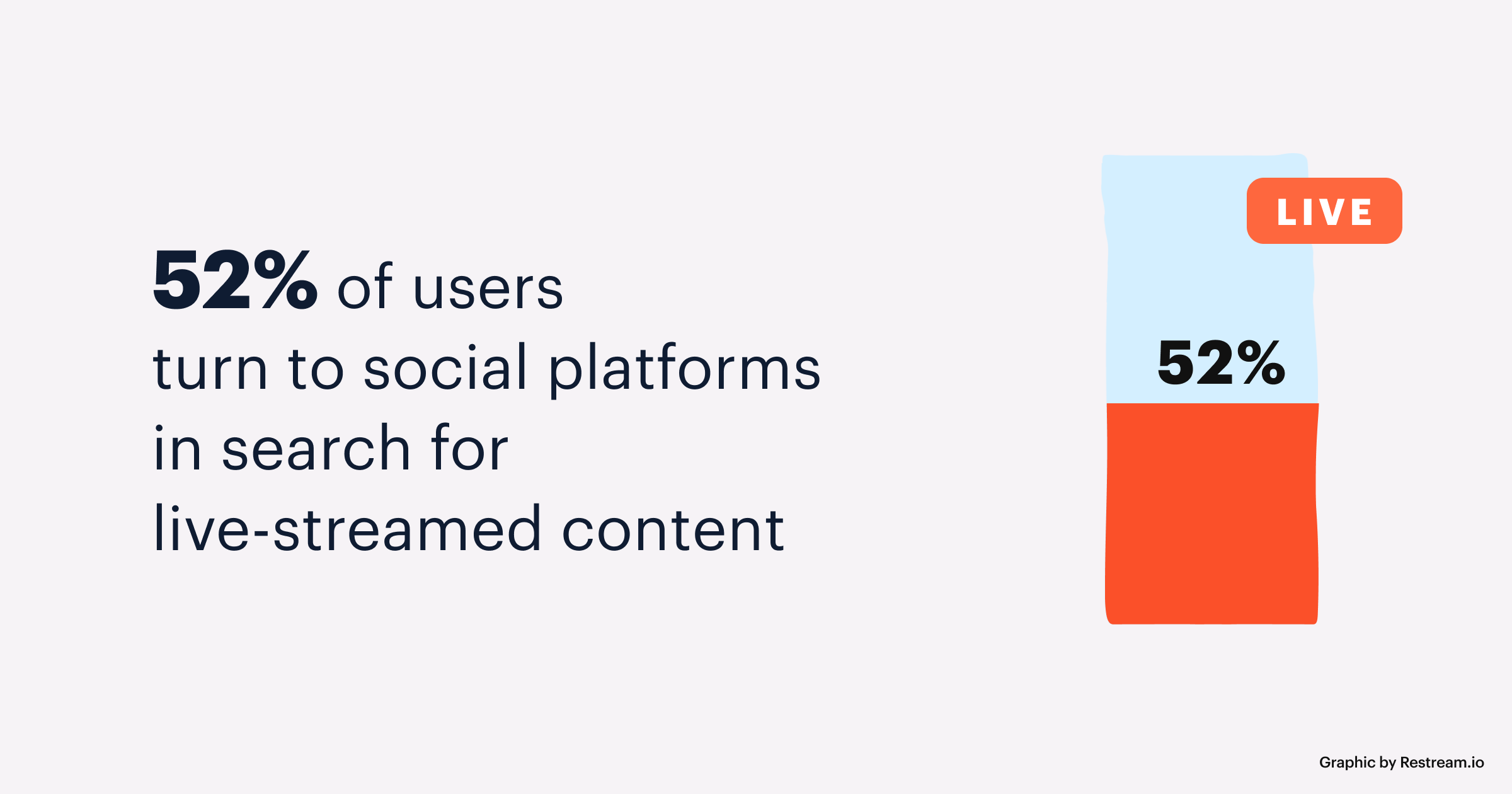 Watching live-streamed content is usually tied with social activities, including communication with people on social media, both those who are also watching the content and those who are not. Brands are experiencing increased engagement from their audiences with live video. Facebook even said that live content gets six times the engagement of regular content on its platform.
The key takeaway would be that live-streamed content is very popular among audiences and that fostering communication and interaction probably has something to do with it.
The best place to stream is wherever you already are
The adage that says businesses should go where their customers are rings true for live-streamed video. We've seen that even though there are specialized live-streaming platforms businesses can use, the audiences still turn to social platforms the most to get their live-streamed video content.
According to the Sprout Social 2019 Index, live video is a major trend on social media — 45% of consumers want to see more live video from the brands they follow. 63% of marketers would agree with them on the desirability of live video content on social media.
That's all well and good, but it doesn't help you choose which social platform is best for your business to use for live streaming video content. Sticking to the theme of going where the audience is, businesses might want to try the platforms where audiences are already following businesses the most. 66% of consumers follow brands on Facebook, 41% on Instagram, 35% on YouTube, and 22% on Twitter.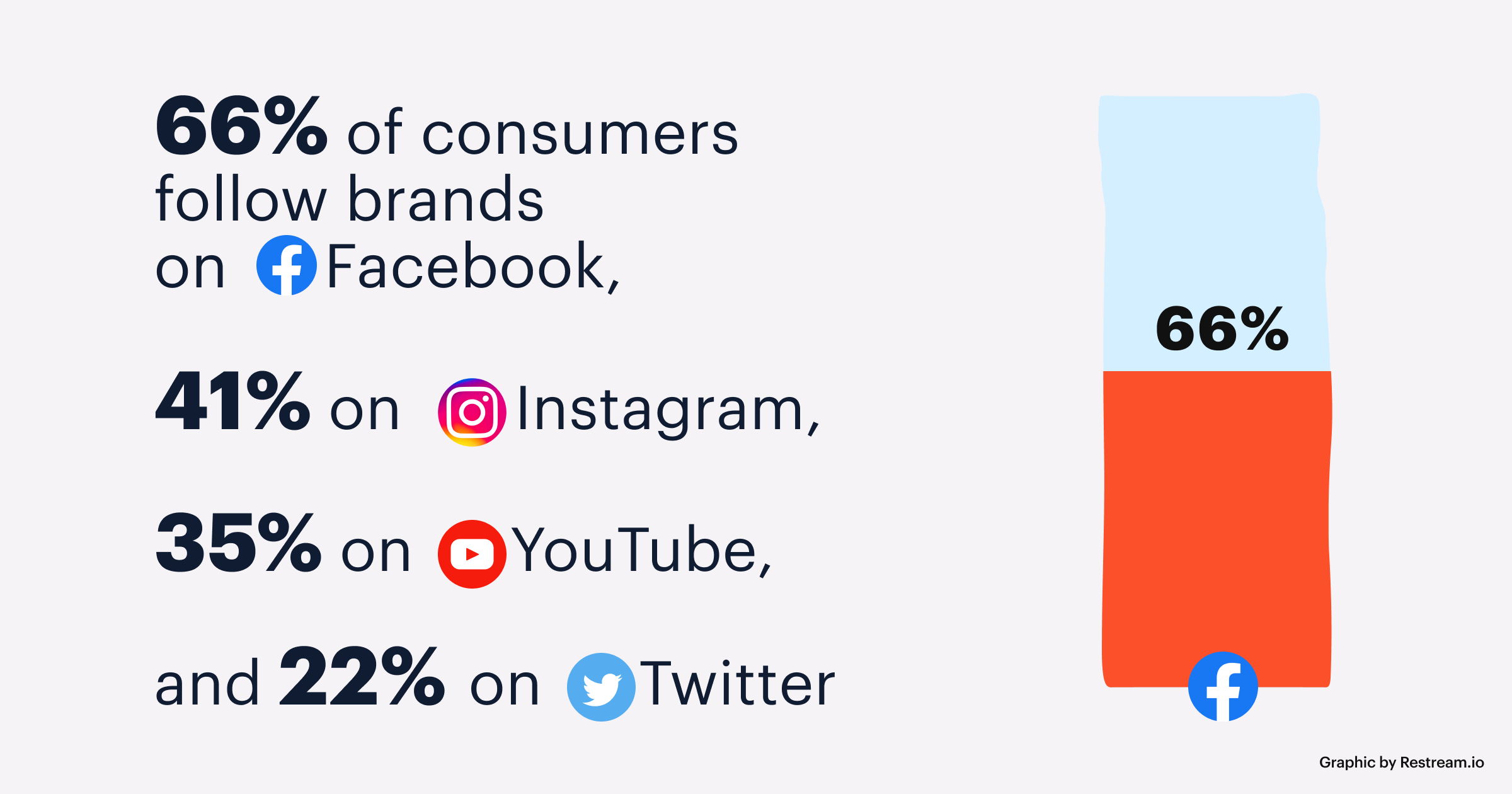 Whatever social network you choose, chances are you'll find people who want to see more live-streamed video. Since it doesn't have the same expectations of quality as video-on-demand, you can produce it for less money and time.
However, social media marketing is already a sizable investment for businesses. In 2020, spending on social ads in the US alone is expected to top $43 billion, a 20.4% increase since last year. Starting over on a new channel might add to those expenses significantly, which is why businesses should use the channels they have already developed the most. To put it bluntly, use the social network where you have the most followers.
You should also note that you're not obligated to stick to only one live streaming channel. By using multistreaming services, you can go live to many different channels at the same time, without having to make any drastic changes to your routine, setup, or production practices. This might be the best opportunity for businesses to increase the reach of their live video without having to invest additional time into it.
B2B marketers also have something to look forward to!
Facebook, Instagram, YouTube, and Twitter might be the world's most popular social networks, but they are far from being the most important for B2B marketers. LinkedIn is the social network for recruitment, business networking, and B2B marketing. It boasts over 630 million users, more than 30 million companies represented, and 280 billion updates seen every year.
So LinkedIn is the B2B marketer's hunting grounds. It's also a social network and one where content plays an important role. Just ask String Nguyen, a LinkedIn influencer who went from zero to thirty thousand followers in fourteen months. Some of the advice she gives is to use video to stand out.
In early 2019, you were able to add LinkedIn to the roster of social networks that offer live streaming of video content. It might be awhile before we start seeing any numbers that demonstrate just how effective live video is on LinkedIn.
But we know that LinkedIn is taking video seriously. We know that video, in general, brings good things to marketers who use it. We also know that live video tends to outperform video-on-demand when it comes to engagement metrics. We also know that LinkedIn is partnering with the major players on the video streaming market. Add it together and you have plenty to look forward to if you're a B2B marketer who uses LinkedIn.
Audiences tell you what type of content you should create
It's okay to have some doubts about the types of content you should stream live to your audiences. After all, irrelevant content is a common reason why people unfollow brands on social media, second only to poor customer service. However, knowing what your audience doesn't want to see is an important step towards giving them exactly what they want.
So put yourself into your audience's shoes. Why would they follow your business on social media? The top five reasons, according to Sprout Social, are the following:
Learning more about new products or services you're offering
The desire for entertainment
Staying on top of the goings on with your business
Looking for promotions and discounts
The need to connect with people who share interests
We also know that the social media posts that encourage the most engagement are entertaining posts, followed by inspirational posts, educational posts, posts that rely on storytelling, and posts that offer promotions or discounts. Product videos are fine, as long as they are interesting and educational. Product launch streams that are fun and include a time-limited offer or a giveaway might be even better, and they're a sure way to increase sales with live streaming.

That's all the information you need to create a starting blueprint of a content strategy. You know what people want from content. When you start live streaming content, you can use the audience's interactions with it to further guide your content production. Live streaming content will provide you with plenty of feedback if nothing else.
Conclusion
Don't let the hype fool you — digital marketing is tough. There are no shortcuts you can take that will guarantee success. Taking risks might pay off, but it might also make you spend all your marketing money on a shiny new thing that is really just a fad with no long-term usefulness. Business owners need to assess and manage that risk.
Live streaming content isn't that risky. Most businesses already have access to all the distribution channels they need, because social networks are where people go to watch live video, and most businesses already use them, too. There's no real reason to invest heavily into equipment, at least not until you start seeing some results from live streaming (pro tip: invest in good audio first). Thanks to multistreaming, you can use solutions that combine the reach your business has across all the platforms it uses. Thanks to Restream Studio, multistreaming is as easy as plugging in a webcam and turning on a web browser.
On top of it all, we know that live streaming video works. If you do it well and give your audiences what they want when they want it, they will return by engaging with your business. They might even form a community around it if you're willing to plant the seed for it. So if you're still wondering why your business should start live streaming video, the answer is obvious — there's so much you can gain by doing it, and not too much to lose.