From Alex Khuda, Co-Founder & CEO of Restream:
Today, I am excited to share some big news! Restream has raised $50M in Series A financing led by Sapphire Ventures and Insight Partners, AND we are officially launching Restream Studio out of beta.
Over the last year, we have experienced tremendous growth. As COVID has quickly forced all types of businesses and creators to adopt live streaming, our team has been working around the clock to bring the best live streaming tools to our community during these times. Today, our community of over 2M creators broadcasts 8M+ monthly live streams to 750M+ monthly viewers around the world. And we're just getting started...
This new round of financing, led by Sapphire Ventures and Insight Partners, highlights not only the value Restream brings to the global live streaming market but also our commitment to being the leader in multiplatform live streaming. With today's funding news and the launch of Restream Studio, we are taking another big leap forward in our mission to democratize live streaming, making broadcasting content across your favorite social media platforms as easy as hosting a Zoom call.
💫 Our story
When Andrew and I started Restream five years ago, we set out to build a product that live streamers would absolutely love. We saw live streaming as this powerful communication and engagement tool within the gaming world, and we firmly believed it had the potential to expand to every major industry and vertical. Over the last five years, live streaming has taken off. Every major social platform has adopted live content. All types of businesses, organizations, and creators are going live. And virtual communication has become the new norm.
💪 Our mission
From day one, our mission has been simple: to help broadcasters grow, engage, and monetize their audiences across all their social platforms. Today, we proudly support over 2M businesses, organizations, and creators in our community that have used our live streaming tools to broadcast more than 95M live streams to more than 1B viewers around the world.
Today, live streaming is more important than ever. This pandemic has uprooted every type of in-person event—concerts, conferences, classes, and so many more. So we set out to build a game-changing production studio that would make live streaming any type of event, be it from your computer or mobile phone, super easy to all your major social media platforms.
🤩 Today, we are excited to officially launch Restream Studio
Restream Studio enables businesses and creators to broadcast live content from the cloud to millions of viewers across more than 30 social platforms, including Facebook, LinkedIn, Twitch, Twitter, and YouTube. Creators are able to brand content by adding overlays, logos, and watermarks, as well as use Restream Chat and Analytics to engage with their communities in real time. We think you are going to love it!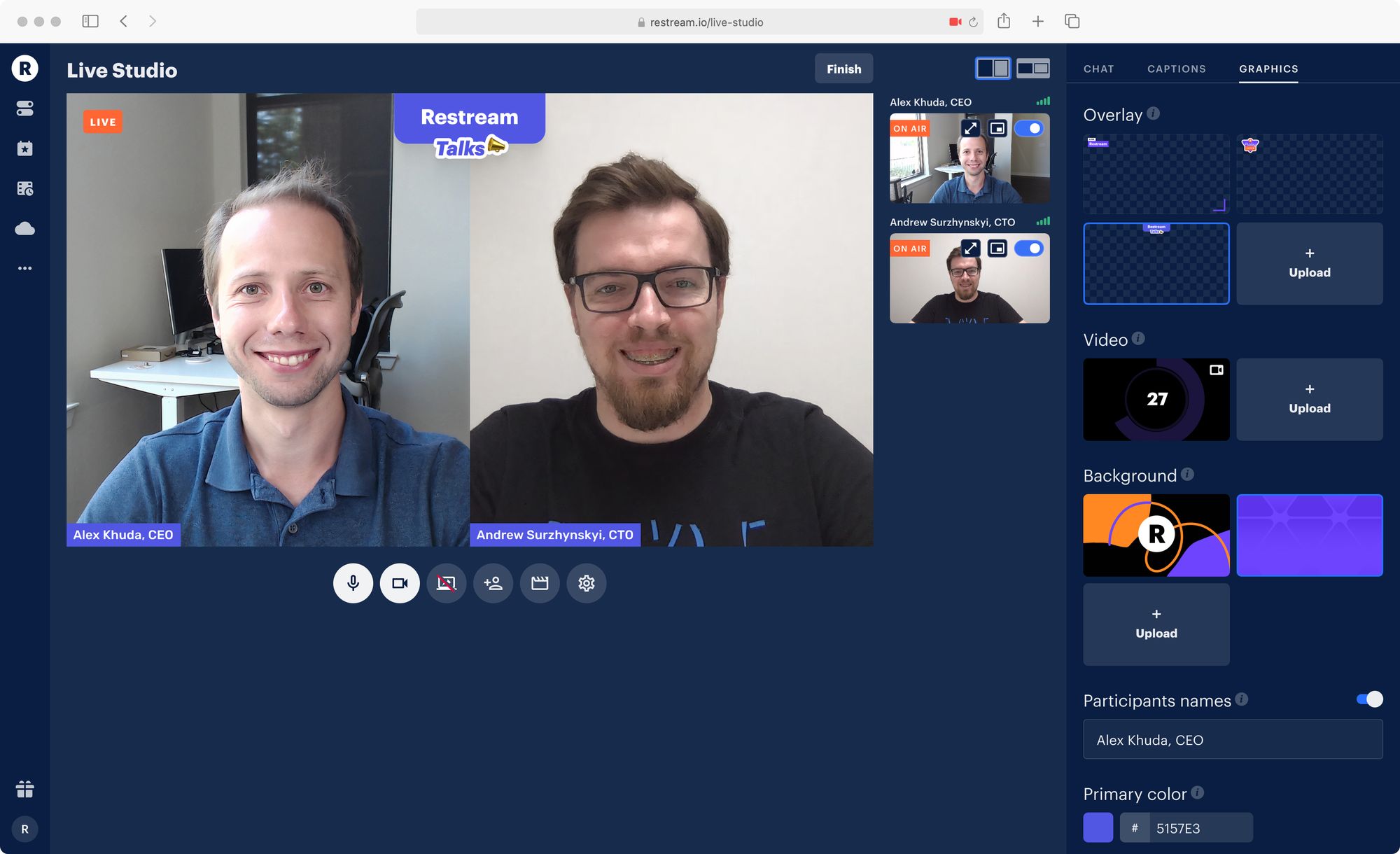 And lastly, thank you ❤️
It takes a village to build a company. I am beyond grateful to our investors, customers, and, of course, my team. We wouldn't have achieved this without you.
To our investors... Sapphire Ventures and Insight Partners, I am beyond excited for you to be joining our journey in this next chapter of the company. We welcome Sapphire Venture's Paul Levine and Insight Partner's Teddie Wardi to our Board of Directors. And a big thank you to our existing investors: Silverton Partners, Anorak Ventures, Mana Ventures, Liquid 2, Kakao Ventures, Colopl Ventures, Iskra Ventures, and others.
To our 2M+ customers & creators… You inspire us to wake up every morning and build great broadcasting products. Restream would not be where it is today without your trust, support, feedback, and energy.
And to our amazing team of 50 employees… Thank you for your passion, hard work, and positivity. We have created something special together, and I am beyond grateful to be on this rocket ship ride with you and so excited for what is ahead.