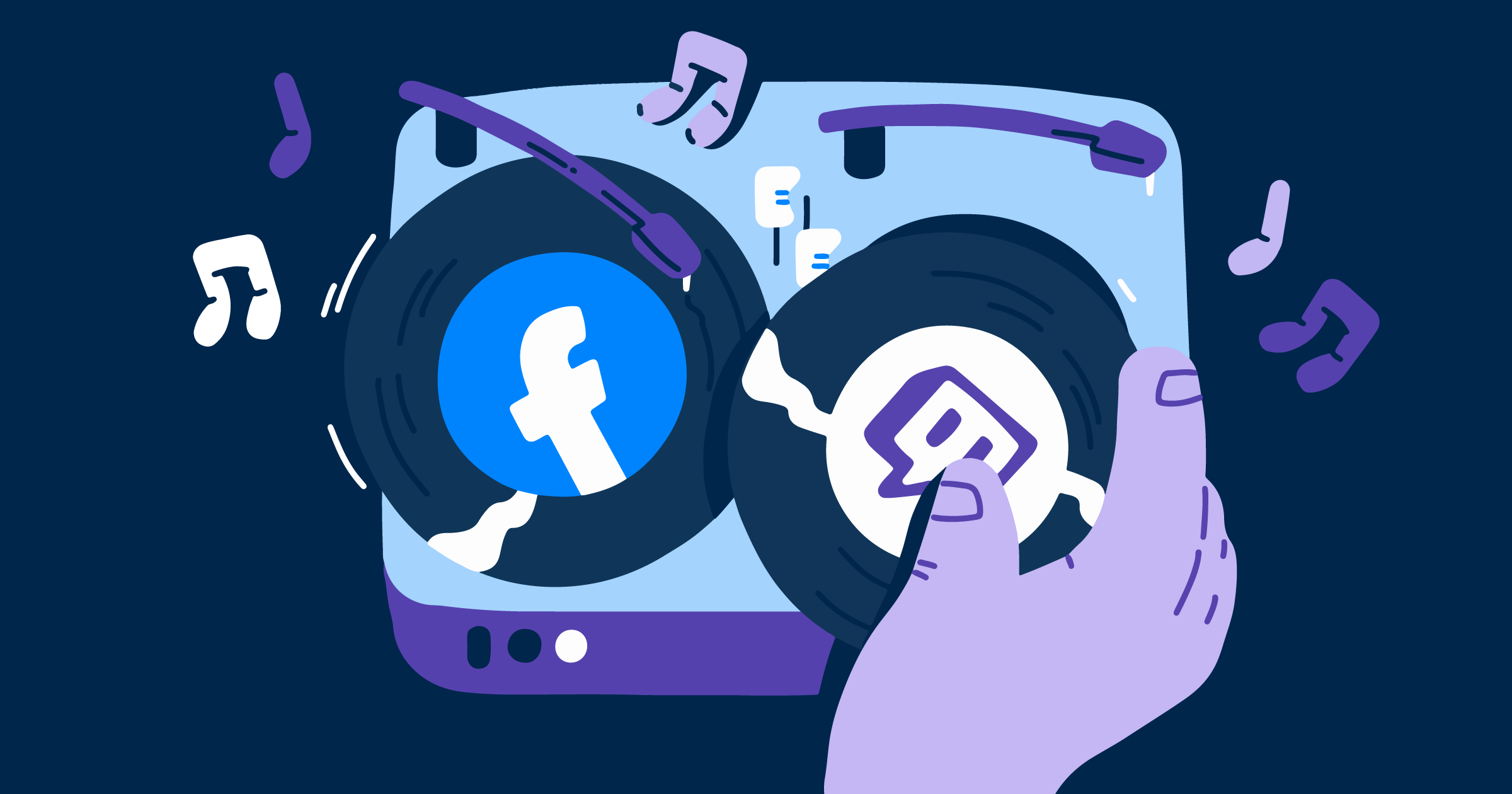 Your bedroom, living room, basement, or wherever you go to make music will eventually become too small for you. There's no point in being a DJ, a music producer, or an MC if you don't have an audience. The best thing about audiences these days is that you can easily reach them online thanks to the power of social media.
Getting an audience to engage with your content is a whole different deal, however. Not everyone can do what you can do, but everyone can put content online. So, if you wanted to post a video to Facebook and show off your skills, you'd be competing against slightly more than half of all pages on Facebook — that's how many pages use video on Facebook, studies show.
Those same studies also show that only one in five of those viewers will actually click to play the video. That means that four out of five people who view your video won't actually hear the live set. They would need to click on the video to get audio.
What DJs get wrong with video content
When it comes to video streaming, your mastery of the audio often has to take the second chair to your mastery of the visual. A DJ streaming has to think in terms of the visual appeal of the content if they plan to release it via a platform that includes a visual component. So if you want to publish on Facebook and maybe a couple of other platforms that support video content, your set isn't the only thing you should worry about.

You should always try to stream DJ mixes online on platforms that allow you to stream video content. Data from Facebook, a platform with both live and recorded video content, shows that live video significantly outperforms uploaded video in most engagement metrics.
Quality matters a lot when making a video, especially for live video content. A bitrate is a number you want to look at because it's directly tied with the quality of the video and audio. You should also make sure that your stream buffers as little as possible because that's a major turn-off.
When you want to stream a live DJ set online, you build the best set you can. So it might not be the music that's making people skip your videos. A lack of views can be a serious obstacle for a DJ who wants to showcase their mixing skills but can't, because they are not thinking visually. You have to learn to think like a video producer, too, as well as a DJ streaming a mix live.
The basics of streaming live DJ sets
Everyone can use video, live video streaming included, to grow an audience, showcase their skills, or simply have some fun online. With DJs streaming, however, the challenge is in keeping the video visually appealing (or at least appealing enough), without compromising the quality of the audio. That usually means getting high-quality cameras to record the video and using separate gear to record the audio, then mixing the two to stream live DJ sets.
Using multiple cameras is a good solution because it will allow the DJ streaming to use different angles to showcase skills. So you might have a wide angle that depicts you in the room, but also a bird's eye view of your deck, to show your gear and how you are using it while you broadcast your DJ sets live.
For audio, whether you're acting as an MC or just playing music, you should always go for high quality. You will need separate gear for that, but that might be something you already have as a music producer. And when the recording is done, you can take your time to edit the video as much as you want.

Use Restream Scheduler to live stream DJ sets
When you finish editing the video, the next step is to stream it. Some people think that you have to stream video as it's being made, or that you have to stream it to only one platform.
A tool like Restream, and especially Restream Scheduler, makes those misconceptions obsolete.
Start multistreaming today.
Reach a wider audience by streaming to multiple platforms simultaneously.
Get Started
It's really simple. All you need to do is to use your Restream login info to get into the Scheduler. You upload the video of the DJ mix you want to stream from the "videos" tab — just make sure you leave enough time for uploading, especially if you have an internet connection with low upload speed.
With that, most of the work is done. A DJ streaming with Scheduler can easily stream their DJ sets to any of over thirty platforms supported by Restream, including Facebook, YouTube, Periscope, and Twitch. You don't have to worry about your bandwidth because your DJ sets is streamed from the cloud.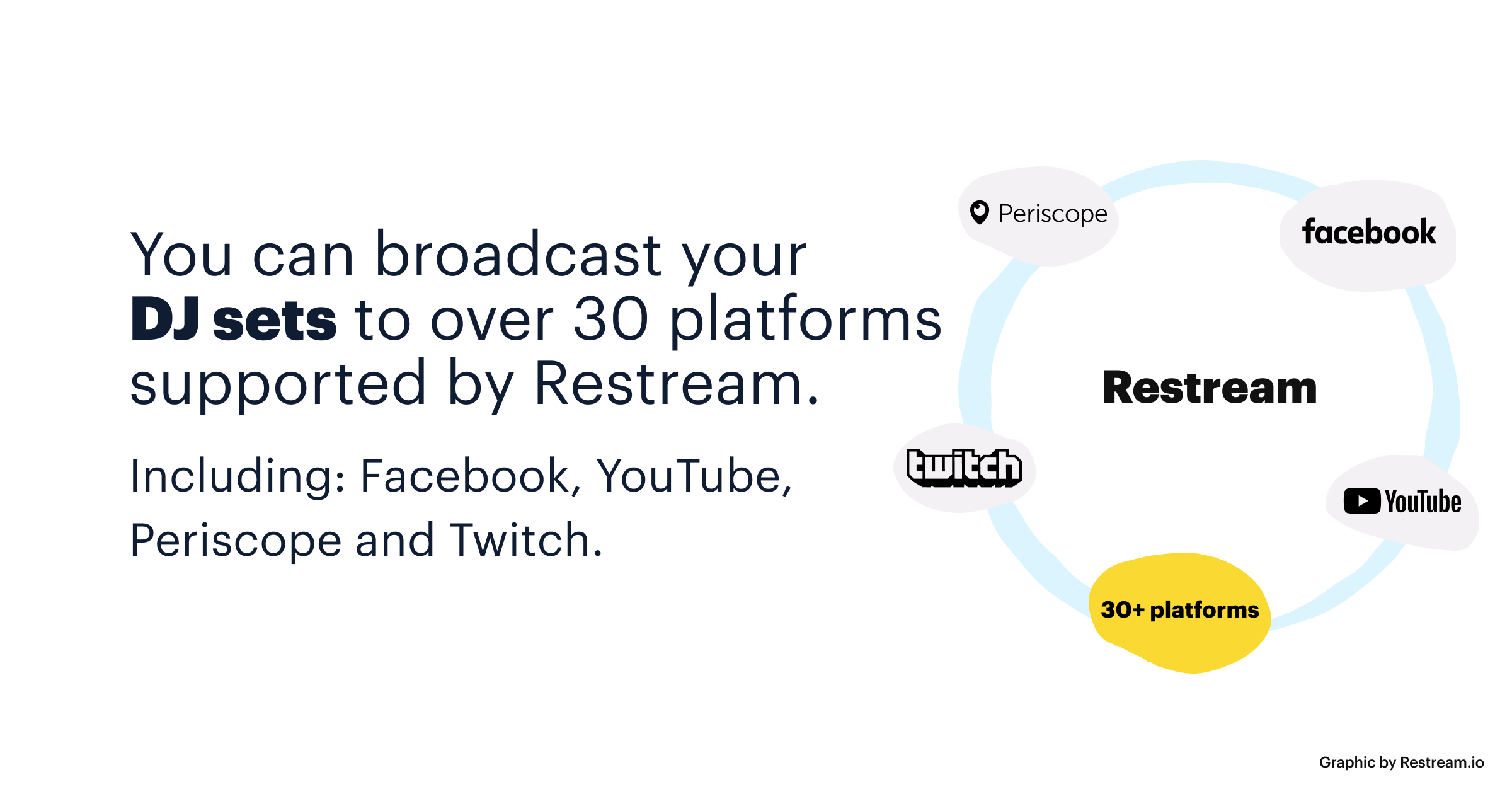 Best of all, you can schedule the stream at any time you want — you can stream DJ sets at any time as if it was performed live. You can even stream it while you sleep.
Conclusion
As a DJ, streaming your live DJ sets on video platforms can be very beneficial.. But there's also a downside because any DJ streaming video content first needs to jump through some hoops if they want to stream live DJ sets with success. So, you'll have to figure out a thing or two about video and visual thinking. You'll also need to arm yourself with the right tools that will help do the job right.
The Scheduler is the perfect tool to help you reach new audiences when streaming your DJ sets. Don't let your talent be bound by a social media platform, your schedule, or your bandwidth. Stream on multiple platforms at the same time, whenever you want, from the cloud, with the Scheduler. For best results, make a video and edit it, and then use the Restream Scheduler to stream it at the time of your audience's peak activity. You'll be impressed by the results!