Intro
When working toward reaching your highest streaming goals, you can use various tools to elevate your live streaming experience and let your star shine brightly.
Depending on your type of content, you may need different tools. For example, gamers would like to have an efficient and easy way to capture their screens while playing. Coaches may want to use multiple platforms to reach a bigger audience.
So let's talk about what you can use to make your already good life even better.
What is Restream?
Restream is a go-to live streaming solution that helps you create high-quality live content, truly increase your audience reach, and outstand your competitors.
Restream also offers you a variety of excellent tools — for example, Restream Studio. With this tool, you can stream without the need to install any additional software. It helps you level up your live stream — add logos and overlays, invite up to ten guests to co-host the streams, connect other streaming software with the RTMP Source feature, and more. You can also save your recordings to use them later. Or just download split audio tracks to turn your live stream into a podcast.
With Restream Events, you can schedule single live streams, recurring sessions, or even pre-recorded videos in advance. Create links for your broadcasts and share them on your social platforms in just a few clicks. Another great feature, Restream Chat, lets you gather all the comments from several platforms in one place to moderate and manage them effortlessly. And if you want to monitor your results, Restream Analytics will come in handy. From peak times and top chatters to the most-used emojis, you can accurately measure your success with Restream.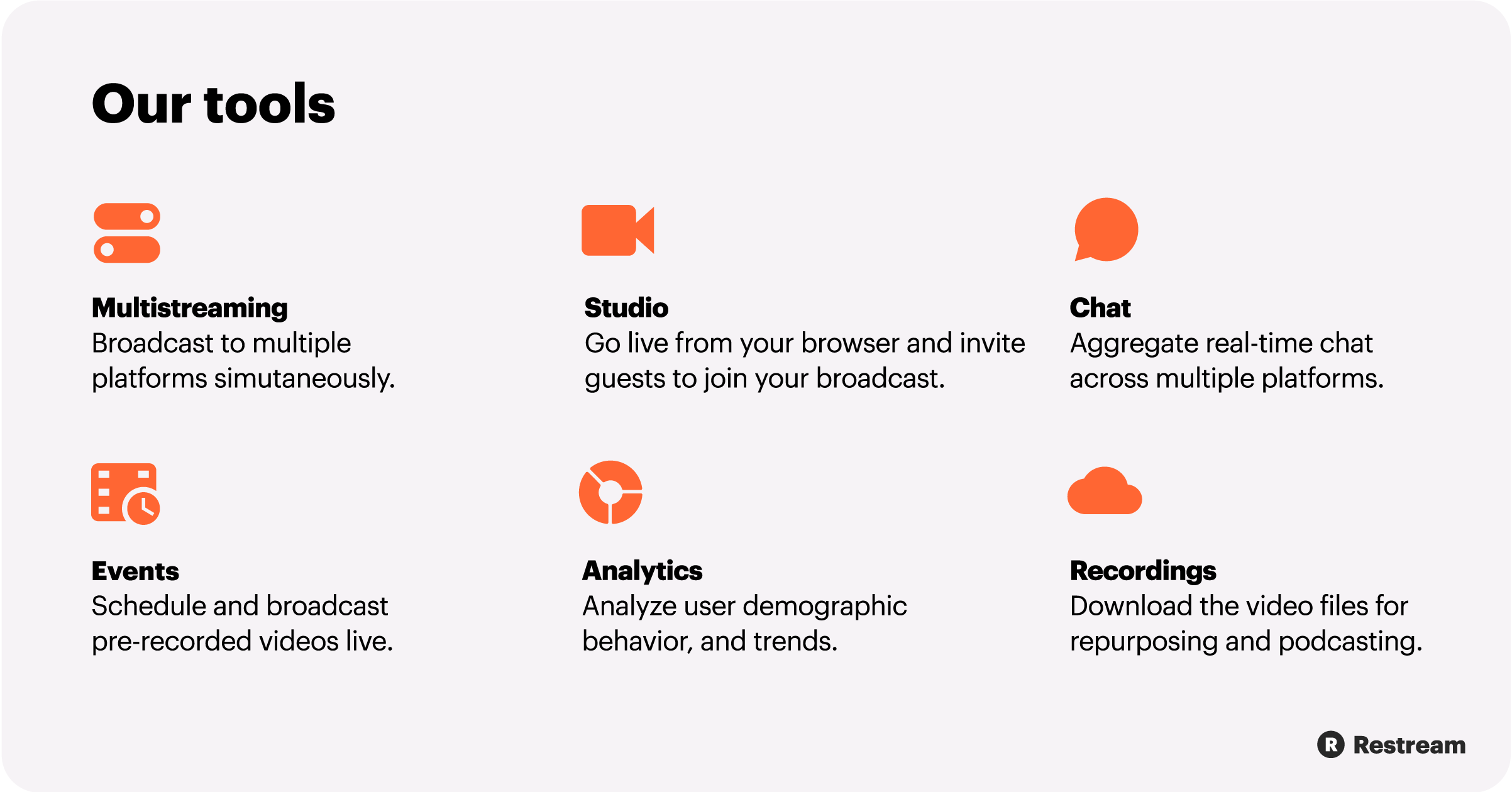 ⚡️ To learn more about Restream's tools, check out our guides:
Great tools that work well with Restream
There are tons of tools that can help you elevate your live streaming experience. How do you choose one from such a variety? Well, you've found the right place to find the best tools to use with Restream. These tools have many features in common. It's up to you to choose the one you enjoy the most.
1. OBS Studio
When we talk about live streaming tools, OBS Studio is maybe the most popular solution. For example, it is excellent for streaming sports. It offers special plugins and add-ons, such as the native Video Source Plugin and additional features like the Scoreboard Assistant and instant replay. Business owners can use OBS Studio too. It can support multi-camera live streaming, so you can create a more professional picture. Gamers can benefit from the game capture mode that automatically captures your full-screen game. It also comes with some optimizations that can come in handy when capturing other windows with performance/protection issues.
OBS Studio has some undoubted benefits, such as:
It's free.
It can be used on any OS — Windows, macOS, and Linux.
It's open-source, which means you can find an immense number of plugins and modifications for your taste. Or even make them yourself if you feel like it, as OBS Studio supports Python/Lua for scripting.
You can add as many sources as you want (just don't set your computer on fire).
Restream is one of the default services in OBS Studio, so it's easy to use them together.
👉 Check out our Help Center article to learn more on how to connect OBS Studio to Restream.
---
2. vMix
vMix is a great option for pro streamers and massive events. It has six different versions, from Basic to Pro, so you can update it to satisfy your needs. vMix is an excellent choice if you want to stream in 4K. It supports multi-bitrate streaming and lets you broadcast several versions of a live stream at different qualities simultaneously. Depending on the version, vMix supports up to 1000 inputs, which should be enough to make even your craziest ideas come true. And it is very convenient to use vMix with Restream together, as they are fully integrated — more efficiency with less effort.
However, if you want to stream from Mac, vMix is not for you, as it works only on Windows.
👉 Check out our Help Center article to learn more on how to connect vMix to Restream.
---
3. XSplit
XSplit is tailored for gamers. Start streaming with just one button, regardless of the device you are streaming from. Similarly to OBS Studio, you can bring in your capture card and stream your console games. Multi-bitrate streaming is built in — stream simultaneously in different resolutions without hassle. It has an intuitive interface with an easy-to-use drag-and-drop feature that lets you manage windows and videos effortlessly.
The paid version of XSplit allows you to edit videos on the go. However, if you want to use both options simultaneously, Restream is a great choice. XSplit has a partnership with Restream, so it is easy and convenient to use them together.
Tech companies like Microsoft and game publishers such as EA Games or Ubisoft use this broadcasting tool combo to stream across all popular social platforms, expanding their audience reach.
👉 Check out our Help Center article to learn more on how to connect vMix to Restream.
---
4. Zoom
Zoom is arguably the most popular video conferencing tool. This is no surprise, as you can use it for free (although it does have a paid plan), and it offers a user-friendly interface. Zoom has integration with such tools as Google Drive and Facebook, making it useful for anyone who's into running webinars.
However, it has some drawbacks. For example, if you use the Free or Basic versions, you can't add more than 100 participants to your conference. It also has limited privacy settings, so if you want to be 100% sure your live stream will be secure, check for some Zoom alternatives below.
No matter which version you choose, paid or free, you can use Zoom with Restream to multistream your live stream to multiple platforms.
👉 Check out our Help Center article to learn more on how to connect Zoom to Restream.
---
5. Webex
Webex is another fantastic option for those who want to organize events, webinars, and video conferences. It is secured with zero-trust encryption with extended compliance capabilities, so you can be calm about your meetings and content. It can support up to 3000 participants in a single event. However, only 1000 of them will be able to see the video. Others will just see shared content and hear the audio, which is not a problem if you're going to share a presentation, for example.
👉 Check out our Help Center article to learn more on how to connect Webex to Restream.
---
6. Microsoft Teams
Microsoft Teams is the third-largest player in the conferencing platforms of this list. It is fully integrated into the Office ecosystem. So, if you already use it, you can start live streaming your webinar without mastering any additional tools. However, keep in mind that you'll need to have a Microsoft E1, E3, or E5 license to broadcast via Teams.
Note: Technically, you can use Teams on Mac, but it works better with Windows, as it's a Microsoft product.
Check out our Help Center article to learn more on how to connect Microsoft Teams to Restream.
---
7. Ecamm
Ecamm is a great option for all Mac users. It is developed specially for Mac, so it will work seamlessly on your device. Ecamm has some fantastic features, such as streaming in 4K and overlays. The chroma key extension feature lets you extend the green screen if it isn't big enough. It also integrates with Restream Chat, so you can manage all the comments from every platform you stream to in one place.
Ecamm also lets you connect a Canon DSLR or other Canon cameras without any effort. If you're not sure whether Ecamm suits you or not, you can benefit from a 14-day trial that lets you test even the Pro level with almost no limitations. Ecamm has native integration with Restream, so you can live stream from your Mac to the most popular platforms, like Facebook, YouTube, and Twitch, simultaneously!
👉 Check out our Help Center article to learn more on how to connect Ecamm to Restream.
---
8. Switcher Studio
Switcher Studio is another excellent solution for Apple users. However, this one lets you turn your iPhones and iPads into cameras and switch between them, creating professional pics and upscaling your live stream — no wires, up to nine devices, and an easy connection to Restream. Switcher Studio and Restream make a great combination for those who want to create a more professional image and stream to multiple platforms with no additional software and hardware. You already have everything you need. To start working, open your Switcher Studio, go to the Inputs tab, run down the list of Outputs, and choose Custom RTMP Channel.
---
9. StreamSpot
StreamSpot is a popular platform among religious organizations. It is used by Catholic Community Radio, Fairmount Temple, Temple Sinai, and many others. StreamSpot lets you embed your broadcasts on your website while live streaming. It also offers you the ability to create an Amazon Fire TV or Roku channel. Apart from regular broadcasts, you can also create private ones, secured by password — a great opportunity to test everything in advance, for example.
👉 Check out our Help Center article to learn more on how to connect StreamSpot to Restream.
---
10. Uscreen
Uscreen is a video management tool designed for those who want to monetize and distribute their live streams worldwide. For instance, if you're going to host a PPV live stream, Uscreen lets you sell access from the sign-up page with no need to create additional payment gateways. It gets even easier with a dashboard where you can process payments in multiple currencies. Uscreen can also convert your website into a live streaming site for users watching on desktops.
👉 Check out the Uscreen Help Center article to learn more on how to connect it to Restream.
---
11. EpocCam
EpocCam is another tool that will create a professional setup for your iPhones and iPads. This app will turn your devices into a high-definition PC or Mac webcam. With integration to the most popular video conferencing platforms, such as Zoom and Microsoft Teams, EpocCam is a great option to upgrade your webinars without any additional hardware.
You can connect your devices to your computer via USB or wirelessly in your local network and switch between cameras while streaming in 1080p.
👉 Check out our Help Center article to learn more on how to connect StreamSpot to Restream.
---
12. Wave.video
Wave.video is not a live streaming platform but rather a great video editing tool. You can use it in multiple ways. Create intros and outros, trim your live stream recording to make a highlights video, and post it throughout your social media. You can also edit your whole recording, polish it to perfection, and repurpose it later.
For example, with Restream Events, you can schedule it on multiple platforms and choose titles and previews. You can copy automatically created links for every platform and share them in advance with trailer videos created with Wave.video. It has more than 1000 premade templates and a calendar of content ideas so you can get inspiration for your future broadcasts.
---
13. Yellow Duck
Yellow Duck is a magic wand for those who want to upgrade their Instagram Live streams. Instagram doesn't allow you to broadcast from your PC or Mac, but Yellow Duck makes it work. With this service, you can get the stream key and custom RTMP and add Instagram to Restream as one more platform for your multistreaming experience! Just remember that Instagram Live supports only portrait mode and that your broadcast is limited to four hours.
👉 Check out our Help Center article to learn more on how to connect Yellow Duck to Restream.
Multiply your views and engagement
Reach a wider audience by streaming to multiple platforms simultaneously.
Get Started
Wrapping up
If you want to change up your streaming game and make your broadcasts outstanding, you can choose one of these tools that work great with Restream:
OBS Studio
vMix
XSplit
Zoom
Webex
Microsoft Teams
Ecamm
Switcher Studio
StreamSpot
Uscreen
EpocCam
Wave.video
Yellow Duck
No matter your type of content, Restream can become your go-to streaming solution. Stream right from your browser without additional software. Reach a bigger audience by streaming your content to the biggest platforms, such as Twitter and Facebook, schedule your broadcasts with Restream Events, and handle all the comments from every platform in one place with Restream Chat.
With some additional instruments, you can make your live streams even better —  edit your live stream, manage several cameras, turn your smartphone into one, or sprinkle your broadcast with bright intros.