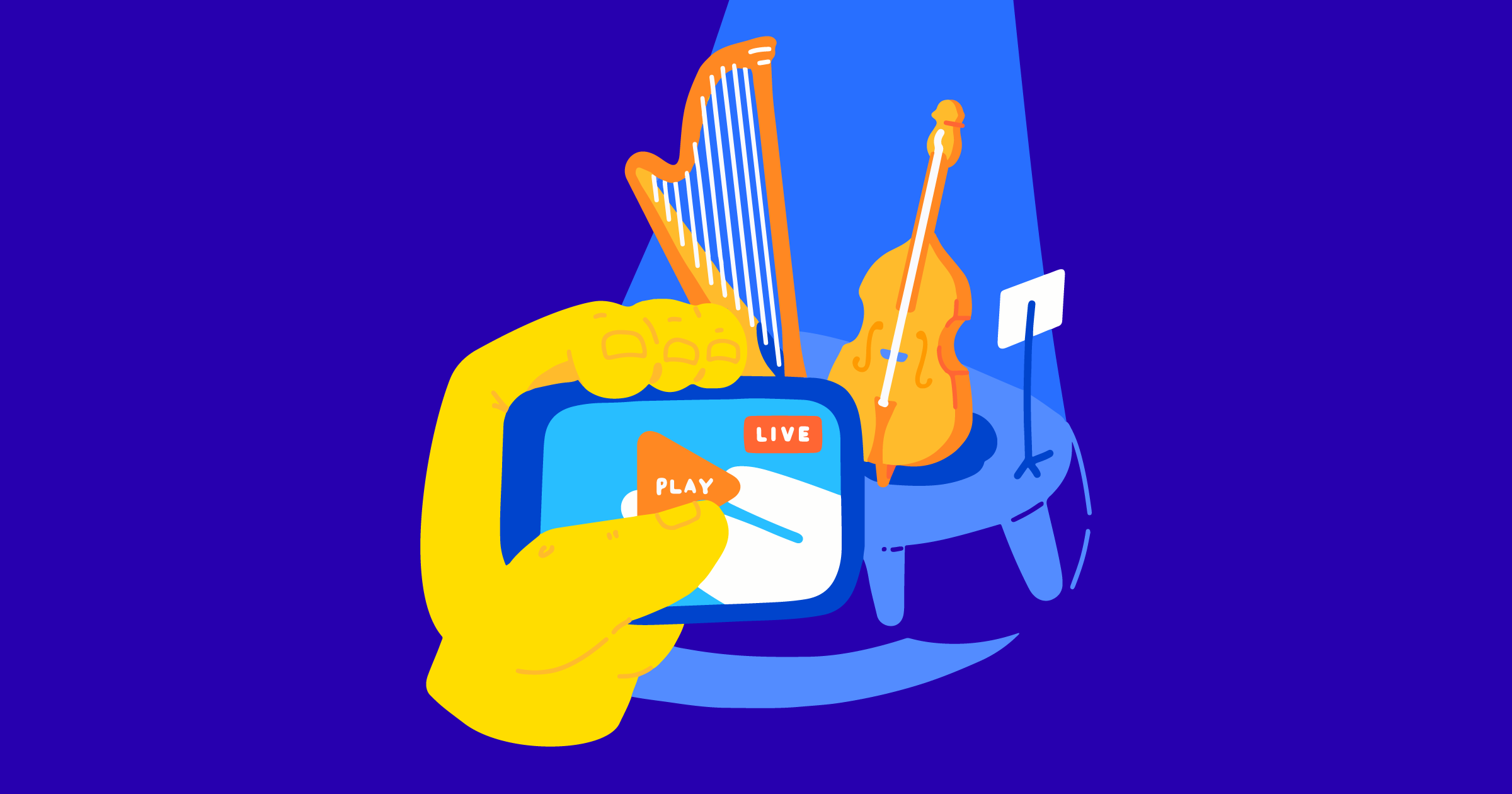 Live events are very trendy among marketers; in fact, 31% of them would even call live events "The single-most effective marketing channel." However, some aspects of live events still hold them back from being a great marketing channel for the digital age — things like limited reach, or a lack of inclusivity.
Simply put, a live event can't engage an audience that's not there to see it. In that case, it's not adding to the customer experience because the customer is not present. But, if you were to figure out how to live stream an event online, you'd have a good shot at bringing your events to everyone.
Let's see why you should do it, and what's the best way to approach live streaming an event.
Why learn how to live stream an event?
When you live stream an event, you are taking two awesome marketing channels — event and content — and creating a hybrid. As such, live-streamed events get the best of both worlds. Here's what live streaming brings to the table:
A bigger reach — you can reach more people on social media than you could pack in a venue. Plus, the ability to stream on multiple websites simultaneously ramps up your audience count even more, as does the ability to see the stream on mobile devices.
Real-time engagement — on Facebook, viewers spend three times as much time watching live video than on-demand video. They have more time to engage, and thanks to features like live chat, great tools to interact with each other and your business.
A sense of urgency — with live-streamed content, viewers have a short window to watch and engage with the video. This sense of urgency synergizes very well with different sales tactics.
Cost-effectiveness— your event live stream can be as advanced and expensive as a television broadcast. But it can also be as affordable and authentic as a stream from a smartphone camera and there's plenty in between for any budget.
Live event streaming use cases
Live streaming could deliver all of this and still not encroach on the original purpose of the event. In many cases, live streaming contributes to the goals of the event. Here are a couple of use cases to illustrate and give you an idea of how you can leverage the power of live streaming:
Earnings call — businesses are still figuring out how to use the video component of live streaming to make their earnings calls more interesting. Still, everyone from Tesla to Alphabet is live streaming earnings calls, and they're using them for everything from investor relations and transparency, too (personal) branding and hosting Q&As.
Regular conferences — the types of events that feature interviews, panels, or anything happening on a fixed stage aren't too technically demanding to live stream. Plus, they give you an opportunity to take questions from the viewers at home, which means engagement.
Product launches — live streaming can be an effective sales tool. The urgency, reach, and immediacy of live streaming a product launch is a great boost to first-week sales. These traits work with flash sales, too.
You can live stream anything from a team meeting to a Q&A session and make it into an engaging event that gets you closer to your business goals. You just need to be creative and know how to live stream an event.
How to set up a live stream of your event
The very basic live streaming setup consists of several components, including video and audio sources, encoders, and platforms for output. Each has several options, and they change depending on the type of the event, your budget, and the venue. We'll start with the most important — the internet connection.
1. Check the upload speed and reliability
The internet connection you use will play a crucial role in the success of your live stream. An unreliable connection or a low upload speed can make your live stream unwatchable.
The first thing you need to do is to check the internet speed at the venue.
You're looking for the real upload speed of the venue's internet connection, not the declared bandwidth. You want the speed to be 35%-40% above the bit rate you need, and 5 Mbps at least. Every platform recommends a certain bit rate for different resolutions it supports.
If it turns out that your venue doesn't have the upload speed you need, there are two things you can do:
Downgrade the quality of your stream, or
Set up your own internet.
If you chose the latter, the options you have for bringing your own internet connection include cellular bonding and remote Wi-Fi.
2. Choose the video sources
For a small, behind-the-scenes event in your company, a smartphone might be all you need to stream. If you can cover the whole event in a single shot, feel free to use only one, static camera. You can also use one operated camera for an on-the-ground type of live stream.
Even small venues and events that have a single person speaking at a time need more than one camera.
Generally, events are on the more demanding end of types of live-streamed content. Still, there are plenty of affordable models of cameras, and you can always rent your gear. Don't forget to rent a good capture card, too, because you'll need it.
3. Choose the audio sources
For audio, you'll have a couple of options. The thing you should avoid at any cost is to stream the audio from your camera's built-in microphone. Some events get noisy, but even those that don't require high audio quality because that's what the audience expects.
Audiences are more forgiving of bad video quality than they are of bad audio quality.
If the venue has a sound system, the sound tech should be able to give you access to master audio. This is likely to happen if the event hosts speakers or bands. If there's nothing like that, you'll need to bring external microphones. A shotgun microphone is a better option than the built-in microphone. But if you're not connecting the microphones to the cameras, you will need an audio capture card.
4. Get the right encoder
When it comes to encoders, you have two options: hardware and software. The hardware ones tend to be more expensive, but you don't have to use a computer with them. The software ones will cost less, even though you'll need a strong computer to run them on.
The good thing about software encoders is that their starting price is free.
OBS Studio, arguably the most popular encoder among live streamers, is free and supports several camera inputs.
A more advanced — and expensive — solution would be Wirecast Pro. With it, you can use multiple cameras. Wirecast will double as a switcher, and you can easily integrate it with cloud multistreaming solutions, saving you money on more expensive multistreaming setups.
Do you want more amazing features for your live streams? Lucky you! Here's a special promo code that allows you to use Restream paid features for 7 days absolutely for free. Also, you can have 25% off your first subscription plan upgrade! Restream Pro takes the live streaming experience to a whole new level, and you can try it out for yourself! 😉 ENJOY 25% OFF! The first 7 days are on us.
5. Pick your streaming platform
The good news is that, in 2021, you can live stream to pretty much any social network you want. So if your business has any kind of social media presence, you can use it by streaming to that platform.
If you want to expand to new platforms, here's what they're best used for:
Facebook, YouTube, and Twitter are the catch-all platforms that host both general and niche audiences.
Instagram is a good substitution for Facebook, and it's great for audiences who like to follow brands and influencers.
LinkedIn is the go-to social network for businesses and professionals, so they are the audience you can find there.
Twitch and Facebook Gaming are streaming platforms that are most popular in the gaming culture.
You also have an option to live stream to your own website. You can use one of these platforms to create embed code for the website as the most affordable option. A costlier option would be to use paid live-streaming platforms to host your stream.
6. Get an even bigger reach with multistreaming
Businesses don't have to stick to a single social network. It's common to invest in your presence on a couple of these networks, to reach a bigger audience. Some businesses do it to reach different segments of their audiences, too.
Having to pick a single social network for event live streaming would leave all the audience that follows you on other networks wanting, or even feeling neglected. Luckily, you don't have to choose only one of the platforms.
Restream is a cloud-based service that lets you stream to multiple websites at the same time without any additional bandwidth or hardware requirements. Some of its highlights include:
Support for over 30 platforms
The option to manually add platforms that aren't natively supported
Easy setup and an easy-to-navigate interface
Affordability, with free services and paid plans
⚡️ To learn more, check out our guide on Restream Studio.
Multiply your views and engagement
Reach a wider audience by streaming to multiple platforms simultaneously.
Get Started
Restream goes an extra mile to make multistreaming easy to you. You get access to Restream Chat, a tool you can use to have chats for multiple streams in one place. You can also use the Restream Events to upload and schedule the streaming of your video.
7. Set everything up
You should mount your cameras on tripods or assign them to camera operators. Connect them to the capture card, which should be connected to your computer. Connect all the microphones, too.
Set up live streaming on the platforms or services you want to use. Connect them to the multistreaming service, and then connect the service to the encoding software. Restream makes this part very easy.
You'll want to create a couple of layouts for the stream. A layout is when you combine audio and video sources with graphics and memorize them for quick switching on the fly.
Once you're done connecting everything, do a test run in private mode. Then do a couple more. You won't have a lot of room for ad-hoc adjustments during the stream, so you have to go into it well prepared.
Tips for a smooth live stream
As with any other type of content, the live stream of your event will have plenty of things you can fine-tune. Here's a couple you can try early on to help you:
Keep it simple.  The fewer parts your setup has, the fewer chances that something will go wrong. Try to use the exact number of cameras and microphones you need.
Don't forget to promote it. You don't have to promote the stream separately from the event. Just include a mention and a link into the promotional materials for the event.
Practice the event, if possible. If you can, practice the event with camera operators and the people who'll be in front of the camera.
Check audio/video sync. Make sure they are in sync during the tests. In general, pay special attention to the quality of the audio — audiences notice it more than you'd think.
Reduce the CPU's workload. A computer CPU that has to work too much will cause issues with the stream. Pair cameras with portable hardware encoders to lighten the workload.
Use lower thirds. The lower third of the screen is the perfect place for graphics. Use it for anything from countdown timers to information about speakers.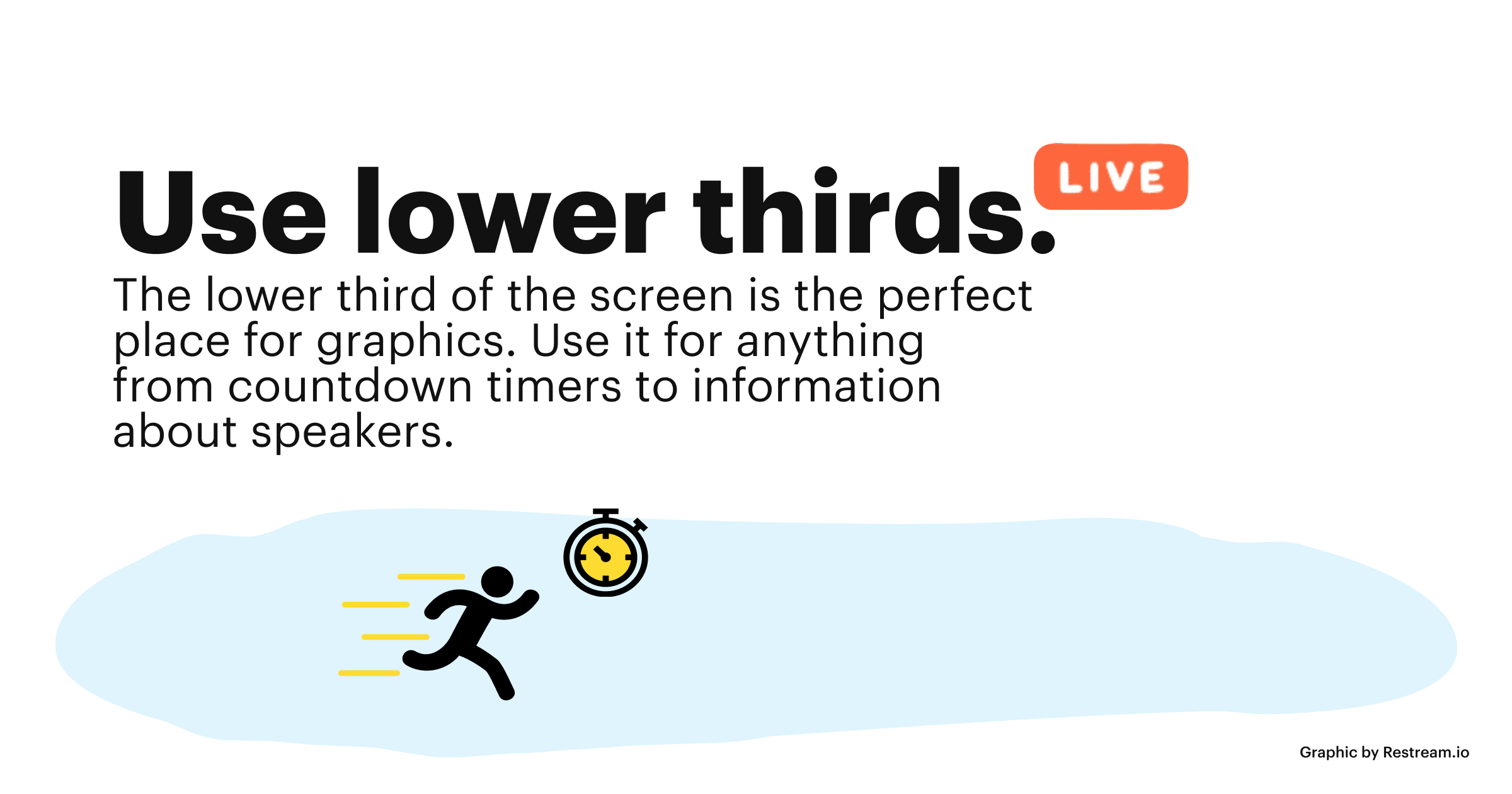 Engage the audience. Let the people watching your event online ask questions. Using Restream Chat, you might be able to let them chat across different platforms, too.
Above anything else, you should give yourself enough time to figure things out and test them. Live streaming doesn't have to be complicated and it allows you to do lots of things and exercise your creativity. So start small and simple, leave yourself time to learn as you go.
Conclusion
Thanks to its reach-expanding capabilities, audience engagement, and a low barrier to entry, live streaming is becoming a tool marketers frequently use. If you're going to prepare to live stream an event for the first time, don't leave anything to chance. Go into it armed with checklists, heavy-duty hardware, and reliable software. You want it to go well — Restream will help you reach your audiences on any social network. So trust the tools you use, use the tools you can trust, and make those audiences feel as if they were there. That's the best reason why you should learn how to live stream an event.