Intro
Webinars have become a powerful multipurpose digital business tool unlike anything else. If properly done, live webinars can keep your audience engaged for hours! A live webinar connects creators with viewers regardless of their locations. It is interactive, it fosters discussion, and you can easily combine it with the power of social media.
We know that 41% of video marketers have adopted webinars. We also know that the people who've tried them — or at least 83% of them — found that webinars worked well. In 2021, we expect that more than a third of marketers will use webinars.
So, this article will answer the following questions:
Are conventional webinars really dying? Or are they entering a new phase of growth?
Why should companies, start-ups, and solo entrepreneurs invest their time and money in running webinars?
What does it take to prep for and arrange a live webinar?
Why is going live on YouTube, Facebook, or LinkedIn simultaneously beneficial for the business?
We can already see that webinars are a worthy piece of marketing content. Let's dive deeper and learn what webinars are really about.
What's great about live webinars?
Live webinars are the top trending type of webinars at the moment. Thanks to their capacity to employ multiple kinds of media and interactivity, live webinars can serve a multitude of business goals, including:
The expansion of marketing activities to generate more revenue
Cutting traveling expenses and time for conventional meetings
Support for each stage of the sales funnel
Improvement of business communication
Reaching a much larger demographic by bypassing geographical limitations
Content creation for further remarketing purposes
Live webinars work best for those who have experience hosting traditional ones. This type of content has a much higher success rate, since YouTube, Facebook, and LinkedIn algorithms are known to push live vids with high engagement rates higher up in the feed.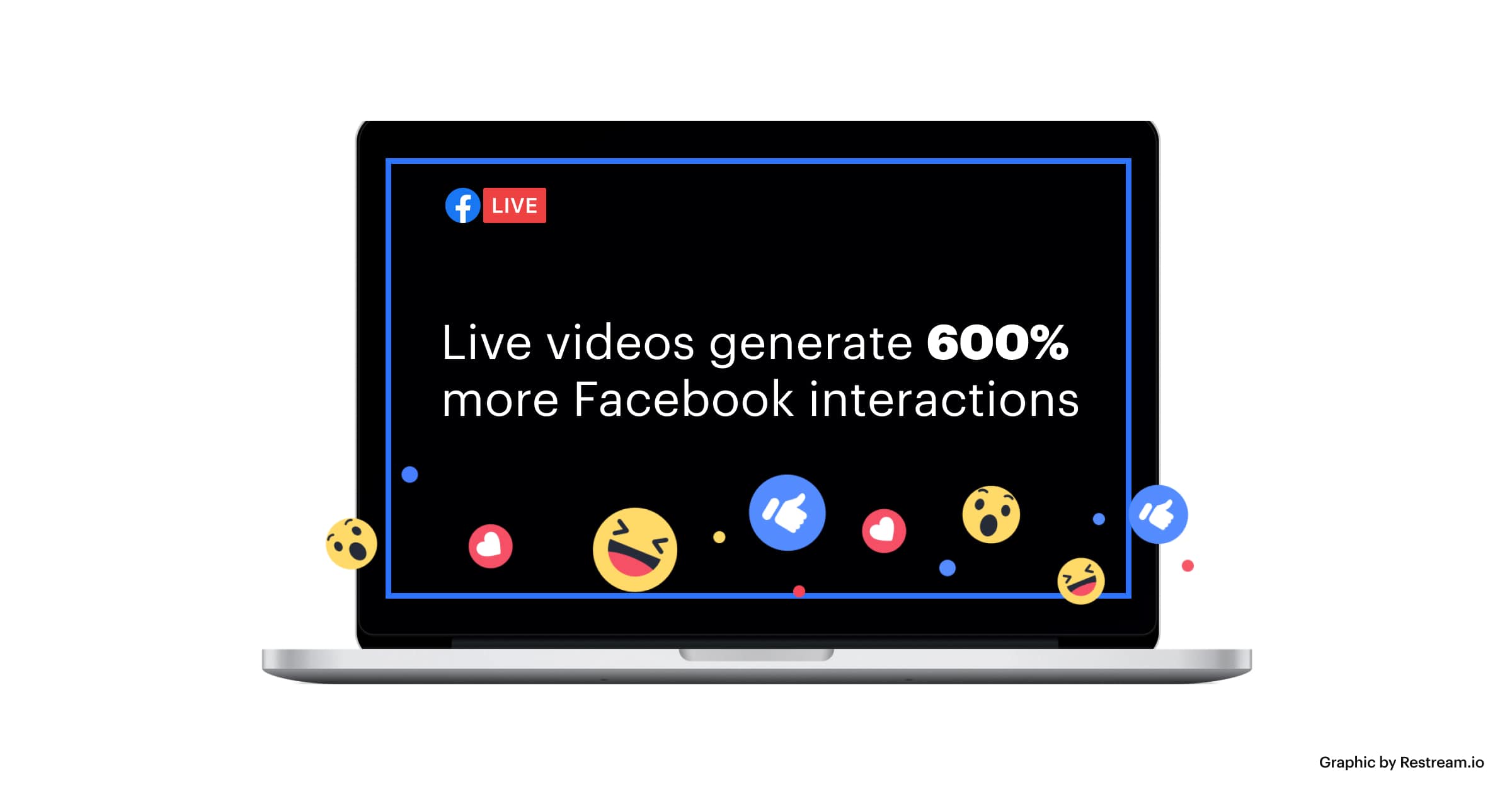 Going live with a webinar on multiple social platforms expands your reach exponentially and allows for a more effective CTA while the webinar is still live.
Why use popular platforms and social networks?
Promoting your live webinar by going live on different sites at the same time has the potential to outshine most of your other promotional activities. Places like Facebook, LinkedIn, and YouTube are undergoing continuous algorithm changes. We see new instruments emerge and audiences shift. Leveraging the reach of any one of them will push your content's engagement rates.
A consistent presence at mainstream content delivery platforms helps you:
Get the reach. Creating content is one thing, but getting it to your audience is another. More users means a bigger audience pool.
Gain better targeting. Get to a different demographic and advertise your broadcast in a slightly different manner depending on the platform you use.
Get discovered. Most social platforms promote increasingly engaging content, live videos especially. Use this algorithm to promote your stream!
Achieve shareability. Make it easy for followers and community newcomers to spread the word about you across all their social profiles.
Every mainstream platform/network is a little bit different with its own set of strong points. Here is some information about the most popular choices for live webinars.

Why go live on Facebook?
Facebook Live videos get ten times more comments than regular videos.
52% of those who stream live video do so through social media.
The Facebook Live video view count climbed to two billion viewers last year.

Why go live on YouTube?
YouTube has over 1.9 billion logged-in monthly users.
YouTube is the world's second most visited search engine.
Over one billion hours of YouTube videos are being watched every day.

Why go live on LinkedIn?
There are 660 million members on LinkedIn.
LinkedIn makes up more than 50% of all social traffic to B2B websites and blogs.
There are 17 million opinion leaders and ten million C-Level executives on LinkedIn.
When choosing the platform for your next live webinar, make sure you take into account all the relevant information you can access. If you really can't make a choice, don't worry — we'll show you a way to stream to multiple platforms a bit later.
How to plan a live webinar
The plan you lay out before you launch will drive all of your performance once the webinar airs. This is why a structured strategy is crucial.
1. Choose a theme for your webinar
Start with picking a theme for your live webinar. Make sure you've researched your target audience and are answering some of their major questions with your stream. When you're considering your webinar's content, think of the problems you're solving. Maybe you're helping people be better at their jobs? Providing value every step of the way is key to keeping your viewers engaged.
Read later: Live stream your Zoom webinars and meetings 📍
2. Create a detailed script and additional materials
Scripting your live webinar is a very important next step. All the prep you're doing is going to eventually make your whole story work. Build all your location, crew, cast, and equipment choices based on your primary live webinar goals. An important segment of the preparation is rehearsing. Arrange a run-through. If you've got guests, they should be equally well-prepared for the event.
3. Figure out who's your audience
The age where you build content and the audience automatically follows is long gone. You have to work hard and build your audience up before you go into streaming a live webinar. Go ahead and leverage every possible tool to gather viewers: social media, searches, email promotion, and content. You have to build anticipation for the audience to show up and tune in during the desired time slot. Remember, the event is most precious while it lasts.
4. Find the appropriate live webinar equipment
In many cases, it is only you and your equipment in a studio (or home) during a live event. The basic setup includes a quality light source, a laptop, an extra screen, an external mic, encoding software (or hardware), and a quality webcam at eye level.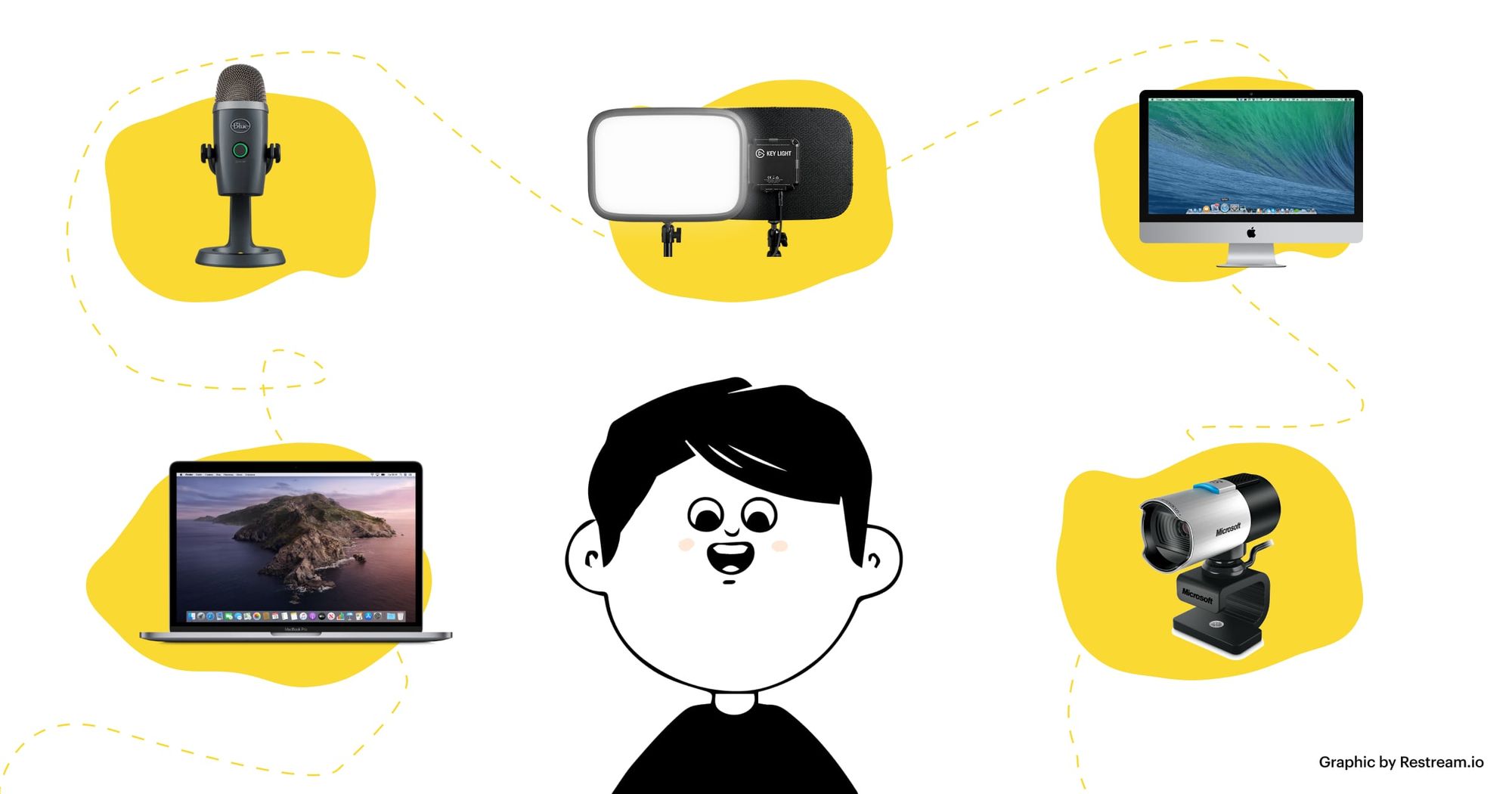 Some solo entrepreneurs prefer working with a couple of screens when hosting a live webinar. This allows for two separate dedicated spaces for screen sharing and interaction purposes. Once you run a couple of your own webinars, you'll be able to easily figure out what works best for you.
5. Test everything and set up redundancies
Technical rehearsals are as important as the script run-throughs. Rehearsing your setup, however, would only be relevant if you practice on-location shoots often, opting for viewers in-house and online. In such a case, think of the location and its specifics. Consider how the setting and the lighting will look in the shot, as well as how many cameras and angles you want to cut to in order to achieve a more polished, TV-like result.
By all means, you do not want your live stream to go down. So when you're producing a live stream, you must secure power and internet connectivity, a background, camera backups, various microphones and their backups, encoders, lights, cables, and automatic internet backup (an LTE failover appliance) as well.
6. Promote your live webinar
Use every possible way to attract viewers to your event ahead of time: social media, searches, email promotion, and content. Want to expand your webinar reach and engage your social media network even more? Try to multistream your content live and build your audience like never before.
How to multistream live webinars
Multistreaming is the way to get the most out of your access to different streaming platforms and networks. You don't have to broadcast your webinar to only one of these platforms. The more platforms you stream to, the bigger your reach.
The best part of multistreaming is just how easy it can be. Restream's newest service, Restream Studio, makes multistreaming a breeze. All you need is access to a webcam, a web browser, and a Restream account, and you'll be able to send you webinar to any number of websites at the same time.
👉 Learn more: Restream Studio: Everything you need to know
But the benefits don't end there. Whatever you're streaming, you can polish your stream with features such as branded watermarks, screen sharing, on-screen live chat during the broadcast, animated emojis, and even screen overlays. When your stream is done, the recorded version of your live webinar becomes shareable in other places.
Easy live streaming for everyone
Run professional live streams from your browser.
Get Started
Takeaways
To ensure your brand stays ahead of audience behavior trends and implements live streams into your marketing strategy, you should only utilize top webinar features when creating your live webinar content. To succeed in streaming live webinars, always start with a content strategy and a promotion plan. Advanced preparation, proper equipment, and rehearsing will help you achieve success faster. Multistreaming may help you along and do half of the promotion job for you, and the Restream Studio is the easiest way to jump into it. So don't hesitate!