Webinars have become a powerful multipurpose digital business tool unlike anything else. A live webinar connects creators with viewers regardless of their locations. It's interactive, it fosters discussion, and you can easily combine it with the power of social media. In 2022,  46% of video marketers plan to use webinars in their video marketing strategies. Let's dive deeper and learn what webinars are really about and how to run one.
The #1 live
streaming solution
Get started for free
What is a live webinar?
A live webinar is a conference or presentation that is broadcast online. Webinars (or web seminars) typically consist of one or more speakers who present information, take questions from viewers, or foster discussions among viewers. The goal of a webinar is to be interactive; they work best when you have audience members who participate often.
What's great about live webinars?
Live webinars are currently the top trending type of webinars. Thanks to their capacity to employ multiple kinds of media and interactivity, live webinars can serve a multitude of business goals, including:
The expansion of marketing activities to generate more revenue
Cutting traveling expenses and time for conventional meetings
Support for each stage of the sales funnel
Improvement of business communication
Reaching a much larger demographic by bypassing geographical limitations
Content creation for additional marketing purposes
Live webinars work best for those who have experience hosting traditional, in-person ones. This type of content has a much higher success rate, since YouTube, Facebook and LinkedIn algorithms are known to push live videos with high engagement rates higher up in the feed.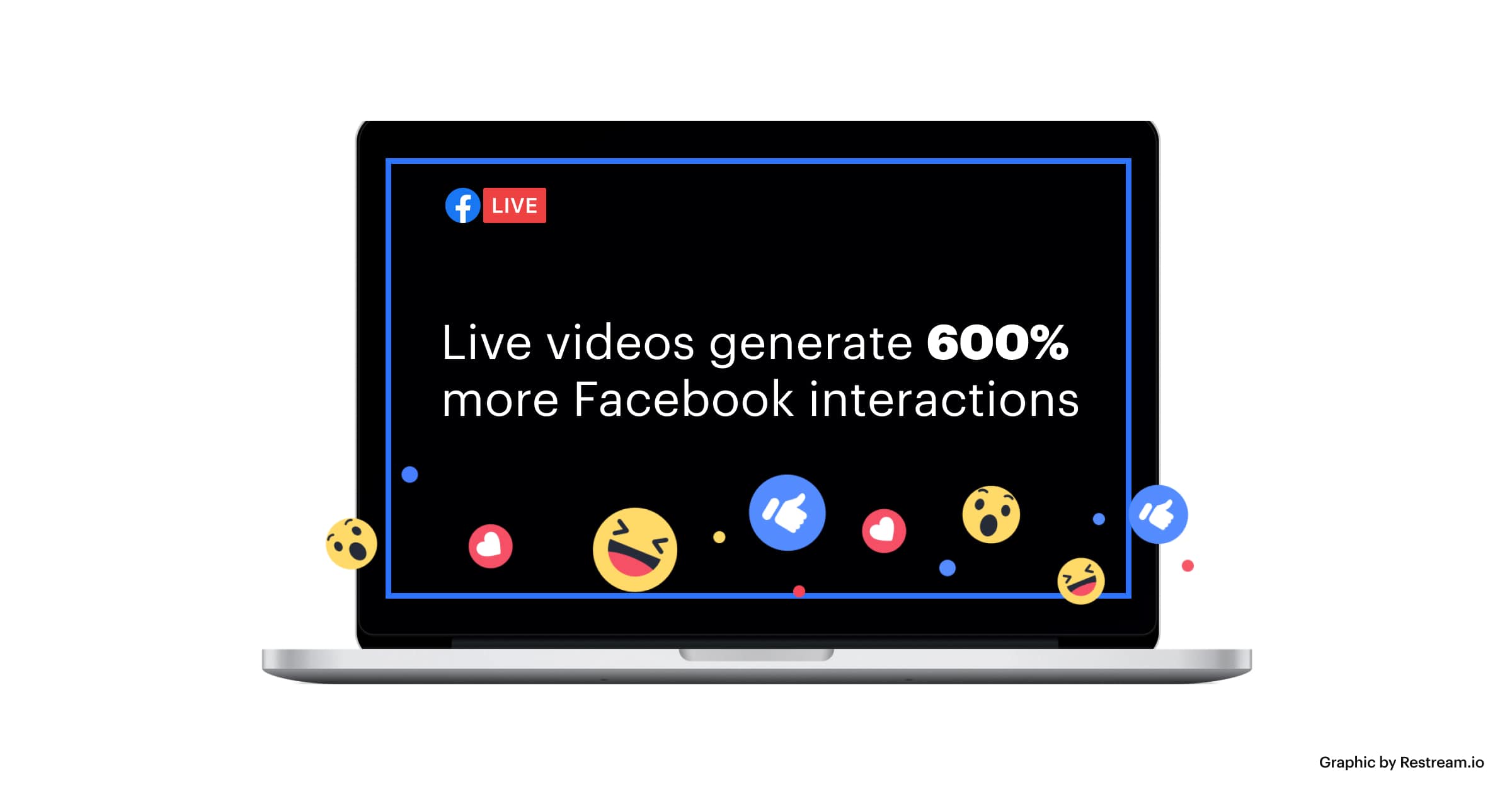 Going live with a webinar on multiple social platforms expands your reach exponentially and allows for a more effective call to action (CTA) while the webinar is live.
Why should you stream a webinar on social media?
Promoting your live webinar by going live on different sites at the same time has the potential to outshine most of your other promotional activities. Platforms like Facebook, LinkedIn and YouTube are undergoing continuous algorithm changes. Leveraging the reach of any one of them will push your content's engagement rates.
A consistent presence on mainstream social platforms helps you:
Amplify reach. Creating content is one thing, but getting it to your audience is another. More users means a bigger audience pool.
Improve targeting. Reach a different demographic and advertise your broadcast in a slightly different manner depending on the platform you use.
Get discovered. Most social platforms promote increasingly engaging content, live videos especially. Use this algorithm to promote your stream!
Achieve shareability. Make it easy for followers and community newcomers to spread the word about you across all their social profiles.
Here are some stats about each major platform to better understand why you should host webinars on social media.

Why go live on Facebook?

Why go live on YouTube?

Why go live on LinkedIn?
When choosing the platform for your next live webinar, make sure you take into account all the relevant information you can access. If you really can't make a choice, don't worry — you can always stream to multiple platforms at once. We'll explain how later on.
How to plan a live webinar
The plan you lay out before you go live will drive your performance once the webinar airs. This is why a structured strategy is crucial.
Choose a theme for your webinar
Start with picking a theme for your live webinar. Make sure you've researched your target audience and are answering some of their major questions. When you're considering your webinar's content, think of the problems you're solving. Maybe you're helping people be better at their jobs or showing them how to use a new tool. Providing value every step of the way is key to keeping your viewers engaged.
Create a detailed script and additional materials
Scripting your live webinar is a very important step. Build your location, crew, cast and equipment choices based on your primary live webinar goals. And don't forget about rehearsing your show. Arrange a run-through. If you've got guests, they should be equally well-prepared for the event.
Identify and build your audience
You'll want to build your audience before you stream a live webinar. Leverage every possible tool to gather viewers and build anticipation for your webinar: social media, searches, email promotion and content. Remember, the event is most valuable while it's live.
Get the appropriate equipment
In many cases, it's only you and your equipment in a studio during a live event. The basic setup includes a quality light source, a laptop, an extra screen, an external mic, streaming software (or hardware) and a quality webcam at eye level.
Some solo entrepreneurs prefer working with a couple of screens when hosting a live webinar. This allows for two separate dedicated spaces for screen sharing and interaction purposes. Once you've run a few webinars, you'll be able to figure out what works best for you.
Test everything and set up redundancies
Technical rehearsals are as important as script run-throughs. Consider how the setting and the lighting will look in the shot, as well as how many cameras and angles you want in order to have a more polished, TV-like result.
Internet connectivity is crucial for a live webinar. When you're producing a live stream, you must secure power and internet connectivity, a background, camera backups, various microphones and their backups, lights, cables and automatic internet backup as well.
Promote your live webinar
Use as many avenues as possible to attract viewers to your event ahead of time: social media, organic search, email promotion and blogs. Want to expand your webinar reach and engage your social media network even more? Multistream your content live and expand your audience.
How to multistream live webinars
Multistreaming lets you get the most out of your different streaming platforms and networks. You don't have to broadcast your webinar to just one of these platforms — you can stream on multiple networks at once. The more platforms you stream to, the bigger your reach.
The best part of multistreaming is just how easy it can be. Restream Studio, our browser-based live streaming studio, makes multistreaming a breeze. All you need is access to a webcam, a web browser, and a Restream account, and you can send your webinar to multiple websites at the same time.
You can also polish your webinar with features such as branded watermarks, screen sharing, on-screen live chat during the broadcast, animated emojis and even screen overlays. When your stream is done, the recorded version of your live webinar is available to download so you can edit and repost it later.
Live stream everywhere,
all at once
Get started for free
FAQs
What is the difference between a webinar and a live webinar?
Typically, a "webinar" refers to a live seminar or conference you can access online, in real time. Webinars can be recorded and watched on-demand as well, however. To distinguish a webinar recording that took place previously from a webinar that's taking place in real time, some people put the word "live" before webinar.
Do I need to be on camera for a webinar?
You can certainly deliver valuable information with screen shares and pre-recorded videos, without having to appear on camera yourself. But the goal of a webinar is to promote discussion and debate, and it's hard to do that if viewers can't see the host. Ideally, you should appear on camera for at least a portion of your webinar if you want the stream to be more engaging.
What is the most popular webinar platform?
Zoom is frequently used for webinars by businesses, content creators, and organizations all over the world and across industries. It's not the only platform that can host a webinar, though. Restream Studio is a live streaming application that lets you host an engaging, professional-quality webinar — and it's completely user-friendly.
How can I host a webinar for free?
Live streaming and live webinars are so accessible because they don't cost much to produce. If you have a webcam, microphone and a laptop (or even a smartphone), you can pull off a professional-quality webinar. Many webinar and live streaming software have free solutions as well, allowing you to deliver content to your audience.
Wrap-up
To succeed in streaming live webinars, always start with a content strategy and a promotion plan. Advanced preparation, proper equipment and rehearsing will help you achieve success faster. Multistreaming can do half of the promotion for you, and Restream Studio is the easiest way to jump into it!