Do you love multistreaming but have trouble keeping track of all your chat windows? You don't want to neglect the chat — that's where your viewers can engage with you and start building a community around your brand!
Restream Chat is our helpful live streaming chat tool that solves this problem. It allows you to centralize chats from popular live streaming platforms into one chat window. You can even add this chat window to the dashboard of your encoder.
In this full product guide, we'll explore Restream Chat, including:
What is Restream Chat?
How to add Restream Chat to OBS or your preferred encoding software
Restream Chat features
Use cases for Restream Chat
Let's discover Restream Chat!
What is Restream Chat?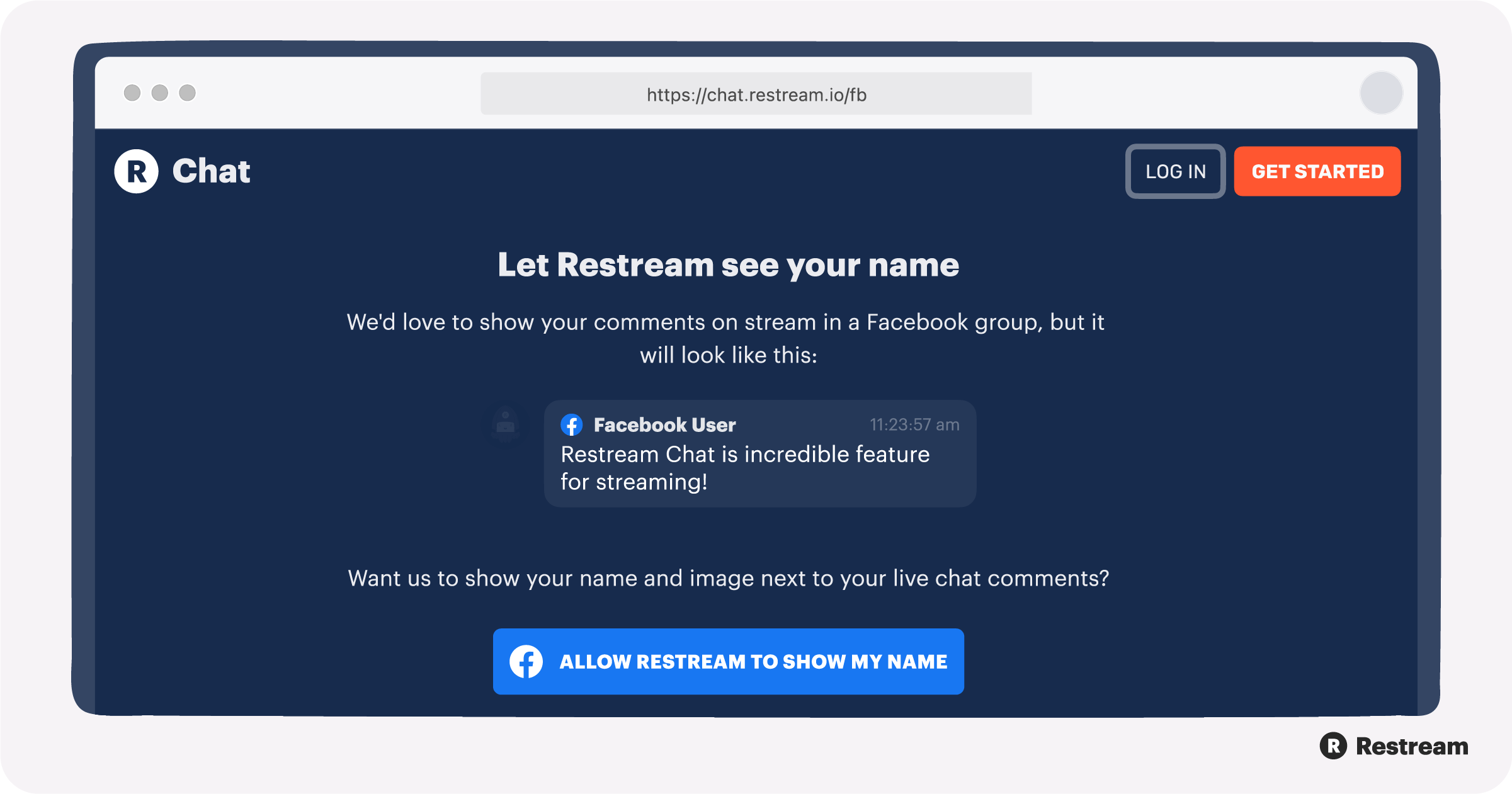 Restream Chat is a live video chat tool that allows you to manage all your live streaming communication. You can connect cross-platform audiences, embed a chat widget in your streams, integrate with Discord, consolidate all messages across platforms, and more.
We created Restream Chat to make managing your live stream chat easier. If you're streaming to multiple platforms, you no longer have to keep each chat window up in a separate tab and reply to messages one platform at a time.
You can also bring every viewer from every platform into the conversation by displaying a multi-platform chat overlay widget in your live stream.
The ultimate live streaming chat tool
Restream Chat includes features to help you handle multiple chats at once:
Relay mode: You can post a message in Restream Chat, and it will appear in chats on your connected platforms. Viewers can also send a message in chat, and it will appear both in your Restream Chat window and on other platforms that support Relay, such as YouTube.
Filters: Restream Chat also lets you filter out certain words you don't want to appear in chat. When you set up filters, they'll apply to all the platforms you have connected that support chat.
Timed replies: If you want to send a premade message, such as welcoming everyone to the stream or sending out your social handles, Restream Chat has a "reply commands" function that allows you to do so. Easily create a command, send it out across your connected channels, and even set it on a timer.
Restream Chat: downloadable chat client or launch in browser
Restream Chat is available both in your web browser and as a downloadable chat client for Windows, Mac, and Linux. There are minor differences between the two versions, so both will work fine for managing your chat while multistreaming. Let's look at the two main differences between the chat client and web version:
Appearance: Under the Appearance tab in your Restream Chat settings, you can change how the chat window appears for you (not for viewers). On the downloadable chat client, you can change whether messages appear at the top of the window or the bottom, enable clickthrough mode, or make the background and messages of your chat window transparent. These appearance features aren't available on the web-based version.
Notifications: The downloadable chat client can send you desktop notifications; the web-based version cannot.
How to use Restream Chat
You can use Restream Chat in any live streaming encoding software that allows a browser source. It works with OBS Studio (OBS), StreamLabs OBS (SLOBS), Xsplit, and more. With an encoder, you can use Restream Chat to create a chat window on your encoder's dashboard to manage your chat and live stream in one place or embed a chat overlay widget on your stream.
We'll cover how to set up Restream Chat in OBS and SLOBS, as well as using the native chat function in Restream Studio.
1. Setting up Restream Chat in OBS Studio
If you want to have a chat hub on your OBS dashboard where you can see all your messages and control chat functions, you will need to connect your Restream account to OBS.
2. Adding Restream Chat windows to the OBS dashboard
On your OBS dashboard, go to the bottom right and click on Settings. Navigate to "Stream," and in the pull-down menu, select Restream.io, then "Connect Account." You'll then enter your Restream account credentials to connect your Restream account to OBS. Click "OK" on your OBS settings window, then you'll see three new windows pop up. These are your Restream Chat windows, which you can drag and place wherever you like on your OBS dashboard.
When you update chat information in the native Restream Chat windows in OBS, it will update all of your live streaming platforms. From these windows, you can read and reply to messages and enable/disable chat on certain channels.
Note: This works only on Windows
3. Adding a chat overlay to OBS with Restream Chat
To add a chat overlay in OBS with Restream Chat, you'll have to add the chat as a browser source on OBS. Keep in mind that you do not have to connect your Restream account to OBS to embed a chat overlay in your stream. All you need is the embed link to add as a browser source.
First, copy the embed URL from the Restream Chat settings page.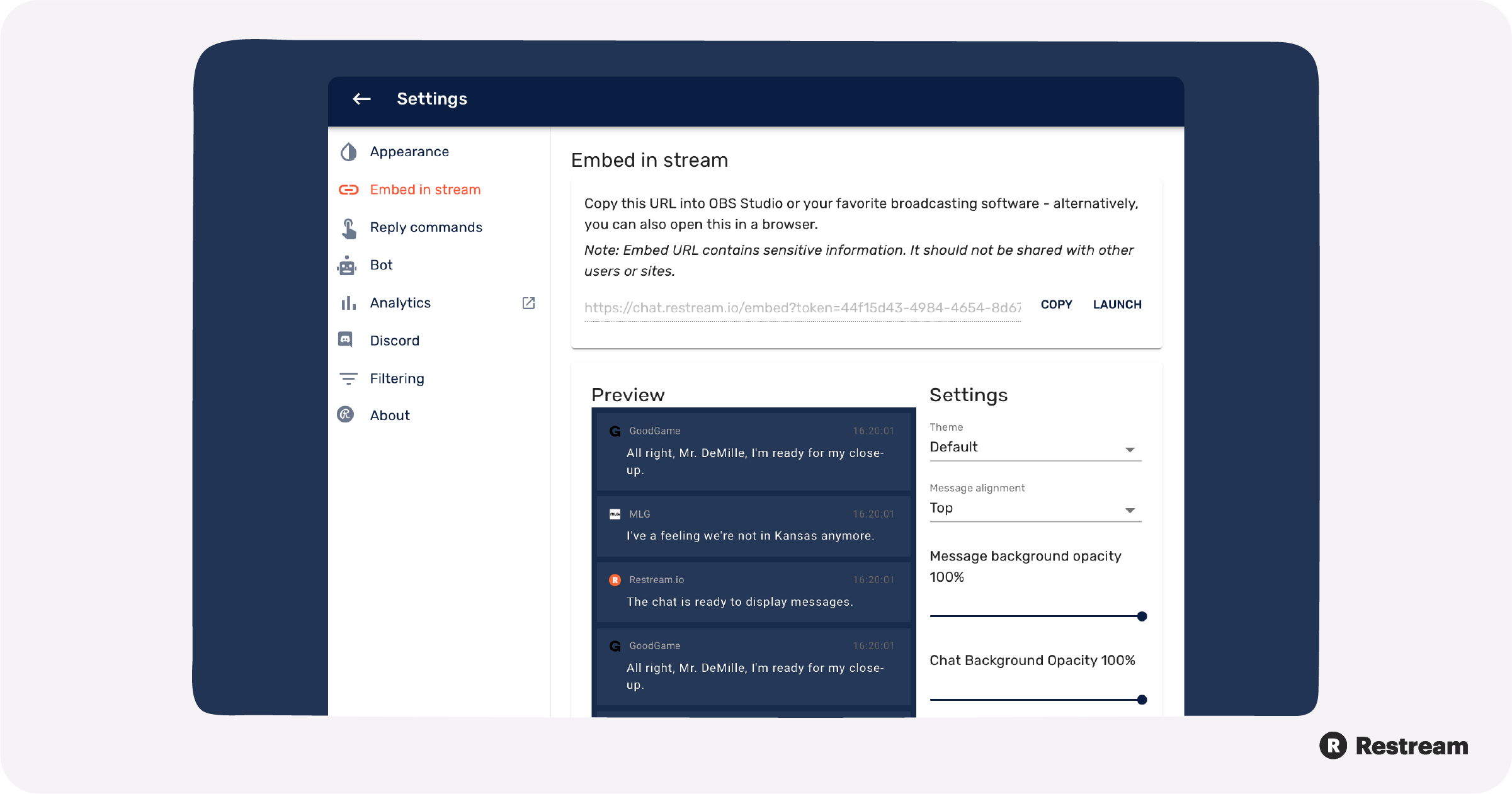 Next, go to your OBS dashboard. Under Sources, click the plus sign and select "Browser." When you create a new source, give it a name you'll remember, such as "Restream Chat," and click "OK." A window will pop up after you add a browser source and give it a name. You'll have to enter a URL in this window to add your browser source.
The URL you'll need is the "embed in stream" URL from Restream Chat. To find it, log in to your Restream account. On your Restream dashboard, navigate to the menu on the left-hand side and click on the three dots for "More." You'll see several options; select "Chat app." You'll then see the chat product page, where you'll see three important buttons:
Download for Windows (or Mac or Linux, depending on your operating system)
Open in Browser
Embed in stream URL
Copy the "embed in stream" URL.
Back in OBS, add the URL you copied from Restream Chat. Then, adjust the width and height so your chat widget appears the size you want it to on your stream. Now, you can change the appearance of your overlay, such as making the background transparent or selecting a theme from one of Restream's many options.
If you want to embed a chat overlay in SLOBS, you can follow the same steps as with OBS Studio.
4. Changing the appearance of the Restream Chat overlay
If you want to change how the chat appears to your viewers, you can toggle the settings under the "Embed in stream" tab. If you change the settings in Restream Chat, you'll have to refresh the cache under the Browser Source settings in OBS and SLOBS to see the changes.
We'll discuss changing your chat overlay appearance more in the "Embed in stream" section under Restream Chat features.
5. Restream Chat in Restream Studio
There's a much easier way to go live without any streaming software, using Restream Studio. All you need is a web browser and a Restream account. When you use Restream Studio, your chat tab on the right-hand side already displays messages from all the channels you're connected to, and you can send messages to each channel as well.
With the chat function on Restream Studio, you can also hide messages from appearing in the chat on your various platforms, and you can display single messages if you want to respond to one in particular. You can even add a chat overlay on your stream in Restream Studio.
Restream Chat features

Now that you know how to set up Restream Chat, let's look at how to configure all the features. You can access and modify these features from Settings, which is at the bottom right-hand corner of the chat window.

1. Read and Reply

Restream Chat features Read and Reply, the functionality that allows you to see all your chat messages from across platforms in one place and reply to them within the chat window.
If you only want to send a message to one channel, you can navigate to the bottom of the chat window, where you will see the orange "R" logo for Restream. Click on the pull-down arrow right next to the logo and you'll see a list of all the channels you're streaming to. You can select your YouTube channel, for example, and when you send a message, it will only appear in your YouTube chat.
Below the orange Restream logo, you'll also see how many live streaming services you have connected. Some channels will only let you connect to chat when you're live.
🙌 Check the About section of the Settings in Restream Chat to see if your favorite live streaming platform supports Read, Reply, and Relay mode.
2. Appearance
The Appearance tab lets you change how you see the chat in your Restream Chat window. Appearance settings DO NOT change what your viewers see. If you want to change what your viewers see in your chat overlay, you have to adjust the settings in the "Embed in stream" tab.
In Appearance, you can set your chat to compact mode and change the scale. Note that the viewer counter is a combined count of all your viewers across every platform you're streaming to. You can also add flair with avatars and colorized author names. The opacity sliders at the bottom change how transparent the chat window appears in the standalone app. You can also enable clickthrough and configure your messages so they always appear at the top or bottom of the window.
3. Notifications
In the desktop version of Restream Chat, you can enable notifications on your computer, as well as set the Text to Speech to read out chat messages to you. Notifications are not available with the browser version of Restream Chat.
4. Embed in stream for chat overlay
The "Embed in stream" tab is where you'll configure settings for a chat overlay you want to display in your stream. You'll see a URL at the top, which you can copy and paste into your encoding software such as OBS or SLOBS.
You'll see a preview of how your messages will look to your viewers, and you can adjust it with the settings on the right. You can choose from over 30 game-inspired themes for your chat, including League of Legends, Fortnite, Overwatch, and more. You can also set either the message or background opacity to 0% so only the text of the messages shows in your overlay. To manage your chat, you can also set a time limit so your messages are hidden after 180 seconds or less.
If you don't like any of the preset themes in Restream Chat, you can add custom CSS to your encoding software to change the appearance of your messages in your stream's chat overlay. We only recommend adding custom CSS to advanced users, however.
5. Reply commands
You can create custom chat commands on Restream Chat that allow you to share social handles or send out general messages to your viewers. You will enter the command and the accompanying text, then decide whether it repeats. If you use the repetition function, you have to reset it each time you restart Restream Chat. You activate commands in chat by typing an exclamation point (!) and the command word.
If you already have chat commands set on your individual channels such as Twitch, they won't copy over to Restream Chat. If you want to use your Twitch commands in Restream Chat, you'll have to create them in the "Reply commands" tab.
6. Bot and relay mode
Under the Bot tab, you can enable Relay mode. Relay mode takes messages from one platform and relays them to the other, using our bot. If you want all of your viewers to see chat messages across channels, you'll need to make sure Relay mode is turned on. Refer to the above list of platforms that support Read, Reply, and Relay.
7. Analytics
When you use Restream Chat, you get a comprehensive look at your chat analytics. You can see how popular your chat was during your stream, along with other key measures such as the most popular phrase and most popular emoji.
Restream Analytics combines your chat analytics from each platform you're streaming to. So you don't have to go to each platform and calculate the average viewers yourself.
8. Connect Discord
Many streamers chat on Discord during their streams in addition to a live streaming platform. You can also integrate Discord with Restream Chat simply by connecting your Discord account. Your Discord messages will appear in the same chat window along with messages from all your other connected platforms.
9. Filters

To moderate your chat directly from Restream Chat, you can use the Filtering tab to hide common chat bots and mute certain chatters who are disrupting the chat. You can also set specific words for Restream Chat to filter out, so those words won't display in chat on any of your channels.
10. About
In the About tab, you can see which platforms support Read, Reply, and Relay. The chart in the About section shows you on which platforms you can read messages, which you can reply to, and which have chat functions compatible with Relay mode. You'll also configure some of your Facebook chat settings in this section.
By default, Facebook doesn't show the names of group members who comment when you're streaming to a group. You can enable this feature, however, by asking group members to give Restream permission to access their names. In the About section, navigate to Facebook groups and click the blue arrow on the right. You'll find the permission link at the bottom.
If you're streaming to LinkedIn, Restream Chat may not be able to display the user names of people commenting on your stream.
11. Multiple Languages
Restream chat isn't only available in English. It also partially supports Russian, Portuguese, Spanish, and German. So if you or your audience don't communicate in English, you can select one of these other languages instead. Read our guide on how to change the language in your Restream Chat.
Restream Chat use cases
Here are some examples of when to use Restream Chat and how it can benefit your live stream.
📷 Live streaming an event
If you're live streaming a virtual event — which has become much more popular after the 2020 coronavirus pandemic — you'll want to broadcast that event to as many platforms as possible to widen your reach. Virtual conferences, webinars, trade shows, contests, and other similar events rely on audience participation, and if you're streaming on multiple channels, a centralized chat feature will help you keep track of who says what and when.
For live streaming events, the chat function is the ideal place to answer questions, host polls, and get general interaction from your audience. With Restream Chat, you can put up a chat overlay from all your channels, so every viewer feels connected.
🎮 Gamers
Live streaming gamers can benefit from Restream Chat by staying connected with their viewers no matter how many platforms they're on. They can also add the chat overlay to the stream so viewers from Twitch and YouTube can see all messages at the same time. With Restream Chat's themes, gamers can also select a chat appearance that matches their channels and personal brands.
Because Restream Chat integrates easily with encoders, gamers can also put a Restream Chat window on their OBS dashboards, keeping everything in one place. Having to keep multiple tabs and windows open is annoying, so Restream Chat eliminates that hassle.
👾 Discord
Many live streamers cultivate communities on Discord to chat with during a stream or when they're offline. Restream Chat connects with Discord in addition to multiple live streaming platforms, so you can keep the conversation going without launching another app.
Discord works with Relay in and out, meaning you can post messages coming in from your YouTube, Twitch, or Facebook chats on your Discord channel. Restream Chat will also display messages from your Discord in other platforms' chats.
🕺 Guest hosts
Restream Chat is perfect for live collaborations or bringing guests onto your live show. With a collaboration, you and your guest might be broadcasting the stream to your channel and theirs at the same time, so you'll want a centralized chat function to handle all the audience participation.
Partnering with another content creator is an excellent way to expand your engagement, but only if you have the tools to handle more platforms and more viewers. You and your collaborator can both display a chat overlay widget on your feeds if you share the "embed in stream" link found on this page: https://restream.io/chat-product.
Let's wrap up
Restream Chat is full of helpful, accessible features. From easy integration with your preferred encoder to great customization options, Restream Chat will be your new favorite live streaming tool. Some of Restream Chat's most useful features include:
OBS integration
Ready and Reply function
Relay mode
Embed in stream customization options
Reply commands
Chat analytics
Filters
Connecting with Discord
At Restream we're constantly evolving and updating our products. If you find Restream Chat helpful, let us know! If there are some improvements you'd like to see, or if you have questions, we'd love to hear from you as well.
---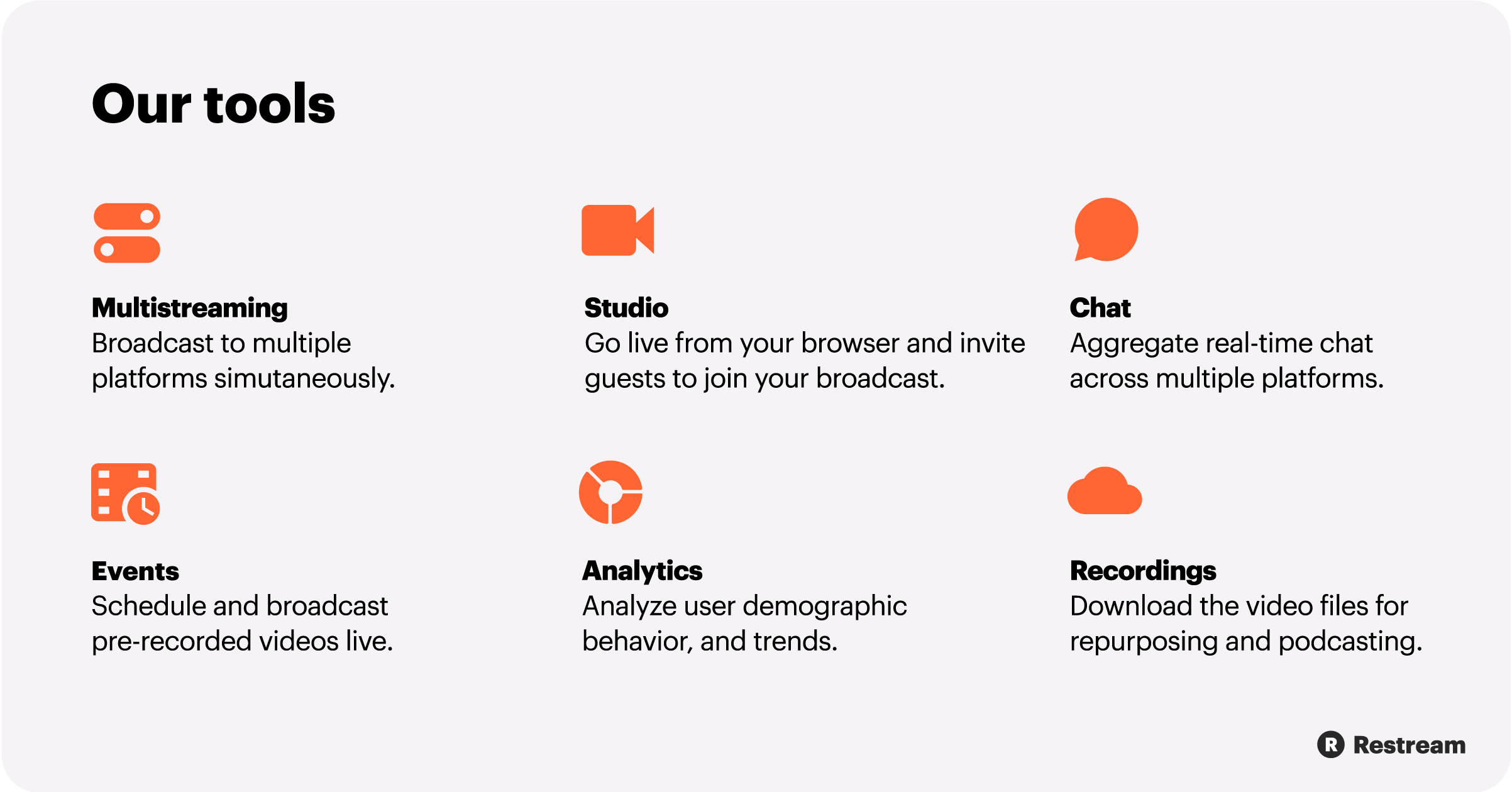 Check out our guides to Restream Tools:
👉 How To Multistream: Guide to Multistreaming
👉 Restream Studio: Everything you need to know
👉 Schedule Pre-Recorded Videos To Go Live
👉 Restream Analytics: Full Guide