Video production and promotion are becoming increasingly important skills for marketers to master. If you're a new marketer looking to learn video marketing or an entrepreneur who wants to harness the power of online video to grow your business, you've come to the right place. We made a list of some of the best resources on video marketing training to help you learn and advance your skills.
Video marketing resources
From e-books to documentary films, we collected the best resources about video marketing to help you both learn the basics and take your video marketing knowledge further. Some resources are 100% free, while others are paid. We included:
E-books
Courses
Facebook communities
Slack groups
Blogs
Documentaries
YouTube channels
Podcasts
📚 E-books
Books and e-books are always a great place to start when you want to discover a new topic.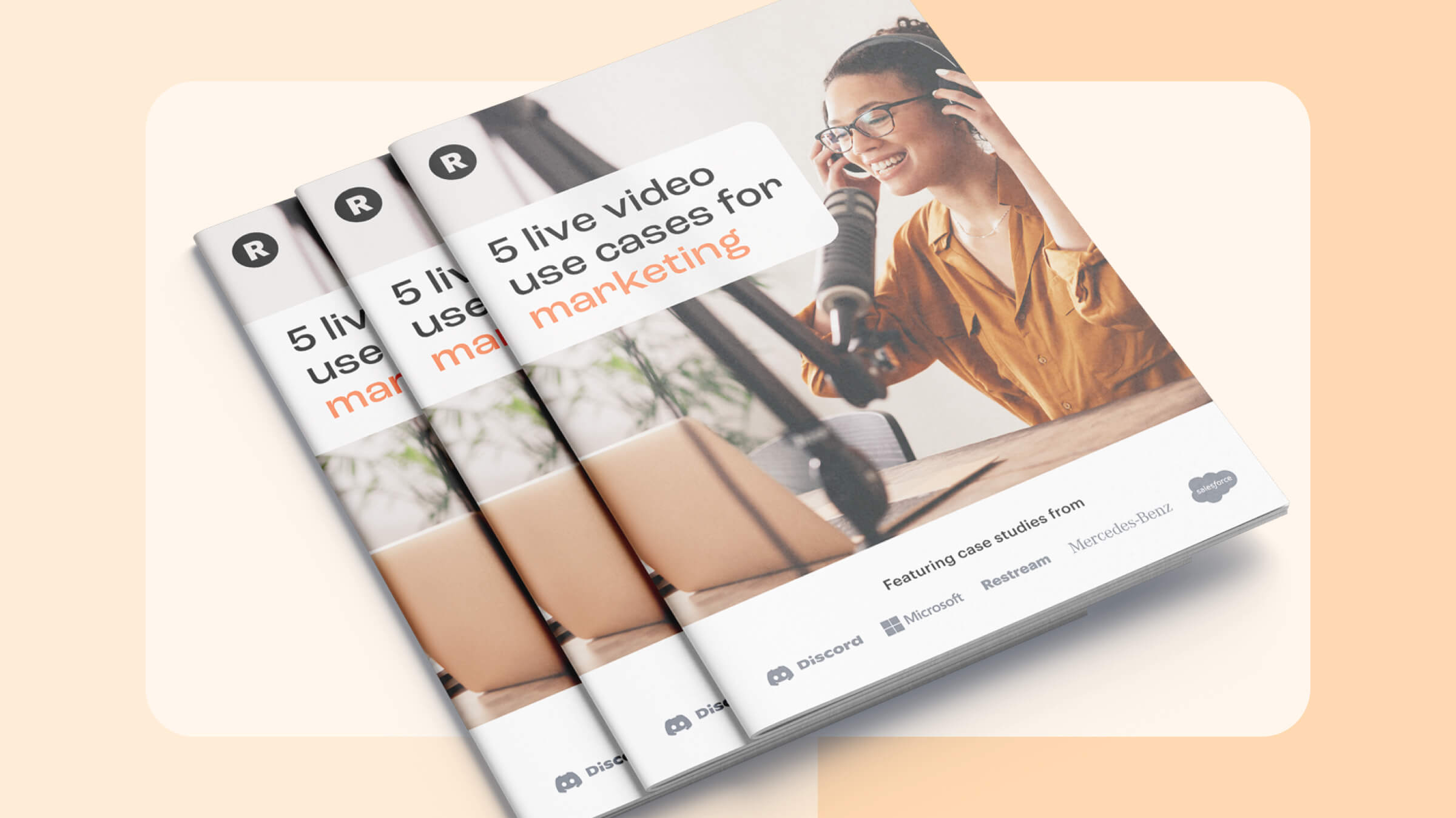 Free ebook: 5 live video use cases for marketing
Learn how marketers at top brands like Microsoft, Discord and Salesforce are using live video content to engage with customers and prospects and deliver results.
👉 Get the Ebook
🤓 Courses
To learn video marketing in a hands-on way, try taking one of these courses. Some are platform-specific, while others cover online video promotion in general.
Learn How to Get Started with Your Video Marketing Strategy, HubSpot Academy. In this beginner's course from HubSpot Academy, content producers and marketing professionals can learn strategies for better online video promotion. The course is free to watch too!
YouTube Creators Channel. As a video marketer, you can't afford to ignore YouTube. With the YouTube Creators channel, you can explore almost any topic related to content creation and promotion on YouTube. All the videos on the Creators channel are free as well.
Video Marketing: YouTube Marketing for Business, Udemy. This YouTube marketing course is geared specifically toward business owners and entrepreneurs interested in developing a video marketing strategy. It goes into detail on how to leverage YouTube to sell your products and services.
Mastering Video Marketing Certificate, Community College of Philadelphia. If you want to distinguish your video marketing training with a credential, you can take this two-month certificate program from the Community College of Philadelphia. The course includes two classes at 16 hours each: Video Marketing and YouTube for Business.
Twitter Flight School. Like most major social media platforms, Twitter has its own e-learning platform called Twitter Flight School. If Twitter is a major part of your video marketing strategy, take a look at some of the Twitter video ads and video creation courses.
Google Ads Video. Learn all about how to create Google Video campaigns and get certified with Google Ads using Google Skillshop. With six courses dedicated to video ads, you can dive deep into creating and optimizing videos for Google Ads.
💁 Facebook communities
Structured courses aren't the only way to gain insights and develop skills. Sometimes the best video marketing tips come from other professionals working in the field. Join a Facebook Group dedicated to video marketing to get practical tips and ask your specific questions about video marketing.
Animoto Social Video Marketing Community. In this Facebook Group run by video creation service Animoto, video marketers can exchange best practices and share constructive feedback on videos for business and social media. The Group is private, so you'll have to request to join.
Designrr Community. The PICASSO Content Marketing Group is for marketers who support the Plan, Infrastructure, Create, Amplify, Syndicate, Share, and Outcome (PICASSO) marketing framework. It's also for commentary on Designrr, Kudani, and other content curation tools. The purpose of the Group is to help other members grow their businesses by exchanging insights about content marketing techniques. While the Group isn't specifically about video marketing, you can find plenty of helpful info about videos here.
Personal Branding with Video. The Personal Branding with Video Group is run by YouTube coach Salma Jafri and provides advice and support for online entrepreneurs who want to grow their brands using video marketing. You can post your videos and ask for feedback as well as share tips with other video marketers.
💡 Slack groups
Facebook isn't the only platform where video marketers hang out. You can also find some on Slack.
Vidico. Video production company Vidico runs a Slack channel all about video production and marketing. Vidico team members share strategies, advice, and solutions for common problems with video marketing. You'll have to be approved by the group's administrators, but the form doesn't take long to fill out.
Superpath. The Superpath Slack community is dedicated to all content marketing, but you can find helpful insights related to videos as well. Superpath boasts more than 3,000 content marketing professionals who network and discuss content strategies.
🧐 Blogs
Blogs can be a helpful resource when seeking out video marketing training, as they often go in-depth on particular topics and include links to even more resources.
Business2Community. The Business2Community website is a resource for general business where people from various industries can share ideas and news. Under the Digital & Social tab, you'll find the Video Marketing subcategory, which is full of helpful guides, trend pieces, and insights about video marketing from professionals in the field.
Neil Patel. The all-around marketing guru Neil Patel has a robust, informative blog that marketers of all kinds flock to. His posts are always in-depth, and this guide to video marketing is no exception. If you're just starting out as a video marketer, this post is a must-read.
Wistia. Video software company Wistia regularly posts articles about video production and marketing. As a brand dedicated solely to video, you can expect to find posts about the minutiae of video marketing, like tracking video KPIs on social media or promoting video privacy.
Animoto. Video company Animoto has an active blog that features posts on video tips and marketing. Go in-depth on topics like Facebook video ads, B2B video marketing, and how to make teaser videos.
Restream. Of course, you already know what a helpful resource the Restream blog is because you landed on this post! At Restream, we aim to create blog posts that are helpful, accessible, and informative, covering anything related to live streaming and video. Read our marketing posts for helpful tips related to video marketing.
🎬 Documentaries
While documentaries may not have actionable tips like blog posts and courses, they do offer insightful instruction that can broaden your perspective of the video marketing industry.
The Story of Content: Rise of the New Marketing. As a seminal authority on all types of content marketing, the Content Marketing Institute (CMI) is an excellent resource for learning video marketing training. In this documentary about content, CMI takes a look into the storytelling side of content and how technology has changed it completely.
Social Media Marketing: The Movie. In this documentary, the CEO of digital marketing agency Ignite Visibility interviews social media marketing professionals about how to craft the perfect social strategy. The film covers social media generally, but it does include tips on social video marketing as well.
🎥 YouTube channels
If you want to learn YouTube marketing strategies, go directly to the source and watch videos from successful YouTube marketing channels!
Social Media Examiner. Video marketing is intertwined with social media marketing, and there's no better channel to learn about social media than Social Media Examiner. With series dedicated to YouTube, Facebook, Instagram, TikTok, Clubhouse, and live video creation, this channel is full of resources to help you hone your video marketing strategy.
Vanessa Lau. Vanessa Lau's channel is for any online business owners and coaches who want to use tools like YouTube and Instagram to grow their businesses.
Adam Erhart. For those starting out in marketing, Adam Erhart's channel is an excellent resource. He covers content marketing on his marketing series, as well as digital marketing tips and strategies for YouTube, Instagram, and Facebook.
LYFE Marketing. The LYFE Marketing channel provides digital marketing advice for business owners. It has a series on building a marketing strategy, as well as video marketing tips for major social media platforms like Facebook, YouTube, and Instagram.
🎧 Podcasts
Although podcasts are an audio-only medium, there is a surprisingly high number of shows about video marketing. Tune into any one of these shows for insights from experts.
Engage Video Marketing Podcast. Online video strategist Ben Amos hosts a weekly podcast covering trends and topics in video marketing, usually with interviews of other professionals in the online video sphere.
Video Marketing Mastery with Todd Hartley. Tune into Video Marketing Mastery for tips, techniques, and advice on all things video marketing with Todd Hartley, the CEO of WireBuzz.
The Video Marketing Podcast with Matt Johnston. Matt Johnston helped pioneer the format of viral videos at publishers like Business Insider and New York Magazine, and he now hosts a weekly podcast sharing actionable knowledge about growing influence using online video.
Video marketing campaign examples
The list of resources above should provide you with plenty of training materials and advice, but sometimes it helps to see successful video campaigns in action. The following brands are all great examples of inspirational video marketing that you can learn lessons from for your own campaigns.
👉 Jeni's Splendid Ice Creams
Ice cream retailer Jeni's Splendid Ice Creams utilizes video as part of their down-to-earth marketing strategy. This 30-second film demonstrates a Jeni's worker building an ice cream sandwich, with directions on how to make your own in the video description. It's simple, effective, and really makes your mouth water for some ice cream!
👉 Reebok
Reebok's "29,915 Days" campaign focused on a 60-second video that counted down the days in one woman's life. It was a reminder to people that the average human only lives 29,915 days and to honor the body they've been given.
👉 GoPro
GoPro's videos typically consist of user-generated content that features people jumping out of airplanes and other adventurous activities. But this edited video of a fireman saving a kitten takes a different approach, showing the versatility of the GoPro camera.
👉 Pretty Little Thing
Clothing brand Pretty Little Thing let influencer Molly Mae into its offices to do a behind-the-scenes video. By having Molly talk with staff members, preview products, and tour the warehouse, the brand made itself more relatable to customers.
👉 Netflix
Netflix did a promotion for the series Call of the Wild by making an interactive YouTube video. At the end, Bear Grylls "calls" you, and you can click to either accept the video or decline it to see what happens next. It's a clever way to keep the audience engaged and entice them to watch a second video.
Let's wrap up
After reading about all these great resources, you probably can't wait to learn video marketing! To become a successful video marketer, gather insights from a variety of people and places. With a broader perspective, you can think more creatively and develop an effective video marketing strategy.