Charity fundraising has taken many forms over the years: from humble bake sales to national telethons. If charities today want to meet their donation goals, however, they won't find their audiences sitting in front of televisions anymore. Today, people are online, watching live streamed content from a variety of sources. Live streaming is everywhere, and there's never been a better time for charity organizations to create live video content.
If you're new to live streaming or looking for tips to up your game, then this ultimate guide is for you. We'll cover the following:
Why your charity needs to live stream
The equipment you need to start streaming
Tips and strategies for successful charity live streaming
Ideas for charity streaming with examples
Your crash course in charity streaming starts now!
👀 Why does my charity need to live stream?
The biggest benefit of live streaming — for anybody, not just charities — is the live interaction. Live video is the most engaging form of content you can post because your audience can chat with you, ask questions, or even send donations in real time.
Live videos also create a sense of urgency. When people see your live stream, it's harder for them to ignore or put off until later. If they want to participate, they have to do it right now or risk missing out. Getting people to act when you have their attention is a key fundraising tactic for most charities.
Your organization can also stand out on social media with live videos, as they're more captivating than other types of content. Social media feeds can feel saturated with content that most people scroll past instantly, but a live video helps cut through all the noise.
Let's look at the numbers
If you're reading an ultimate guide to live streaming for charities, then you probably don't need much convincing to start streaming. But here are a few stats to prove why live streaming benefits charity organizations, just in case you had doubts:
Not only is live streaming surging in popularity, but many charities are also starting to see the power of live video on social media platforms like Facebook and YouTube.
🤓 What do I need to start streaming?
Today, live streaming is easy and free, requiring minimal equipment and almost no investment. Of course, if you want to create high-quality streams, you should have decent equipment.

A basic live streaming setup includes:
Computer: Your laptop or desktop computer should be powerful enough to handle live streaming. Most modern computers have the right specs, but look specifically for an Intel i7 CPU, 8 GB of RAM, a solid state hard drive (SSD), and a lot of USB ports.
Camera: Standard USB webcams provide high-quality video for the price. If you're filming and streaming an event, you might also consider streaming with a DSLR camera or a GoPro.
Mic: Do not use your laptop's internal microphone to live stream. Viewers have less patience for poor audio quality than they do for poor video quality, so invest in a standing mic, or a set of lapel mics if your subjects are moving around a lot.
Streaming software: Streaming software takes the video and audio you're capturing with your camera and mic and converts it into a format that's suitable for broadcasting on live streaming platforms. This process is called encoding, and you can choose software encoders or hardware encoders. Software encoders are better for beginners, and there are several to choose from.
Internet connection: You need a solid internet connection with plenty of bandwidth to upload live video. The exact upload speed you need varies by content type and platform, so read our guide to learn more.
Platforms to stream to: Your live stream needs to broadcast somewhere, whether it's on social media (Facebook, YouTube, Instagram, Twitter, LinkedIn, etc.), a video hosting platform, or your own website.
With the above gear and tools, you're set to start streaming for your charitable organization. However, if you want to create more complex or higher-quality streams, consider these extra accessories:
Audio mixer: If you use multiple microphones and audio sources in your stream, you may need an audio mixer.
Switcher: If you use multiple cameras or video sources in your stream, you may need a video switcher.
Lighting: A few lights can make video from even the most rudimentary webcam look stellar. Read our video lighting guide for more tips.
Green screen: Add a virtual background to your stream using chroma key, for which you'll need a green screen.

Now that you have the right tools and gear, you can start preparing your charity's live stream.
🔥 Tips and strategies for successful charity live streaming
1. Set stream goals
It's hard to do anything successfully without setting goals first. Before you start streaming, decide what you hope to accomplish. Will your stream help drive donations, raise awareness, or describe your organization's work? Try to make goals you can quantify by asking yourself some of the following questions:
How many donations do you want from this live stream?
How many viewers are you hoping for?
How long will the stream be?
How many people will visit your website or social media channels as a result of the stream?
How many followers do you want to gain on your channel?

Make goals that are specific, measurable, attainable, relevant, and time-sensitive (SMART goals), as you'll have a much higher chance of actually reaching them.
2. Plan your live stream
Once you know what your live stream will accomplish, it will make planning the content easier. Although most people consider live streaming spontaneous and unplanned, the truth is that most successful live streamers prepare before hitting that "go live" button. You don't have to write a script for the entire stream, but you should create an outline that hits your main topics. Be flexible, and allow time for interaction with viewers when you create your outline.
If you're planning an interview or Q&A session, for example, know your questions before going live — but leave some time to let viewers ask questions in the live chat as well. If you're doing a fundraising stream, plan out each segment so you're sure to keep your audience engaged throughout the whole stream.
3. Write a catchy title and description
The title and description of your live stream are the first impressions people have of your broadcast and will determine whether they click on it. Come up with something enticing that describes your stream and piques viewer curiosity. Keep the title to about 120 characters, as most platforms put a limit on the length of your title.
In your stream's description, include pertinent information about your charity. The first sentence should be attention-grabbing like the title, as these first few words are what show up in people's feeds. If you're hosting an event, list its segments. If you want people to donate, include the donation link. If you're raising awareness, briefly describe the issue. Provide context for your stream and always include a call to action in the description.
4. Do a test run
Before you go live, test out your equipment and streaming setup. There's nothing worse than starting a broadcast for a waiting audience, only to run into tech issues 30 seconds in. You can set a live stream as "unlisted" on YouTube and use it as a test run, as it won't be found by anyone. On other platforms, name your test stream "test" or make it clear it's not a real stream. That way, if anyone does stumble across it, they know it's a test run.
You can also use Restream to do a test run of your live stream. When you go live using Restream Studio, our browser-based live streaming solution, you can set it to "record only" mode. Your stream won't show up on any platforms, and we'll record the test run for you. You can replay it and watch it as a preview, helping you identify any issues with audio or video sources before the actual stream begins.
5. Promote your stream
Once your live stream is planned and tested, you need to create some buzz for it. If you're using social media to go live, create an event you can share with your followers, so they can get a reminder of when it starts. With Restream Events, you can create one event for your upcoming live stream, choose all the channels you want to broadcast it to, and Restream will create a shareable event link for each platform.
Be sure to post about your live stream frequently on Twitter, Facebook, Instagram, and all your channels in the days leading up to the stream. On every post, include the event link so it's easy to find when people want to tune in.
6. Schedule your event
There's no way you can promote an upcoming stream if you don't schedule it ahead of time. While spontaneous or IRL streaming works well for some content creators, it may not be the best solution for your charity if you're looking to grow your audience or fundraise.
Restream Events is a great tool for helping you schedule and promote live broadcasts, but it can also help you stream a pre-recorded video. If the thought of going live makes you nervous or you'd rather have a polished live stream, you can film and edit a video and schedule it to go live using Restream. Simply upload your video to Restream, choose a time and date, select your channels, and your video will start broadcasting automatically when you've scheduled it.

7. Encourage live interaction
The point of a live stream is to engage with your viewers. Throughout the broadcast, create opportunities for interaction. Allow people to ask questions, or ask a question yourself and wait for answers. Taking a poll is an easy way to get people to engage, and some platforms have built-in tools that allow polling.
Setting aside time for interaction with viewers is important, but don't ignore your live chat during the planned portions of the stream. Always have an eye on the messages coming in so if someone brings up an interesting point or asks a question, you can respond. It helps to have a person on your team dedicated solely to monitoring the live chat, to collect questions and ensure no one spams the chat or says anything inappropriate.
If you're live on multiple platforms at once, moderating the chat can seem overwhelming. With Restream Chat, however, you can see all the messages coming in from across all your platforms in one window.
8. Collaborate with influencers
Working with influencers lets you tap into an audience base that's already established. You put your organization or charity in front of the influencer's viewers in addition to your own, more than doubling your exposure.
Many live streamers are eager to work with charities, and it's common for influencers to collaborate with charities to help raise money or awareness. Hosting 24-hour or marathon live streams is a popular way to raise money for charities. Or you could ask the influencer to take over your channel for a day. There are a ton of creative ways to work with live streaming influencers that will benefit both of you.
9. Add donation options to your live stream
If the goal of your live stream is to gather more donations, make it easy for people to donate! Many live streaming platforms have donation options built in as a way for content creators to monetize their streams. Facebook and Instagram have live donation buttons for live streams geared specifically toward charities.
You don't have to use the platform's donation option if you already have an online fundraising system set up, however. Just be sure to include a link to your fundraising site and remind people throughout the stream to give donations.
10. Repurpose your live streams
Who says you're done with a live stream once it's over? After the stream ends, you can download the recording of your live stream and repurpose it for use on other platforms or channels. Repurposing can take several forms:
Edit the stream into a short highlights video for YouTube.
Pull impactful quotes from the stream and create screenshots with them to post on Twitter.
Make several 30-second videos from the stream and post them gradually on Instagram.
Strip the audio and edit it into a podcast.
Get the transcript and format it into a blog post.
Host the replay on your website so those who missed it can rewatch (and still donate!).
Drop a link to the replay in your email newsletter.
Live streams are free and easy to do, so take full advantage of them by repurposing them into other types of content. If you go live using Restream Studio, we automatically save a recording of your stream for you to download after. You can even activate split-track recording to download the audio track of each stream participant separately — a must for podcast editing.
11. Have fun!
One of the most important things you can do on your live stream is enjoy yourself. Don't worry about being too formal or having a perfect broadcast. When you're live, the level of production doesn't have to be as high as it is for video on demand (VOD). Your viewers want authenticity, and they're tuning in to learn more about you and your organization. So keep things casual; the more fun you're having the more engaging your stream will be.
12. Use an intuitive and powerful streaming tool
When you go live, choose the streaming tools that will set you up for success. Restream makes creating engaging, professional-looking live streams easy. With Restream, you can multistream to several platforms simultaneously, without needing any extra hardware or software. Simply connect your YouTube, Facebook, LinkedIn, Twitter, or other accounts to your Restream account, set up your stream, and you'll be live in multiple places at once.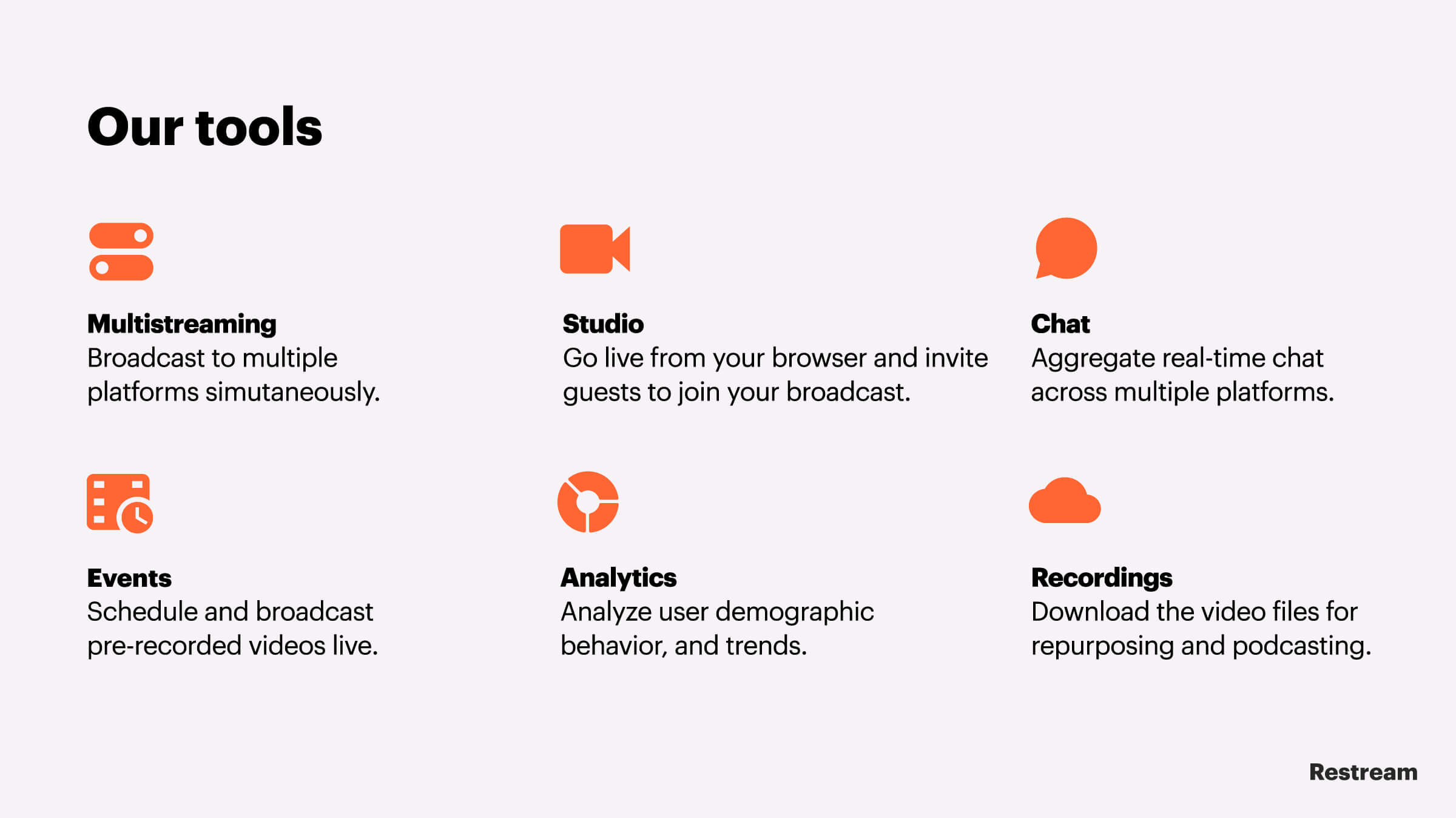 Multistreaming is only one feature Restream offers. We also have a range of products that help make your charity live stream stand out:
🤩 Ideas and examples of charity live streaming
You have the equipment and strategies to start streaming; now all you need is the inspiration. Turn to some of the following ideas when you aren't sure what kind of live video content to produce for your organization.
💡 Combined live meetings and pre-recorded content
When you host a live stream for your charity, you don't have to make the entire thing live. You can incorporate some pre-recorded content, such as a promotional video you made or a short documentary. One idea for an event like this could be showing a short film related to your cause, then having a live panel discussion of it afterward. You could also show a variety of pre-recorded video clips with a live host, to keep the content more engaging for viewers.
Skid Row Housing Trust hosted a Facebook Live stream that combined pre-recorded and live content. Their "Virtual Evening to End Homelessness" featured videos of varying quality as well, keeping the event casual and authentic.
💡 Live stream an offline event
One way to go live is to broadcast an in-person event you're already hosting. You can stream galas, dinners, fundraisers, award shows, and other events online to expand your reach. Those who can't attend in person can still catch all the excitement by tuning into the live stream. To pull off a successful live stream of a large event, however, you might need a multi-camera setup and a team dedicated to filming and streaming the content online.
Planned Parenthood of Metropolitan Washington DC made their 2020 gala virtual. People watching at home were able to order a gala dinner, and table hosts organized small teams of people to better organize fundraising.
💡 Fundraising events
Fundraising events are the bedrock of most charity foundations. Why not make yours virtual and reach a wider audience? When you put your fundraising event in front of more viewers, you increase your potential for donations. Fundraising live streams can take many forms. Contests, giveaways, and 24-hour stream marathons all make good live fundraising events. You can take just about any type of content, like an interview or talk show, and turn it into a fundraising event by adding a donation button.
💡 Live music events
Live music events and concerts are excellent opportunities for charity live streaming, as they tend to draw in a lot of viewers. Benefit concerts have been around a long time as well, so the concept will be familiar to most people. If you are already hosting a fundraising concert, you can live stream it and add online donation options. You can also plan a live-streamed music show on a smaller scale, without an in-person audience.
Musical group The Midnight hosted an online concert to raise money for the organization Plus1, as part of their COVID-19 Relief Fund. They made a "donate" button available during the stream and posted the replay on YouTube with a link to donate in the description.
Another big COVID-19 music event was the Together at Home live stream hosted by the World Health Organization (WHO). The six-hour online pre-show followed by a global televised event featured countless musicians, actors, TV personalities, politicians, and other celebrities. WHO chose Restream to multistream the broadcast across multiple channels.
💡 Newsjacking
Newsjacking is a term coined by marketer David Meerman Scott to mean taking an item from the news and making it relevant to your content. This tactic is especially useful for charities, whose missions and work often overlap with current events. Use newsjacking to draw attention to your organization by offering commentary on a news item during a live stream. The immediacy of a live video is better suited to covering something from the news than a VOD.
💡 Go behind the scenes of your organization
People love behind-the-scenes videos because they personalize your organization. Show viewers what happens in the day-to-day running of your charity organization, or show exclusive content from an event or fundraiser you're hosting. Do interviews with your employees or volunteers to add human faces to your organization or give viewers a peek at your live streaming setup.
💡 Do a collaboration with another charity
A collaboration with an influencer can offer a huge boost to your viewer numbers, but so can partnering up with another charity. Co-host a live stream with an organization that does similar work or operates in the same niche. You will build on each other's audiences to generate more awareness and ask for more donations. You and someone from their organization could interview each other, play a game or do a challenge together, or host a joint fundraising event.
Restream makes collaborating with other charities and streamers easy. Our feature, Restream Pairs, allows you to stream your broadcast on both of your channels at the same time. Read our guide to see how to set it up!
💡 Host a panel discussion
Pick an important issue for your organization and ask experts to come and speak about it. You can gather the experts in one room and film them, then stream it live. Or you can ask your panelists to join remotely and stream the online conversation. If you go live using Restream Studio, you can easily invite remote guests to your stream by simply sending them a secure link.
Let's wrap up
Live streaming is an excellent way for charities to generate awareness for their causes. By reaching more people than you can with in-person events, you increase your chances to get donations or sign up volunteers. Live video is also more engaging than other types of content because it lets you interact directly with viewers in real time.
Hopefully, the tips and tricks in this ultimate guide are enough to help you get started with charity streaming. And when you use an intuitive streaming tool like Restream, creating engaging live video content is easy.