Live streaming is a relatively new yet effective technology that doesn't seem to stop. Individual users, entrepreneurs, and companies alike are using it to achieve their goals. Maybe you have already fathomed the power of live streaming in the business world.
If so, you know that broadcasting is an effective marketing tool. But it can be better if you promote your live streams. How? Let's find out in this guide.
Why is live streaming important?
The live streaming industry is flourishing, and you might already know it. Let's take a step back and remind ourselves of some stats:
Enormous growth. Live streaming is estimated to grow 15 times by 2022 and reach 17% of all web traffic. The broadcasting market size is expected to reach $184.3 billion by 2027.
Changing trends. Nowadays, more people prefer live video over traditional text posts from brands — up to 80%, actually.
Proven efficiency. Video has already become an extremely effective marketing tool — 92% of marketers consider video a crucial part of their strategies. And if we speak of revenue, according to Restream's research, 36% of business streamers have increased their revenue thanks to broadcasting.
So, live streaming is indeed an excellent choice for anyone — from gamers to entrepreneurs. And to take full advantage of it, you should promote your stream. The promotion will help you get in front of people and get their attention.
How to promote live streams
So, where to start? Let's go through all the live stream stages and see what you can do to boost your broadcast before, during, and after the stream.
1. Before the stream
Preparation is always necessary, and so it is for live streaming. Before you can go live, you can do several things to let people know about the event and grow a larger audience.
⏱ Timing is everything
It's all about time. When going live, the last thing you want to do is appear online and hear crickets while all your potential stream viewers see their dreams or are busy at work. So before planning your live stream, look at your target audience. Analyze your previous live streams or data from the social network(s) you stream on to know just the right time for broadcasting.
📢 Let people know about the live stream in advance
Having decided on the broadcast time, inform people about it. Send an email, create an event, and share your live stream link several days or weeks before so people can get ready and add your live stream to their schedules.
If you're going to stream on multiple platforms, it may seem a bit time-consuming to plan it separately. However, with Restream Events, you can schedule your broadcasts for various social networks at once. There you can choose the title and description, add all the channels you need, and create a shareable link for every platform in no time. Restream Events also lets you notify your viewers about the upcoming live stream — very convenient, especially if you multistream to various platforms.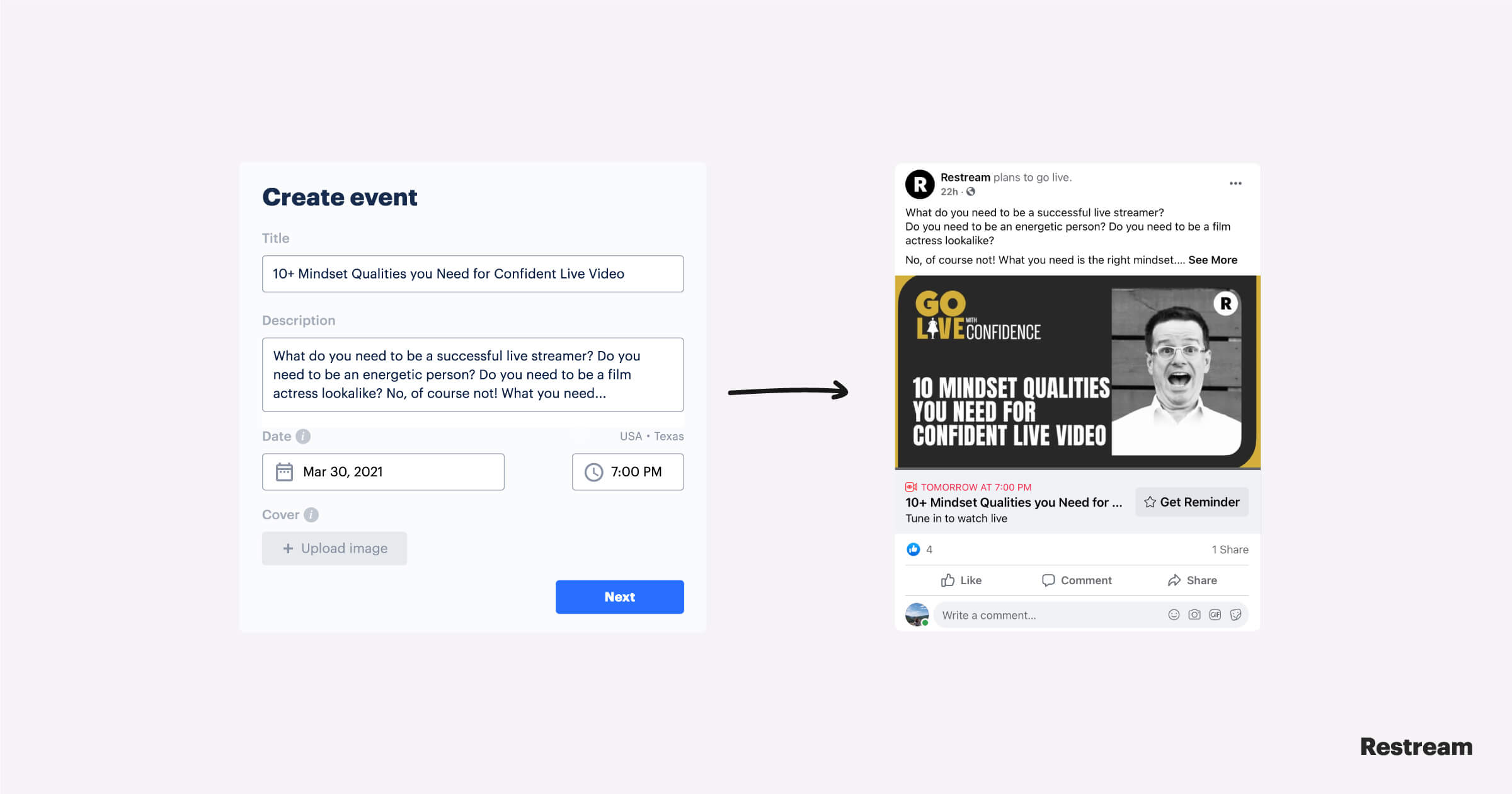 ⏳ Final countdown
Who said you can only tell your viewers once about the upcoming live stream? If your event is really important, use a countdown to ensure people will know about it. For example, you can create a post two weeks before the event and set reminders for the one-week mark, then three days, and make the final point of the countdown the live streaming day. You can experiment with the number of countdown posts. Just try not to overuse them — no one likes spam.
💬 Tease the audience
Moviemakers use teasers to intrigue us with the most exciting and amusing parts of the film. So why don't you try the same technique? Make a short video, GIF, or graphic to let people know a bit more about the upcoming live stream. Think of content that could generate more shares and interest in your event, and don't forget to add a link to the broadcast!
👀 #engaginghashtag
A lot of live streaming events have hashtags. They help create a buzz around the event and make it a lot easier for your audience to find all the posts about it. Hashtags should represent your event and brand. Keep it simple and short so people can quickly memorize and associate it with you. For example, you can find more than 14,000 posts under Apple's event hashtag #WWDC2020, more than 26,000 with #VirtualFashionShow, and almost 24K posts about Fortnite live concerts with the #PartyRoyale hashtag.
🦑 Promote on multiple platforms
Broadcasting on one platform doesn't mean you can only promote your stream on this platform. Use every opportunity! Share links on Facebook pages, tweet about it, post Instagram stories, or send emails. This will help you find your people wherever they prefer to spend their spare time.
🔗 Multistream
Multistreaming is an effective tool to increase your audience. You can reach people on their favorite social networks and raise the chance they will actually join you. With Restream Studio, you can broadcast to all the top social media platforms (like Facebook, YouTube, LinkedIn, and Twitter), invite guests to stream with, and add graphics and overlays with almost no effort. Using the Restream Chat feature, you can see all the comments from different platforms in one place so you can handle them flawlessly. Watch this short video to learn how to start streaming with Restream Studio.
Multiply your views and engagement
Reach a wider audience by streaming to multiple platforms simultaneously.
Get Started
🤑 Try paid promos
Yes, a budget is necessary to use paid traffic. But it works, so when possible, add this point to your steam promotion plan. Place ads with Google Ads and/or Facebook Ads to cover a great audience. You can also use teaser videos or create custom posts on YouTube, for example, or advertise your live stream in Instagram posts and stories.
2. During the stream
So, the day has come, and it is time to go live! Now you can engage people in real time. Here are some steps and suggestions on how to do that.
👍 Keep promoting
That's right, on some platforms, you can benefit from paid stream promotions not only before but also during the live stream. For instance, on Facebook, you can create an ad for a broadcast, choose its objective, and set the audience from your page. YouTube lets you create highlight clips of a live stream and notifies your subscribers about the live event. So, if possible, you may use a bit of additional promo to engage people who may have missed previous announcements.
🗣 Interact with your viewers
Two-way conversation is what differentiates live streaming from any other type of online interaction. Use it to its fullest — listen to your audience and make people feel heard. Read comments, ask viewers about their thoughts and opinions, or create polls. Such conversations are great for building connections and loyalty among your viewership.
🥇 Reward the audience
Create more buzz while rewarding your viewers. This way, your live stream becomes even more valuable. For example, you can conduct giveaways or quizzes with rewards. Or provide coupons or discounts for the stream viewers. Rewards can also be more social. Sharing exclusive information and tips can also be rewarding and engage the audience.
3. After the stream
Even after you finish broadcasting, you can get more audience and engagement. Let's see what you can do after the stream.
📈 Analyze your results
Streaming platforms usually provide data about your live stream, such as reach, engagement, etc. You can see the essential information and get an idea of your live stream's most exciting parts to optimize your future broadcasts.
For example, with Restream Analytics, you can monitor all the necessary data during and after the live stream to analyze its performance. Track the number of average users and messages, then look at the peak moments to adjust your stream promotion plan in the future.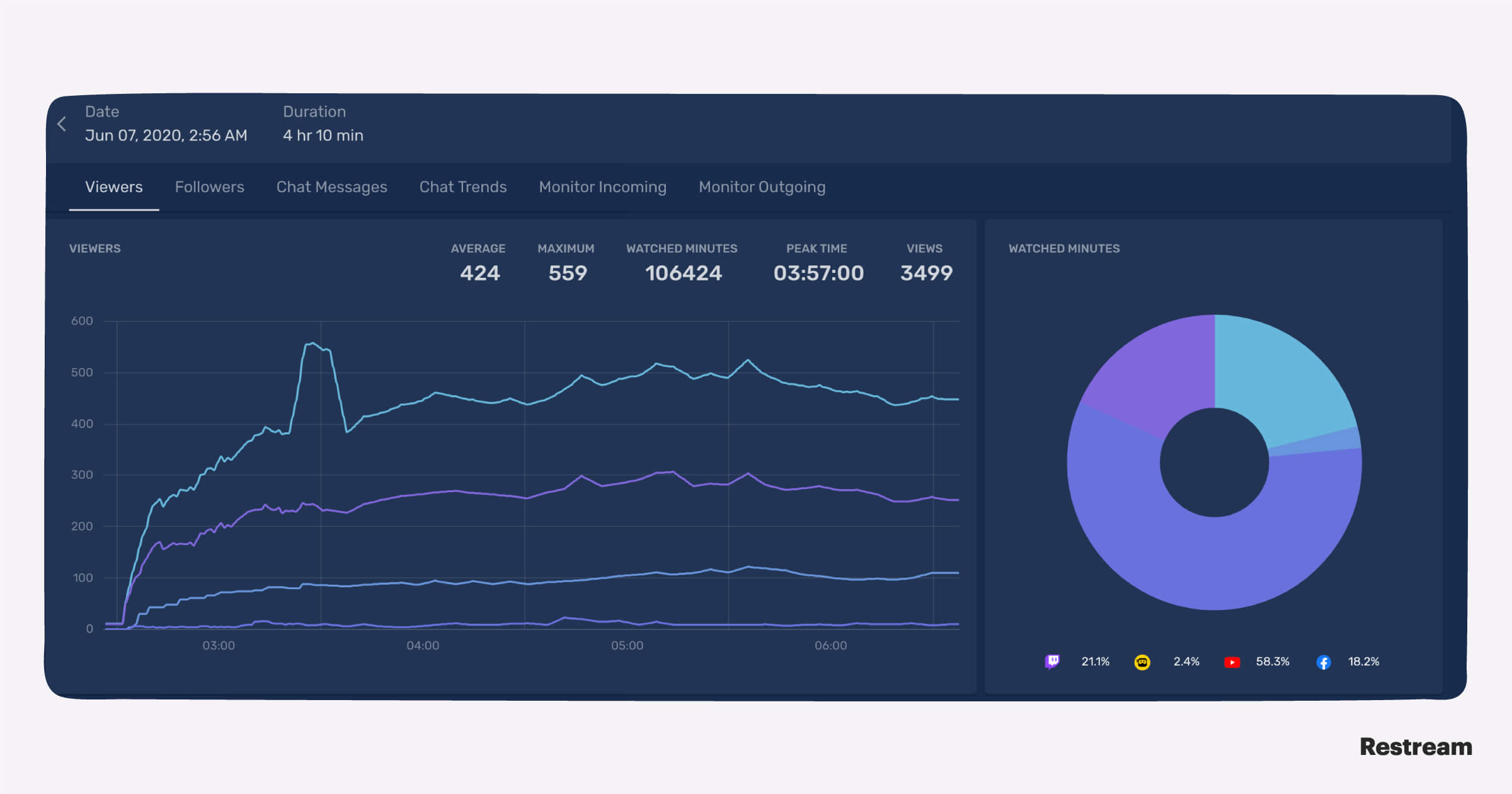 🔥 Repurpose the live stream
You can share the best or funniest parts of past live streams to keep people engaged. Use these videos to share the most valuable points, redirect people to your website, and just stay in touch. Or you can use the same live stream and broadcast it once more. When you use Descript, you can easily transcribe your past live videos and edit them like a text document, making repurposing a breeze. You can also take an edited video and schedule it to go live, by exporting a video directly from Descript to Restream Video Storage. Using Restream Events, you can then schedule a date and time for your video to go live, and it will be broadcasted automatically across your chosen channels at your selected time.
👉  Learn more: Schedule pre-recorded videos to go live
🚀 Post everywhere
Whether you multi-streamed or not, you can tap into the platform's diversity potential. Post your repurposed video on every social network you have access to. This way, people can find and share them easily.
🤓 Analyze feedback
The best way to gauge the audience's reaction is to listen. Monitor people's impressions on your posts and watch their thoughts. That's where hashtags can come in handy — search tagged posts to understand your audience better. You can also repost some of them to inspire other people to share their thoughts and continue the conversation.
Wrapping up
Without any doubt, live streaming is an excellent tool in a digital world where people want to watch and interact more. Broadcasting has proven to be efficient for marketing purposes, and it can become even better with a bit of promotion.
You can take some steps to promote your stream at every stage of it — from preparation to the post-stream discussion.
For example, before the stream you can create teasers, share event info, promote it on multiple platforms, and multistream. During the broadcast remember to interact with viewers and reward them. And last but not least — analyze your results and the audience's feedback, repurpose your live stream videos, and post on multiple platforms after the stream.
Hope this guide helped you find some useful ideas to try for your next live stream.