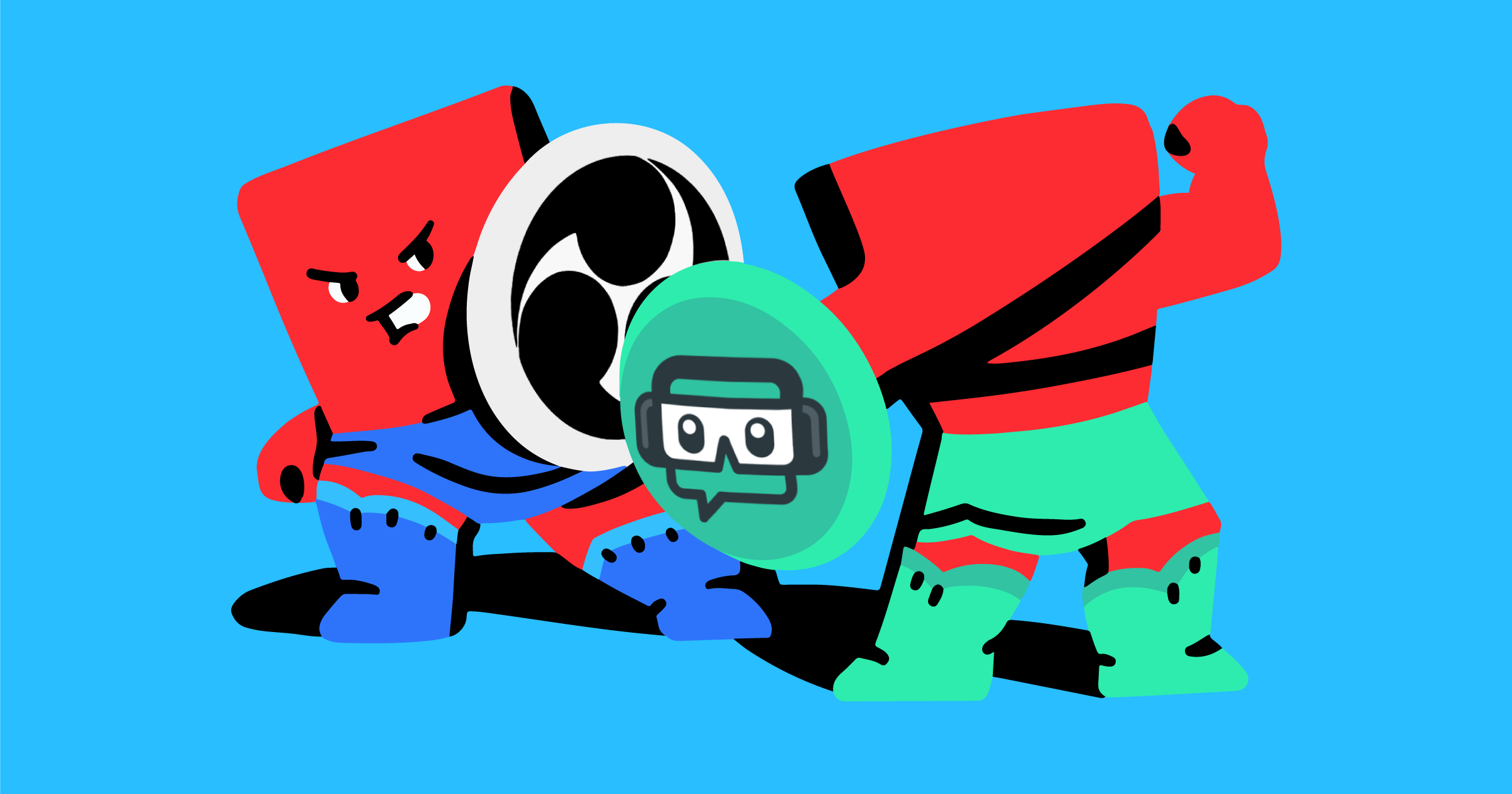 When it comes to live streaming, there are two mandatory factors to consider: stable internet connection and broadcasting software. Without them, streaming would be impossible. In this article, we are talking specifically about the latter subject. We will help you understand what live streaming software is, how it works, and which one you should choose.
Nowadays, there are two popular broadcast software programs: OBS Studio and Streamlabs OBS. Nearly every streamer on YouTube, Mixer, Twitch, and Facebook Live uses one of them. Although both apps share many similarities, they also have different pros and cons. Restream is here to help you decide which one is better for you.
Gladiatorial fight: SLOBS vs. OBS Studio
First, let's get all the technical stuff out of the way before releasing our valiant contenders into the arena. To keep the fight fair, let's define streaming software, as well as the criteria by which we will determine the winner.
Streaming software is an app that enables you to live stream your videos. It transforms the video format into the one suitable for live streaming, explicitly optimized for internet transmission. This is exactly why streaming software is also often called a live broadcasting software encoder.
Another critical feature of broadcasting programs is live mixing. You can switch audio and video sources, add cool video effects, and much more while the live stream is on thanks to live mixing. Here is a shortlist of what broadcasting software allows you to do:
Switch cameras
Switch audio sources
Play a pre-recorded video over your live stream
Insert a picture on top
Add "green screen" and other video effects
There are three main characteristics you should consider when choosing the right broadcasting software: compatibility, performance, and pricing. As for our mighty gladiators, they are well and truly up to their reputation as the best software for live streaming. It is essential to mention right away that both Streamlabs OBS and OBS Studio are free to use. This means you don't have to pay a single dollar to install the applications and start live streaming immediately.

OBS Studio (Open Broadcaster Software)
Even if you are new to live streaming, most likely you have already heard something about OBS Studio. This free, open-source, high-performance broadcasting program is basically the parent of all modern streaming software. So it shouldn't surprise you that SLOBS and OBS have almost the same code except for a few tweaks here and there. Let's start with the advantages of using OBS Studio.
The pros
➕ Open-source code
Open Broadcaster Software was officially released back in 2012. It is open-source, which means developers can create customizable plugins and awesome effects. These can surely improve your stream's quality and attract more viewers.
➕ User-friendly interface
The OBS Studio interface is fully customizable, from the position of the screen to the size of the windows. Simply drag and drop every element of the workspace. Moreover, the variety of settings allows you to configure the program to meet your specs, including the common FPS rate.
➕ Low CPU usage
Another great advantage of OBS Studio is the lower CPU usage. This is especially vital during streaming. In order to have the smoothest stream ever, you have two options. Either you buy the strongest computer and win the PC Master Race, or use the software, which loads the system least.
➕ First to have updates
Because OBS Studio is the oldest of its kind, it receives the latest updates, features, and patches first. Imagine Nvidia releases some new updates, like a new GPU encoder or driver. Guess which broadcasting software gets it first.
➕ Multi-platform support
OBS Studio supports live streams on practically every popular streaming platform, including Twitch, Mixer, YouTube Live, Facebook Live, etc. Moreover, it is compatible with Windows, Mac OS, and Linux.
Start multistreaming today.
Reach a wider audience by streaming to multiple platforms simultaneously.
Get Started
The cons
➖ Low variability in plugins
Although the OBS Studio interface is user-friendly and straightforward, it comes with a significant downside. The software lacks a variability of perks, like chats and customizable themes, also called the overlays. Yes, there are ways to add these, but unfortunately, the plugins don't come in the package.
➖ No Windows XP support
Sad but true! Unfortunately, OBS Studio doesn't run on Windows XP. Not that many would find it a huge minus, but we had to inform you.
➖ Cannot use audio files as sources
Imagine you have a fresh audio playlist on your PC you would like to play on your stream. Sadly, you wouldn't be able to link to those audio files as sources.

SLOBS (Streamlabs Open Broadcaster Software)
Streamlabs OBS is basically an improved version of the good old OBS Studio. The guys from Logitech tried their best to take into account the smallest flaws and fix them. And they did a great job, we have to admit! Now let's skip all the praises and get down to business right away, shall we?
The pros
➕ Easy setup process
Streamlabs OBS takes the old setup process to another level. All you need to do is follow these five simple steps:
Download the installer on your PC.
Run the installer.
Once the installation is completed, link your streaming account.
Run the optimizer (automatically adjusts the settings).
Add your stream key and run the stream!
➕ Built-in chat
SLOBS allows you to manage the chat right inside the program. Moreover, the chat has its own Chatbot with useful mod tools, like link and caps protection.
➕ Free customization
SLOBS offers you a variety of free integrated themes with multiple overlays — from casual static themes to amazing animated overlays, depending on the game you play and your personal preferences.
➕ Test button
One of the most practical features that SLOBS can offer is the Test Widget. This button allows you to check your everything before going live with just one simple click. This way, you can make sure your stream alerts are set up properly.
The cons
➖ More CPU usage
Unfortunately, all the fancy features, custom themes, and useful widgets demand more resources from your system. Therefore, make sure you have a decent PC before using SLOBS.
➖ No sound commands
The integrated Chatbot doesn't have sound commands for your chat, unlike the standalone version. This means you would need to run the Chatbot separately from SLOBS if you really value the sound commands.
➖ Windows only
One of the biggest drawbacks is the lacking compatibility with Mac OS and Linux. However, the bright side is that SLOBS allows you to deliver your content over every popular streaming platform, including YouTube Live, Twitch, Mixer, Facebook Live, etc. It is also worth mentioning that the guys from Streamlabs are currently working on SLOBS for Mac OS.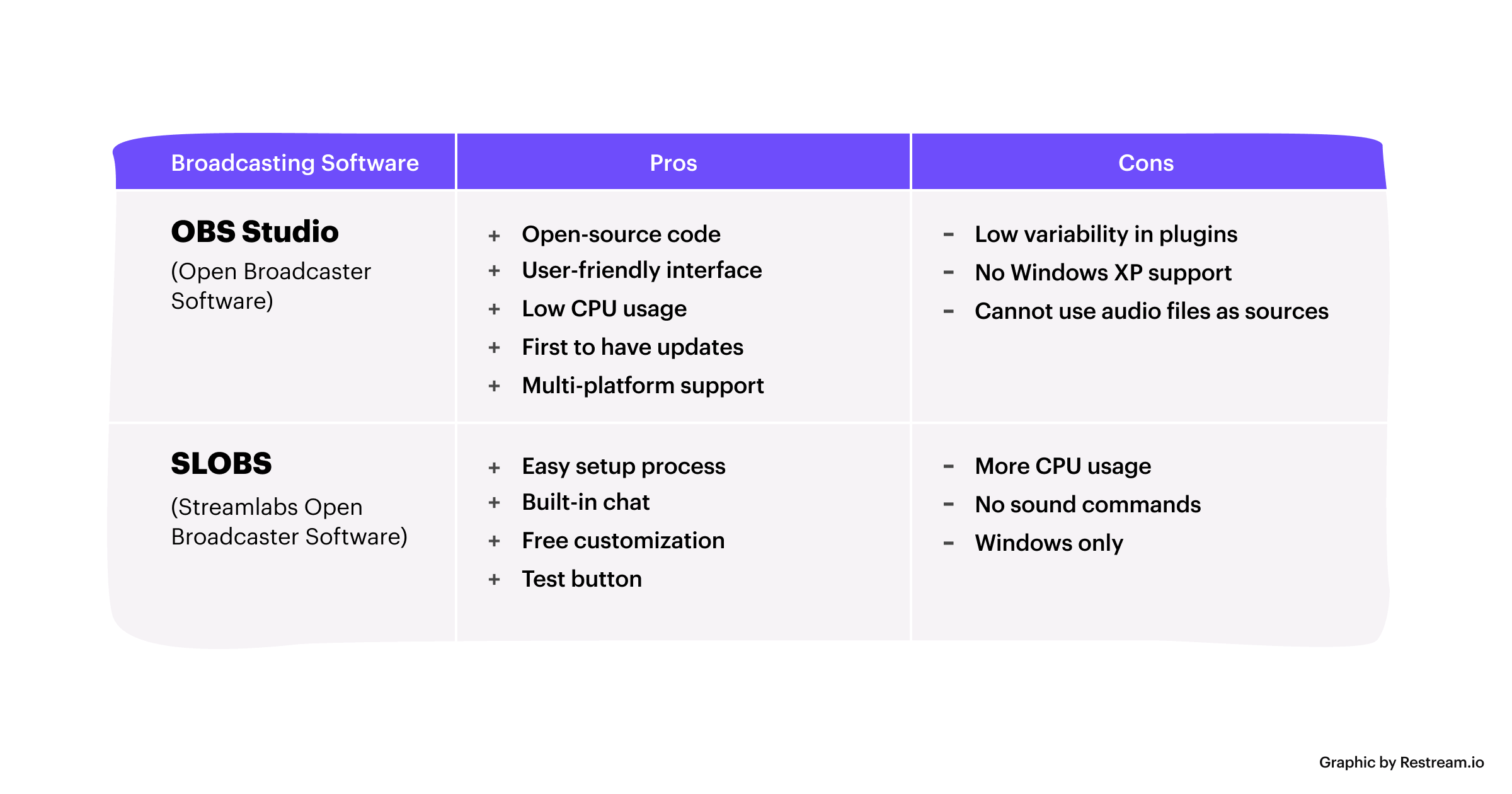 Wrapping things up
Let's sum up everything we have learned about the two broadcasting softwares. Both SLOBS and OBS Studio are free and open-source. This means anyone can download and try out the applications. Performance-wise, both SLOBS and OBS Studio show excellent results. However, the latter requires fewer system resources.
On the one hand, we have a stable and simple software that supports any streaming platform. On the other hand, we have practically the same broadcasting software adapted specifically for gaming. So, if you are a gamer and have a strong PC, the question is not if but when you need to try Streamlabs OBS. Simply put, SLOBS has everything OBS Studio has and even more. Therefore, we can announce the winner of our gladiatorial fight. Streamlabs OBS took it home by a narrow margin! Sorry, Mac and Linux users. By the way, Restream allows you to multistream on 30+ platforms simultaneously! We also offer full support to ensure your streaming setup is optimized for the best experience. So, if you want to quickly grow your audience – multistreaming is the right decision for you.