From collaborative product launches to seamless channel takeovers, it's now easier than ever to team up with streaming partners thanks to the magic of Restream Pairs. With Pairs you can easily and securely live stream directly to your partners' social channels.
Simply set up a Restream Event and a Pairs link will pop up at the last step. Send it to your partner brands, remote guests, or friends. Your guests can add their social channels to your Event in just a few clicks. When you go live your event will stream to both your channels and guests' channels simultaneously.
Pretty cool, huh?
There are multiple ways you can use Restream Pairs. Here are some of our favorites:
1. Stream your interviews directly on your guest's channels
Your guests can amplify your views by pairing their personal channels or business pages. The content you create together will reach your audience and theirs at the same time. It's the perfect way to tap into a wider network of fans for panels and interviews.
And it's not just about doubling your views. Streaming your interview on your guests' channels can instantly expand your fanbase. See how the Restream LinkedIn page following went up after an interview with Shay Rowbottom.👇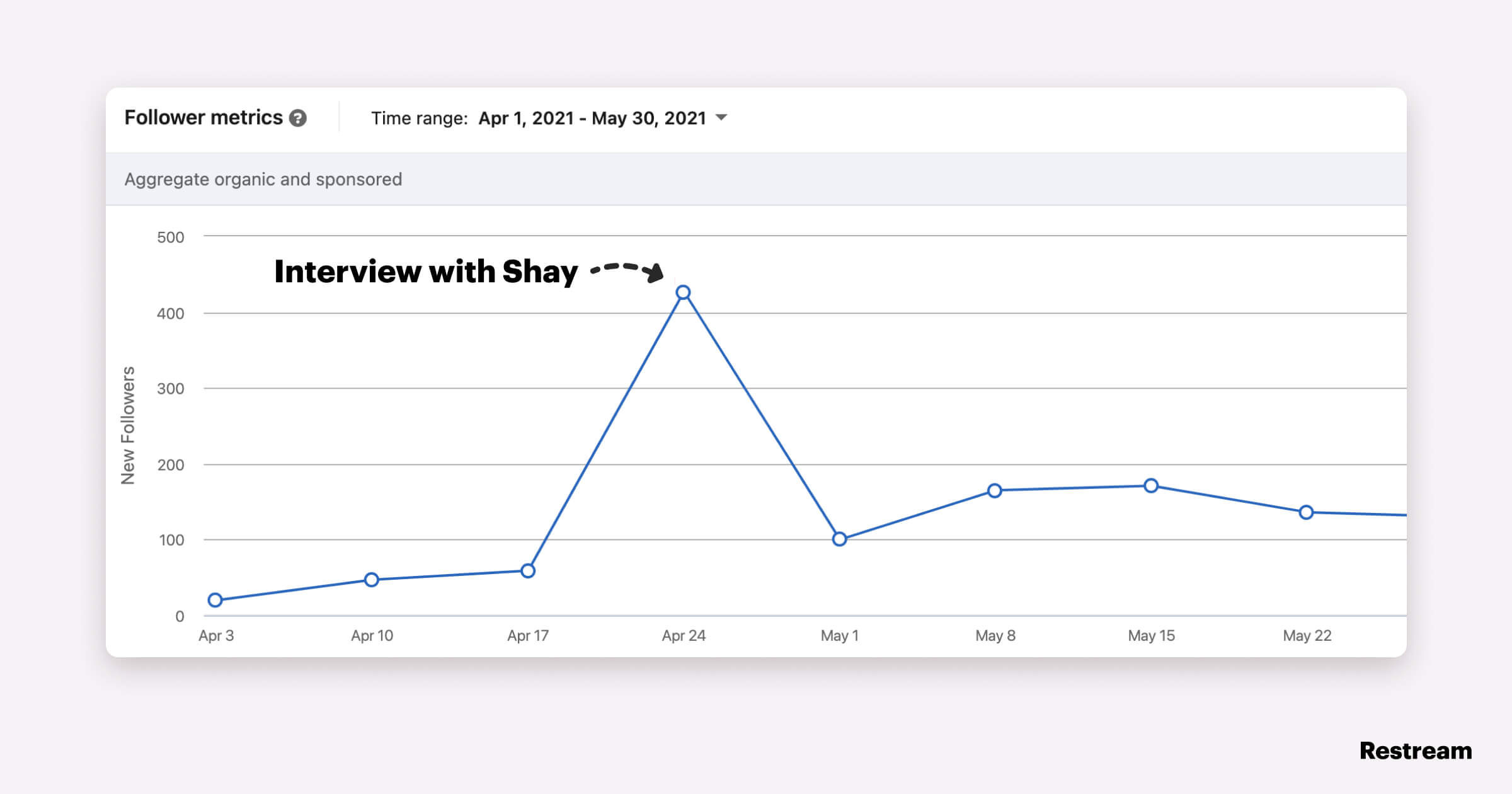 Looking for an easy way to get started with Pairs? Check out our special tutorial.
2. Launch a co-marketing campaign with a partner
Planning a live product launch, integration announcement, or Q&A session with a brand partner? By co-marketing your event together and Pairing your channels, you can save time, yet reach both audiences.
Before Pairs, if you wanted to stream directly to a partner's social channels you would need to give them your Restream credentials or make them admins on your social pages.
Now, there's no need to share log-in information. Your partners can securely add their social channels to your Restream Event in just a few clicks using Restream Pairs.
Pairs proved to be a powerful solution for our team, too. Together with Descript, we were able to reach both our audiences and interact with all viewers in one place.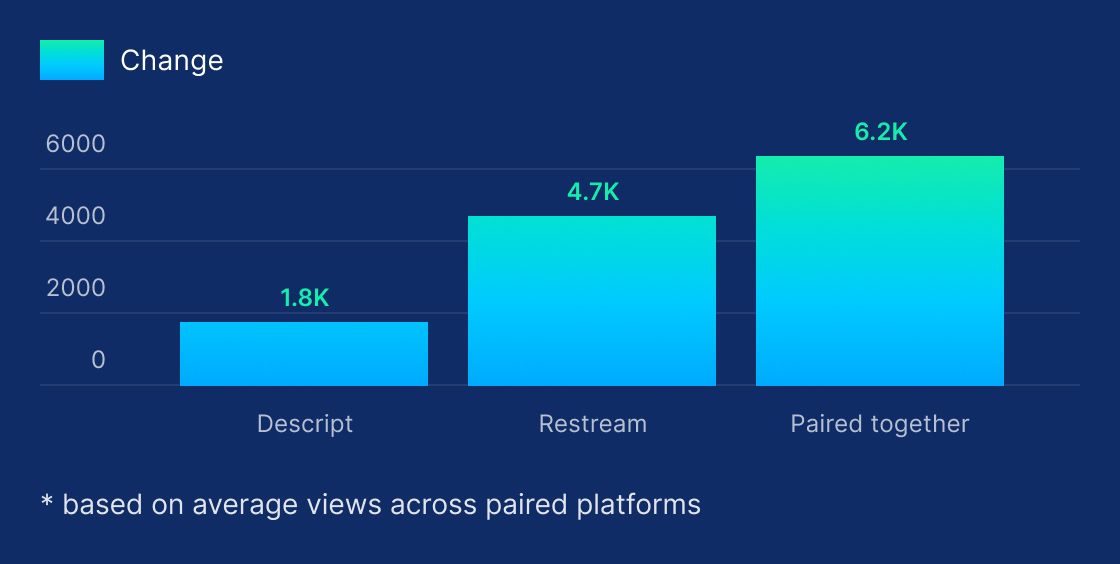 We also successfully paired with Elgato for an insightful chat about the best streaming setups. With Restream Pairs, we enjoyed more views and higher engagement from our combined audiences.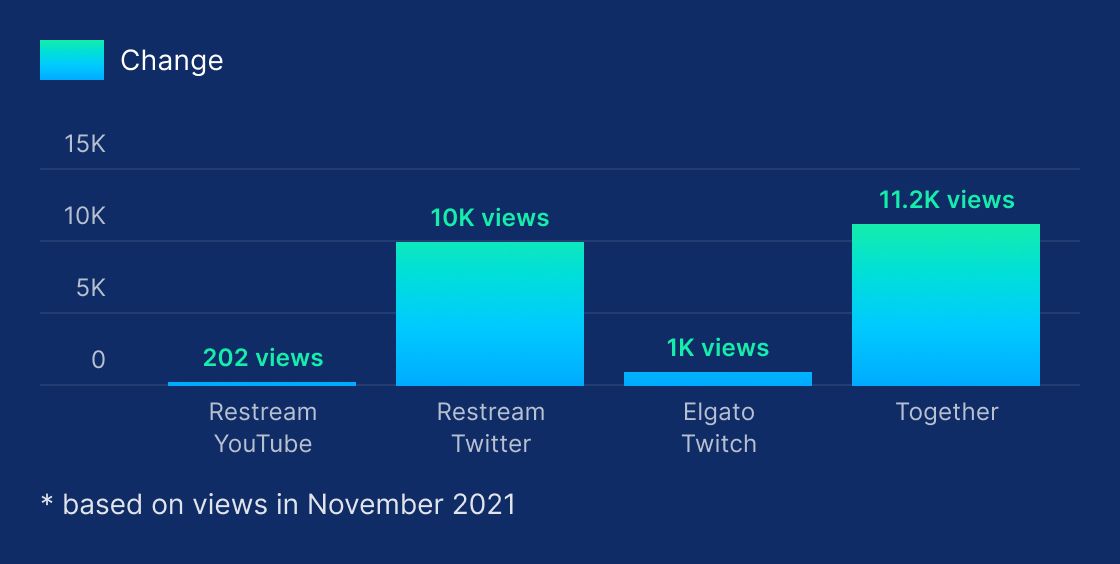 Building a community is always great. But it's even better with Pairs.
👉 Pro tip: Interact with both of your audiences. All comments will be displayed in the Restream chat with comments from Paired channels clearly marked so you know where your audience is coming from.
Read later: Restream + Descript: a match made in streaming heaven 📍
3. Rent live stream access to your Facebook Group
If you manage a large online community you may want to bring in new voices and resources to benefit your audience. Restream Pairs is the perfect way to allow guests and partners to live stream directly to your community. You won't need to give them admin access to your group.
You can allow guests and fellow creators to stream to your YouTube channel, Facebook Group or Page, starting from Restream Standard Plan..

👉 Pro tip: You can also monetize the exchange and charge a sponsored content fee for guests to have live stream access to your group.
Ask them to schedule a Restream Event and send you a Pairs link to get started.
4. Amplify your Zoom event
Streaming a live event on Zoom? You can use Restream Pairs with all your favorite streaming tools including OBS Studio, Ecamm Live, Zoom, and more, to amplify your reach.
First, create a Restream Event and invite your streaming partners to Pair their social channels. Then when it's time to go live simply copy the RTMP settings from your Restream Event card and add them to your live streaming software. It's that easy!
Watch a quick tutorial to see how it's done.
👉 Pro tip: Your streaming partners can come back to their Pairs settings at any time to delete or add more channels.
🤩 Ready to roll?
Here's a quick video with everything you need to get started with Restream Pairs.
Restream Pairs is now available on Standard Plan and above. Try it today and let us know your favorite reason for using Restream Pairs!