Restream and NewTek have recently integrated to bring multi-platform support to the professional streaming quality of NewTek products. Now you can stream to Facebook, YouTube, Twitch, and other platforms simultaneously, directly from NewTek TriCaster — the world's "most complete multi-camera production system."
To announce the new integration, we sat down with Will Waters, NewTek Vice President of Customer Success, to hear more about NewTek's vision for the live streaming industry and the role their products play in it.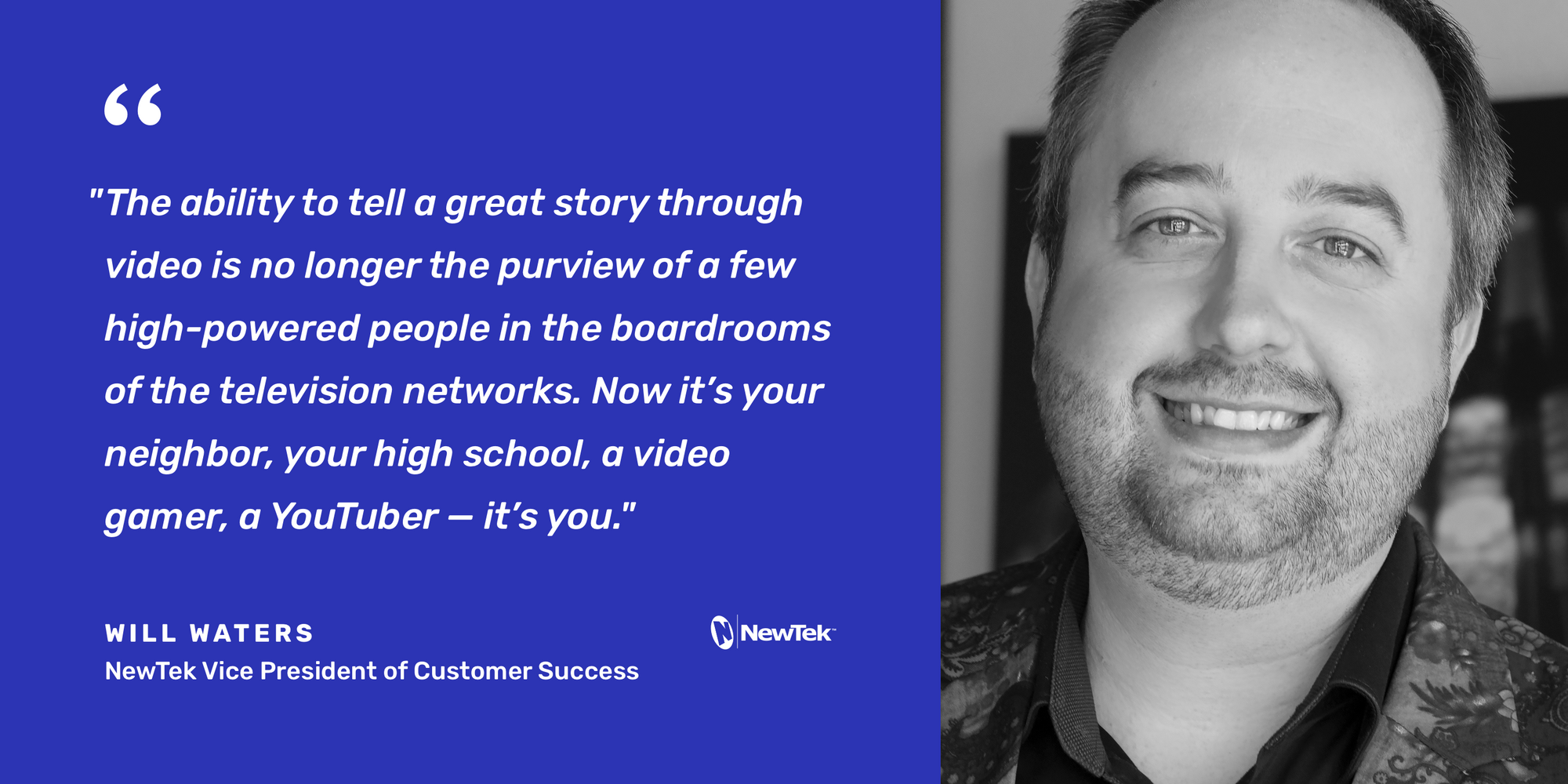 NewTek: leaders in video technology
"Video is the literacy of our generation, we want to make it easy for people to speak it."

— Tim Jenison, NewTek Founder
NewTek is a long-time leader in high-quality video production hardware and software supporting both consumer and enterprise customers globally.
During the last few decades NewTek has remained laser-focused on bringing new and innovative products to the market, fueling the next generation of content creators. Today, live streaming is bigger than it has ever been, and NewTek's products are at the center of some of the biggest productions and most successful companies in entertainment, sports, gaming, and more.
"Fundamentally, NewTek has always been about giving storytellers a voice through video. We have been developing affordable, accessible tools to serve that goal since the mid-80s. . .we just continue to develop software tools that make the technology transparent to the storytelling."
And that mission extends to all walks of video creators.
Video production for everyone
Both NewTek and Restream are on an important mission to democratize video production and distribution. If you have something to share with the world, NewTek and Restream products are for you. That's why we've teamed up to help streamers across the entire spectrum, from high-end broadcasters to e-sports players and even elementary kids learning video production.
"NewTek has everything you need to not only produce a great live show but [also] live edit, record, and distribute. . .through almost every means possible, right there in the interface."
Gameplay and e-sports live streaming like you won't believe
Some of the primary challenges of broadcasting gameplay and esports stems from the expectation for high-end visual quality among esports fans:
"You combine the esports viewers' personal experience with the game, along with the issue of capturing game footage that is likely a non-broadcast standard format and the production challenges become complex."
NewTek's NDI Ⓡ allows for easy transport of gameplay across a network while providing the required viewing experience through software-based products. NewTek tools work particularly well with and for e-gaming due to the fact that both are software-based.
Live streaming is on the rise
Today, live streaming is all around us! For creators and consumers alike, there is no denying that streaming live content has become one of the top ways to engage an audience.
"Every major social media platform has placed live streaming at the top of their list, from Facebook to YouTube, Instagram, Twitter, and Snapchat — not to mention sites like Twitch that have elevated streaming to a whole new level."
The numbers don't lie. According to Waters, video streaming is expected to jump from 75% of all internet traffic to 92% by 2020, while growing to a $70.5 billion industry by 2021.
Do's and don'ts for live streaming
Given his expertise in the field, we asked Waters what advice he would give creators who want to capitalize on the real benefits of live streaming.
1. Just start streaming
As with anything, learn by doing. Live streaming is no different. Waters' advice is to "simply start . . . the hardest part with any endeavor is to create the first thing." Because each creator has a unique story to tell, Waters encourages new streamers to "learn as you create; learn what works, what doesn't, who your audience is, who it should be, and why."
2. Be yourself
Authenticity converts. Streamers should focus on being real so that their story resonates with their audience.
3. Be patient and adapt
Be patient — building a brand and audience takes time. "Today's content creation world is ever-changing and that will never cease to be true. You need a team that is willing and able to learn and grow with you." We couldn't agree more.
4. Focus on sharing not telling
Be personal and present in your streams. The best streamers really connect with their audience. Water's believes there is a difference between broadcasting and streaming:
"Broadcasting is simply that: sending a broad message out to a whole lot of people at one time. Streaming is narrow and personal. One is telling, the other is sharing."
Growing and engaging a live video audience on multiple platforms
Today, people are consuming live content on every major social platform and all around the world. It's more important than ever for content creators to not only have high quality streaming experiences, but also to distribute that content in the right ways to top platforms.
Multiply your views and engagement
Reach a wider audience by streaming to multiple platforms simultaneously.
Get Started
Outstanding platforms today pay close attention to their audiences and provide them with what they are asking for — like Twitch's Chat feature, which is highly intimate and allows creators to engage directly with their viewers. "The streaming platforms that you will see stick around will continue to put their audience's wants and needs first," according to Waters.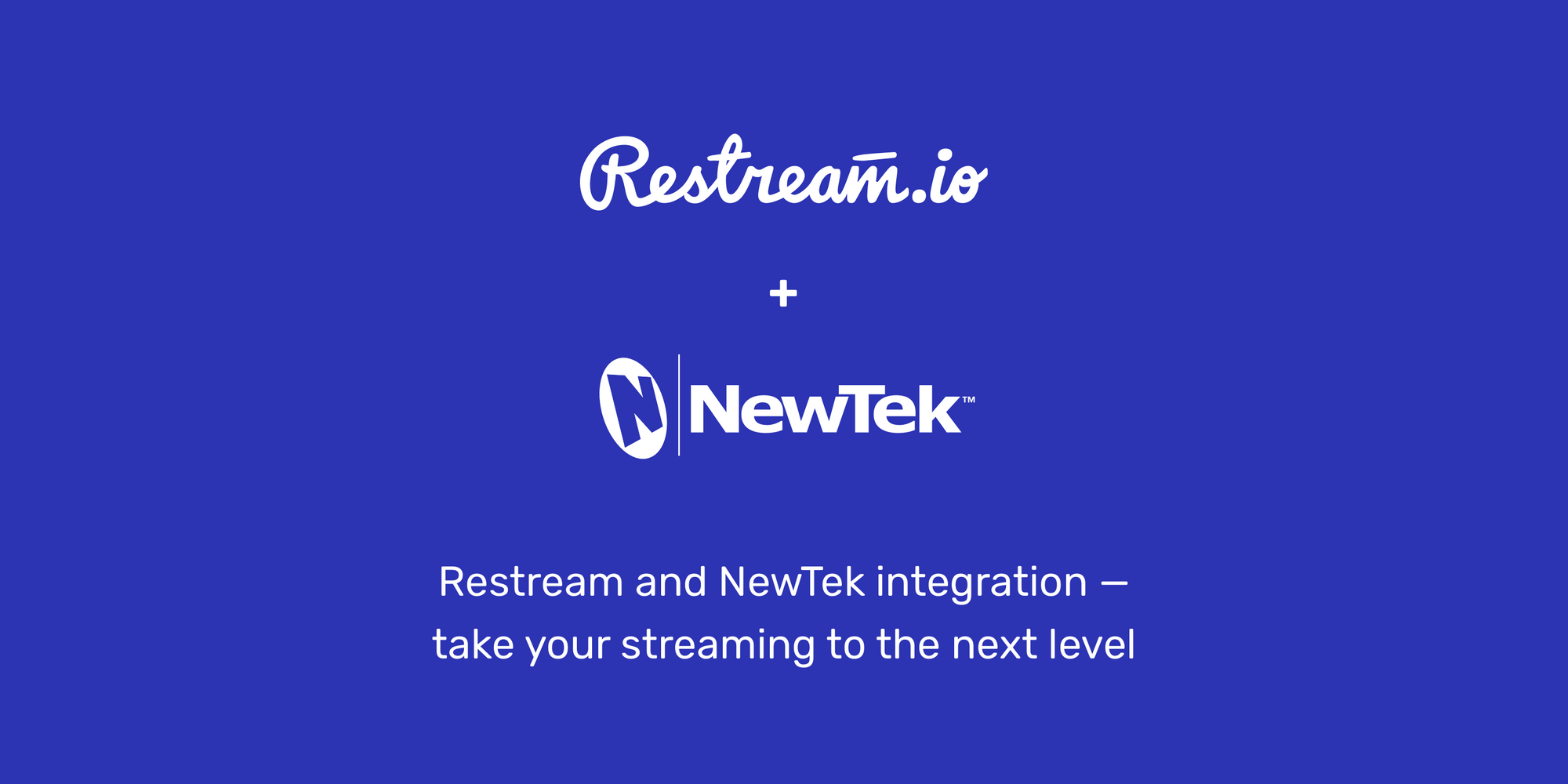 The same goes for successful content creators. Those that remain authentic and put their audience's preferences at the forefront will thrive.
As the world has grown and technology has exploded, Waters and the creators at NewTek have never been let down by the number of new ways people can use their products to grow, create, and share their stories. Waters reminisces:
"Back in the 90s, it was astounding to see the new ways people could use their products to give voice to their visions. Now, the way videos are created and distributed is constantly changing and growing and still the level of amazement rises."
We encourage you to check out the new Restream and NewTek integration! What will you create?