Live streaming offers an enormous growth potential for businesses. The global video streaming market is expected to be valued at $330.51 billion by 2030. With more and more people watching live online video instead of traditional (pre-recorded) video, live streaming presents an opportunity that brands don't want to pass up.
With videos, companies can publish tutorials, product launches, interviews and behind-the-scenes looks. With live videos, brands can create all the same content, but they can also interact and engage with their audience. Live streaming lets brands create content that's not possible with on-demand video, like a live Q&A session, a virtual conference or an educational webinar.
Maybe your business already knows the value of live streaming but doesn't understand how to make the most of it. In this guide, you'll learn how to develop a live video marketing strategy that generates leads, connects with your audience and grows your business.
The #1 live
streaming solution for your business
Get started for free
What are the benefits of live video for business?
Live streaming makes your business stand out from the competition in more than one way. It puts you at the top of users' social media feeds, lets you interact directly with potential customers all over the world, and is an easy way to create more content. Let's take a closer look at the benefits of live streaming video for business.
Grow your community: By connecting with viewers directly, you can increase brand awareness and expand your community. If you use the right hashtags in your live stream description, you can make yourself easier to find and attract more viewers who will want to engage with the topic you're discussing. With the way today's social media algorithms work, live video takes priority over static or text-only posts, meaning users are much more likely to see your live stream.
Increase engagement: Having a lot of followers or subscribers is great, but it doesn't help you grow unless those followers like and comment on your posts. With live streaming, you give your target audience a chance to interact with you directly — which they're much more likely to do when they know you'll respond instantaneously. Live streaming not only improves the quantity of your audience but the quality as well.
Show authenticity: There's no better way to show customers who you truly are than by chatting live with them. With live video, you can't edit the content afterwards, so you come across as less polished and more authentic. Not being able to edit might scare some brands, but it's actually freeing. You don't have to worry as much about how you look and can focus on your message instead. Being more real with your audience builds their trust, which makes them more likely to do business with you.
Create more marketing content: Repurposing your recorded live streams is also an easy way to create more content for your business. You can use short clips to promote your company on social media, create tutorials from live product launches, or make informational videos from your live Q&A.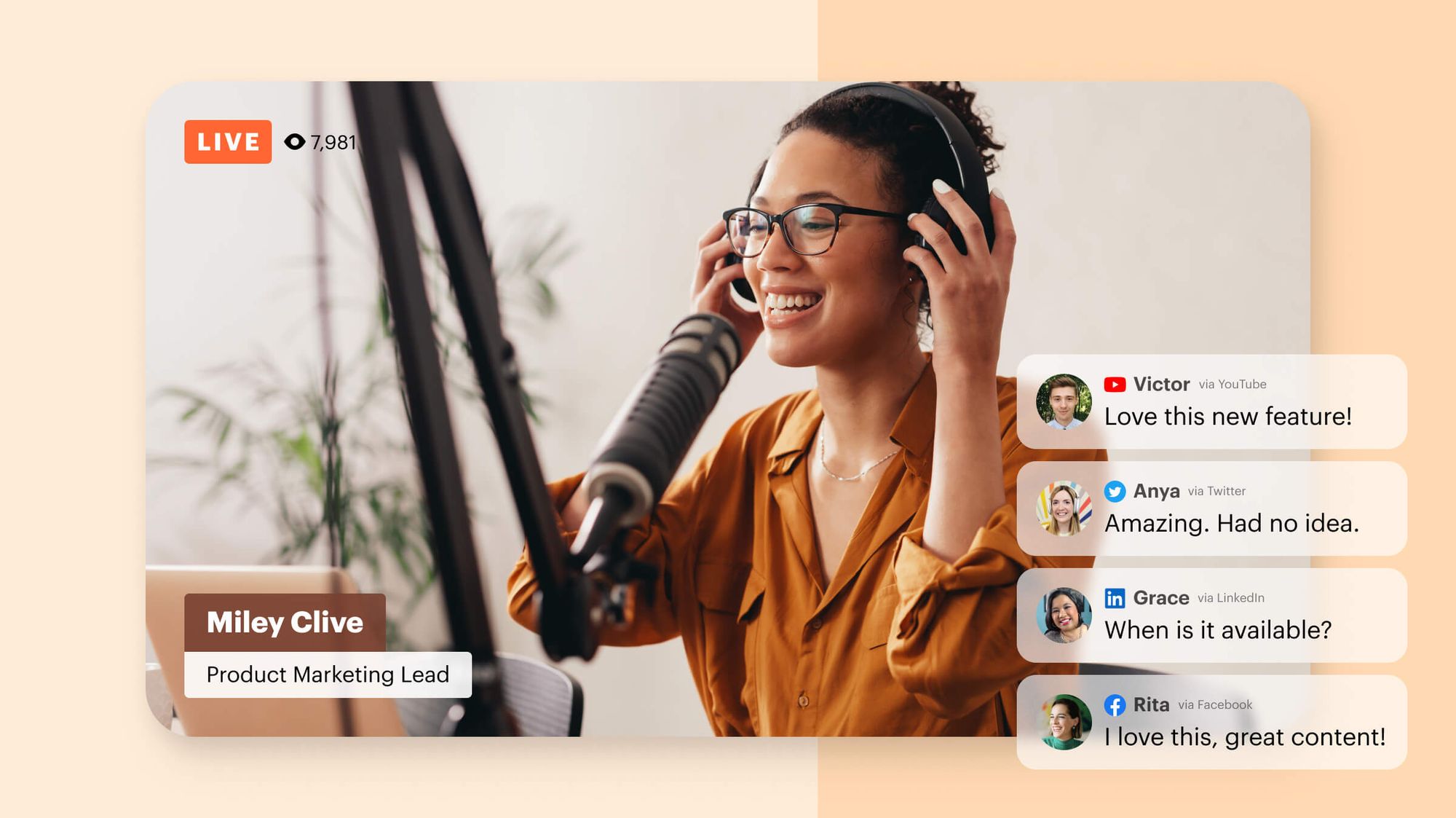 Why live video is a
must
for marketers
Get closer to your customers with a live product launch, webinar, Q&A or giveaway and create opportunities to interact in real time.
👉 Get Started
Why live streaming is a must for marketing
Why should live video be part of your marketing strategy? It's easy to use, inexpensive, accessible and requires a low production value.
Easy to use: Live streaming is not difficult. With so many consumer-friendly live video solutions out there, it doesn't take a technical expert to figure it out. Platforms like Facebook, YouTube, Twitter and Instagram want you to go live, so they've made it easy to do. At Restream, we've also made multistreaming a breeze, so you can broadcast to more than one platform at a time.
Inexpensive: It doesn't take a bunch of fancy equipment to get started with live streaming. All you really need is a smartphone. When you want to upgrade to higher-quality gear, like a webcam, microphone and lighting, you can find it readily and inexpensively.
Accessible: Most major social networking platforms have live streaming now, so it's easy to find your audience and start streaming.
Low production value: Compared to pre-recorded video, the expectation for production value is low. That means you don't have to be perfect, and you don't have to spend hours editing your content so it's just right.
If the above reasons aren't enough to convince you, then take a look at these live streaming marketing statistics:
What kind of videos can you use to grow your business?
One thing that stops a lot of marketers from creating live video content is not knowing what kind of video to make. You wouldn't be wrong to hesitate — producing a video that's aligned with your goals and brand is extremely important for growing your business. But you don't have to start from square one.
There are common types of live videos that brands use to get their messages across, which you can use for your videos too. Here are nine video formats you can add to your live video content strategy.
1. How-to video
Educational videos can be long and in-depth, where you discuss an industry-related topic. If you're a content marketing company, you could stream about the different types of content that help businesses grow. How-to videos can also be short, with a few quick tips about your topic. A great way to promote your live stream tutorial might be creating a short tips video and using it to promote your more in-depth live stream.
2. Series video
A series video doesn't stand alone but is, of course, part of a series. It takes more planning to do a series of videos than a one-off. You need a broader topic that you can delve into multiple times without being repetitive. One great example is doing a live vlog (also known as IRL streaming) every day or every week. You can also do a behind-the-scenes series of live streams, where you look at a different part of your business each week.
3. Demonstration video
In a demonstration video, you show how your product or service works. If you have a physical product, you can demonstrate how to use it properly. If you're service-based, you can interview members of your team about what they do and how the service works. During a live stream, you can also respond to audience questions about your product directly. Demonstration videos don't have to be about your own product, either. If there's a tool your company or your audience uses a lot, you can cover how to use that as well.
4. Expert interview video
A live video format is perfect for interviews. You can speak with somebody in your company, such as the founder or CEO, or you can find an industry expert outside your company. Interviewing experts and thought leaders not only gives you informative, valuable content, it also builds trust and authority with your audience. If you use Restream Studio, you can easily add another person's live feed to your stream, no matter where they are.
5. AMA video
AMA stands for "Ask Me Anything." This type of live video is easy to do — it takes minimal planning, and your audience members create the content for you by asking you questions. All you have to do is go live and wait for the questions to come rolling in through the chat. To do a successful AMA, promote it ahead of time. If you go live and nobody's tuning in, there's no one to ask you questions! Also, carefully moderate the chat so you can filter out negative or inappropriate comments. Finally, it's okay to have someone else on your live show for an AMA if you aren't an expert.
6. Webinar
A webinar is like a virtual conference. You have a moderator and between two and five guests answering questions or discussing topics related to your industry. A webinar is similar to an expert interview, but there's more than one expert, and they debate each other. You can also take questions from your audience, posed toward the experts. Live webinars and virtual conferences are a great way to share knowledge in your field and lend authority to your brand.
7. Virtual event video
A great opportunity for a live video is streaming a live, in-person, offline event. For the people who wanted to attend the event but weren't able to, or who weren't interested enough to buy a ticket, streaming the event live is perfect. You can strap a camera to yourself and walk around the event or do an event video where you interview guests between main events.
8. Live product launch
A virtual product launch is a great way to promote your product and demo it at the same time. When you're live, you can take viewer questions about the product directly, plus live streaming allows you to include links to purchase your product. When you use a tool like Restream, you can broadcast your product launch to multiple platforms at once.
9. Contest video
Everybody loves winning contests. And when you win a contest hosted by a particular brand, you're much more likely to remember that brand afterward. Live contests usually take the form of giveaways, where you have viewers enter into a drawing beforehand, then announce the winner live. Typically, brands ask people to enter by following or liking them on social media, so it's a great way to boost your social presence and create a buzz around your brand or product!
Examples of brands' live streams
Some brands have gotten live streaming right, most using the above types of videos or even a combination. Here are a few great examples of live videos to inspire your brand:
What is a live streaming strategy?
A live streaming video strategy is one part of your overall content marketing strategy. You might have separate strategies for on-demand video and live video or combine them into one. Your strategy will include the type of videos you need to create to meet your marketing goals. Research about your target audience, your niche, and SEO will all play into your strategy and help you determine the best videos to produce to expand your reach.
Tips for developing the best streaming strategy for your business
Set goals: Why are you live streaming? If you aren't sure what you hope to accomplish with your live video strategy, you won't create effective content. Ask yourself what you want to accomplish, what kind of conversions you want, and what kind of content you want to associate with your brand. Setting goals should be a top priority as a live streamer.
Define your niche: Defining your niche will help you develop content ideas later on. Finding your niche also helps you create a narrative. Your live content should always tell part of your brand's story, to help your target audience connect with you.
Identify your audience: Once you have a niche, you can identify your audience. Who are you creating content for? How will your live streams bring value to them? Determine your audience's questions or pain points and address them.
Plan your content: Before you hit the "go live" button, you need to plan your live content. While it's true that live streams don't require different takes, editing, or all the cleanup that comes with on-demand video, it does take some foresight. Pick the topics for your live streams ahead of time, and make a short outline for each stream before you start it.
Create professional and quality content: When you create live content for your brand, you want it to stand out. You do so by creating professional and high-quality content. A simple webcam, inexpensive microphone, and some extra lights can go a long way. Make your streams more engaging by featuring people in chat or calling them out by name. When someone new joins the stream, welcome them as well.
Be consistent: The easiest way to lose your audience and brand momentum is by streaming inconsistently. If you only live stream every few months, people are much less likely to tune in (unless it's a large online event that you've promoted for several weeks beforehand). When people like content, they'll tune in for more of it. Set up a schedule and dedicate time to streaming. When you're choosing a time to stream, pick a time when your audience will be able to watch.
Promote and distribute: If you never tell anyone about your live videos, they won't come watch! Film a teaser for Instagram Stories, post about your upcoming stream on Facebook and Twitter, and let your email subscribers know too. Always record your stream, so people can watch the replay. You can also edit your live stream into snippets to post on your social media channels to entice more people to watch or tune in to your next live stream.
Choose the best streaming service: Your live streaming marketing strategy should include the right streaming platform as well. Consider your live streaming needs before choosing where to broadcast. Or you can broadcast to multiple platforms simultaneously with Restream.
Restream Studio lets you choose from more than thirty social channels to multistream directly from your web browser. With no software to download, Restream Studio lets you start streaming in seconds. If you want a professional-looking stream, you can also use Studio to add graphics, overlays, and even your company logo. You can also see the chat from each platform you're streaming to in one centralized hub, making moderation a breeze.
Restream's features support enterprise streamers and their goals to grow their businesses.
Wrapping up
Live streaming can help you expand your business by increasing engagement, boosting online presence, and showing authenticity. There are several types of live videos you can make, from behind-the-scenes looks to product demos. If you want to start live video streaming for business, you need a solid strategy to get started. By setting goals, finding your audience, and making quality content consistently, you can make live video marketing work for your brand.