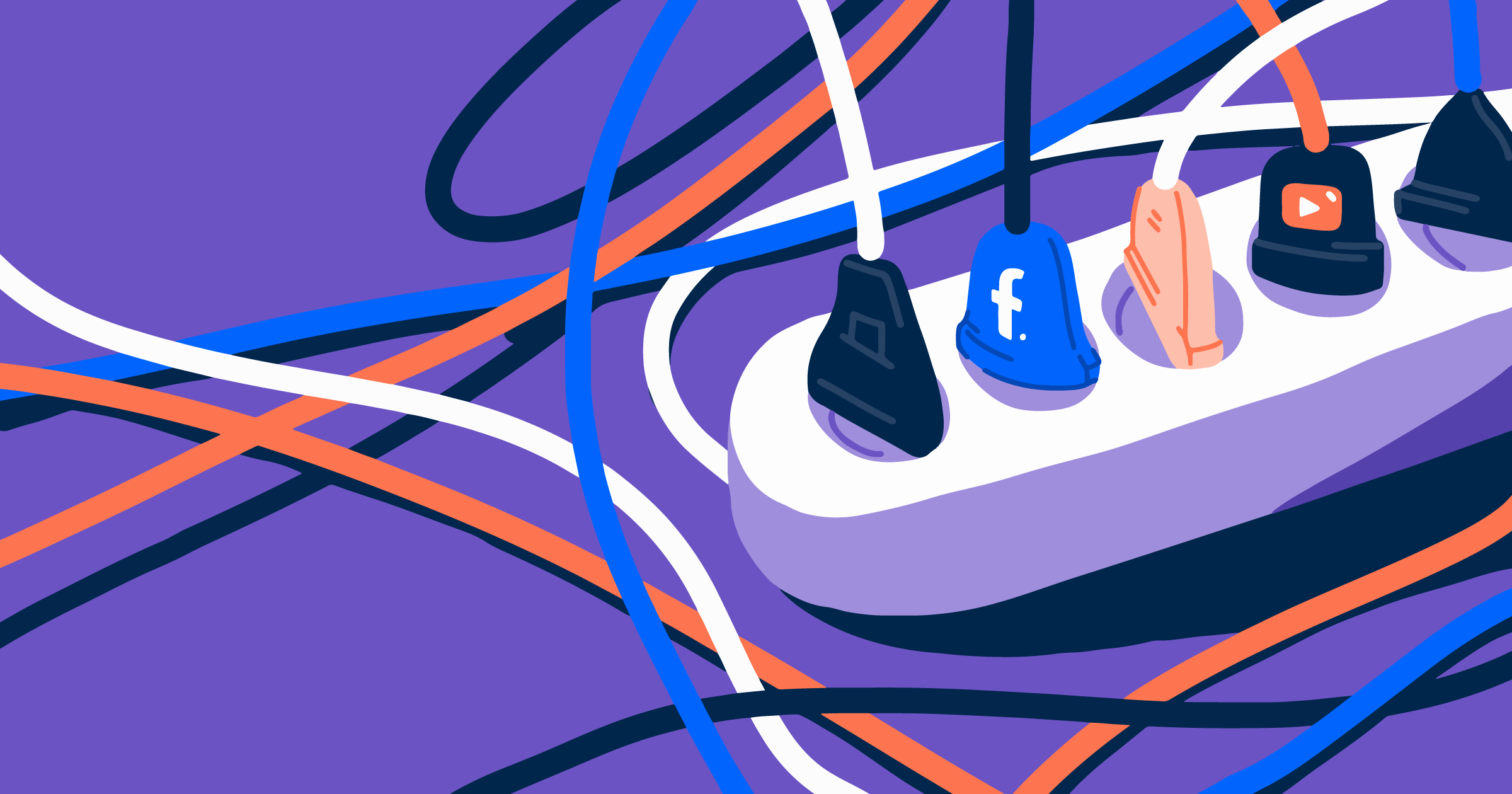 If you've ever wondered why there are so many articles explaining how much live streaming is killing it and why you should care about it, the answer is obvious. It's all true, and live streaming is great. It offers immediate communication like no other form of content.
Audiences watch it on social networks and gaming sites as much as they are viewing it on subscription-based platforms. Worldwide, people even prefer social networks for streamed content over platforms such as Netflix. It still has room for newcomers — even some very popular platforms are just now joining the game.
The best way to take advantage of the things that make live streaming great is to stream to multiple platforms at the same time. When it comes to multistreaming, there is no better solution than Restream.io. Here are seven main reasons why you need to use Restream for your next multistream.
Start multistreaming today.
Reach a wider audience by streaming to multiple platforms simultaneously.
Get Started
1. Support for over 30 platforms
How many streaming platforms can you count? YouTube and Facebook have their own "Live" services for live video streaming. There's Twitter's Periscope, and LinkedIn is doing its own live video service.
But then there are Twitch and Mixer for gamers and other content creators. There's Vapers.tv for vapers, Picarto.tv for artists, VK.ru for people who live in the CIS, and AfreecaTV for South Korean streamers. That's not all.
There are many different places where you might want to multistream. It makes sense to choose a multistreaming service that supports streaming to the platforms where your audience likes to watch live video content. Restream.io supports more than 30 platforms. It's hard not to find at least a couple among them you'll need.
2. A solution for the platforms it doesn't support
In case there's a specific platform you need to multistream to but it isn't supported by Restream, don't worry. There's still a way you can use Restream services to stream to other channels as well as the one that's not supported.
Custom RTMP is the Restream service that allows you to use Restream with any platform. You'll need the RTMP URL and the stream key provided by the platform, then you're set to go. Someone who is still new to streaming, however, will probably find everything they need in the supported channels.
3. Awesome multistream analytics
One of the digital world's favorite adages — content is king — is applicable to live streaming, no matter how many channels you stream to. However, it's equally important to have a way to understand how your audience interacts with your content. Actually, it just might be that analytics should be king together with content.
It wouldn't make sense to use a multistreaming service that doesn't provide you some analytics. Restream, for its part, gives you a lot of very useful data points you can use to analyze your content's performance.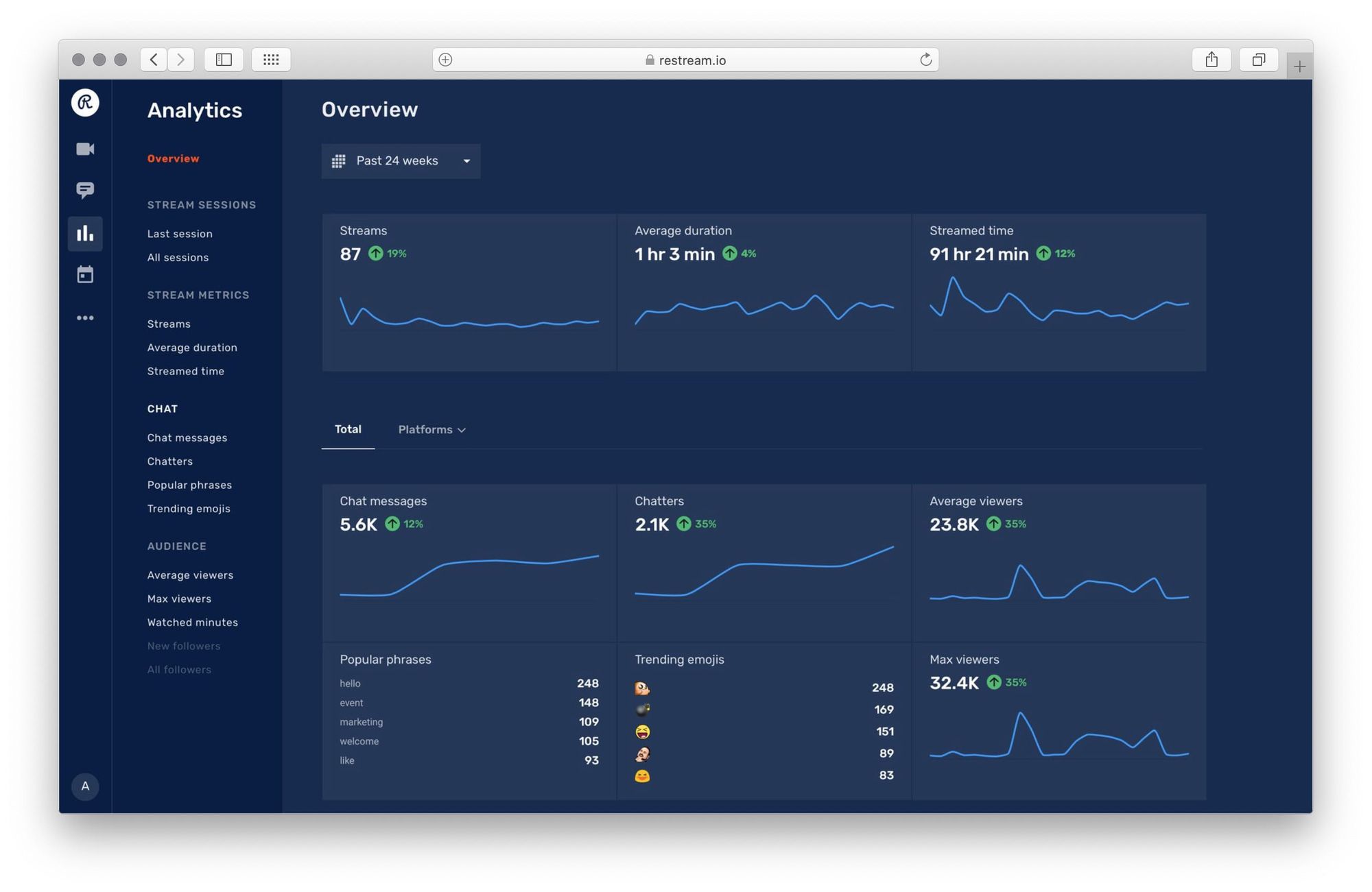 From showing time spent streaming, to identifying the number of average users, chatters, or chat messages, as well as peak activity. Restream analytics is the perfect tool to get actionable insights into how your content resonates with your audience.
4. Unlimited streaming time, unlimited bitrate
Ideally, you would want the decision on how much time you want to spend streaming to rest on you. If you want to stream as much, or even more, than your competitors, or as long as it takes to finish a game of cricket or baseball, or deliver an inspired sermon, that's a decision that should be only up to you.
If the platforms you choose allow it, the multistreaming services you use shouldn't cap it. Well, Restream doesn't. It lets you choose how much time you want to spend streaming.
Speaking of things Restream doesn't cap, it's also useful to have unlimited bitrate. No reason to have to choose between quality and quantity — with Restream, you can have both. Just make sure you're not compromising your streaming health.
5. Streaming of pre-recorded video with Restream Scheduler
Live streaming is for live content, right? Wrong. You can live stream content you have previously scripted, practiced, recorded, edited, and made better with effects. You get all the benefits of being able to produce content at your pace, and then stream it live to a waiting audience.
This is another awesome thing Restream allows you to accomplish. The Restream Scheduler is a tool that lets you schedule and stream content at any time you like.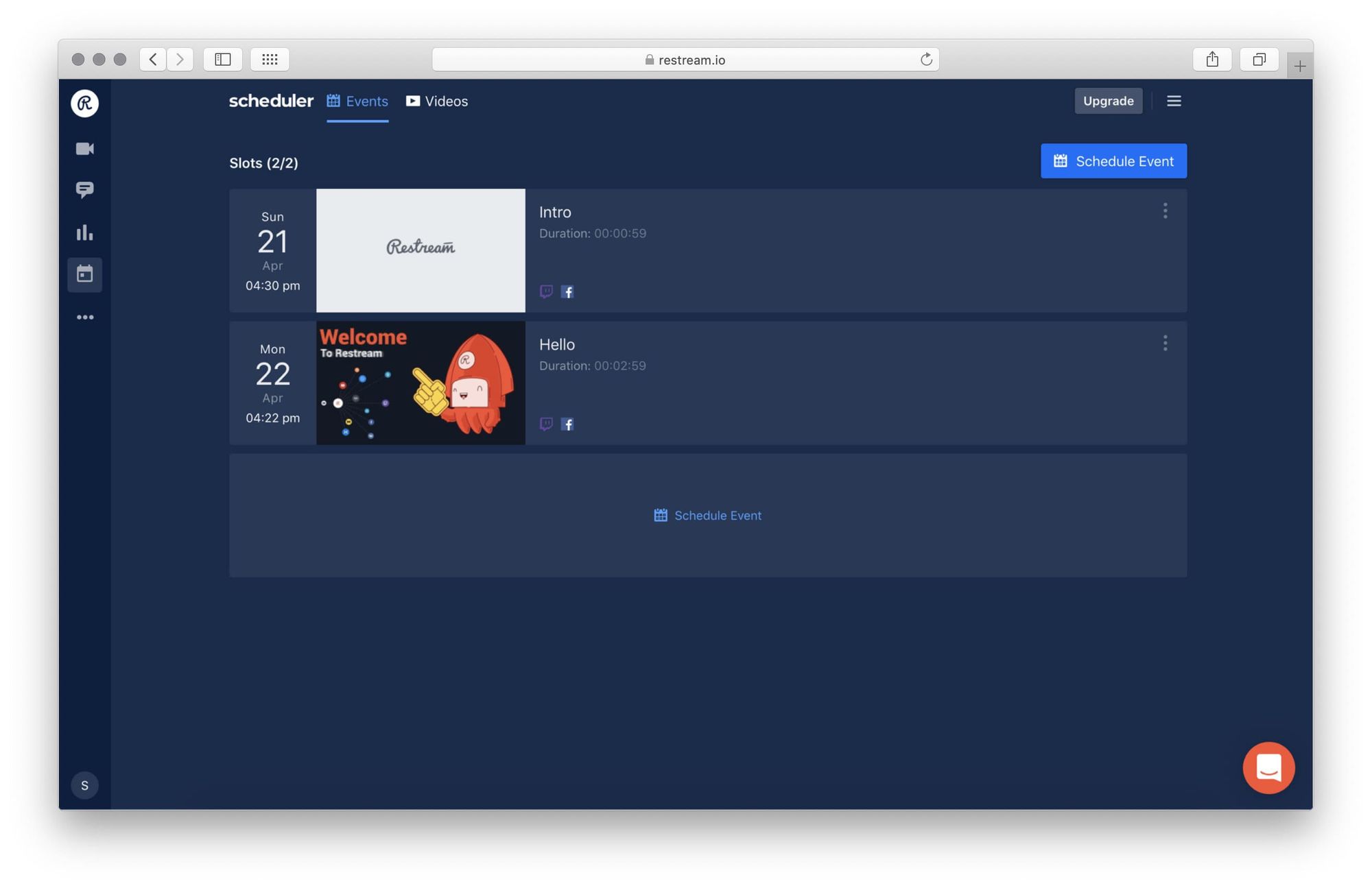 It's very simple. First, you create the video you want to stream. Then, you upload it to Scheduler and choose the date and time for broadcasting the content live. That's it! You can watch your content as if you were an audience member, or you can focus on engaging with your audience via chats.
6. Handling multiple chats in one place
The words "engagement" and "live streaming" are often used in the same sentence for a good reason — live streaming is great for audience engagement. Just think about it. Someone watching you could chat with you, and you could react to their words in real time, while they are watching. That's the awesome immediacy of live streaming, and it has a lot to do with live chatting.
But if you plan to stream to multiple channels at the same time, how do you prioritize which audience you'll chat with? It can be very difficult to keep up with a single chat if you have a decent number of viewers. Juggling two, three, or four chats can be next to impossible.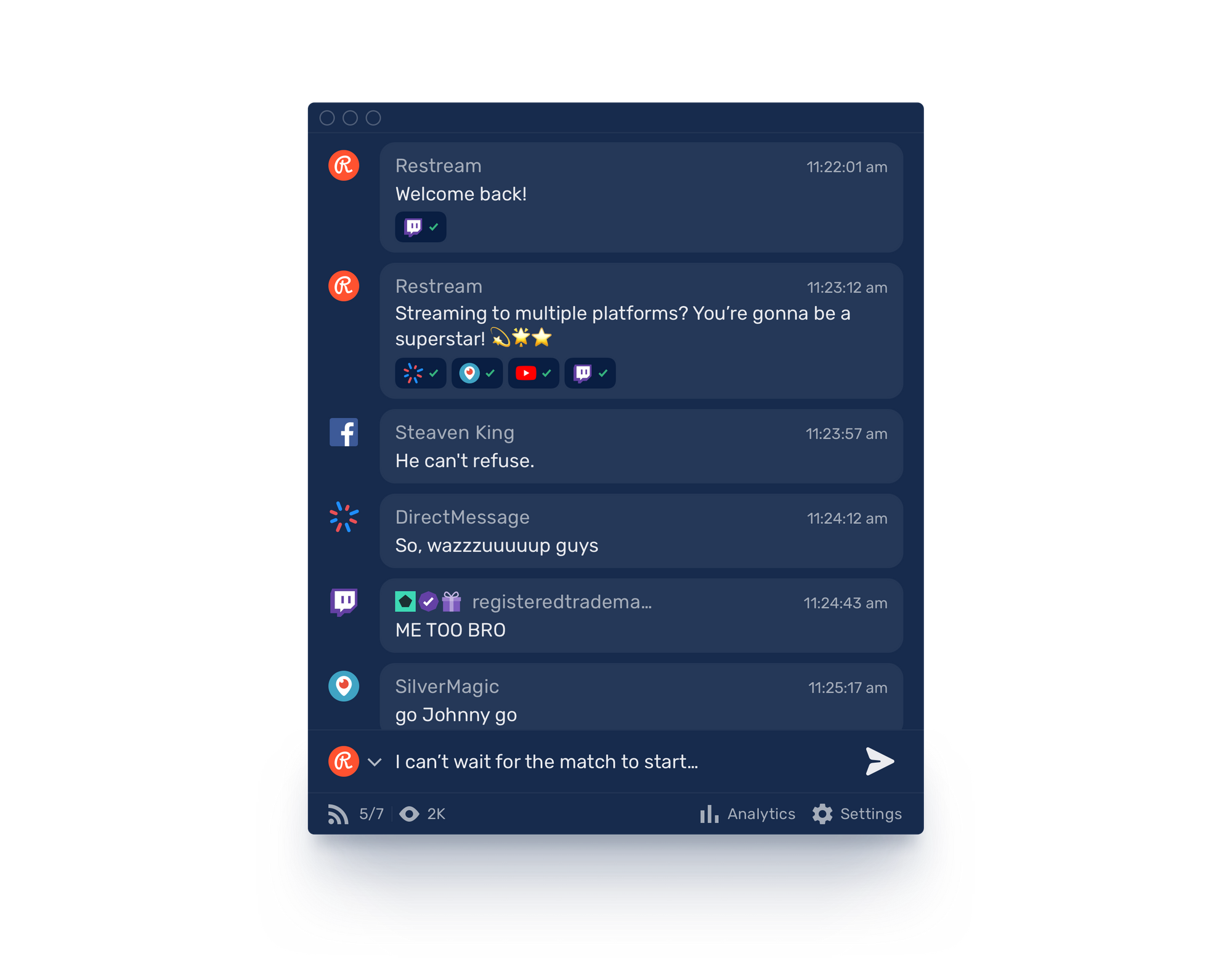 Restream has a solution to that problem, too. It's called Restream Chat. It simplifies chatting while multistreaming by showing all the messages in the same window. Anyone who has ever had difficulty staying on top of multiple chats will know how useful that is.
7. The quickest and easiest streaming service with Restream Go Live
You probably know that setting up a stream isn't always the easiest or the most straightforward process. Multistreaming can make it even more complicated, even though a tool like Restream will do a lot to make multistreaming simpler.
But the problem is that, for some users, all this complexity can present a high barrier to entry. For others, it's a chore they don't want to do anymore.
In an effort to simplify streaming and multistreaming, Restream released its Restream Go Live feature. It allows you to use your webcam to stream directly from your browser. It's a quick way to get into the fray of multistreaming.
That's not even all Restream has to offer, as they also have a dedicated 24/7 live support team available to all users and visitors to the site. Restream also consistently takes the feedback of their users to improve and streamline the multistreaming process.
In this article, we've explored seven of the top reasons to start using Restream for your next multistream. Now it's time for you to take the plunge, head over to Restream now and set up your next multistream in minutes.