Intro
There are a lot of ways to live stream today. From video games to corporate webinars, you can find almost any kind of live content if you look hard enough. If you dream of creating live streams that viewers will love but aren't sure how to go about it, Restream might have your answer. As an accessible, powerful live streaming tool, Restream can help you pull off any kind of live video you've envisioned.
🤓 What is Restream?
Restream is an ultimate live streaming solution that allows you to create professional streams and broadcast them live to multiple destinations at once. With Restream, you can go live on Facebook, Twitch, LinkedIn, Twitter, YouTube, and more than 30 other live streaming platforms simultaneously — without any extra hardware or software.
Our range of tools is geared at making your life as a streamer easier. Go live from your browser with Restream Studio, keep tabs on all your chat windows across multiple platforms with Restream Chat, get insightful analytics to help improve your stream with Restream Analytics, and schedule live streams or pre-recorded videos to go live with Restream Events.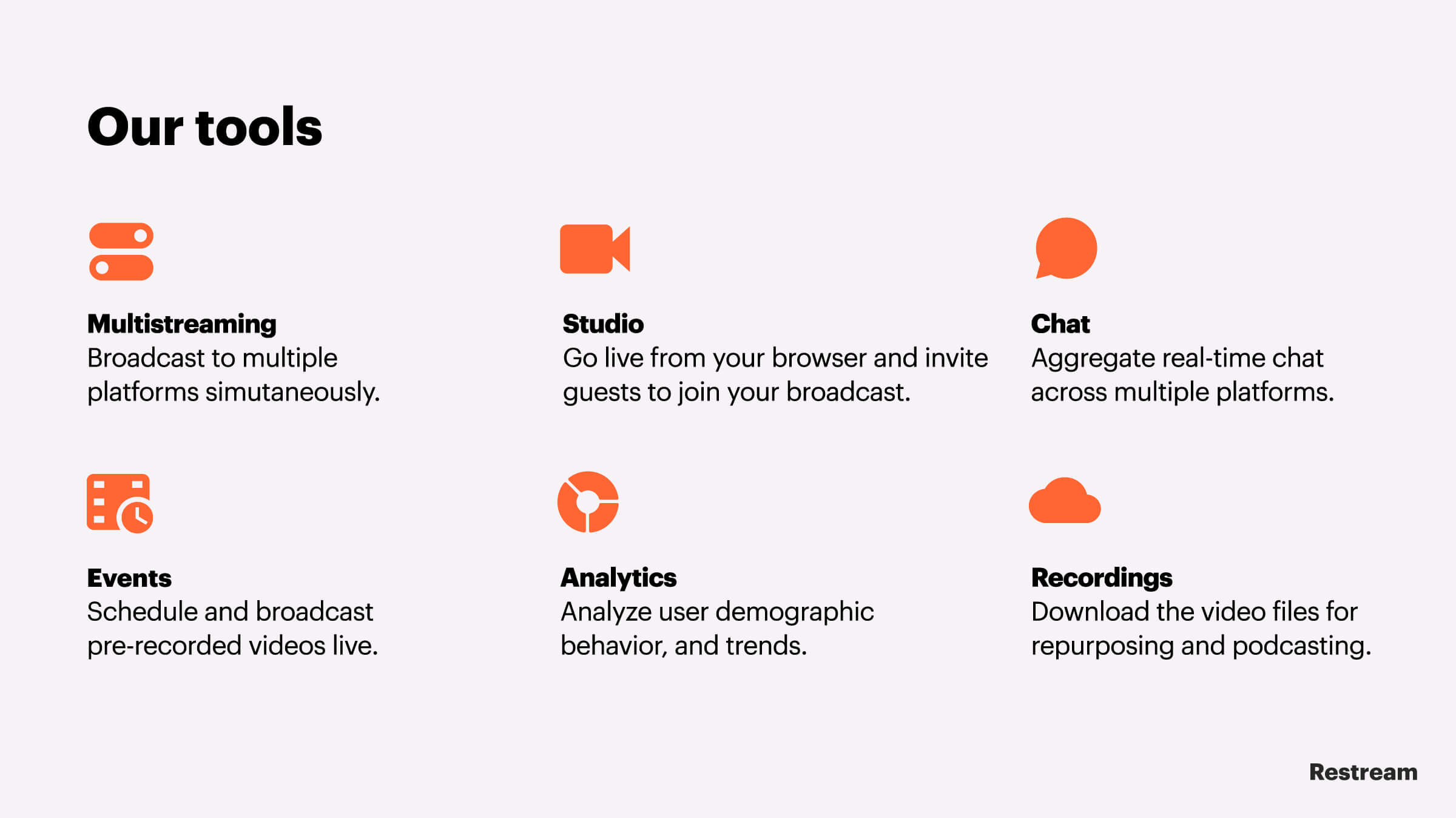 🤩 How can you use Restream?
As a powerful multistreaming solution, Restream has several use cases. If you can live stream it, you can do it with Restream! We've made a list of 16 ways you can use Restream to help inspire you.
1. Stream a charity event
Hosting an event is a great way to raise money for charities and nonprofits. Live streaming your event ensures that more people will see it, increasing the chances for donations. To spread your reach as wide as possible, stream to multiple platforms at once, using Restream's multistreaming service.
Example: Two musicians hosted a Christmas concert to support the organization Surgeons for Little Lives and live streamed it using Restream.
2. Government announcements
Governments and public officials can live stream their speeches, presentations, and press conferences so that all their constituents can hear what they have to say. By using Restream to go live on multiple platforms at once, public agencies can reach more people.
3. Church worship live stream
Not every parishioner can make it to worship services in person, either because they have to stay home or they might be traveling. With live streamed services, anyone can watch live church services from anywhere — and they can watch on their preferred platform if the church uses Restream to go live in multiple places at once.
Examples: The Mountain View Church of Christ and Omega Power Ministries both used Restream to reach wider audiences.
4. Stream from CCTV cameras
Do you have a CCTV camera set up somewhere interesting, like a busy intersection or railroad crossing? Maybe you have a duck pond on your property and stream live footage of it? If you're pointing a camera at something intriguing, broadcast it online. It can be a great way to raise awareness about an issue or ask for donations for a cause.
Example: BigTrainsTV live streams CCTV footage of a railroad crossing in New Jersey, USA using Restream. They have links to donate, as well as multiple cameras you can check out.
5. Live shows for your fans
Live concerts and shows are more fun when people from all over the world can participate! The 2020 coronavirus pandemic made live streamed concerts more popular than they've ever been, and now it would be unwise to think of planning a major concert without broadcasting it online as well. Stream your show online to YouTube, Facebook, and multiple other destinations using Restream.
Examples: 228Events streamed a concert in Togo celebrating the country's 61 years of independence using Restream. Musician Superman Is Dead also used Restream to live stream a concert from Indonesia.
6. Live interviews
A live interview with a notable figure is a great way to attract viewers to your channel. Speak to someone from your industry or get another live streamer to sit down and answer your questions. You can even let viewers pose questions to your interviewee using live chat. If you're live on multiple platforms, Restream Chat can help you keep all those questions organized.
Example: The United States Tennis Association multistreamed an exclusive interview with Team USA Tennis captain Kathy Rinaldi using Restream.
7. Video game streaming
Video games are one of the most popular live streaming genres today. If you like gaming and want to share your passion with others, there are multiple platforms where you can create live video content, including Twitch, YouTube, Facebook, and plenty of others. You can learn more about how to get started as a gaming live streamer in our guide.
Examples: Gamers HMK and Toxic Girl multistream their sessions with Restream so that they can get as many viewers as possible to their streams.
Read later: How to set goals and be a successful streamer
8. DJ sets
Thanks to live streaming, you don't have to go to a club to hear an awesome DJ set. DJs from all over the world live stream their sets for anyone to hear. If you've got some talent with turntables, you can start broadcasting your sets and pull in a global audience too. To add your own branding, logo, stream background, chat overlay, and tons of other features to make your stream more engaging, you can go live with Restream Studio.
Example: DJ Craze multistreams DJ sets with Restream and adds logos and an overlay to personalize the streams to his brand.
9. Live stream a business event
Business events range from workshops and conferences to competitions and product launches. They're usually meant to bring industry experts together to talk about an issue, promote awareness of a company to potential clients, or just generally inform or entertain. When you host your next business event, stream it online so more people can watch or participate. Use Restream Events to schedule it in advance and share an invite link on social media to help promote it.
Examples: International Accelerator multistreamed a FastPitch (Black Box) competition at SXSW using Restream's multistreaming service.
10. Host a live contest
Holding a contest is an engaging way to increase brand awareness, learn more about your viewers, and attract more people to your channel. Everybody loves competitions — especially if there's a prize to win. Even if people don't participate in the live contest, they'll still feel excited while watching it and choose competitors to root for. Broadcast your contest live with Restream Studio so you can invite the competitors as guests on your stream.
Example: Music production company OnlyNoise hosted a live contest using Restream and made the prize a performance slot at an upcoming event.
11. Live giveaways or sweepstakes
A live giveaway is similar to a contest but without the competition aspect. With a giveaway, you can ask people to fill out an entry form either before or during the stream, then randomly select one or more winners for your prize. Giveaways are better lead magnets than contests because you can ask people to opt in to your email list or subscribe to you on social media as a requirement for entry. Use Restream to multistream your giveaway to as many channels as possible.
12. Sporting events
We've been watching sporting events live on television for decades, so it's not a far leap to live stream them either. If you run a small league for a lesser-known sport, live streaming matches could get more people to pay attention to your sport. It's also ideal for streaming high school games for friends and family members who can't make it in person. Broadcasting your sporting event to multiple channels with Restream is easy, accessible, and free.
Example: Local news station KHPQ live streams high school football games on YouTube and other channels using Restream.
13. DIY videos
Are you handy with crafts, home improvement, or another DIY niche? You can live stream a tutorial of yourself making something so your viewers can learn how to do it too. Live streaming is the perfect format for DIY videos because viewers can ask you questions as you go.
Examples: The WonderSpark Puppets channel uses Restream to broadcast its puppet-making tutorials. YouTuber Syd Heresy used Restream to broadcast a DIY electronics tutorial too.
Read later: Fun things to do on a live stream 📍
14. Live workshops
If you have something to teach others and don't want to do a DIY video, you can do a live workshop or class. A workshop is usually longer than a DIY tutorial and may feature multiple components or speakers. It could even be a day-long event with breakout sessions for increased viewer participation.
Examples: The Teachers Training College in Bhagalpur, India live streamed their two-day workshop using Restream, and the YouTube channel Woodworking Masterclass broadcasted a workshop to multiple channels with Restream's multistreaming service.
15. FAQ live sessions
An FAQ live stream is like an interview, but instead of posing questions to a guest, you answer questions yourself from your viewers. They can either send you questions ahead of time or during the stream. You can also structure it as an AMA (Ask Me Anything) and take questions from the live chat. Going live on multiple channels ensures you get questions from as many people as possible. Restream Chat can help you keep all the messages straight by combining them in one centralized chat hub.
Examples: The Coach Shane ESL channel helps non-native English speakers practice their English skills, and Coach Shane did a live AMA using Restream. Musical artist Travis Atreo did a live FAQ with fans and displayed viewer chat messages as an overlay.
16. Live talk shows
With a live talk show, you can invite multiple guests to discuss one or more issues. You can have the talk show host and guests in the same studio or feature guests remotely. With Restream Studio, you can invite up to five remote guests to join your live stream and utilize different on-screen layouts to highlight various speakers.
Example: Los Angeles rock band Stitched Up Heart hosted a talk show featuring remote guests and multistreamed it to several channels using Restream.
Let's wrap up
With Restream, the live streaming options are endless. Whether you want to live stream a business workshop or promote your band with a Q&A, Restream's powerful live streaming tools can help you make it happen. Want to learn more about using Restream? Read some of our guides to get started:
Restream is here to help you reach your live streaming goals!