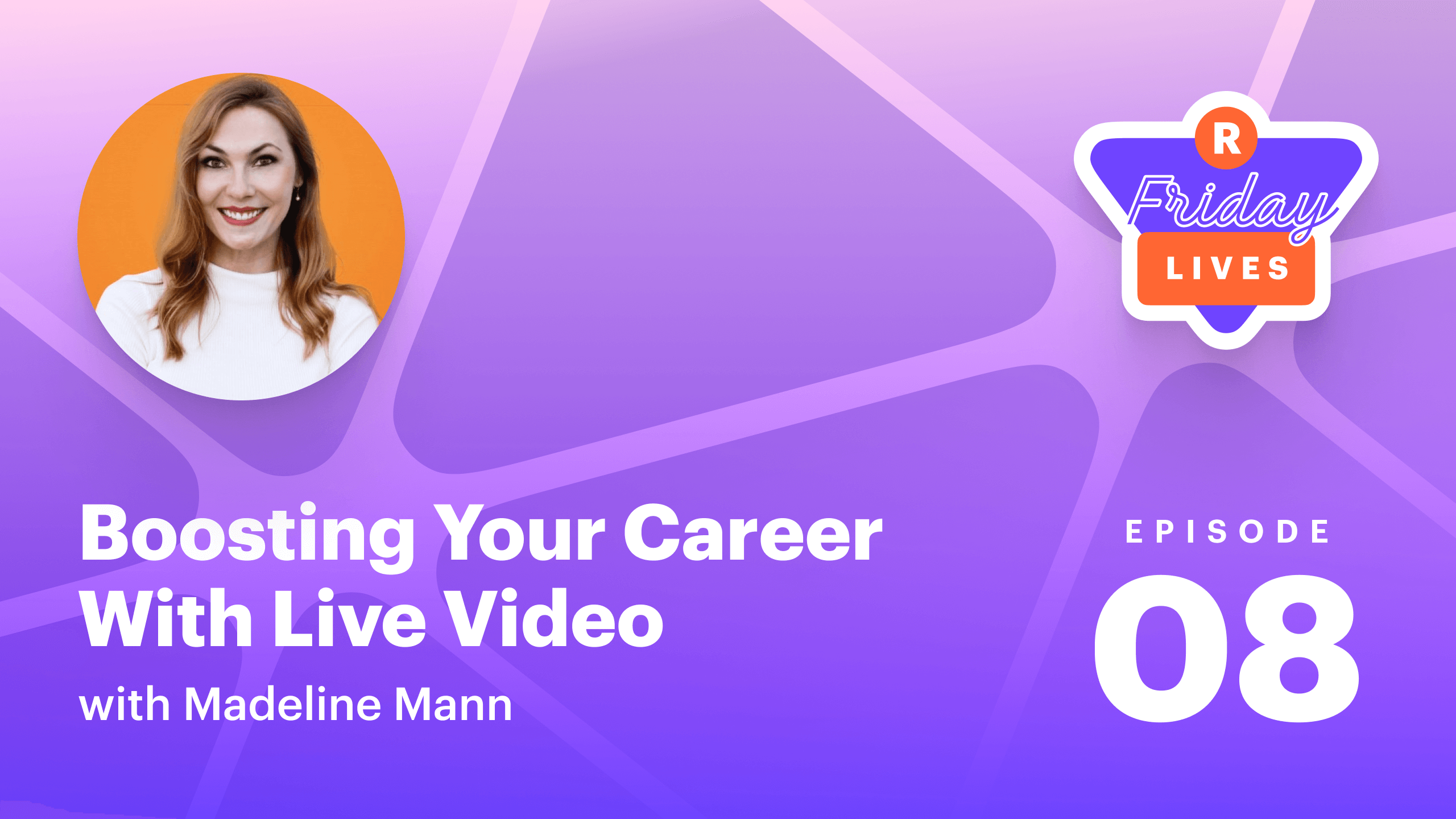 On this episode of Friday Lives, host Anya Razina spoke with career coach and talent development leader Madeline Mann. Madeline guides people on developing their skills for the job hunt and brings HR tips to job seekers through actionable, pragmatic advice. She has a YouTube channel, Self-Made Millennial, where she posts videos on anything and everything having to do with your career and job search.
🎧🎧🎧
Anya and Madeline talked about how to create content as a job seeker, as well as how to leverage live video to advance in your career. They also touched on using live streaming as an HR professional and how HR can benefit from this kind of content creation.
👀👀👀
🤓 Madeline's background
Madeline took her background as an HR professional and interviewer and decided to create content to help give insight to job seekers. She eventually developed a YouTube channel and courses where she gives her best career advice. She also has a website full of resources on finding a job.
☝️ Why should career boosters care about live video?
Going live might provide that engagement boost you're looking for. You may be very active on social media but don't get much interaction. In reality, people see and read your posts but don't comment or engage. When you attend a networking event or go live and put a face behind the posts, then people will engage with you more.
🤔 What are job seekers' most common problems?
Madeline is a career coach, and the number-one problem she sees with her clients is qualified professionals who can't seem to stand out enough. She works with a lot of job seekers who know they can do the jobs they apply for, but they still get passed over.
I call this hitchhiking through your career, where you stick out your thumb and you just see what job picks you up.
The reason they're not getting offers or looks from employers, according to Madeline, is that they don't specify their experience or their goals. Many people don't know what they want and end up branding themselves too broadly. Employers pick up on that right away and can tell the difference between someone who is "career exploring" and someone who is dead-set on their path. Madeline helps job seekers identify what their path is, then package it properly for employers and recruiters.
👀 Can every job-seeker benefit from live video, or only certain roles?
People from all professional backgrounds can use live streaming effectively, according to Madeline. Live video isn't reserved for those who work in media – anyone from any field can use live video to engage. She mentions one of her courses and how her participants have very specific interests that let them start a conversation with others in their fields. For Madeline, live streaming isn't about showcasing your expertise; it's about discussing topics of interest with like-minded people.
Easy live streaming for everyone
Run professional live streams from your browser.
Get Started
😒 The most common mistakes job seekers make
One of the biggest mistakes Madeline sees with job seekers is a failure to rebrand themselves moving forward. If you were previously a teacher who wants to pivot to graphic design, for example, you wouldn't want to focus on your background as an educator on your LinkedIn profile unless you acquired transferable skills from teaching. Job seekers have to think about branding in terms of the future, not the past.
I call your LinkedIn profile and your resume a sales page, not a Wikipedia page, right? Not recording everything in the past, but selling yourself.
😷 The biggest changes to the job market and job searching in the pandemic
COVID-19 unfortunately eliminated many jobs, and in some cases, entire careers. Workers who depended completely on in-person interaction for their living have had to adapt.
Madeline encourages her clients to look for ways to create opportunities for themselves that weren't there before. When everybody is rushing the same job boards and sending applications for the same positions, you have to make yourself stand out. And you make yourself stand out by making yourself indispensable.
You can wait until your job comes back into practice, or you can start getting really savvy. You can start finding where the gaps are in the market and fill those.
🎙 How does virtual interviewing compare to in-person interviewing?
Madeline encourages her students to take a lesson from live streaming and apply it to virtual interviews: add some energy. Speaking on camera can make you look sleepy, so it's important to be a little more animated than you'd normally be. One tip is to watch your live streams back again and look for mannerisms that make you sound more engaging. Those behaviors are what you should bring to an online interview.
While the camera may add ten pounds, it subtracts three cups of coffee. So however you normally appear in real life, you need to amp up your energy a little bit more.
Madeline admits that most of us cringe at re-watching our live streams, but it's necessary if you really want to get better. It's okay if you make mistakes while live; it might actually make you more endearing and personable to your audience.
📹 Should you create a video resume?
Creating a video for a job application is rare, so it does help you stand out. But you have to be sure to do it the right way. If you have the time and the resources to create a video resume, Madeline says to go for it. She shares a few tips:
Don't overthink it. Show your sincerity about wanting to work for that company, and show your personality.
Customize it. You don't want to have to film a new video resume for every single job you apply to. But just like with regular resumes, you should tailor the video to the company you're applying for. All it takes is cutting in a custom introduction about that company.
Madeline also made a video for her YouTube channel about video resumes, which you can check out for more great advice.
😳 Following your passion is bad career advice
Madeline doesn't want you to choose a job you'll hate, but she thinks you should be more pragmatic and realistic about the kind of job you're seeking. Often, people start forming their career path based on their passions or hobbies – which is a great place to start, but it shouldn't be a sole focus.
Instead, you should look at your strengths and your values. What do you excel in, and what's important to you? Do you want to work for a company that focuses on merit? Do you want to be able to be home every night to eat dinner with your family? When you focus on your strengths and values, then you can see where the job market is at.
I really think that we are damaging people by telling them, 'Just follow your passion.
😎 Becoming a thought leader
Building your brand and positioning yourself as a thought leader isn't just for C-level executives. Madeline wants you to think of your brand as products you'd buy at the store. When there are countless brands to choose from, people always choose the more familiar ones. You should approach your personal branding and thought leadership in the same way.
Building thought leadership and your personal brand is how you recession-proof your career.
Make yourself more well-known to potential employers and people in your community by creating content and engaging on LinkedIn. When people are more familiar with your brand, they'll feel more comfortable giving you an interview or reaching out to you when your headline matches their roles.
👁 Live streaming vs. recorded video for your career path and job search
One approach isn't better than another. Both live streaming and pre-recorded content are effective, as long as you choose the one that works best for you. Madeline mentions that she started with pre-recorded videos because she wasn't comfortable going live and was more confident in her video editing skills. Eventually, she worked her way up to live streaming.
With live streaming, it's easier to follow through on your commitment to create content, however. Once you've started the stream, you can't just quit. It's a better motivator to keep going than filming, editing, and uploading a video. Ultimately, you have to choose the method that will showcase your personality and talents the best.
⚡️ Are there specific skills that help make a career change easier?
Madeline has a formula for how you should spend your time and develop your skills:
60 percent of your time is for experience building. That means understanding which skills are needed in your profession and getting those skills. Even if it's a side project or unpaid experience, it's still valuable.
33 percent of your time is for building relationships in the field, through informational interviews or asking to hear people's stories. Building relationships won't lead to an immediate breakthrough, but it will make people remember you when they have an open position.
10 percent of your time is for staying educated. Read books, take courses, and stay up to date on the trends in your field.
🦄 How do you choose a career path?
In order to find a career you'll want to stick with, Madeline reiterates the importance of finding your strengths and values. Once you have those, she encourages you to talk to as many people in the field as you can, to narrow down the role or specific area you'd really like to work in.
You start getting shiny-object syndrome where you think, 'That job could be good for me.' And you throw your values and strengths out the window.
Madeline uses herself as an example, saying she wasn't sure what to do with her psychology degree. She knew she was a collaborative, achievement-oriented person and didn't think becoming a psychologist would support those values. After speaking with many people, she eventually honed in on human resources.
Don't start looking for jobs and then think about your skills; always do it the other way around.
😄 Staying positive when you don't have a huge community
While a lot of advice about live streaming is to be consistent and have quality content, Madeline wants to add a caveat. She doesn't deny that consistency and quality are important, but you also need to study your audience.
Invest time in learning about the platforms you're streaming to and their best engagement strategies before you stream. Building a community around your personal brand when you're first starting out is tough, but by strategizing, as Madeline has, you can set yourself up for more success.
🧐 Going into e-sports or choosing an unconventional career path
Madeline emphasizes that she doesn't have expertise in every industry. She can help you with your resume, with the interview, and with presenting your skills. But it's on you to know what skills you need to succeed in your chosen career.
If you want to go into e-sports, for example, then you should reach out to professionals in the field who've had success and ask for an informational interview or to hear their stories.
I just duplicated my mentor's path of rising in the ranks of HR. You do not have to pave your own path. Other people have done this before.
Of course, asking people for their stories can seem daunting – especially if you don't want to come off as needy or pushy. Madeline suggests respectfully complimenting the person when you ask for their story or advice, making it about them.
A lot of people are willing to help others and share their knowledge and experience, but you have to give them the opportunity. It also helps to provide something of value in return, like writing a blog post about them or offering advice or a connection of your own.
🙌 Madeline's tangerine tips
Madeline is known for her #tangerinetips on LinkedIn, which are short, actionable bits of career advice. When asked why she chose tangerines, Madeline mentioned that she chose orange as her brand color early on, and when she wanted a way for her name to stand out on LinkedIn posts, she thought of adding a tangerine emoji. She hadn't seen anyone else use an emoji in their name on LinkedIn, but she wanted to give it a try. Now, it's part of her brand and makes her stand out!
😉 Why should HR professionals care about live streaming?
Madeline points out how human resources touch all aspects of an organization. Sharing content is beneficial for HR professionals who want to get their message out because their content is shareable and accessible to people outside the human resources bubble. Live streaming is great for reaching people who may not be your target audience but who are adjacent to your target audience.
👉 Do HR professionals have to be good on camera?
Madeline admits that almost no one has natural talents for being good on camera. When she first started out, she would always prepare and wasn't a big fan of "winging it." As she grew more comfortable, however, she's taken to live streaming. Her advice for HR people who want to dive into live streaming is to prepare notes to fall back on and practice, practice, practice.
It's a misconception that people are just born being able to wing it. Some people totally can, but I think giving yourself those notes to fall back on and really practicing can make a huge difference.
😷 Will HR professionals keep live streaming after COVID-19?
COVID-19 and the onset of live streaming has convinced older generations of HR professionals to finally open up to using digital tools. Madeline thinks that, as an HR person, you can convey some great content, and the opportunity live streaming gives HR professionals will still be relevant post-COVID.
💁‍♂️ Do HR professionals have to build a personal brand?
For Madeline, there are several reasons why an HR professional should build a personal brand:
Branding yourself within your company positions you as a go-to person.
HR work is often behind-the-scenes, so building a brand helps others understand what you do.
Building a brand will communicate your value and show that you can give them the greatest experience possible.
🚀 Where is LinkedIn Live heading?
Madeline is excited about LinkedIn Live and thinks the platform has been off to a great start. It's not available to everyone, but the content of those who do stream has been high-quality. She does think that behavior patterns on LinkedIn will have to change, though.
Most people on LinkedIn discover content in their feed, not by subscribing to or searching for something. Enabling features to allow people to see you when you go live, via notifications or something similar, would help LinkedIn Live compete with other live streaming platforms, in Madeline's opinion.
💫 Let's wrap up
As a career coach and talent development advisor, Madeline Mann had some great insights for both job seekers and HR professionals on live streaming and branding. Some of the key takeaways from her conversation with Friday Lives host Anya are:
Why people who want to boost their careers should care about live video
What job seekers' most common problems are
How every job seeker can benefit from live video
Common mistakes job seekers make
The biggest changes to the job market and the job hunt during the pandemic
How virtual interviewing compares to in-person interviewing
Whether you should create a video resume or not
Why you shouldn't just follow your passion
Using live video to become a thought leader
Live streaming vs. recorded video in the context of the job hunt
The formula that makes the job hunt easier
How to choose a career path that fits you
Staying positive when you first start streaming and don't have many followers
Madeline's advice when you choose an unconventional career path
Madeline's example of standing out with personal branding
Why HR professionals should care about live streaming
Whether HR professionals have to be good on camera
Whether HR professionals will keep live streaming post-COVID
HR professionals and personal brands
The future of LinkedIn Live
A big thank-you to Madeline Mann for appearing on this edition of Friday Lives! We hope you learned as much about live streaming and HR as we did!
---
Don't miss an episode! Subscribe to Restream Friday Lives.