Podcasters and creators, you've really inspired us! We're excited to share the amazing new updates that make Restream your all-in-one solution for producing top-notch shows.
Restream is now equipped with everything you need to record, customize, store, and promote your show.
Whether you're a pro or just starting out, you can create your entire podcast, online show, or musical performance using the powerful tools in Restream Studio.
So get ready to streamline your workflow and expand your audience reach! With Restream as your central hub, hosting a podcast or live show has never been easier.
Read on to learn more about our powerful new suite of features.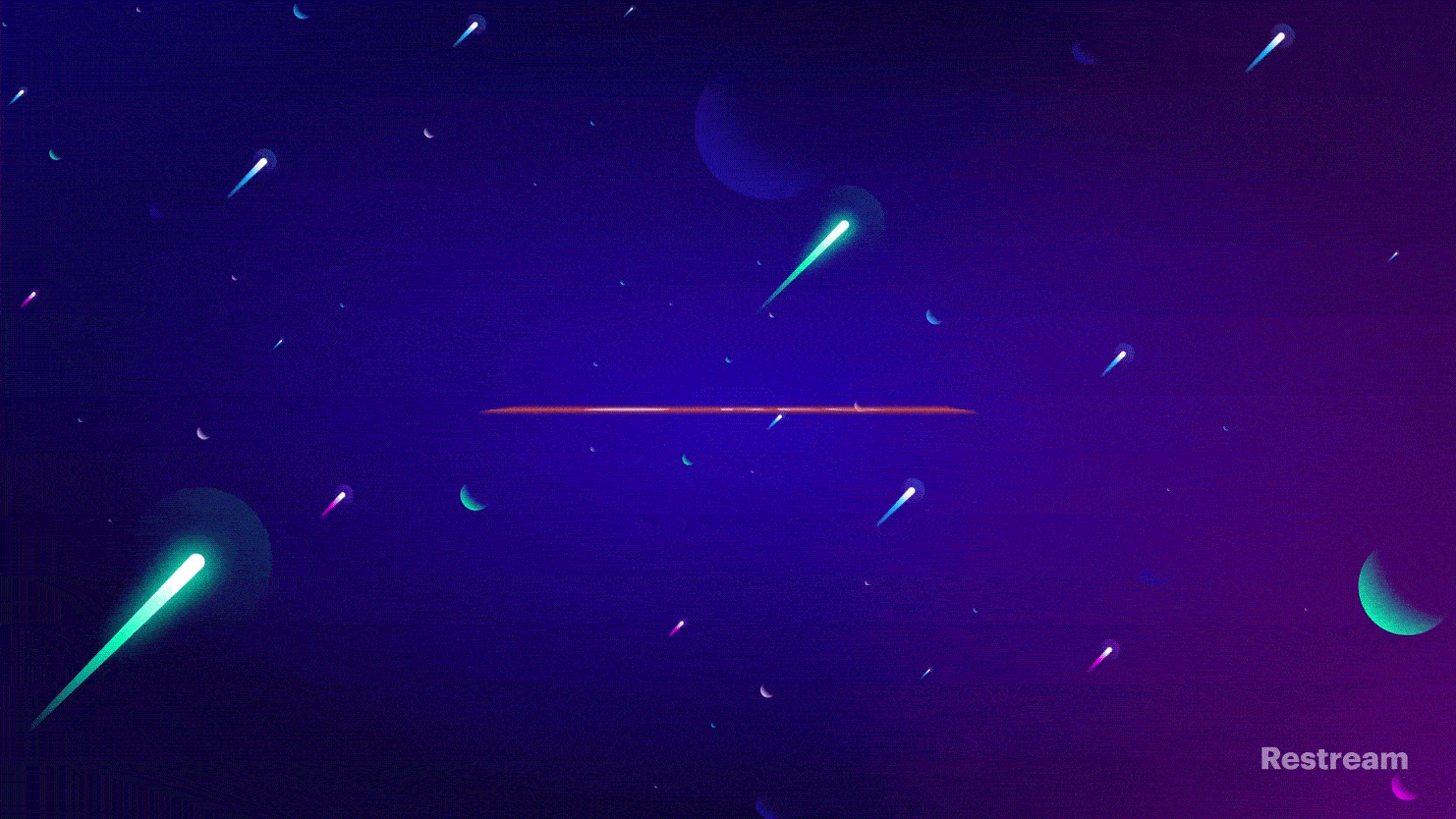 🔈Upgraded recording & editing tools
1. Record only
Standard plan & above
We've heard your feedback, and we know this update is going to be a game-changer! Now when you open Restream Studio you can use the Record Only feature to record and store audio and video content without going live.
This feature gives you greater control over the quality of the content you present to your audience. You can now record your latest podcast, interview, or heart-wrenching ballad at any time and it will be automatically  saved to the cloud. Download your content for editing as needed, then schedule it to go live when you're ready to release it to your audience.
2. High-resolution audio
Available on all free & paid plans
Ready for a major audio upgrade? Restream Studio's new High-Res Audio feature lets you record at a sample rate of 48kHz with a 256 kbps bitrate for crystal-clear audio quality!
We've also expanded our audio file options to include popular AAC encoding and M4A format, so you have the flexibility to choose the audio format best suited for your project. Plus, you can now choose between mono and stereo recording, giving you the option to create a more dynamic sound.
So go ahead, drop your new single using Restream — your fans can now hear your show as it's meant to be heard. And with high-quality audio your podcast will sound more polished and professional than ever.
3. Split track recording
Professional plan & above
Repurposing your stream's content can be challenging — especially when you're editing a Q&A, interview, or talk show recording with multiple participants all talking at once. With Restream's new Split Track Recording feature you can download separate audio track recordings of every participant in the stream. (Yep, editing just got waaay easier.)
Since guests with different microphones and streaming setups can sound very different, having separate audio tracks allows you to clean up the audio for a more polished sound, such as reducing reverb for one participant's audio while compressing another's.
Now you can transform your audio recordings into high-quality podcast episodes and awesome teasers for social media, without wasting hours sweating over chaotic audio!
4. Content Storage
Standard plan & above
With all your recording, editing, and streaming in one place, it makes sense to have your content storage on the same platform for ease of use. You can now access up to 100GB of cloud storage for recorded audio and video content via Restream. 😮
Your storage limit is determined by your Restream subscription, so check which plan you have to confirm your storage capacity.
⚙️ Enhanced production value
1. Invite guests
Available on all free & paid plans
Inviting guests to your stream can help your content stay fresh and engaging. Whether you're facilitating a live panel discussion, interviewing a guest for your podcast, or showcasing another music creator, Restream lets you effortlessly add multiple participants to your stream.
How many guests can join the party? With a Restream Free plan up to five guests can join your stream or recording, and up to nine guests are supported with a Professional plan!
2. Guest volume control
Available on all free & paid plans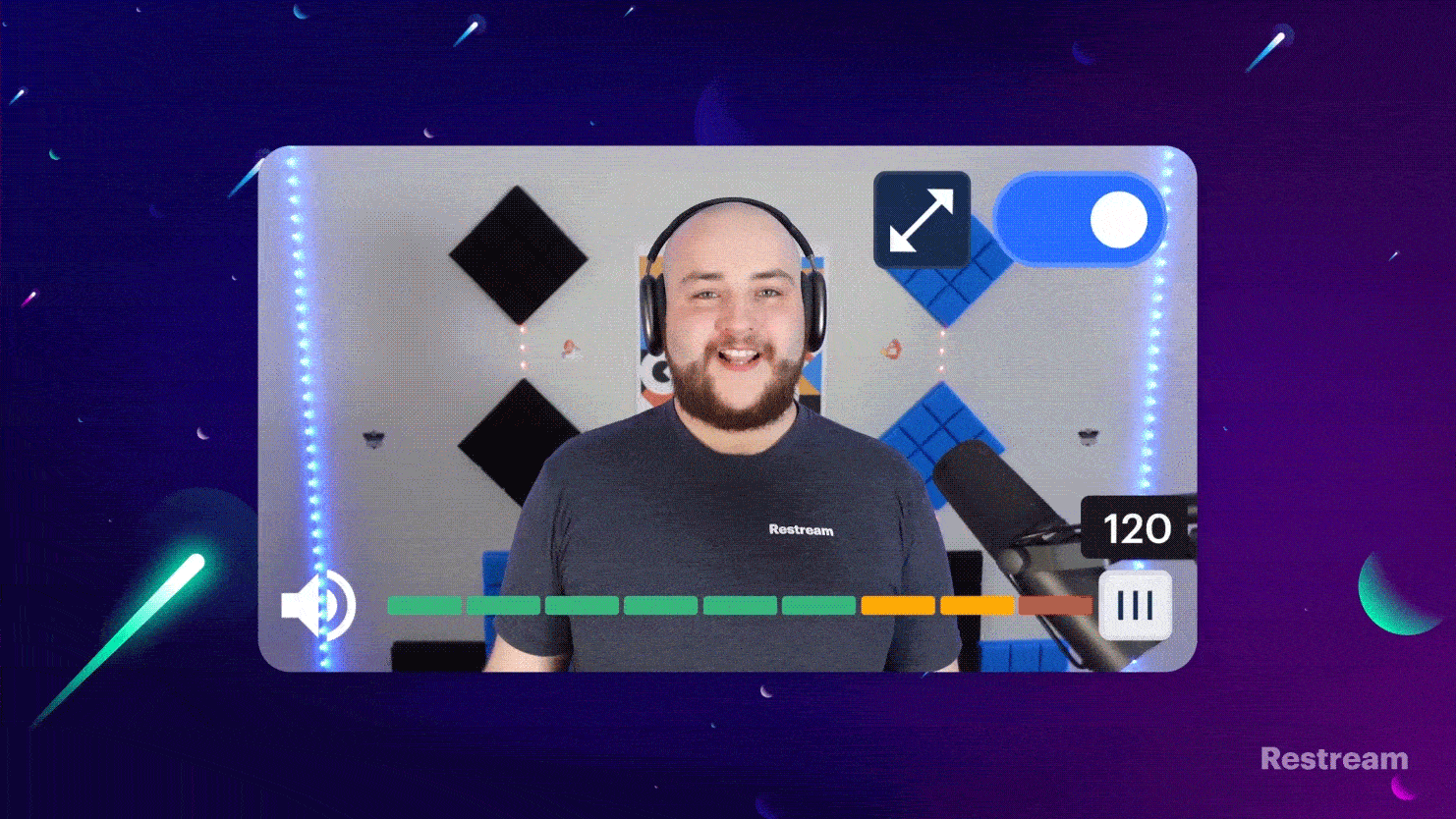 Want better control of your audio mix? Your wish has been granted! Our new Guest Volume Control feature allows you to instantly boost your production value.
When a participant's extra-loud mic is overpowering the mix or another participant is barely audible, simply toggle their individual volume channels to the perfect level and your live show can continue without a hitch!
3. Professional branding
Professional plan & above
Ensure your podcast looks professional by adding branded graphics. Thoughtful use of graphics and visual elements can help keep your show engaging for your audience and convey your brand or personality.
With Restream Studio you can add custom overlays, backgrounds, logotypes, nameplates, calls to action, banners, colored captions, countdown videos, and more!
4. Screen share
Available on all free & paid plans
Whether you're sharing song lyrics, presenting discussion questions, or reviewing an app, the ability to share your screen during a stream or recording can really come in handy.
Restream's Screen Share feature lets you jazz up your jam session, live show, or panel discussion, keeping your audience engaged and on the same page as you.
5. Connect to Zoom
Premium plan & above
Our powerful RTMP Source feature allows you to connect Restream Studio to Zoom, so you can use Zoom's functionalities while multistreaming to multiple platforms using Restream.
Hosting a live show? Audience members can call in to your show via phone thanks to Zoom. Expecting a big crowd for your concert? You can enable up to 1000 participants to join once you connect Restream Studio to Zoom!
😎 Next-level promotion tools
1. Schedule pre-recorded content
Professional plan & above
Want to expand your reach? Restream Events lets you schedule and broadcast your pre-recorded videos to all your favorite platforms — like Facebook, YouTube, and LinkedIn — at the same time.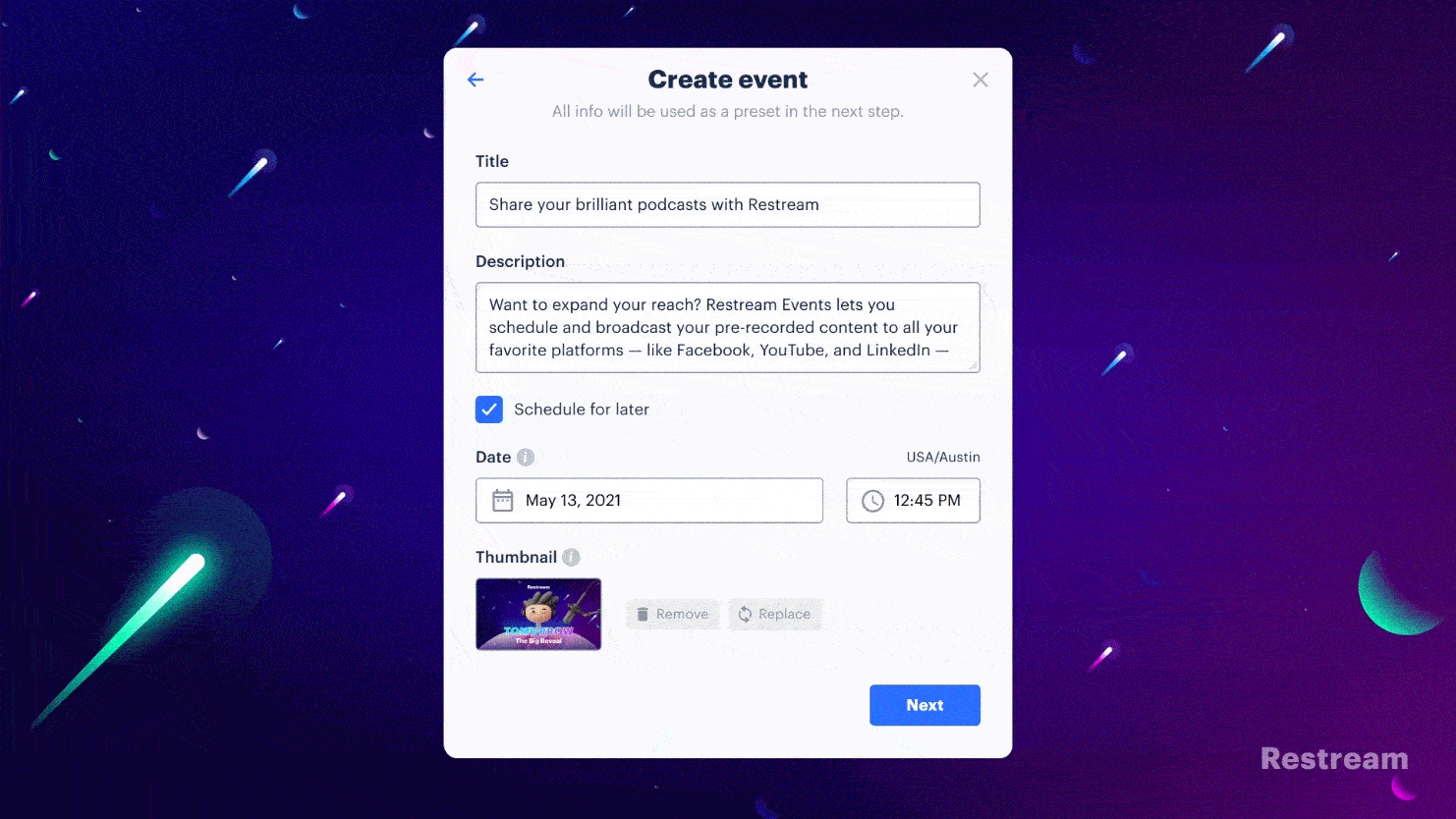 Pre-recording your content gives you the opportunity to enhance your stream's production value through editing and mixing and introduce your best content to new audiences.
Scheduling your content also means you get to choose the perfect time to drop your new single or release your podcast episode. Since you can go live at any time (even while you're sleeping) you have the flexibility to broadcast your recordings during prime times in different time zones around the world — attracting more views and winning new audiences.
With a Restream Professional plan you can schedule video streams of up to one hour in length or 2GB in size, while Premium and Business plans provide the ability to stream even larger videos.
2. Create shareable invite links
Available on all free & paid plans
Hosting a live show or podcast? Restream Events makes promotion easy by letting you schedule your upcoming event and create shareable links for social media. You can customize the event's title and description and even add a custom image!
With a streamlined promotion process you can increase your viewership and feel confident that your audience knows exactly where to find you, which is one less thing to worry about while you're streaming like a pro.
3. Distribution to 30+ streaming platforms
Available on all free & paid plans
So here we are at the end of today's feature list, and we can't call it quits without mentioning this last key feature.
Multistreaming is at the heart of everything we do here at Restream. And whether you're releasing a podcast episode, broadcasting a jam session, or hosting a live chat show, Restream lets you multistream to your favorite social channels simultaneously, expanding your reach and connecting with viewers on their favorite platforms, including YouTube, Twitter, Facebook, Twitch, and more.
Multiply your views and engagement
Reach a wider audience by streaming to multiple platforms simultaneously.
Get Started
We hope you'll harness this powerful new suite of features to take the next steps on your podcasting journey. Visit your Restream Dashboard to start recording now!