For years, Black Friday has been the biggest day of the year for shoppers to hit their favorite retail stores and score some awesome holiday deals. Black Friday is changing, however, when it comes to how people shop. Traffic data shows that in 2020, visits to brick-and-mortar stores dropped during Black Friday weekend by 49% compared to 2019. Although the dip in in-person shopping can be largely attributed to the COVID-19 pandemic, consumers have been trending toward online shopping for years now. Additionally, shoppers spent $9 billion in online sales on Black Friday in 2020, a 21.6% increase from 2019.
Your Black Friday marketing strategy should take the hint. Combining in-store events with online promotions and online channels (even if you don't have an online store) is important. You have everything from paid ads to live streaming in your toolkit. We'll show you how to use those tools with a list of Black Friday marketing ideas.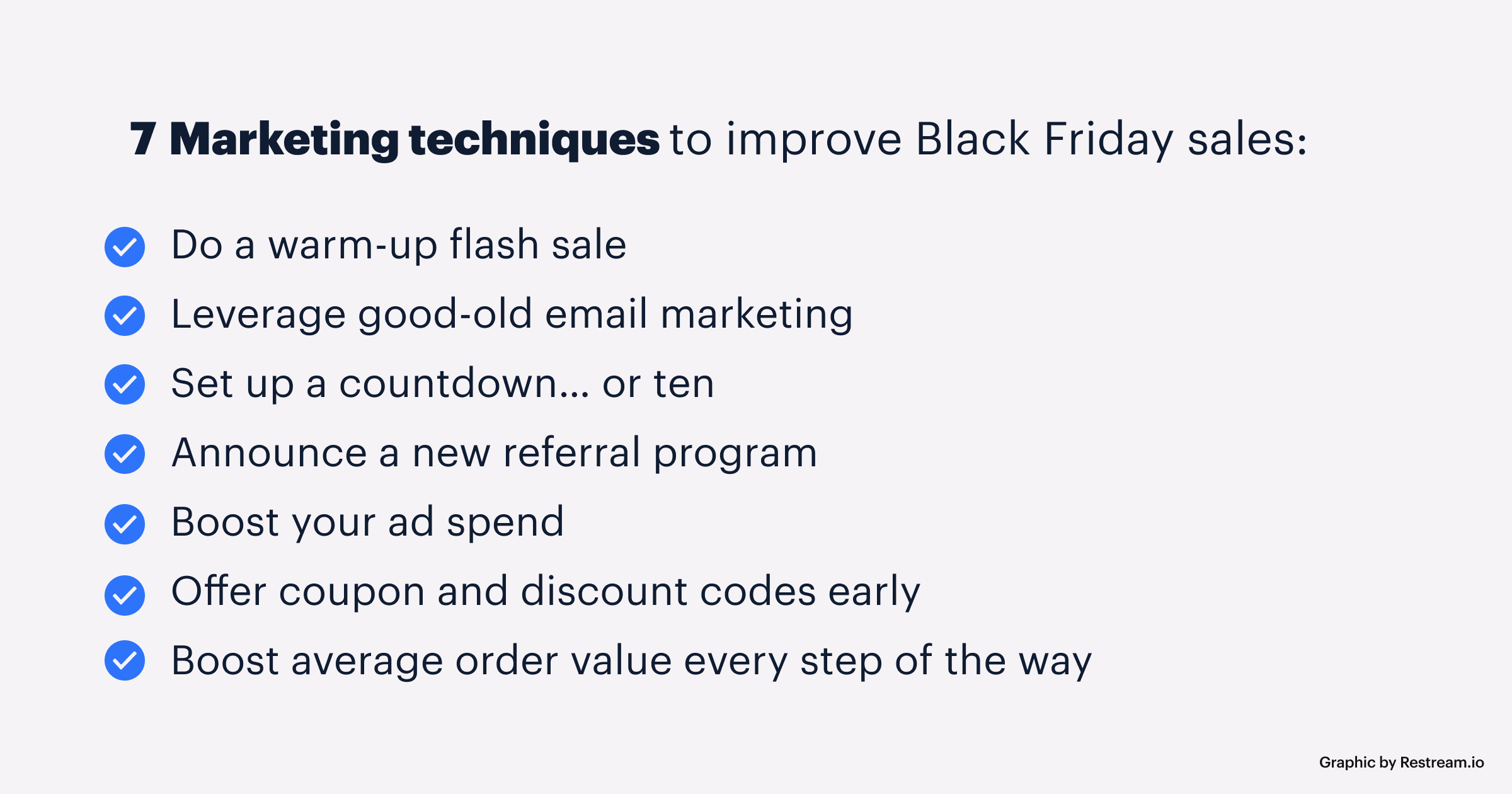 1. Do a warm-up flash sale ⚡️
You're more likely to achieve good sales numbers by offering an occasional deal than by advertising constantly low prices. Flash sales, or time-limited offers, are a prime example of just how much people love good deals. If you send flash-sale notifications by email, for example, you can expect to see a 35% increase in transaction rates.
The increase in sales isn't the benefit you're counting on for Black Friday, though. Flash sales are eye-catching, and people will engage with communications that carry a message about sales. Grab attention with your warm-up flash sale and then direct it toward your bigger Black Friday sale.
If you really want to boost the success of your flash sale, there are a couple of things you can do. For one, you can live stream a flash sale to promote the deals you'll be offering during the Black Friday sale. Live video helps you get more engagement as well. Plus, you can time the sale to last two to three hours, which seems to be the sweet spot. Try to have your flash sale in the evening, as this brings the best results.
2. Leverage good old email marketing ✉️
Whichever type of promotion you want to run before or during the Black Friday weekend, you should find a way to incorporate email. It's is still among the most effective digital marketing tools — if you know how to write great emails.
Some of email-writing rules that will support your Black Friday marketing efforts include:
Make sure the email template is responsive. Ensure that people can read it regardless of the device they use.
Don't bury the lead. Let people know what the email is about with a quick, bold, and big statement they're sure to see right away.
Include visual content. Keep the email light on text, include images (maybe even GIFs), and add video if possible.
Don't overdo it with CTAs. Don't follow every sentence or image with a call to action. Keep it reasonable or you'll annoy people.
Tell them when it's over. A limited-time offer will create a sense of urgency. Include the end date of the offer in the email to remind viewers to hurry up and snag the deal before it's gone.
Of course, stick to the general rules of email marketing as well: don't spam your readers with too many emails, make subject lines highly relevant, and give people a chance to opt out.
3. Set up a countdown (or several) ⏳
Nothing encourages people to make a purchase better than a ticking clock. Adding deadlines for deals is standard practice — you'll be doing it in your Black Friday marketing emails, too — but you should also look for ways to turn it up a notch.
Plan a couple of deals for every hour of Black Friday. Then, add countdown timers that show when products go on sale. Once they're on sale, show the viewers the ticking clock that says how long the deal is valid for.
You can plan your content around countdowns, too. If you want to live stream during your Black Friday sales event (and e-commerce businesses should definitely give streaming a try),  incorporate the countdown into your live content. When you're live streaming to increase the hype and excitement for the event, a countdown clock is a seamless addition.
4. Announce a new referral program ️💁‍♂️
Is there a better marketing tool than word of mouth? 92% of consumers say they'd believe recommendations from friends and family over the information they get through advertising. People read online reviews and testimonials before shopping, either in-person or online.
Most of us rely heavily on the opinions of others when making purchase decisions. You can use that social proof to your advantage in your Black Friday marketing. For example, start a referral program that's active only during the sales event.
Use all the tools at your disposal to make the referral program successful. Hint at the program in your pre-Black Friday email campaign, then mention it during the live stream. Put a timer on it, and let your customers know they'll get something nice only if they manage to bring you new customers by a specific time. Finally, make sure you offer a good referral bonus in return.
5. Boost your ad spend 🤑
There's no way around it — if you plan to use ads as part of your Black Friday marketing campaign, you should create a bigger budget. Everyone else will be doing it, so the cost per click on your ads is bound to increase. You'll have to follow suit if you want to stay in the game.
If you really want to excel at Black Friday paid marketing, you should do a couple of other things, too:
Mention Black Friday in your ad copy. Don't forget to update your ad copy to reflect the name of the sales event you're running.
Use the Google Ads promotion extension. It will add another line to your ads featuring the event, the discount, and the offer expiration date.
Imply scarcity in the ad copy. You can use customizers that will add information about the quantity of products left in your inventory.
Also, start planning for the Black Friday ads a little in advance. If you're running ads on Facebook, run them a week early to give them time to calibrate and catch their stride.
6. Offer coupon and discount codes early 🏷
Another way you can play into people's love of good deals is by offering coupons or discount codes as part of your pre-Black Friday marketing campaign. This strategy works equally well for online and offline marketing. Just do it early enough to build anticipation and lock in the purchase intent.
Offline, you can use coupons with most of the promotional tools you already use. Coupons can easily become an addition to your direct mail marketing. If you're buying TV or radio spots, include coupon codes in your ad copy. You can also put them in magazines or newspapers and offer them with each in-store purchase.
Online, you can be even more inventive with how you use coupon codes:
Pepper them throughout your website and send an email blast announcing a pre-Black Friday coupon hunt.
Use the codes in pre-event live video streams.
Offer coupon codes at checkout in the weeks preceding Black Friday.
Gamify coupon codes.
Offer random discount values.
Make your coupon codes available, but also make getting the coupon code an engaging experience for customers.
7. Boost average order value at every step 🚀
The best thing about Black Friday marketing is that you don't have to reinvent the wheel every year. You can use the methods and tools that worked the previous year alongside some new ones you want to try. You can also rely on the simple sales strategies e-commerce businesses implement every day of the year, not just on Black Friday.
Let's say your goal is to increase your Black Friday sales by boosting the average order value. Some of the things you can try are:
Put free shipping behind a threshold. Offer free shipping — but only make it available to people after they've purchased goods of a certain value.
Offer coupon codes or gift cards at checkout. Give your customers an incentive to add another item or two to their carts before checking out.
Display upsell and cross-sell options. Use product recommendations to show people similar or complementary products.
Sell things in bundles or bulk and display savings. Let your customers know that they'll achieve extra savings if they buy more.
These everyday sales and marketing strategies should have a place in your Black Friday arsenal. Not only do they work well on their own, but they also become even more powerful when you combine them with strategies for special sales events.
Read later: How businesses can drive sales with live video streaming 📍
🤩 Bonus tip: Multistream your live content!
For several of these techniques, live video serves as a great delivery method. You can incorporate countdowns in a live stream, use live streams to boost your flash sales, and announce a referral program or coupon code. You could do these things with other forms of content, too, but live streaming offers the most interactivity and engagement.
If you're already using live video content as part of your Black Friday marketing strategy, you could do so much more by streaming it to multiple websites at the same time. Restream, a multistreaming tool, can help you save time and money while giving you the tools to expand your reach.
Best of all is that it's easy to set up, and it doesn't require any additional investment in hardware or software. If you can stream, you can multistream, so there's really no reason you shouldn't try it.
Wrapping up
Black Friday is among the most important events in any retailer's calendar. It's the gateway into the holiday shopping season, and it can be a phenomenal day for a business's bottom line. But you have to know how to put together a good Black Friday marketing strategy.
Increasingly, this means knowing how to use the online channels you can access and the different kinds of content that are suited for them. Live video is an effective content choice to deliver many of the sales and marketing techniques you'll be using. Thanks to Restream, you can reach your audience no matter where they want to watch your content.