Author bio:
Adam Enfroy. With over 500,000 monthly readers, Adam Enfroy's mission is to teach the next generation of online entrepreneurs how to scale their influence at startup speed.
---
Podcasts are a great way to get information on any topic you can think of. They're incredibly popular and have also been around for quite some time. As trends change and new technologies arise, it's difficult to know what the future will hold when it comes to podcasts.
In this article, we'll look at the podcast trends predicted for 2021, 2022, and beyond so that you can plan out your marketing strategy. We'll discuss how podcasting is changing and why those changes could affect your business or marketing strategy in a big way. Let's dive right in.
1. Continuation of consistent listenership growth
In today's world, podcasting is a major form of digital content. It has seen consistent listenership growth over the last decade and will continue to grow.
In the coming years, podcasts will be more than just entertainment — they'll likely offer new opportunities for brands and businesses as well.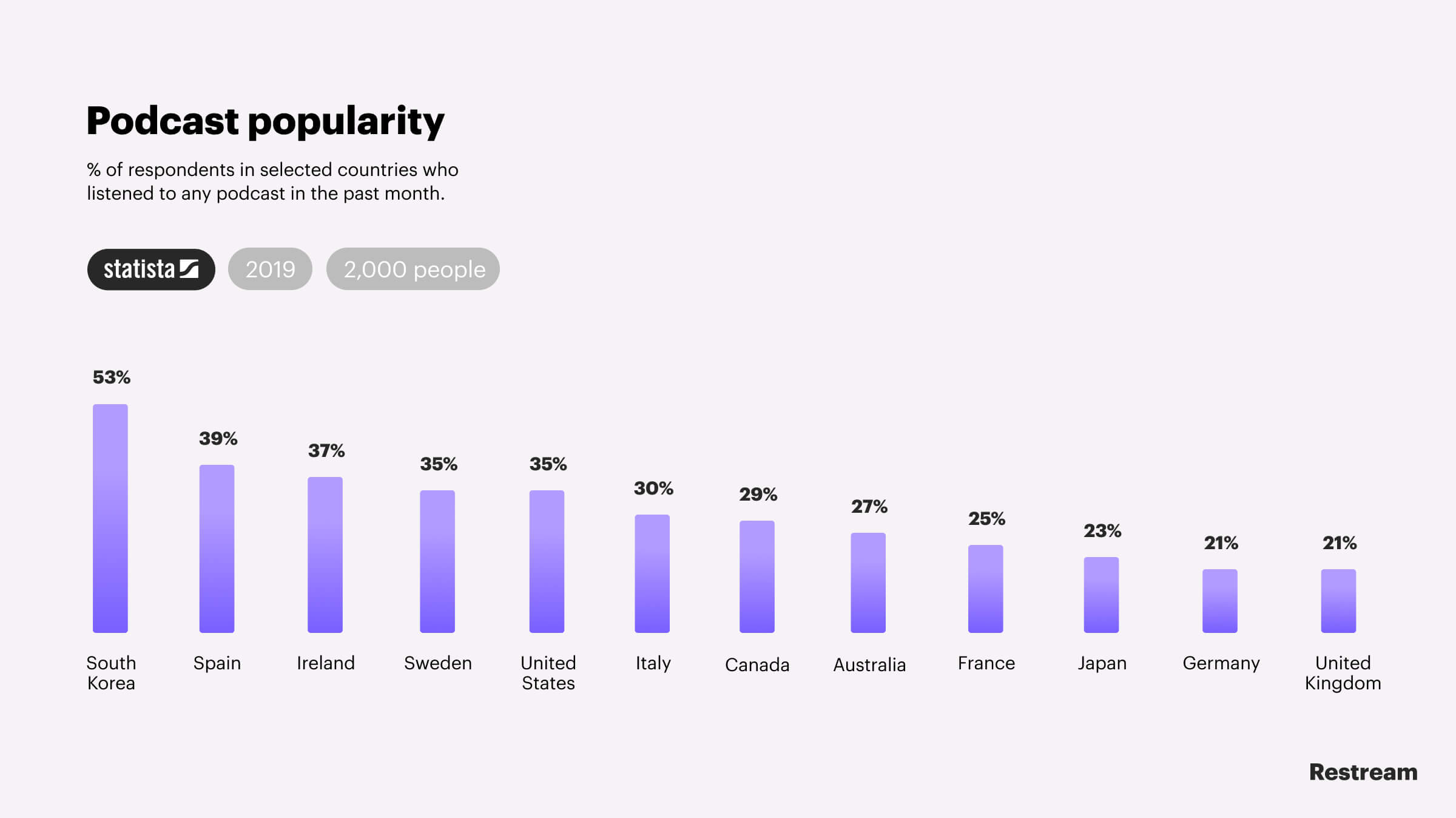 There will be even more people listening to podcasts in the near future than there are now.
The podcasting industry is growing at a rapid pace and shows no sign of slowing down. New podcasts are being created all the time, while established podcasts grow their audience base with each episode released. People will continue to listen more often as new content becomes available.
2. Quality is one of the main driving forces behind existing growth
Not only is quality a driving force behind the current growth of podcasts, but it's a trend that can be seen across all types of digital media as well.
With this growth also comes some challenges: podcast creators have to constantly find ways to stay ahead of their audience's expectations while continuing to provide them with great content. The future looks bright for podcasts, but it'll take hard work and dedication from those who've helped build up these amazing mediums for us all to continue enjoying them.
No matter the content, it's a fact that people are looking for quality. As podcasts grow in popularity, they also face several challenges to keep them going and growing — creators need to find new ways for people to engage with their content so it doesn't become stale.
With such a large audience out there now, listeners have many different options available, which can make it difficult for podcasters who've been working hard at this type of digital media since its beginnings decades ago.
In the coming years, companies will be releasing new podcasts with better quality and more relevant content. People will have a better experience because of this, since it will allow them to find niche podcasts that reflect exactly what they are looking for.
More people are also going to create their own podcasts on sub-topics that didn't previously exist. This is something we have been seeing a lot of recently, especially on other local and niched websites.
Since there are a variety of streaming platforms available for those that want to host their own podcasts, the technology will also be a huge help in this situation.
Multiply your views and engagement
Reach a wider audience by streaming to multiple platforms simultaneously.
Get Started
3. Hosts will continue to be high-trust influencers
Podcasts have been an effective way for influencers to build their influence and share their niche knowledge and perspectives on specific topics. These podcasts are typically hosted by people with high credibility, which makes them trustworthy sources of information. The host's personality can make or break the podcast's success, so they need to be genuine to maintain engagement with the listeners. If hosts continue to exhibit these traits in the future, we will see podcasts continue to grow as a popular form of media.
In a world where influencers are kings and people trust them more than traditional media outlets, what does podcasting have to offer? Hosts will continue to be high-trust influencers with their ability to speak personally about the topics they cover.
With the rise of personal branding for content creators, listeners will invest in podcasts that align with their values and beliefs. This means hosts need to take a step back from producing content just because it is popular at the moment and stay true to who they are for critical listeners to keep coming back.
When audiences find themselves constantly searching for new voices, hosts will need to stay authentic and also inject fun into their podcasts so as not to be forgotten.
Read later: How to start a podcast: the ultimate guide to podcasting 📍
4. Marketing budgets will continue growing for podcast advertising
Podcasts have been around for a while, but they are just starting to receive the recognition and funding they deserve.
As evidenced by growing marketing budgets, this trend will continue. Podcast advertising is growing in popularity as people turn away from traditional advertising methods like TV ads or radio spots. One reason for this is because podcasts can target a specific audience with more precision than other media outlets such as TV or radio stations, which broadcast to everyone within range of their signal.
This makes them an attractive option for advertisers who want to reach an audience of avid listeners and will help increase podcasting's popularity in the future. Podcasts can also be a relatively inexpensive way to reach an audience for sales. Podcasters have tons of options when it comes to monetization, including sponsorships, selling online courses, digital products, merchandise, and more. This is because podcast ads have the potential for high ROI with less risk than other forms of advertising.
Podcasts are also unique from video and audio advertisements in that they don't require any special equipment or technology on the part of the person who's consuming them, other than just a device to play the podcast and an Internet connection. This makes podcasts attractive options for marketers looking for ways to advertise products even when people aren't sitting down at their computers or watching TV shows. Moreover, it's also relatively easy to market your podcast to the right target listeners with an advertising budget.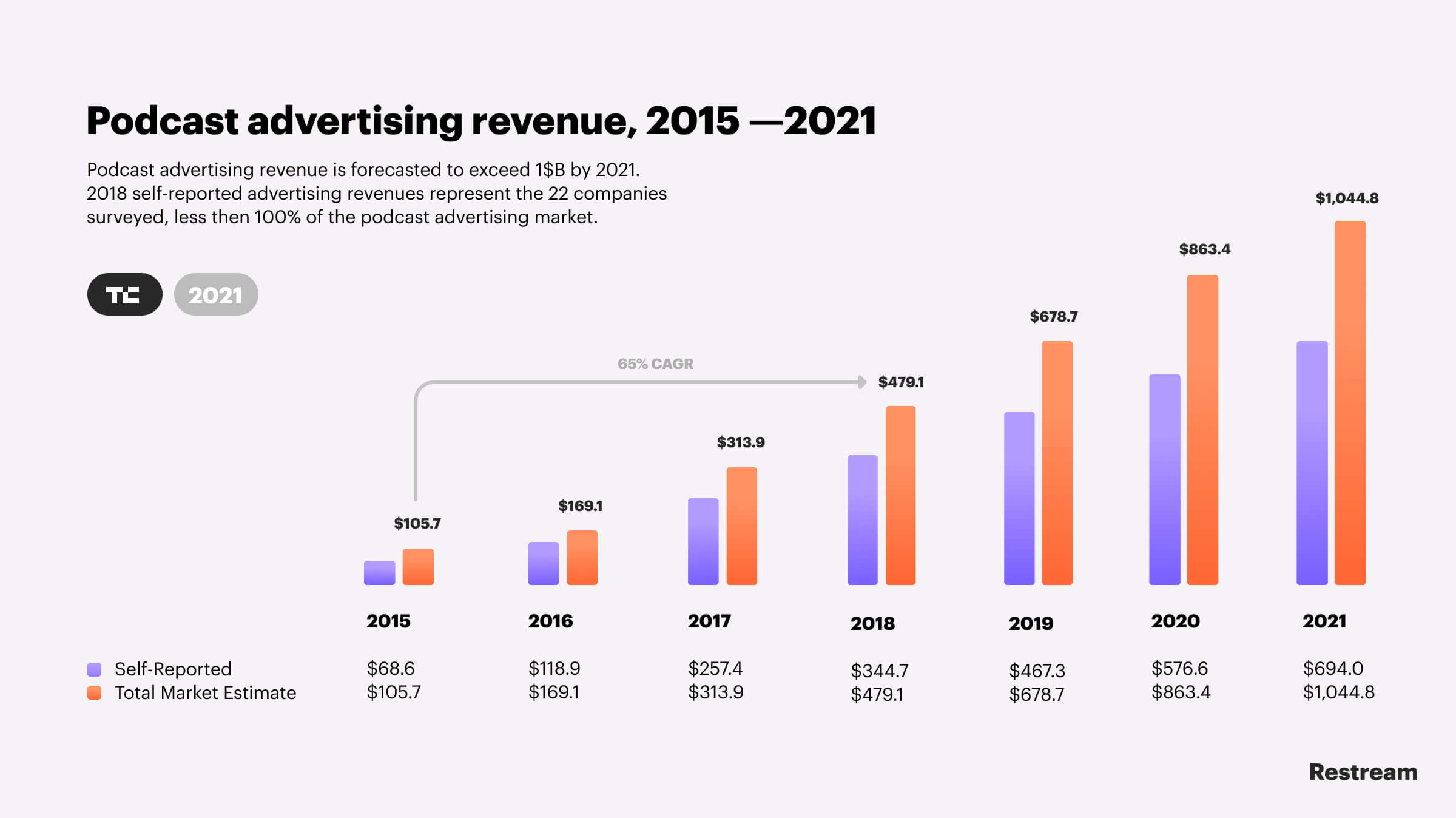 For podcast advertising to keep increasing like it is in 2021 and 2022, it'll need high-quality content and more listeners buying into what's being said during each episode, ensuring advertisers get the exposure they're looking for.
5. Listeners will accept more ads
No one likes ads. They consume your precious time and space, they're distracting, and they often make you want to turn the TV off or skip ahead. And yet, for some reason, we keep watching commercials on TV and tolerating them in magazines with little complaint.
However, podcasts used to be ad-free. But there is a difference: listeners can choose which ads to listen to; that's because podcast hosts can insert custom sponsors into their episodes at any point during the show by playing an advertisement from their sponsor's library of prerecorded spots.
The decision is up to the listener. For this reason alone, it makes sense that listeners will start accepting more ads in future podcasts, as long as they have control over what they hear.
As more listeners turn to podcasts for entertainment on their commutes or during workouts, advertisers will likely be drawn to this medium too.
The time has never been better for brands who want a hand reaching these audiences; listening habits have shifted dramatically over recent years. If you're not creating content specifically geared towards the new generation of audio-centric consumers (along with the right ads), then your brand could quickly become irrelevant.
6. Older people have started embracing podcasts
In the last few years, podcasts have become more and more popular. You may find that your grandparents are listening to podcasts now because they're finally catching on.
This is something to pay attention to in 2021 and in the coming years as well. If you think podcasts are just for millennials, then think again. Older people are starting to embrace the idea of listening to a podcast while they work out or commute. Some people in the 50-plus age bracket even listen to podcasts on their way home from work and before bedtime.
The rise of older listeners has been attributed to more availability of free online content, as well as increasing awareness about potential benefits such as improved memory and mental health among other things.
7. Growing understanding of podcast listeners will allow for data-driven decisions
Podcast listeners are a diverse and eclectic bunch. They're typically on the go, multitasking with their headphones in. This type of behavior has led marketers to question where they fit into this space and how they can best serve these audiences.
As podcasting continues to grow in popularity, marketers will need more data than ever before — data that will help them understand what makes podcasting so special for listeners and what works for the listener to develop a more personalized experience.
Podcasts also provide a sense of community amongst listeners with shared interests or backgrounds that would otherwise be difficult to find offline, which makes them an attractive option for those who need a connection with others who share their passions or experiences.
Beyond this, podcasts offer many benefits, such as increased productivity and decreased stress levels among employees at work because they can listen during downtime instead of staring at screens all day.
As a result, marketers will need to devise new strategies for podcast listeners so they can create more personalized experiences that provide the user with something he or she wants and not just what was available in the past. In fact, chatbot platforms are often being used in conjunction with podcasts to create an immersive experience for listeners.
Read later: 59 best podcasts for any taste 📍
8. Podcasts will optimize for voice search
Podcasts have been around for decades and are experiencing a revival in recent years. In the past few years, podcasts have moved to the forefront of pop culture with more people tuning in to these audio programs than ever before. The popularity of podcasts is likely to continue on its upward trajectory as new developments take hold shortly.
One such development that could contribute to the growth of podcasting is voice search optimization, a feature that might be especially beneficial for listeners who find it difficult or challenging to read text-based content when listening to an audiobook or podcast.
With voice search, they can simply listen without having their eyes diverted from their work or other activity they're engaged in while still being able to enjoy what's playing through their headphones. With this development, listeners will be able to search for podcasts and subscribe through Google Assistant on their phones.
The introduction of voice search optimization could change the way people search for and listen to podcasts because they'll be able to listen to find what they want just with their voice and without directly touching their device.
In addition, podcasts may appear higher up in SERPs (Search Engine Results Pages) when this development becomes more widespread. This is good news for podcasters everywhere because it means there's a greater chance that their content can reach even wider audiences than ever before.
🔥 Pro tip: Create your own podcast with Restream
Conclusion
The podcasting industry is still growing at a rapid pace and is not going to slow down anytime soon. And it's easy to understand why — the medium has never been more popular, and anyone can start a show of their own from just about any location in the world.
But while getting started is relatively simple, many people find that monetizing their efforts or starting up an ongoing revenue stream isn't quite as straightforward (and may even take years).
That said, if you're looking for success in this arena, then don't let these challenges stop you. There are plenty of ways to capitalize on the booming podcast industry and make money doing what you love most.