Have you heard of Clubhouse, an audio-only social media app that has celebrities, Silicon Valley, and influencers buzzing? If you aren't familiar with Clubhouse, you may be missing out on a big opportunity as a live streamer. So, what is Clubhouse, and how can you use it along with your live streams?
In this guide, you'll learn what the app is, how to live stream to Clubhouse, and why you should be on Clubhouse if you want to build a community as a live streamer.
What is Clubhouse?
Clubhouse is an audio-only social media app that allows users to drop in and out of live conversations. The app is full of "rooms" where groups of speakers, moderators, and listeners can gather to speak to one another, listen to a presentation, or even hear a live concert. Unlike other social media platforms, Clubhouse only uses audio, and that audio isn't recorded or saved for later use.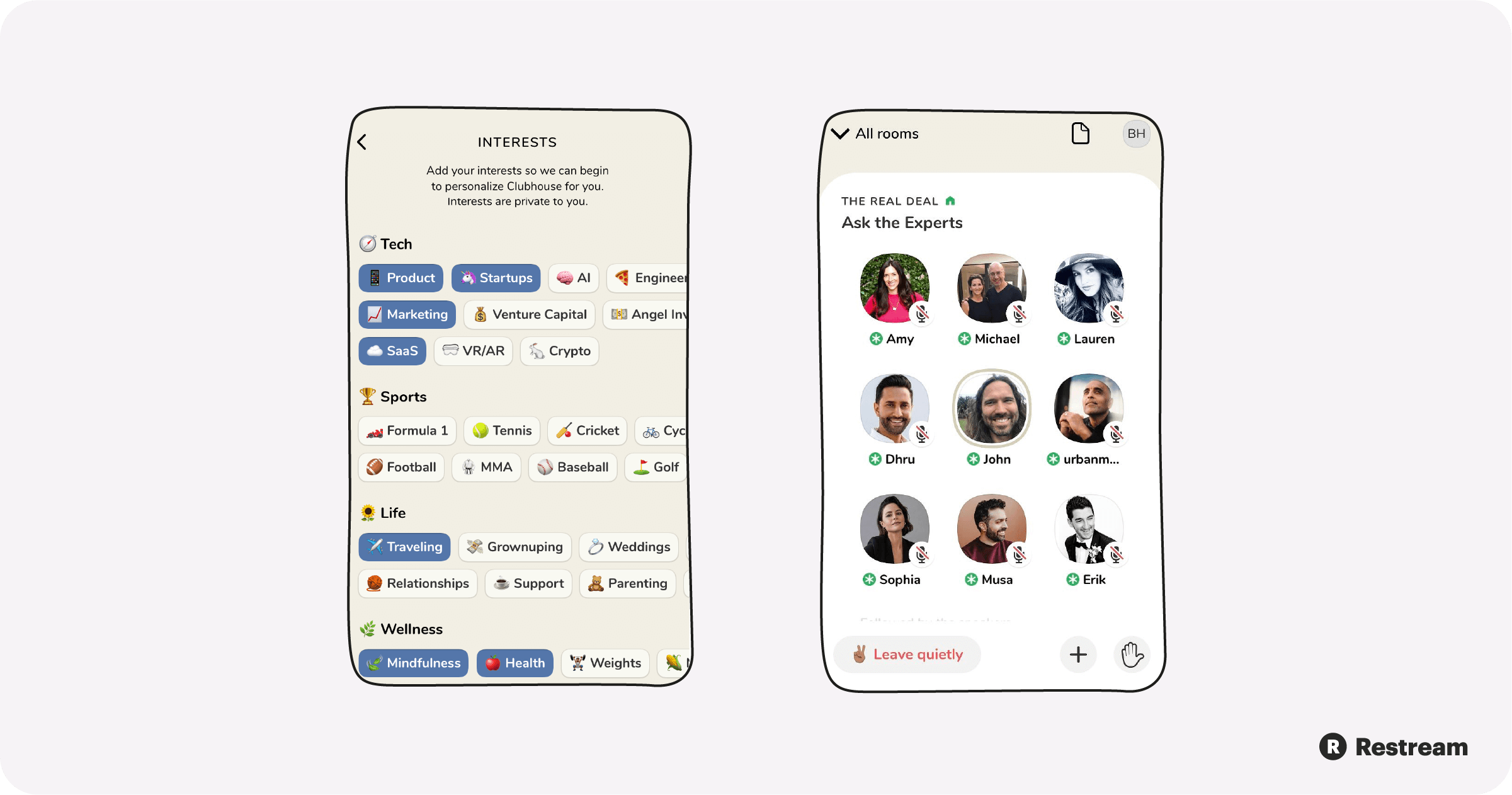 Clubhouse is only a year old, but it's created a great deal of buzz amongst celebrities and Silicon Valley startups. Currently, it's invite-only and only available on iPhones. This exclusivity has driven some of the hype around Clubhouse. The app's developers are working on an Android version and hoping to make it open to the public soon.
👀 How does it work?
When one of your friends invites you to the Clubhouse app, you can join and create a profile. Once you're set up, you'll have access to all the ongoing conversations, and you can hop from one room to the next. In each room, one or more people will be speaking, and you can either sit back and listen or "raise your hand" to have the moderator call on you and allow you to jump into the discussion. Each room and moderator has slightly different rules for participation.
If you lose interest in the room you're in, you can simply "leave quietly" and head to another room. Rooms can contain a few people or a thousand. The conversations you see on your home feed, called the "hallway," are based on which people in the app you follow. You can also search for people or keywords to find conversations that interest you.
🤔 How to join Clubhouse
There are two ways you can join Clubhouse. When someone joins the app, they're allowed to invite one other person from their contacts. Someone who has your phone number — usually a close friend or acquaintance — can invite you this way. The more someone moderates or speaks, the more invites they're allowed to send out.

Another method is by registering interest on the Clubhouse website. You can download the app to reserve your Clubhouse username. Your friends using the app will get a notification that you've registered interest and will be able to let you in, without using one of their official Clubhouse invites.
🤓 Clubhouse rooms vs. clubs
Think of Clubhouse like a large conference center. As you walk down the main hallway, you pass rooms where people are discussing various topics in small or large groups, and the sign by the room's door lets you know what they're talking about. Rooms are open to anyone on the app, and people pass through as they please.
You can also form clubs on Clubhouse, which can host private conversations. Clubs are a great way to form your community on the app and host rooms for your club members only. Clubs are required to have at least one recurring conversation to stay active.
How to use Clubhouse
So what exactly can you use an audio-only social media platform for? It turns out you can get pretty creative with it! In addition to traditional interviews and Q&As, the app has also seen discussion-based groups such as book clubs, live music auditions, and even a full production of the musical The Lion King.
Clubhouse also presents great opportunities for brands to build communities and engage with followers. For live streamers just starting out who want to build confidence, Clubhouse's audio-only format can be a great way to work on your live streaming skills without having a camera on you.
Clubhouse also has several other use cases, which we can look at in more detail.
📺 Virtual events
The popularity of virtual events soared in 2020, and you can use Clubhouse to piggyback off that momentum. Hosting a full-fledged virtual event isn't super feasible with Clubhouse, but you can use it as a place for your event guests to get together and speak in private conversations before, during, or after the event.
💬 Content curation
You can record and repurpose conversations in Clubhouse — but only with the permission of everyone in the room. Recording without others knowing is against the app's Terms of Service. But you can create a room and indicate in the description that you intend to record so everyone knows beforehand. Once you've gotten some great Clubhouse audio, you can use it in your content curation on other platforms, including adding it to your live streams.
🔗 Project collaboration
Once you're connected with someone on Clubhouse, you can start a private conversation with them at any time. If you form a club for your company or team, you can use Clubhouse to discuss your project or collaborate. Keep in mind that nothing said over Clubhouse is recorded or saved, so it's better for conversations that you want to keep private and don't need to reference later.
🗣 Podcasting community
As an audio-only social media platform, Clubhouse is ideal for podcasters. While you can't host your entire podcast on the app because it doesn't save recordings, you can host a live, interactive version of one of your episodes. Listeners can ask you their questions directly or add their opinions to the topic. Clubhouse may also be a great place for podcast hosts to have casual conversations with their listeners, helping to build up the community around the podcast.
🎙 Live interviews or Q&As
Of course, Clubhouse is perfect for live interviews or Q&As — a bit like talk radio. You can host special guests in your industry or niche and interview them, or open yourself up for a live Q&A session with your audience.
👯‍♀️ Networking
Since it's a social media platform, Clubhouse is also an ideal place for networking. We all know the importance of networking with people in our industries, but Clubhouse gives you access to celebrities and tech giants like Elon Musk — people you normally wouldn't be able to have a direct conversation with.
💪 Community building for coaches
If you run a successful coaching or training business, Clubhouse may be a great place to deepen your community. Not all of your clients will be able to join the platform since it's still so exclusive. But once the app goes public, informal talks on Clubhouse will be the perfect way for your clients to connect and for you to share more of your personality.
Read later: How to start a podcast: the ultimate guide to podcasting 📍
Celebrities on Clubhouse
Celebrities have been using Clubhouse for a while now; it's one of the reasons it's become so popular. But the app's star power really surged when Elon Musk joined and interviewed the CEO of the popular investment company Robinhood, Vlad Tenev. That conversation pushed past the app's user limits, and now Clubhouse is getting more attention than ever before.
Apart from Elon Musk, what other celebs can you find frequently on Clubhouse?
Mark Zuckerberg
Daniel Dae Kim
Malcolm Gladwell
The Sharks (Kevin O'Leary, Barbara Corcoran, and Daymond John)
Oprah
MC Hammer
Drake
Estelle
Kevin Hart
Jared Leto
Ashton Kutcher
How to live stream to Clubhouse
Live streaming on Clubhouse is fairly straightforward. You can download the app, sign in, create a room, then start recording — all with your phone. You can also connect a microphone for better sound quality or use your audio interface to go live on Clubhouse.
If you don't have an interface, you can connect your phone to your computer via USB and use a live streaming platform to go live. Tools such as OBS Studio, Wirecast, vMix, or Restream Studio will read your smartphone as a source when you live stream, and you can control your Clubhouse audio through your phone.

With Restream you can record the audio from Clubhouse (always get permission first!) and live stream at the same time, allowing you to have a conversation with your Clubhouse room while broadcasting. To do so, you'll need an audio interface that allows you more than one audio track, as you'll have the mic you're speaking into and the audio from the Clubhouse app coming through your phone.
In addition to sharing your Clubhouse audio on your live stream, Restream Studio also lets you broadcast to your favorite social channels and record your live stream so you can upload snippets of it later. With Restream Studio, you don't need an encoder to go live; you can start live streaming directly from your browser.
Let's wrap up
The Clubhouse app is the newest buzz-worthy social media platform that has celebrities, entrepreneurs, and influencers flocking to it. If you're a live streamer, you can capitalize on the excitement around Clubhouse by building a community on the app or live streaming to it along with your other platforms. With how much Clubhouse is growing, it's only a matter of time before the app becomes public!