Intro
A flash sale is a win-win situation for your customers and your business. For the customers, it's a perfect opportunity to get what they want at a price they can afford. For you, it's an opportunity to do everything from meeting KPI expectations to liquidating certain products.
All in all, flash sales are great because they sell, and you can make them more effective with live streaming. So let's see how it all works and how your company can benefit from it, too.
Examples of live streamed flash sales delivering results
Live-streamed flash sales are proven to be an effective sales tool — they're simply good at helping businesses move products. But that's not everything they do. Here's a bunch of examples for illustration:
Maybelline, the cosmetics brand, paired with Chinese superstar Angelababy and several influencers to broadcast a promotional event for their new lipstick range on nine live streaming platforms. The event was watched by more than five million people, and it sold over 10,000 lipsticks during the two hours of the stream.
Popeyes, the American fast-food chain, organized an elaborate live event on National Fried Chicken day that included two live broadcasts that allowed viewers to win the chain's new chicken wings dish. The results were more than 18,000 boxes of free chicken sent, over 54,000 views, more than 3,000 impressions, and an increased reach.
Funky Fairy, a UK children's personalized gift shop, used Facebook Live for what was supposed to be a single live sale to liquidate certain items. The event ended up being so successful the business held two more live-streamed flash sales over the next couple of days, peaking at 10,000 views for the third stream.
Martha Stewart, the American lifestyle guru, partnered with Home Depot, the American home improvement retailer, to release a line of Christmas decorations. Stewart used a carefully-timed live stream to boost pre-Christmas sales, eventually accumulating over 500,000 views for the video.
Kohl's, the American department store chain, partnered with vlogger ItsJudyTime to showcase Black Friday deals and raise awareness of the chain's upcoming Cyber Monday sales. The video got nearly 200,000 views.
J. Crew, the American specialty retailer, regularly uses their Instagram Live videos to drum up sales by offering exclusive deals that last only while the stream is on. This way, their most active followers are the ones who are more likely to get a good deal, boosting their loyalty.
Everyone from cosmetic brands and fast-food chains to small online shops can combine a simple sales strategy with a hot type of content. The results are hard to deny: in America alone, consumers spend $2.5 billion on flash sales every year.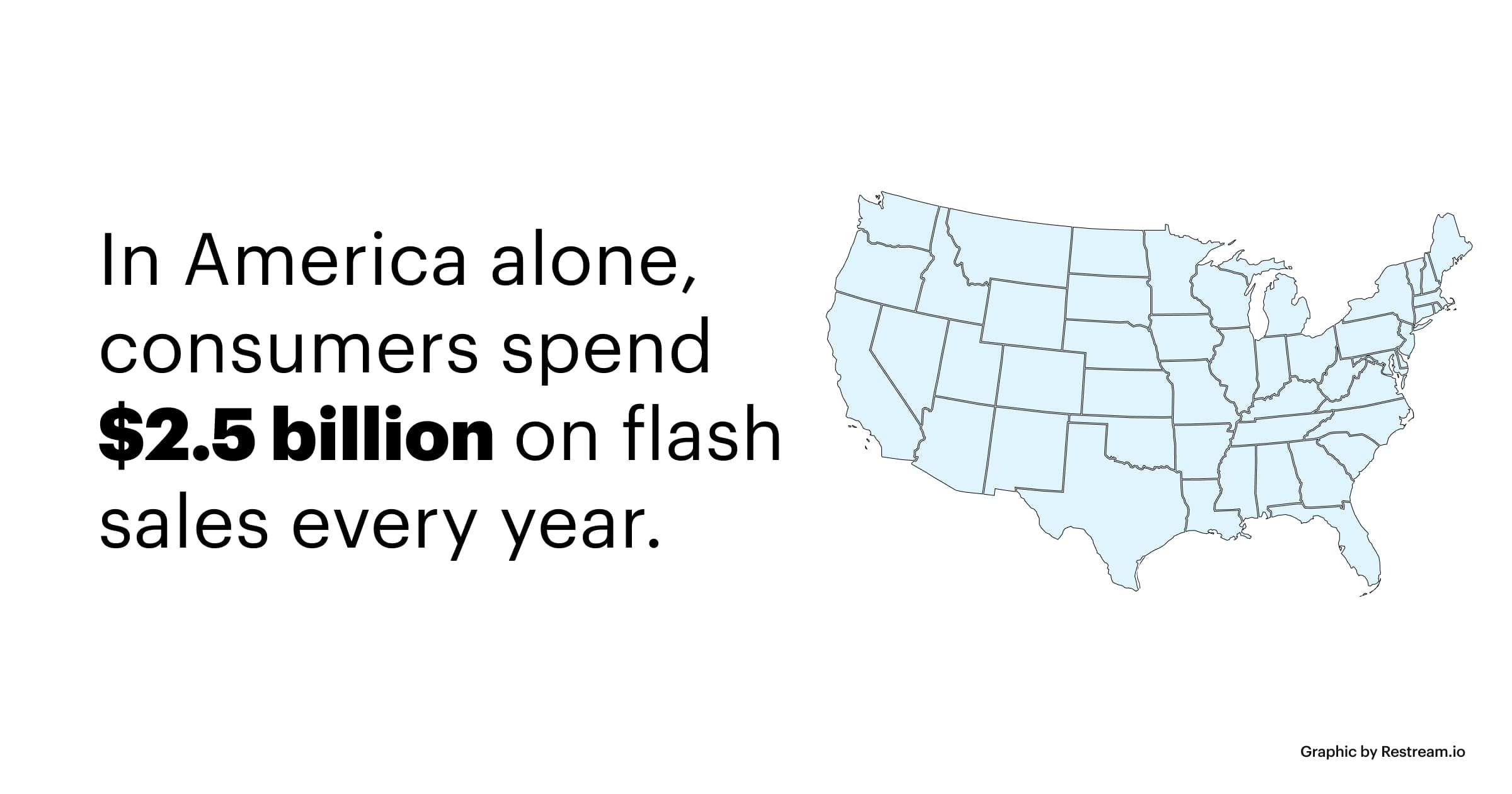 How does live-streaming boost your flash sales?
So it's obvious that flash sales are very effective. This new way of doing them — with live-streamed video — might be even better. Video content has a lot to bring to the mix:
People like seeing it, especially when it comes to learning about products. Some 68% of consumers prefer to acquire information about products from video.
Video is an engaging type of content. On Facebook, video content gets three times more engagement than photo content.
Video helps build trust. If you use it to showcase a product, your company, or the people who work there, your business will appear more trustworthy.
Live video gives cost-efficient reach. Live streaming can get you plenty of reach for less money than paid online advertising.
Mobile internet increases viewership. With mobile devices becoming prevalent for online activity, your content can now always reach your viewers.
If your sales strategy involves occasional flash sales, you should consider using live video content to support your sales performance. It's a good match, and both the content and the sales tactics are verifiably effective.
Read Next: How to broadcast interviews and Q&As online 📍
Finding the right platform for your audience
The platform you choose to host your flash sales live stream plays a crucial role in its success. It boils down to the audience — if you're on a platform, streaming, and the audiences aren't there, watching, you shouldn't expect good results.
Here's a breakdown of platform criteria to help you pick:
Platforms that attract wide audiences. Always a good choice, these platforms might also come with some advanced sales tools you can use. They are:
Business platforms. Platforms where businesses like to network, and platforms where they go to stay in touch with their consumers. Respectively, these are:
Gaming content platforms. The video games industry is huge, and the gaming content industry is no slouch either. Find your gamer audience on:
Regional platforms. If your audiences prefer their regional or national platforms over the global ones, you'll find them on:
DouYu if they live in China
AfreekaTV and KakaoTV if they live in South Korea
Advanced tactics: streaming to several platforms at the same time
Your audience doesn't have to hang out on only one platform, which means that your business probably has a presence on more than one social media or video platform. If you want to be able to address all of your audiences at the same time with a live stream, you will need to use a multistreaming tool.
Multiply your views and engagement
Reach a wider audience by streaming to multiple platforms simultaneously.
Get Started
Restream is a cloud-based service that lets you broadcast your stream to multiple platforms at the same time. The reasons why you might try multistreaming with Restream include:
Increasing your reach. Thanks to Restream's native support to over 30 platforms, you can mix and match the platforms you use.
Deploying the solution quickly. Connecting platforms with Restream is quick and easy. Finding your way around the interface shouldn't be an issue, either.
Using it with the gear you have. If you have the hardware, software, and bandwidth to support a single stream, you have what it takes to multistream with Restream, too.
Paying for what you need. Restream gives you the basic options for free. When you think you need something more advanced, you can enroll in one of the membership plans.
The Restream tool will allow you to easily connect to all your audiences on all the platforms they use and thus let you increase your reach without additional efforts.
How to make a great and profitable flash sale
It takes a lot of work to organize a flash sale event. With all the fuss, it's easy to forget to include some of the things you need to make your event a success. Here's a list of tips you should add to your checklist.
Things to do before the launch of the sale
Decorate. Furnish your landing pages, social media, website, and store with appropriate decorations and notifications. Let the world know about your sale.
Boost early reach. Contact the opinion leaders and journalists in your network early. They can help you more if you give them enough time.
Line up social media. Post content about the upcoming flash sale regularly on your social channels. Don't let your audience forget.
Reach out to your website visitors. Create a retargeting campaign with ads about your upcoming flash sale. No lead gets wasted.
Strike a partnership deal. Find a company or a retailer you can partner with for the sale or a limited line of products. It might boost your reach and sales.
Reward activity. Offer early-bird access to influencers and community members. Reward those who contribute the most to the sale's promotion.
Things to do during the flash sale:
Make it an event or a show. Pick a scenario to make your sale a blast. Avoid making your sales look like a boring TV shop.
Make it easy to order. Open up all online capabilities to let people buy in a way that's most convenient to them. Don't make them jump through hoops.
Take advantage of the platform. If platforms support selling in live videos, like Facebook Marketplace plans to, go ahead and do it.
Sneak in additional ads. You can broadcast QR codes instead of regular ads to avoid platform limitations. Make the most of tech and your screen time.

Multistream it. Pick the appropriate platforms and stream to them for an increased reach.
Add some pressure. Use a promo code that's valid only during your live stream. Limited and timed offers are in the core of flash sales.
Add a contest or giveaway. Limit it to the audience and the duration of the stream. It will boost engagement and sales.
Maximize the time watched. Announce exclusive deals at the beginning of the stream and deliver on them at the end. Keep the viewers glued to their screens.
Things to do after a flash sale
Go on the offensive. Start an upsell campaign as soon as the sale has finished. No need to waste time.
Follow up. Use remarketing and email campaigns to continue nurturing the leads. Have a medium-term strategy.
Think about retention. Use customer retention strategies to turn first time buyers into regular customers. The flash sale is just the beginning.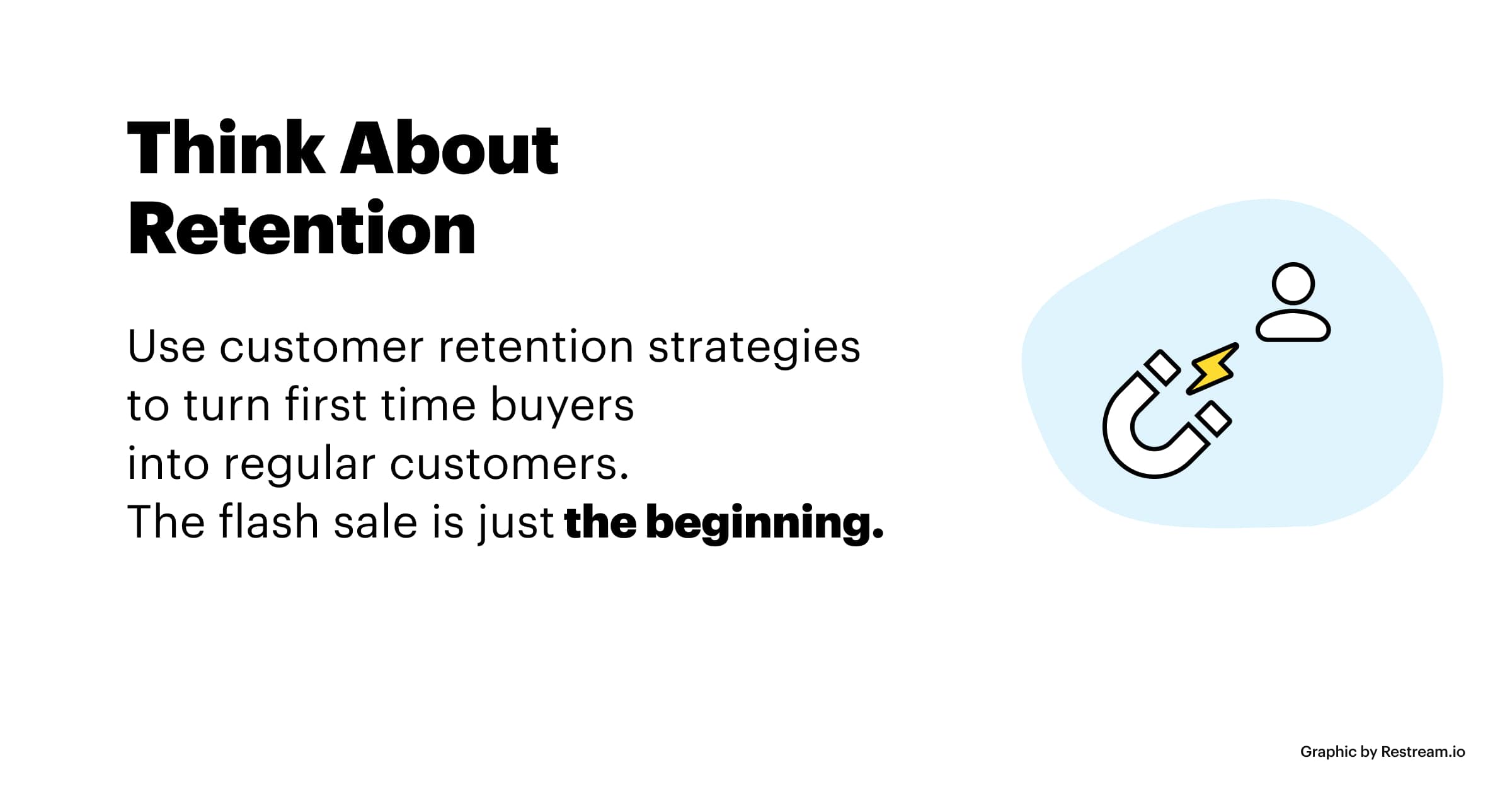 You have lots of options to spice up your flash sale and make it exciting. Exercise your creativity when creating content and go for virality whenever you can.
Conclusion
You know the value of reliable sales techniques that deliver on the set goal most of the time. Flash sales are the type of event you reach for when you want results, not when you want to experiment and see how things turn out.
So why live stream a flash sale? The answer is simple: to leverage live content, because:
Live video content can draw attention to your sales in a way no website graphics can.
Audiences will spend more time engaged with your sale if you have interesting live content.
Live video has a time limitation that can be hours, minutes, ensuring you can cover the whole event.
Live streaming is a powerful boost to the success of your flash sale. In addition to helping you leverage live content and engagement, it can do one more thing for you — it can increase your reach. To take full advantage of it, and simultaneously stream to audiences on several platforms, the multistreaming tool Restream can help.