Intro
The COVID-19 pandemic has already had a devastating impact on practically every aspect of human life. Some of the negative consequences we can identify with ease, like the economic crisis, for instance. However, many do not see what's right in front (or rather inside) of them. We are talking about our bodies and minds, which have arguably taken the toughest shot.
How many of us can brag about our health? Unfortunately, high stress levels due to the panic and low physical activity due to the quarantine do not serve you any good. However, let's not forget that every coin has two sides. In the time you used to spend to reach your workplace, you can now do some home fitness. It was proven long ago that physical exercises have an incredibly positive effect on both your body and your mind.
Even if you've never done any training, now is the perfect time to start. But instead of doing your exercises alone, you could live stream your sessions and sweat together with your audience. Or maybe you are a fitness instructor who wants to keep your clients active. Regardless, we will discuss everything related to the fitness live streaming topic and how to not go completely nuts during the COVID-19 pandemic. Let's roll!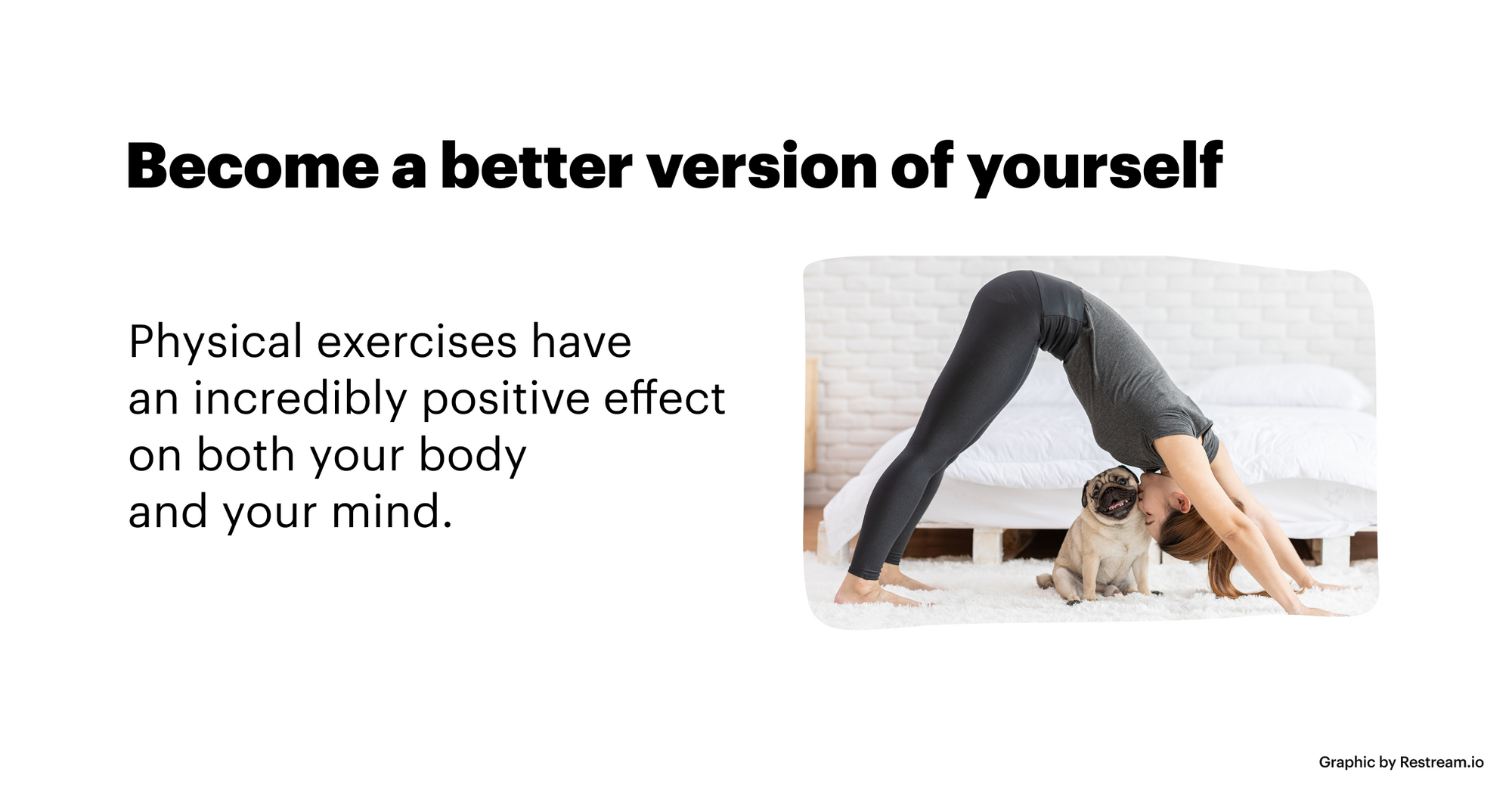 Is live streaming better than pre-recorded videos?
When it comes to fitness, discipline and motivation play the key part. These are two horses that can take you very far if strong enough. Fitness instructors keep their clients motivated and teach them self-discipline. There's probably no better way to do it than face to face. Luckily, live streaming offers something that was pretty much impossible back in the days of aerobics videotapes: it can help you communicate with the audience in real time. But let's not rush; we'll discuss all the pros and cons of both live streaming and pre-recorded videos.

Fitness live streaming
➕ Real-time workout
Live streaming is definitely a way to go if you want to keep your classes real. This way, you can make sure people are able to keep up with the pace.
➕ No editing required
One of the most tempting factors of live streaming is that you don't need to edit anything. Imagine having hours of video material that needs to be edited. That's a nightmare! Thankfully, you won't waste anymore time on that.
➕ Scheduled classes
As a streamer, you can schedule your session so your viewers know when to pop up. The very same applies to live fitness streams.
➕ Live interaction
Like we've already mentioned, one of the most important aspects of a successful fitness session is live contact with your audience.
➕ At-home fitness
Consider live streaming workout routines your viewers can do in their living rooms. Your exercises shouldn't rely heavily on special equipment. Although typically this is a minus, the COVID-19 pandemic has definitely turned it into a big plus —  more people are able to be active while staying at home.
➖ Frequent fails
People constantly fail on live TV, and that's absolutely fine. However, you might need some time to get used to your own failures. Unfortunately, oopsies are inevitable on live streams.
➖ Requires planning
Consider planning the live session to avoid unnecessary mistakes. Although a few improvisations are more than welcome, viewers like to see your commitment.

Pre-recorded videos
➕ Perfect for tutorials
When it comes to workout tutorials, nothing beats pre-recorded videos. You can record yourself showing the routine as many times as you want and pick the best possible take. You can invest in the video more by editing it.
➕ Viewers watch when they have time
Pre-recorded videos are great if you don't really care when the audience watches them. You simply post the video, and the viewers watch it when they are free.
➕ Collection of improvisations
Unlike live streaming, pre-recorded videos do not necessarily require you to plan things beforehand. You can experiment and then create a nice montage.
➖ No live interaction
One of the biggest downsides of pre-recorded videos is that you don't have that live connection with your viewers. So in case they need some help, they are kind of on their own. Furthermore, you might not receive the feedback you need to improve your videos.
➖ Harder to grow the community
One of the keys to growing your community really fast is the ability for people to talk to each other. The best communication is always live. Therefore, the community grows much slower when people communicate in the comment section below your posted videos.
Luckily, Restream Events eliminates most of the downsides and reaches a nice balance between live streams and pre-recorded videos. You simply record your video as if you are online and schedule it at the time and on the platform you want it to be live streamed.
Read later: How to get more followers on Twitch 📍
What do I need to live stream a fitness session or other sports class?
Starting your own fitness program and live streaming it for thousands of people can be quite challenging. Therefore, we've cut this huge goal into a few small steps that are much easier. So without further ado, here's the checklist for fitness live streaming.
1. Plan your classes
Before even thinking about going live, it is important to come up with a fitness plan. Perhaps you've already got one. Then, consider making some adjustments to make it live stream suitable. It is also advisable to think over a backup plan if your audience doesn't enjoy your first one. Don't worry, though. We are sure you'll do just great!
2. Set up you live streaming equipment
Now, let's move to more technical stuff. Live streaming is basically impossible without certain equipment. So, you would need to have a PC or a smartphone to begin with. Obviously, if you want to live stream from your computer, you need a webcam, whereas modern smartphones already have two or even three inbuilt cams. Finally, you need a live streaming program. OBS Studio and Streamlabs OBS are arguably the best free apps for PC users. For smartphones, you can use Twitter, Livestream, Facebook Live, or Instagram Live.

3. Make sure your internet connection is good
When it comes to live streaming, a stable internet connection is essential. But not only that; it is really important to have a decent upload speed, also known as upload bandwidth. Normally, around 4 Mbps upload bandwidth will do.
4. Choose your streaming platform
Nowadays, there are dozens of amazing streaming platforms, including YouTube Live, Twitch, Facebook Live, Instagram Live, Twitter, etc. So if you are wondering where to begin, YouTube Live is probably your best option. With the help of some promotion tools (we will talk about them later on in this article), you can quickly grow your audience.
However, you may consider another option. Why choose only one streaming platform when you could multistream on all of them simultaneously? Restream Studio allows you to choose from more than thirty social channels to multistream, including the most popular ones. Another advantage of this method is that you only need your browser to live stream!
👉 Learn more: Restream Studio: Everything you need to know
Easy live streaming for everyone
Run professional live streams from your browser.
Get Started
How to promote your live stream
After you've dealt with all the preparations and finally started your fitness live streaming journey, you might want to have some people on board with you. This is why you need to promote your live stream. Unfortunately, simply live streaming your fitness sessions will most likely take you nowhere. So we'd like to share some helpful tools and tips with you to help you develop as a live streamer.
📢 Announce your live stream with everything you've got
Write everywhere you can to make sure people know about your live streams. Use Facebook, Twitter, Instagram, Youtube — basically every major platform — to your advantage. Don't forget about those trendy hashtags and an engaging title.
💸 Consider paid traffic
In case you can afford some spendings, it is best to invest in paid traffic. Placing your ads on Google Ads or Facebook Ads actually works. It can attract people from basically everywhere. Furthermore, the expenses should pay off in no time.
👀 Create a teaser montage
Another great promotional tool is a pre-recorded, edited teaser. You can use your recorded live videos from previous sessions to create an entertaining montage of the coolest exercises. This way, your viewers will get the basic idea of your live streams as well as your identity.
🤑 Draw attention with contests and giveaways
People love competitions and free stuff. So don't be too surprised to see a huge amount of newcomers after you announce some rewarding contest or giveaway. Of course, you should keep the promise afterward, because your reputation is priceless in the world of live streaming.
Wrapping up
Our usual way of living has drastically changed due to the COVID-19 pandemic. This unprecedented situation requires people to be more adaptive. More and more people have realized that home fitness is the way to stay healthy. That's why live fitness streaming is on the rise. It has far more advantages compared to pre-recorded videos, and the biggest one is the possibility of live interaction with your viewers.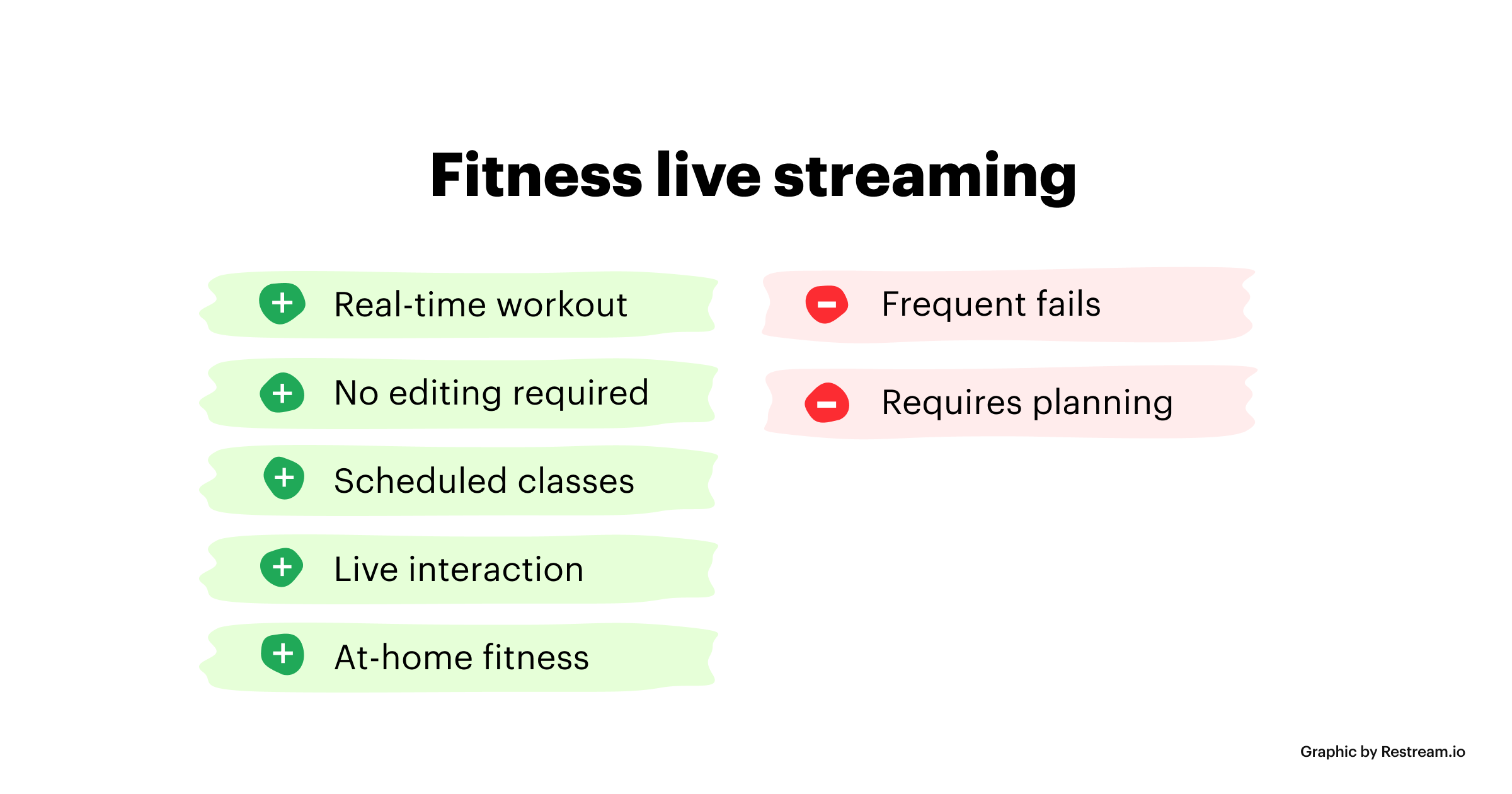 To start live streaming, you should make sure your streaming equipment is all set, your internet connection is stable, and your fitness session is planned. You can either choose a streaming platform to broadcast your classes on or simply multistream on all of them with the help of Restream Studio.
We wish you the best of luck in your beginnings! Stay creative, positive, and — most importantly — healthy!