Do you teach fitness classes at a physical location with a limited class size? Or are you just starting out as an instructor and looking to grow your business? Live streaming your sessions can connect you with clients regardless of their locations. It's interactive, it can boost participation, and you can easily combine it with the power of social media.
The #1 live
streaming solution
Get started for free
🤔 Live streaming vs. pre-recorded videos
When it comes to fitness, discipline and motivation play a key part. An obvious benefit of in-person classes is the real-time, personal encouragement participants receive from the instructor—something that's lacking in old-school videotapes. The beauty of live streaming is that it's interactive. You can communicate with your audience (and motivate them!) just as if you were face to face. But there's still a place for pre-recorded videos in the live streaming scenario. With Restream, you can create perfect videos (like workout tutorials) and live stream them later. That way, you can avoid all the annoying flaws that often happen during live sessions.

👀 Pros and cons of broadcasting live
➕Real-time workout
Live streaming is definitely the way to go if you want to keep your classes real. You can make sure people are able to keep up with the pace and give them an authentic experience.
➕No editing required
A top benefit of live streaming is that you don't need to edit your video. You can stream your class right from your browser and share your knowledge in real time.
➕Scheduled classes
You can schedule your fitness session so your participants will know ahead of time when your class will go live.
➕Live interaction
Live contact with your audience keeps them interested and engaged. They become active participants rather than passive viewers.
➕At-home convenience
When you live stream workout routines, viewers don't need to leave home and can participate from the comfort of their living rooms. Keep in mind that your exercises shouldn't rely heavily on special equipment.
➖Occasional mistakes
Oopsies are inevitable on live streams. We all make mistakes, and that's absolutely fine. Welcome your flaws and remember that nobody's perfect!
➖Requires planning
Fitness classes are not conducive to improvisation. Participants expect an easy-to-follow routine with clear instructions and examples. It's a good idea to plan your exercise session before you go live.

💽 Pros and cons of pre-recorded videos
➕Perfect for tutorials
When it comes to workout tutorials, nothing beats pre-recorded videos. You can record yourself performing the routine as many times as you want, and then pick the best possible take. For a flawless video, take the time to edit it.
➕Viewers can watch when they want
Pre-recorded videos are great if you don't really care when the audience watches them. You simply post the video, and participants can watch it when they're ready to exercise.
➕Lets you combine video clips
You can take the best footage from different recordings and combine them to create your perfect workout video.
➖No live interaction
One drawback of pre-recorded videos is that you don't have live contact with your viewers. If they need some help during the exercise routine, they're on their own. And you miss out on feedback that can help you improve your sessions.
➖Harder to grow the community
The key to quickly growing a community is the ability for people to talk to each other. The best communication is always live, which isn't always an option with pre-recorded videos. They rely more heavily on the comment section below the posted video to build community.
Luckily, you can use Upload & Stream to reach a nice balance between live streams and pre-recorded videos. You simply upload your recorded video and schedule it to go live at the time and on the platform you choose.
⚙️ What do I need to do to live stream a fitness session?
Starting your own fitness program and live streaming it for thousands of people can be quite challenging. Don't worry. Here are four steps to get your classes up and running in no time.
1. Plan your classes
Before you even think about going live with your fitness sessions, it's important to develop an overall class plan. Perhaps you already have one. If so, consider revising it to account for delivering your class via live streaming, including backup options if your audience doesn't enjoy your first broadcast.
2. Set up your live streaming equipment

To get started with live streaming, you'll need certain equipment, including a PC or a smartphone. If you want to live stream from your computer, you'll need a webcam, while most smartphones have two or three built-in cams. Finally, you'll need streaming software. OBS Studio and Streamlabs are arguably the best free apps for PC users. For smartphones, you can use Twitter, Livestream, Facebook Live or Instagram Live.
3. Make sure you have a good internet connection
When it comes to live streaming, a stable internet connection is essential. But not only that; it's really important to have a decent upload speed, also known as upload bandwidth. Normally, a 4 Mbps upload rate will do.
4. Choose your streaming platform
Nowadays, there are dozens of amazing streaming platforms, including YouTube, Twitch, Facebook Live, Instagram Live and Twitter. If you're wondering where to begin, YouTube is probably your best option. With the help of promotion tools (see below), you can quickly grow your audience.
Live stream everywhere,
all at once
Get started for free
However, why choose just one streaming platform when you can multistream to multiple platforms at the same time? With Restream Studio, you can broadcast your live videos to your choice of 30+ destinations, including the most popular ones. Plus, you only need your browser to live stream!
✅ How to promote your live stream
You've started live streaming your fitness sessions and so far, so good. Now for the next logical step — attracting more participants and building a community. How do you do that? By promoting your live stream. Here are some helpful tools and tips to help you develop as a live streamer.
1. Announce your live stream
Post messages on your social channels to make sure people know about your live stream classes. Use every major platform — Facebook, Twitter, Instagram, YouTube — to your advantage. Don't forget to use an an engaging title and those trendy hashtags.
2. Consider paid traffic
If you can afford to do so, buy paid ads that will display in search engines, apps and other websites. Google Ads or Facebook Ads are two advertising platforms you can use to get the word out about your fitness services.
3. Create a teaser montage
Another great promotional tool is a pre-recorded, edited teaser. You can use your recorded live videos from previous sessions to create an entertaining montage of the coolest exercises. It's a great way to give your viewers a basic idea of your live stream classes.
4. Draw attention with contests and giveaways
People love competitions and free stuff, so don't be too surprised to see a lot of newcomers to your stream after you announce a contest or giveaway. Make sure to send the reward or prize afterward, because your reputation is priceless in the world of live streaming.
Wrapping up
Live streaming your exercise sessions is a great way to build a fitness business without the hassle of managing classes at a physical location. Not to mention the live connection to your participants. You can interact with them just as if you were face to face.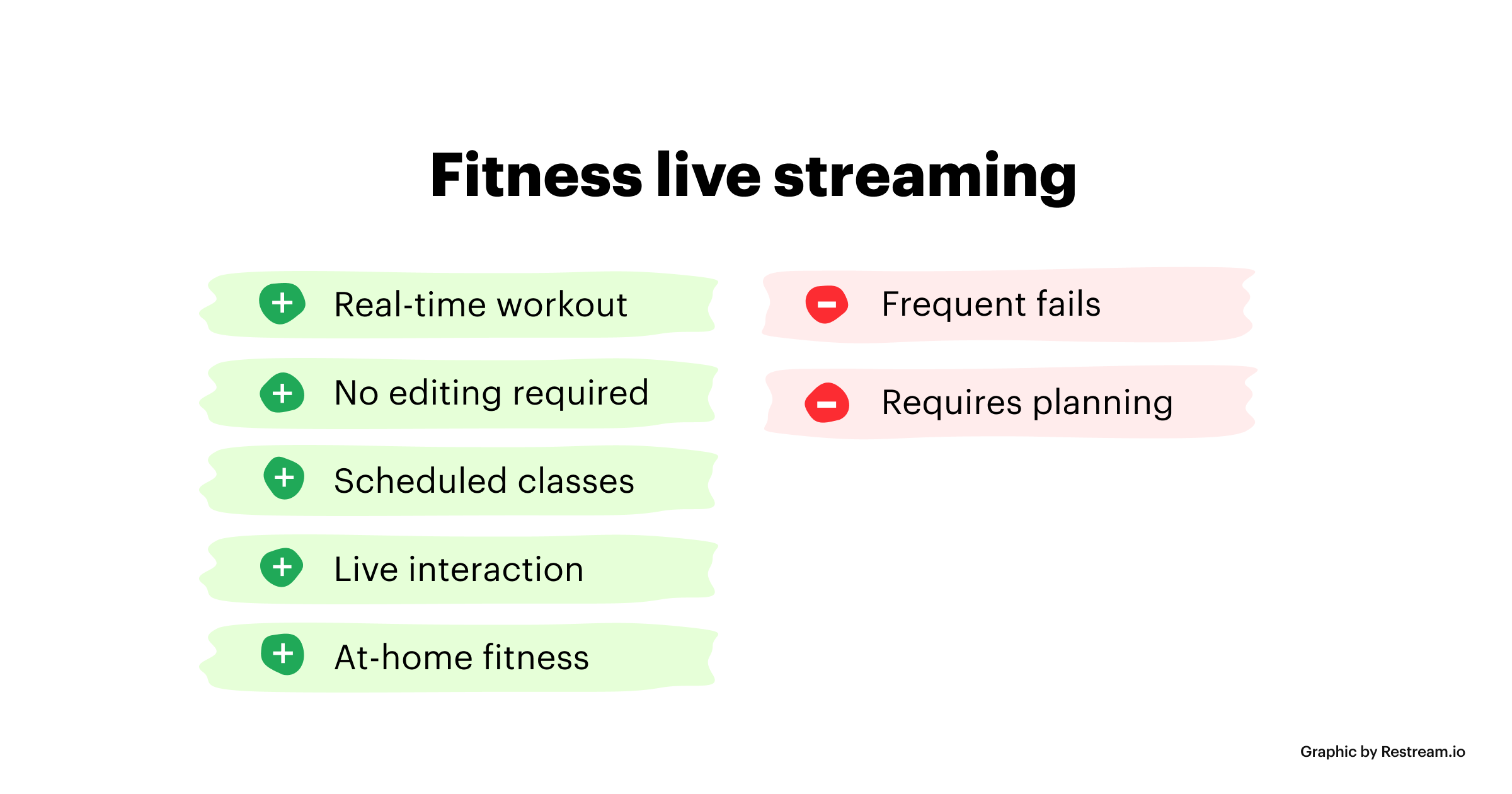 To start live streaming, make sure your streaming equipment is all set, your internet connection is stable, and your fitness session is planned. You can either choose a streaming platform to broadcast your classes on or multistream on all of them with the help of Restream Studio.