Intro
This March was incredibly fruitful for Restream Studio. We've made a lot of great updates and added new useful features — all to help you achieve your streaming goals faster and easier. We are incredibly excited to present these improvements and go into detail with you.
From the simple and pleasant quality-of-life changes (like the full-screen option and platform icons on chat comments) to some extremely powerful features (like RTMP Source and split track recording), this month's updates can surely surprise you. So let's not waste any more time and dive right into the highlights.
🤩 RTMP Source
One of our major updates this March, RTMP Source, allows you to connect Restream Studio directly to your software, like OBS Studio, Zoom, vMix, XSplit, and many others. This way, you can have the best of both worlds: all Restream Studio's features, as well as the additional features from the software of your choice.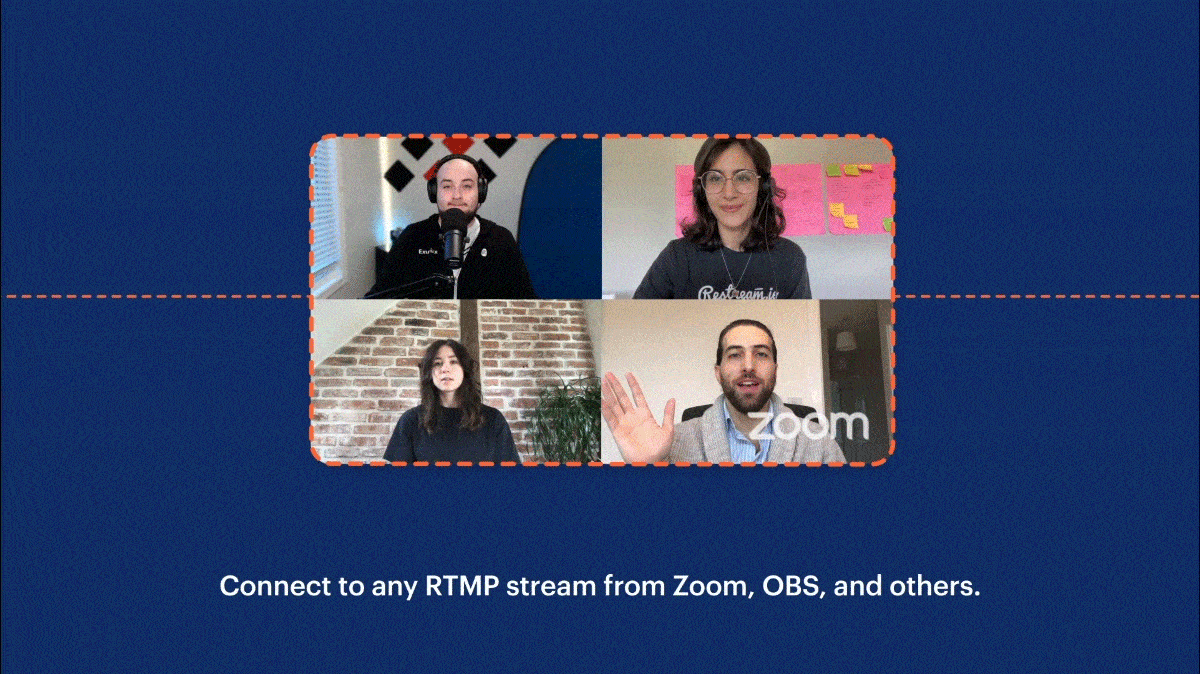 With the RTMP Source feature, the sky's the limit! You can unlock up to 1000 participants in your Restream Studio by simply connecting it to Zoom. It also allows you to run OBS through Restream Studio and apply additional overlays, change lower thirds, and keep your branding displayed regardless of the camera source. Speaking of the latter, you can connect two cameras and use RTMP Source as a fallback for your broadcasts to protect them from sudden drops.
Learn more: RTMP Source in Studio: How it works 🔥
🔈 Split track recording
The next great addition to Restream Studio, split track recording, gives you the ability to download the recorded audio tracks as separate files after your live stream has ended. Split track recording allows you to have the audio of each participant of your live stream at hand. The main idea behind this feature is to make it easier for you to edit the audio for your podcasts and content repurposing.
Isn't it better to work on separate tracks instead of trying to fix the whole stream recording? With the split recording feature, you can easily produce professional podcasts, high-quality highlights of your broadcasts, and clean teasers to promote your live streams on social media.
Learn more: Split track recording in Studio: How it works 🔥
💬 Chat Overlay is out of beta
Do you want your live streams to be even more engaging? To build your community across multiple platforms faster? Chat Overlay can surely help you with that. Our new improvement for Restream Studio is finally out of beta — clean and ready to be used. You can add Chat Overlay directly to your stream and display incoming messages from all streaming platforms. This allows, for example, your Facebook and YouTube audiences to communicate with each other.
In addition to all the cool features, you can now see the avatars of your viewers in Chat Overlay. Now, it gets that much easier to build personal connections with your viewers and highlight the most active people. Chat Overlay is free and can be turned on by simply switching the toggle in Restream Studio. With the help of this feature, anyone can easily create cross-platform discussions between their audiences. Try it for yourself!
Learn more: Chat Overlay in Studio: How it works 🔥
🖥 The full-screen option in Studio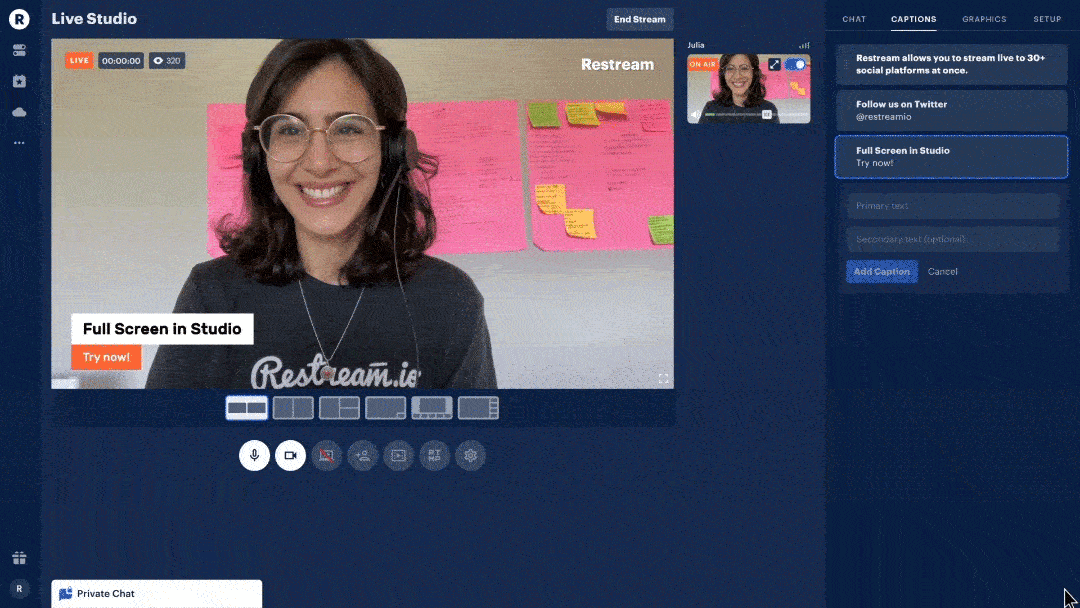 Now, on to some minor quality-of-life improvements in Restream Studio. With the full-screen option, you can now purely focus on your broadcast or your guests and omit the UI elements. This feature is especially great for interviews, podcasts, and educational webinars. Note: you can still enable the Chat Overlay feature in the full-screen mode.
👀 Platform icons on chat comments in Studio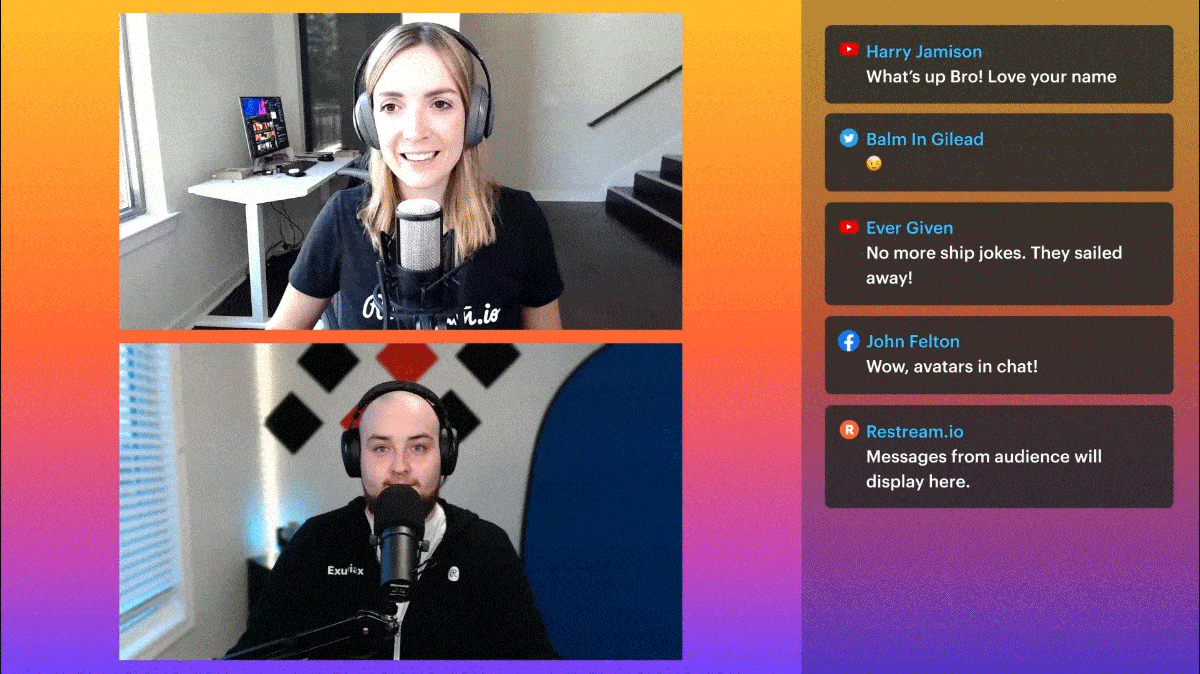 The next update adds platform icons in the chat section. You can see from which platform the messages come at a glance. Platform icons allow you to distinguish between your most active platforms, including Facebook, YouTube, LinkedIn, and others on the go and engage with your audiences more efficiently.
🙌 More improvements and updates
Added hi-res 256 kbps sound support for Restream Studio
The viewer counter for Restream Chat is back
Numerous fixes for Restream Studio performance in Safari and Firefox
Let's wrap up
We constantly look for new ways to improve our product and ensure professional live streaming with Restream Studio is both easy and effective. This March, we implemented some new ideas and features to help you make the most of your streaming time. Here are the main updates:
RTMP Source
Split track recording
Chat Overlay
Full-screen option
Platform icons in Restream Chat
We are looking forward to the new month and more amazing features and updates to your favorite live streaming go-to solution, Restream Studio!