You might remember talk shows of the past for their controversial reputations and sensationalistic subject matter. Modern internet talk shows, however, are made to impress and inspire action. Each and every show comes out thoroughly planned and scripted, like Wistia's Brandwagon, an entertaining talk show for marketers.
Conventional TV shows heavily depend on production costs, viewer ratings, time slots, advertisements, news, and many more factors. On the other hand, real-time internet broadcasts can be created practically on a whim, involving a somewhat lesser effort and cost.
If you're feeling the urge to share your expertise with the world or demo your product in one more way, you're welcome to read this article to the end and absorb every bit of advice on how to get your own talk show.
The #1 live
streaming solution
Get started for free
What do you need to start a talk show online?
Here is a brief guide on what you need to get your talk show up and running. Further on, we'll share tips to grow your talk show by promoting it and increasing your audience.
Preparing for an internet talk show launch includes some basic live streaming setup options, but it also involves some gear and planning:
A smartphone: a great entry-level choice of gear, perfect for single-host talk show streamers.
A camera and tripod: improves quality, eliminates shaky frames and audio issues.
An external microphone: allows for in-shot maneuvers and high-quality sound.
An additional light source: improves the look of the stream in a poorly lit setting.
A compelling script: you can't just wing it one episode after another.
Content delivery is closely connected to and equally as important as the production of the talk show itself. Sending your show out into the world and getting those views are the ultimate goals behind your intent, so make it count. With multistreaming, you can simultaneously broadcast your online talk show to your favorite social channels.
How to grow a live talk show
Starting your own live talk show is hard work. What does it take to make the show watchable, appealing, and engaging? Follow these steps to find a continuously growing fanbase for your own live talk show.
1. Select a theme for your show
Pick a topic that sparks your own interest, one that is hard to exhaust. If you're promoting a product, stick to your niche and your audience's interests. Work out the type of content that is both shareable and engaging.
2. Research and determine your audience.
When you go to brainstorm the theme and the structure for your live talk show, researching your potential and existing audience is one of the key points. The data collected will help you determine a few things:
The segment running time. You have to figure out the best time slot for your live stream to fit in with your audience's schedule.
The presentation style. It heavily depends on who is watching, especially if it is a niche topic.
The range of topics for discussion. Talk about things your audience is interested in or passionate about.
If you find any other type of insight from audience research, feel free to analyze it for other actionable information.
3. Define the concept of your show
Any great show comes with a well-thought-out idea and a strategy. Will it be just you talking, giving advice, and sharing expertise? Or will you be interviewing guests? Are you planning on inviting experts and asking them to share insights?
Have you considered issue-based talk shows? This TWiT live stream talk show at Twitch is currently discussing the potential impact of the COVID-19 (Coronavirus) on the global economy, labor market, and international travel, for example.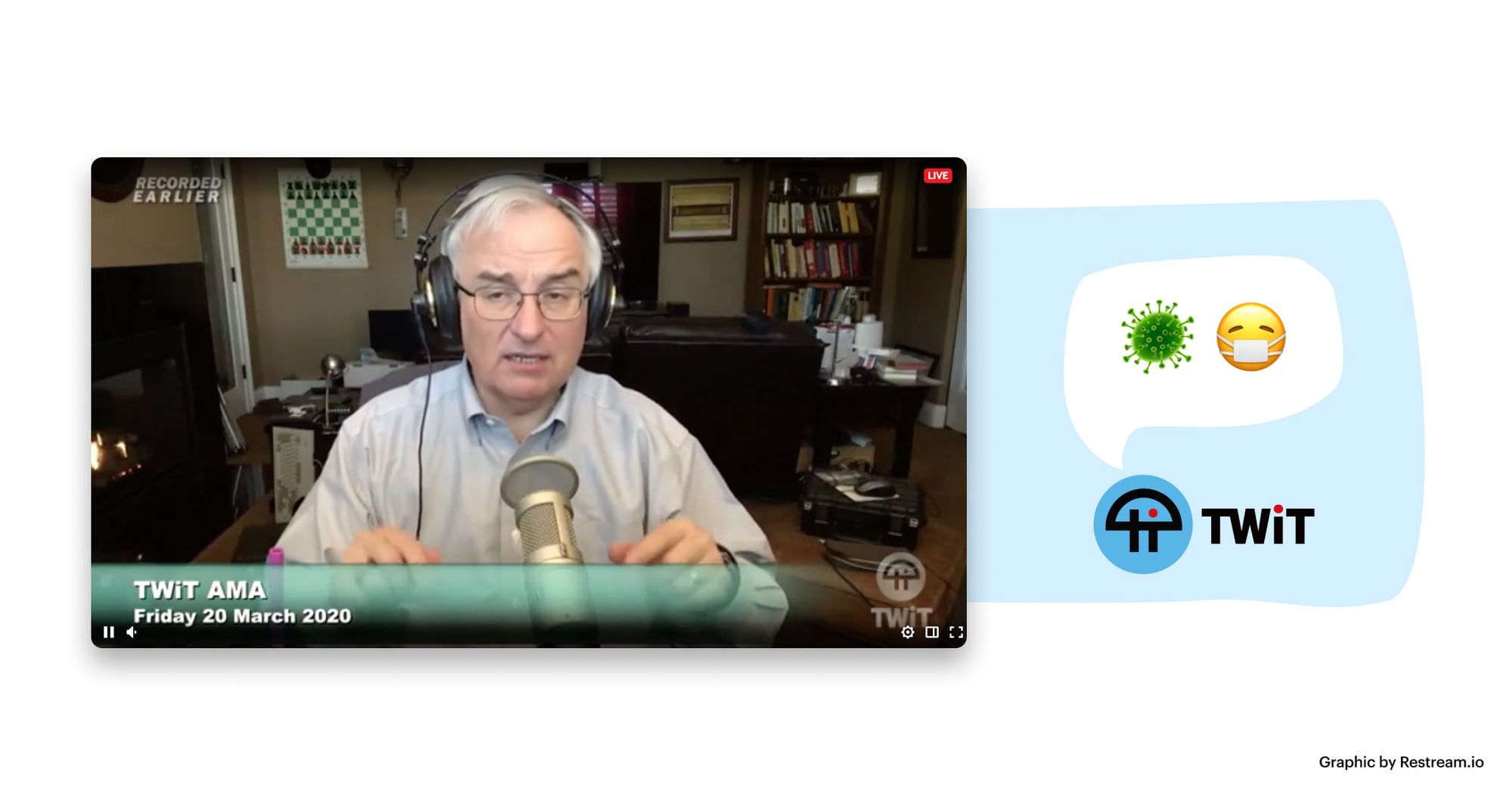 4. Consider your set of topics
As we've discussed before, you want to stay within the context of your own niche. Remember, you're good at your job, so brainstorm an entertaining set of subjects. Create a segment calendar schedule with the topics you're planning on covering.
A plan like this will spare you the panic and hassle of the next show's preparation. This move also allows you to give sneak peeks of the next episode around the end of your segment.
5. Decide on your performance style
Being a smart host is not solely about doing all the talking. If you feel like branching out, invite guests to join you for a live talk show. One of the best ways to hold listeners and maximize ratings is to invite relevant industry professionals for interesting conversations.
6. Plan and script ahead
Despite the notion that talk shows gain most of their popularity thanks to their spontaneous nature, it is crucial for the presenter to be all set before going live.
An appealing introduction, interesting questions listed, the ins and outs of the subject at hand, and personal and business info on your guests will also do great things for you along the way. Practicing in advance with your guests is a great idea. This will give you plenty of room for any necessary adjustments before the show airs.
7. Look into finding a co-host
A more experienced or otherwise talented co-anchor can benefit your talk show and leave a more professional impression upon your viewers. Try to answer a few questions in your head when looking for a co-host:
Does his/her personality complement mine?
What kind of reputation does this person have with my audience?
What about the level of expertise on the subject?
Does the topic of my online talk show correspond with the new host's audience interests?
Is this person really ready to commit their time and energy to the project?
Take the angle of your show into account when you're approaching a person with a co-hosting suggestion. Look for good chemistry and ease of understanding.
8. Pick the platform
Selecting the right platform to broadcast on is an important part of the process. These days, aspiring talk show hosts can shoot their shows on a ninety-dollar HD video camera and multistream them practically anywhere: Facebook, YouTube, Twitch, Twitter, you name it. By multistreaming you can increase your talk show's audience potential and gain millions of views from across the globe.
9. Establish a schedule and stick to it
To achieve success you need to establish a firm schedule and keep it up. Yes, it will take some sleepless nights and coffee-bomb brainstorming on the twists for your episodes, but we suggest you suck it up and reap everything that follows.
Your viewers will like to rely on the next episode airing and will start planning their own schedules around your talk show. Try creating an image with a calendar of your talk shows planned and making it visible on top of the feed at all times. This will be a great piece of content to share for those viewers who want to bring a friend along to watch.
10. Create a promotion plan
The more effort and time you put into creating a live talk show episode, the more you're going to expect viewer numbers to grow. You may not find an immediate reach to a larger audience, but planning for it and making it happen will help you along. Make sure to carve out time to promote your upcoming episode on every social page you've got.
Consider creating a stand-alone page strictly representing your online talk show. Your show schedule will help you organize previews for the announcements on what's coming next. Design appealing images with talk show episode names on them that are very easy to share and read. Include social media post announcements about your upcoming show in your promotion plan that may look something like this: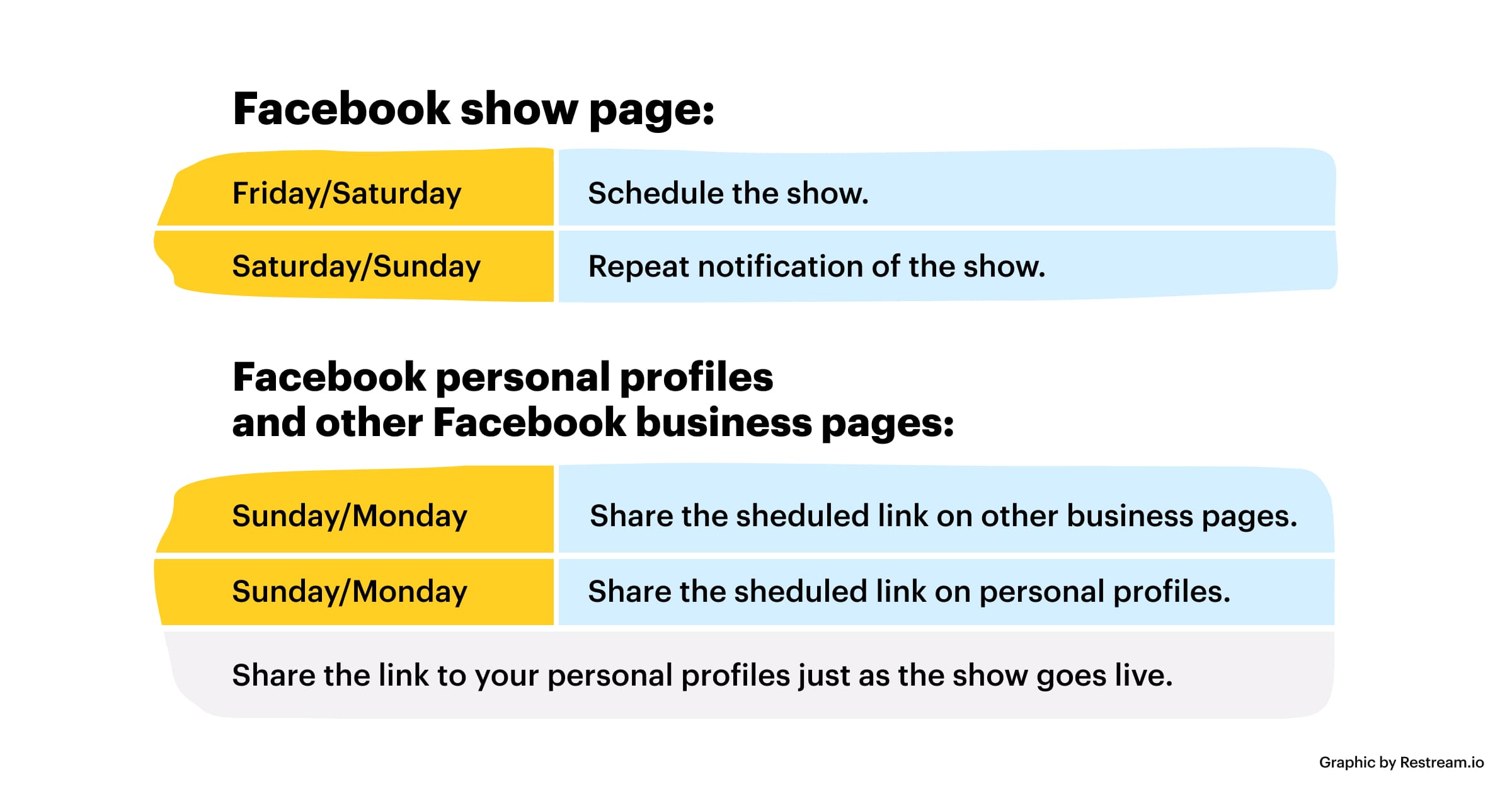 You may also run Facebook ads to promote your talk show. Remember to keep posting the replays on a regular basis — remarketing your content again and again is as important as running live. Consider spreading your show elsewhere on the web besides social media platforms: regularly connect to forums and blogs.
Go live easily with Restream Studio!
The easiest way to broadcast right to your viewers' communities is through Restream Studio. It involves a hassle-free launch right from your browser window — no more connecting cables or encoding software. Multistreaming is available for all content creators.
Restream Studio is especially well-suited for broadcasting online talk shows. Animated overlays and customized watermarks will increase interaction and engagement rates from your audience.
To go live now, head over to https://studio.restream.io/ and click Go Live when you're ready.
Make sure to add all the channels you want to stream on before going live. This provides an instantaneous launch on all your pages the moment you go live.
Live stream everywhere,
all at once
Get started for free
So...
The growing popularity of live video content is within your accessibility. Live talk shows represent a growing segment of live streaming. Jumping on the trend can be beneficial in many ways. This type of content can be customized, adjusted to your product/service, designed to amplify your personal brand, etc.
Distributing your live streams is a very important step that can be accomplished easily through multistreaming and the ability to go live instantly, bypassing all the technical hassle. Start gaining views, interacting, and celebrating new experiences together with your viewers today with Restream.