Back in 2015, Google launched YouTube Gaming as part of an effort to challenge the supremacy of Twitch in the gaming content market. The company gave Gaming an app of its own and set it free to compete with its more established and older nemesis.
Cut to 2018: Google announced that its Gaming app was a flop and decided to shut it down in March 2019. Gaming content creators were unfazed. The majority of them were using regular YouTube to post gaming content instead of the gaming.youtube.com version.
The status of gaming content on YouTube hasn't suffered due to the change. YouTube gave gaming its own section of the platform, so users can now find it under "more from YouTube," along with YouTube Live, movies, and shows. The new link is youtube.com/gaming. And if you're considering joining it with your own content this year, here are some things you should know.
1. YouTube is going after Twitch hard
Twitch is still the undisputed champion of live streaming. In Q4 2019, for example, viewers watched 2.3 billion hours of content on the streaming platform. YouTube Gaming only brought in .9 billion hours of watched content. However, a closer look at the numbers will show that YouTube is catching up.
The engine of Twitch's growth right now isn't in gaming content. Twitch is growing mostly because of the influx of streamers who don't post gaming content at all. Instead, you can see a bunch of new IRL (In Real Life) content that ranges from people eating to people making soothing noises with various objects.
At the same time, YouTube has been going after the esports content segment with tenacity. This year, for example, it has made a deal with Activision Blizzard to become an exclusive partner for the Call of Duty and Overwatch leagues.
Twitch's notorious difficulty for newbies who wanted to use it to make a gaming career is still there. That hasn't changed, even as other platforms started eating into its user base. At the same time, YouTube's move towards esports might be a significant action in the gaming market, which can only bode well for YouTube Gaming and its users.
What does this mean for a gaming content creator? Well, the fact that Twitch is crowded means that it might be easier to start a streaming career on YouTube. The timing is perfect so going on the second-biggest live streaming platform is a sound strategy right now.
Read later: The ultimate guide to YouTube Live streaming📍
2. Your content will be your ticket to the top
How do you view your content creation endeavor? Is it something you want to try out, a fun little hobby, or a challenging field where you plan to grow and achieve something? You can use YouTube Gaming for either. But that doesn't mean you shouldn't think your goal through beforehand.
YouTube has gaming content creators that have tens of millions of followers. You might have even heard stories about how much money some of them make. You can have real-world success with gaming video content, but it doesn't come overnight, and it doesn't come by accident.
Here are some factors you might need to think about: What makes you unique? How much content can you create? Which games do you want to play? Can you play competitively? What's your native language, and if it isn't English do you have a large enough market in your native language? If not, how's your spoken English? Do you have the hardware to run the games at top settings and see a decent framerate? These are all questions you will need to answer if you want to succeed with YouTube Gaming.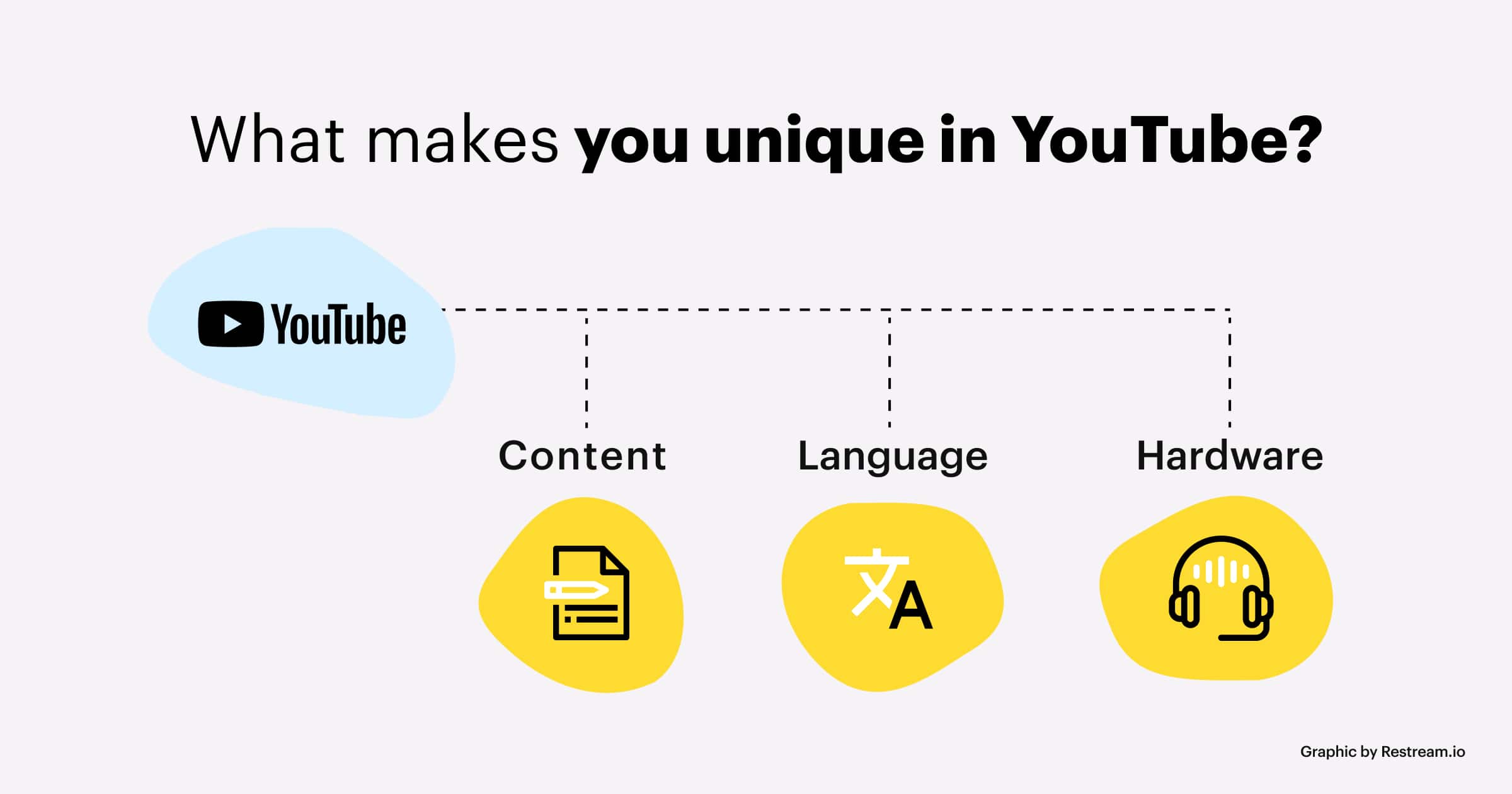 3. It pays off to be a part of the community
What are the measures that describe success with YouTube Gaming? Subscriptions and views, just like with any other type of YouTube content. These are the two basic metrics of success, and if you want you can use them to compare your success to the success of your fellow gaming content creators.
But should you? Is there really a reason to see other content creators on YouTube as fierce competitors? No one can tell you what to do, of course, but it might be a good idea to try out a different approach. So, instead of looking at people as competitors, look at them as parts of the same community you belong to.
If possible, use cooperation to improve yourself, your fellow creators, and the community you belong to. If you really want to compete, do it by finding something uniquely attractive to viewers that doesn't take away from other creators and use it to enhance the quality of content you produce.
Check out our 👉 Discord channel for more live streaming news, insights, and tips. You'll find lots of like-minded people there!
4. It's more than just "let's play" videos
It's perfectly fine to have a channel that only publishes your "let's play" videos. It's also okay to do only those kinds of videos or speedrun videos, or any other kind of popular gaming content videos. But if you think that's the way gaming video content has to be made, you're wrong.
Here's a step every content creator can take when considering the types of content to create: listen to the audience. They can serve as a never-ending source of content ideas. They might mention they'd like to see a Q&A, or a how-to video, or anything else.
Don't think you have to box yourself in with one type of content. Feel free to experiment with different forms of content. You can do more than just stream videos of you playing a game. Your audience might appreciate content with news about the games you like, or they might like to watch some game reviews. There are tons of things you can do and types of content you can make. If you use the audience as a guide, it's very unlikely you'll do anything wrong.

5. You don't have to be exclusive to YouTube Gaming
YouTube Gaming might be the perfect solution to a fledgling gaming content creator. Nevertheless, whether you're new to the content creation game or a seasoned veteran, you can always use an extra channel to share your content.
It's not unheard of to have a Facebook page for Facebook Live, a Twitch profile, and a YouTube channel, and to use all three to spread content. You can even place different kinds of content on each channel, such as gaming videos on Twitch, game reviews on YouTube, and live events on Facebook Live or Twitter. That might yield you the best results.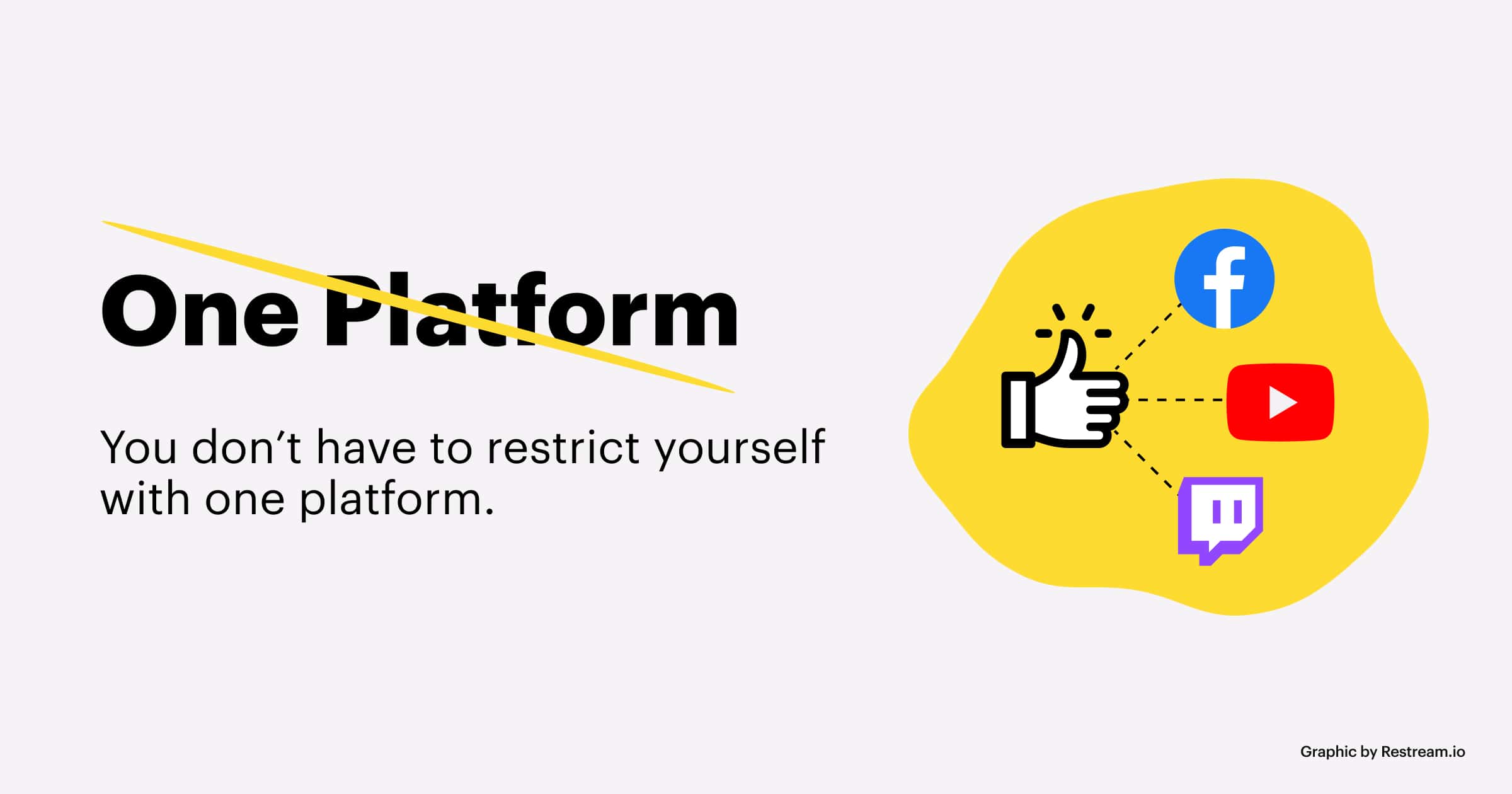 Multiply your views and engagement
Reach a wider audience by streaming to multiple platforms simultaneously.
Get Started
Content creators can use a multistreaming service to save time and effort. A service like Restream allows creators to stream simultaneously to any platform they use. It's important to engage with your audience — that's why content creators should also use the Restream Chat. It makes chatting on multiple platforms incredibly convenient and intuitive.
For the most convenient streaming experience, Restream has launched its Restream Studio service. Thanks to it, all you need is a webcam and your browser to start streaming. You can also easily share your screen and add graphics to your live stream. It might not be ideal for gaming streaming, but it's perfect for those moments when you just want to hang out with the community you've built.
Conclusion
Like any other platform, YouTube Gaming has rules of its own and a place in the hierarchy of streaming platforms. But if you're careful, diligent, and open to experiment, you can use those rules and the number-two position in the hierarchy to start a streaming career away from the crowded Twitch.
Thanks to Restream and its services, you don't have to restrict your reach to a single platform. Just like you can do different kinds of content that relate to gaming, you can live stream your content on several platforms — maybe even at the same time. When you're ready to branch out to a different platform, remember that Restream.io has your back.