To go live on TikTok from your computer, you can use either the TikTok LIVE Studio software or a third-party streaming software such as Restream Studio or OBS Studio. If you use third-party streaming software, you will need your TikTok stream key.
If you go live on TikTok on your smartphone or tablet, you can go live directly from the TikTok app. You don't need a stream key to go live on TikTok on mobile devices.
Note: You must have at least 1,000 followers on TikTok to live stream.
How to find your TikTok stream key on a computer
You'll only need your TikTok stream key to go live on TikTok if you're streaming from a desktop or laptop computer.
Log in to your TikTok account on a computer.
Click Go LIVE on the left-hand side. You'll be redirected to livecenter.tiktok.com/producer.
Scroll down and click the red Go LIVE button at the bottom.
Select a category and stream title for your stream. Click the red Save & Go LIVE button.
Your live stream dashboard will appear — but don't worry, you're not live yet. At the bottom of the screen, you'll see your Server URL and Stream key.
To copy the stream key to your clipboard, click the Copy button on the right.
You can now paste your stream key into your preferred streaming software.
IMPORTANT: Never share your stream key with anyone. It's unique to you and if someone sees it and uses it, they can broadcast on your TikTok profile. For security reasons, your stream key changes each time you log out of TikTok.
How to stream with a TikTok stream key
Once you have your TikTok stream key, you'll need to copy and paste it into your streaming software. We'll go through how to do it using Restream Studio, a browser-based live streaming studio that lets you fully customize your live streams and broadcast to multiple platforms simultaneously. You can add your favorite streaming platforms and start a new live broadcast within two minutes — even if you have zero experience with live videos.
1. Create a free Restream account or log in if you already have one.
2. Click the Add Destinations button.
3. Select the TikTok icon from the list of streaming platforms.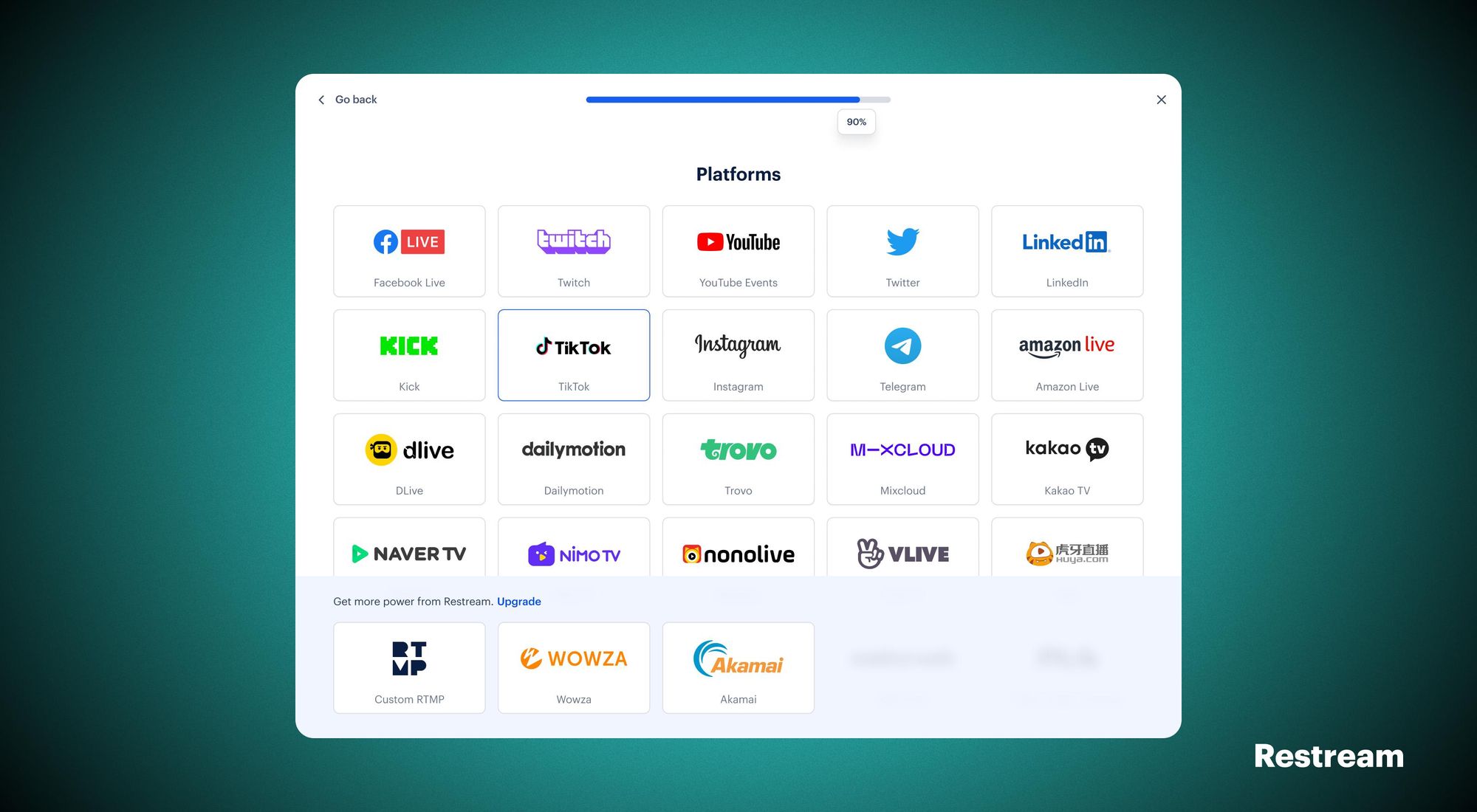 4. Enter your TikTok username. Then, paste the stream key you copied from TikTok. You'll also have to go back to your TikTok account and copy the Server URL and paste it into the RTMP URL field in Restream.
5. Click the blue Add Channel button.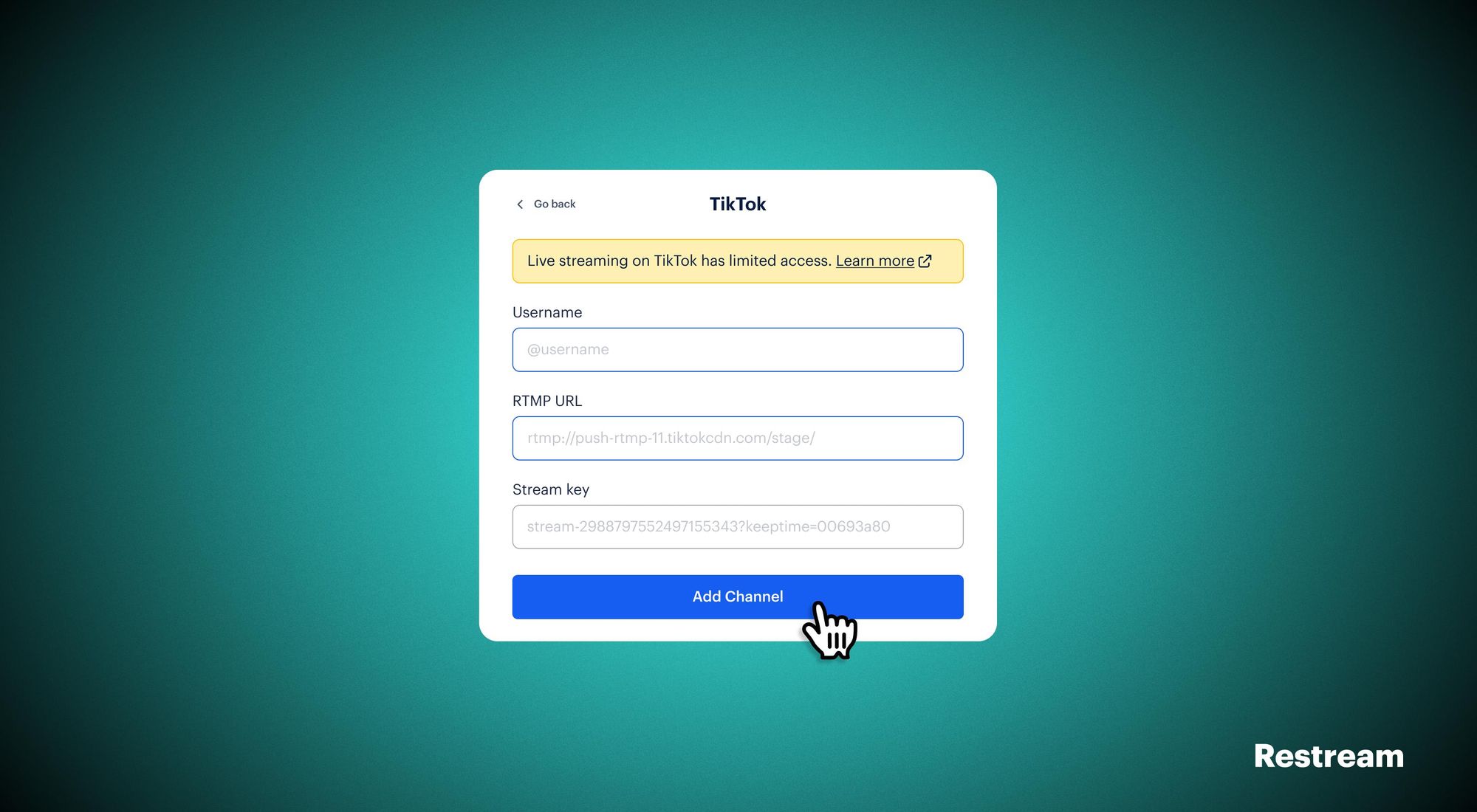 6. When you're ready to start streaming on TikTok, click the Stream with Studio button on your Restream dashboard.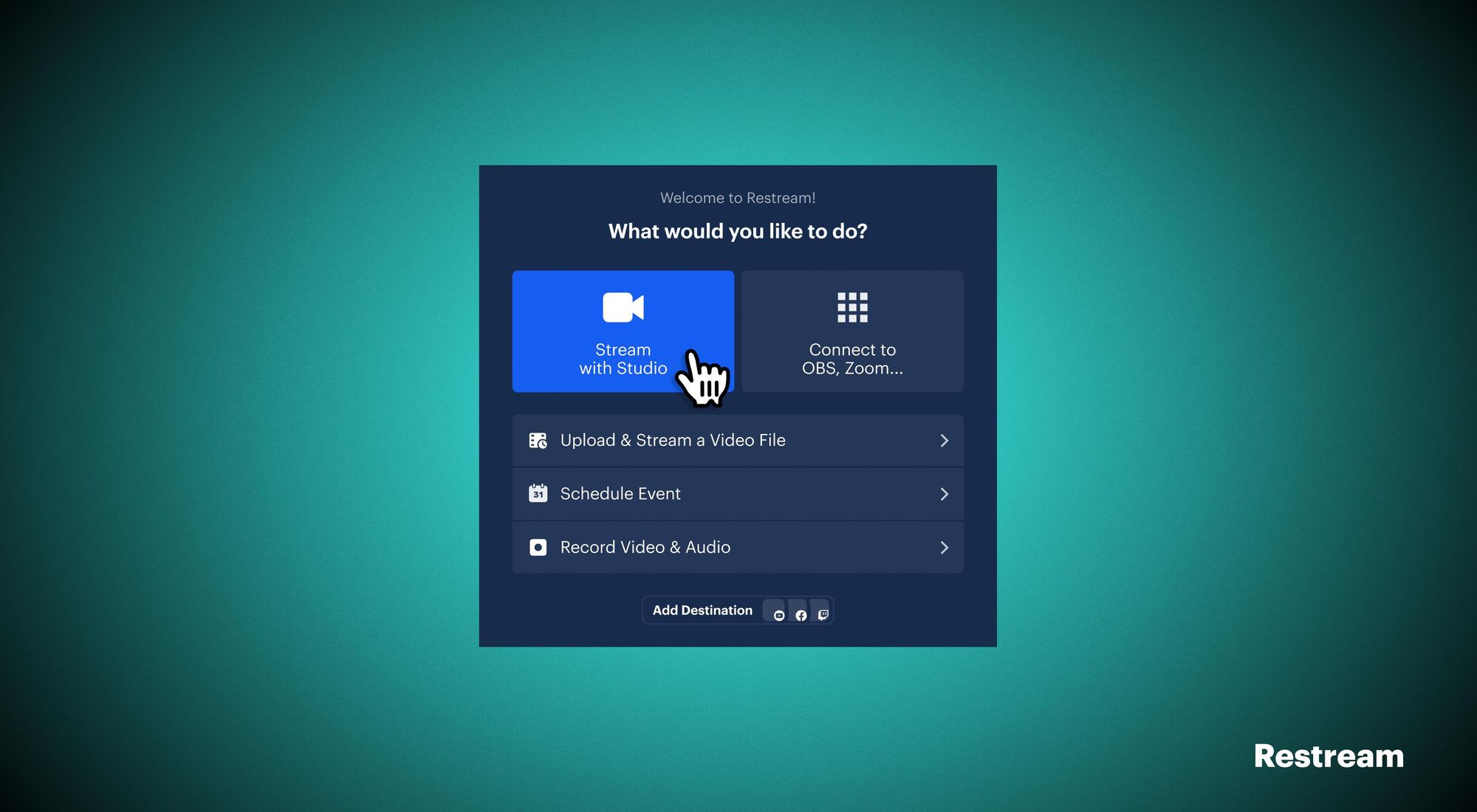 7. Enter the live streaming studio and adjust your settings, upload any custom graphics and choose your layout.
8. Once you're ready, click the red Go Live button in the top right corner. Your live video will appear on your TikTok profile!
Note: Not every TikTok user has access to RTMP live streaming. You might be able to go live from the TikTok mobile app, but you may not be able to get a stream key and server URL to use with a third-party streaming service.