Every marketer, content producer, blogger, and gamer is well aware of Facebook's status as the indispensable social network. Even in a year when several scandals should have stunted the social network's growth and put a dent in its revenue, earning reports demonstrate that Facebook is still the top social network.
For anyone who has an audience, wants to build one, or simply needs a place to reach people for whatever reason, Facebook is still the social network of choice. When it comes to using video content to reach people on Facebook, streaming video on Facebook Live is the way to go.
The problem with going live with Facebook Live is that it's hard to stand out from the crowd. The existing audience might see you, but the people who are yet to become fans? For them, you need to put in an extra effort. You need to be better than the competitors at streaming. Here are a couple of Facebook Live tips that will help.
The #1 live
streaming solution
Get started for free
1. Hype up your stream!
No matter how many followers or friends you have on Facebook, it's not a good idea to expect them to just appear whenever a Facebook Live stream starts. It's much better to give them plenty of notice and time to squeeze you into their schedules.

More importantly, however, you need to sell the idea that the live stream is something they will want to view. Live streaming is a part of the content game, and in the content game — content is king. Never start streaming without a good reason or a plan.
The only exceptions are the time-sensitive live streams where people either report from an event or react to it. If you need to go live right away, forget about hype and forget about plans — you're streaming because you want to share a moment with people who find it meaningful. So just go for it!
2. Pick timing carefully
There are no guarantees an audience will gather for a live stream, no matter how much time in advance they get a notification. You can have the best content in the world, but it would still pay off immensely to do a couple of extra things to ensure that the stream will have enough viewers.
One of the things you can do is stream at a time when the audience members are the most active on Facebook. Better yet, you can time the stream so that it matches the peak traffic time on your profile or page - this is one of the better Facebook Live tips you'll ever get. No one ever did wrong by making it more convenient for people to watch them.

Again, the situations that require you to go live immediately have rules of their own, so this doesn't apply to them.
3. Always aim for the best quality
You shouldn't be surprised to learn that, to an audience, video quality is one of the most important things about a video they watch. In fact, nine out of ten people who consider themselves part of your audience on Facebook will say so. That's a piece of information that requires serious pondering and a plan of action.
The good news is that quality equipment is fairly easy to find, and it doesn't have to be too expensive.  Every half decent smartphone comes with at least one camera that can capture video at 720p, and that's pretty good. Add an external microphone, a stand, a light source, and you've got yourself a starter Facebook Live gear setup.

If video plays an important part of what you do, then you'll probably need to gradually update it. So maybe invest in a good web camera, or dedicated camera, with better audio and stabilization options, and better lights. From there, the sky's the limit — there are always better and more expensive solutions waiting.
Read Next: The ultimate guide to Facebook Live streaming📍
4. Go live with a pre-recorded video
One of the common misconceptions about Facebook Live streaming is that it has to be live. People think that you have to stream an event as it's happening. But that's not true at all. Live streaming doesn't necessarily have to be live — you can live stream pre-recorded content.
You can sort of do that with Facebook Live. You can record and edit video and audio, put it all together in a neat video clip, and then stream it live on your Facebook page or profile. The only requirement is that, per Facebook's terms of service, you have to clearly distinguish any pre-recorded content that you stream live on the platform. This isn't as much a Facebook Live tip, as it's a downright requirement.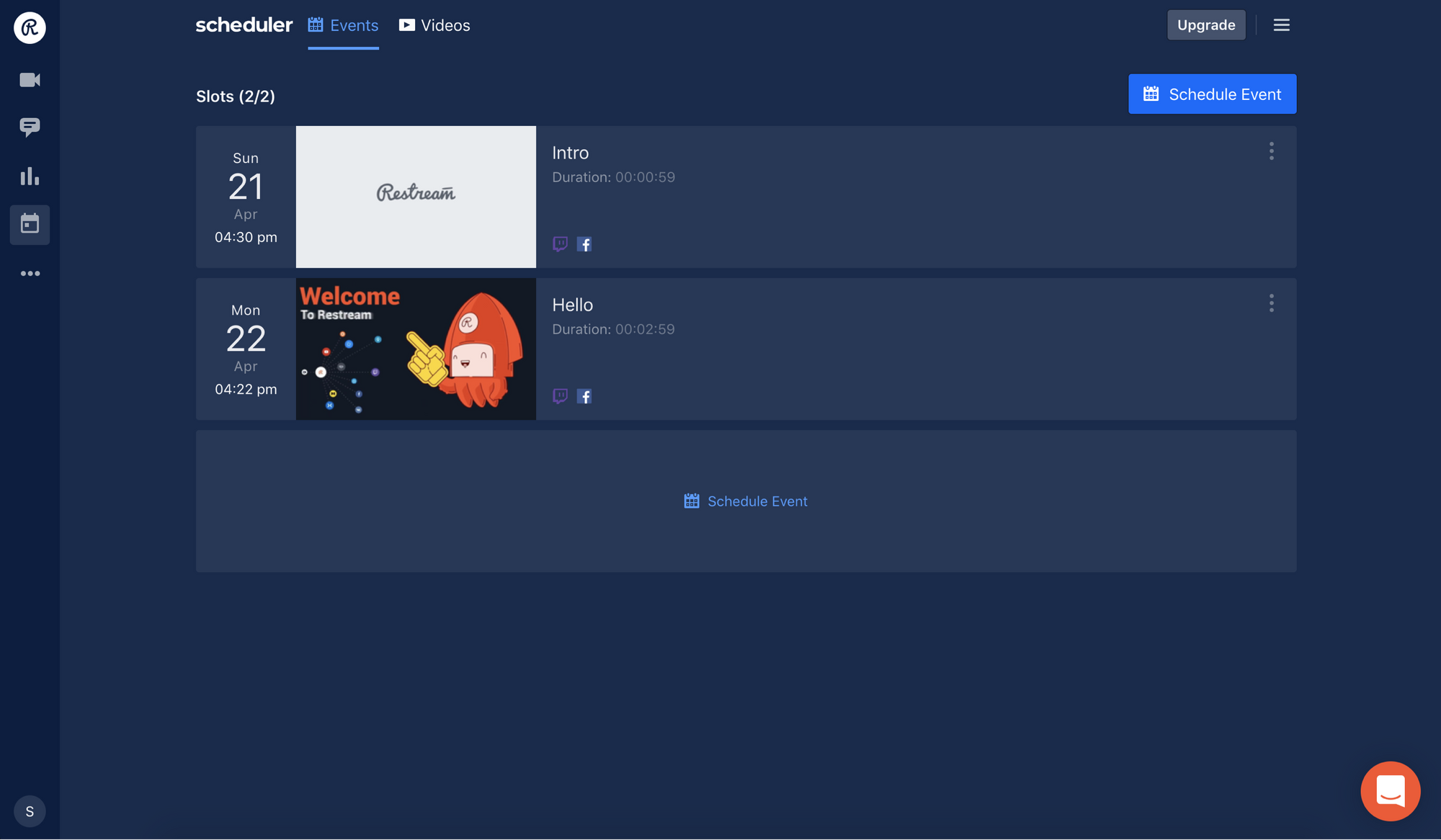 The trick to publishing pre-recorded video as if it were live is using a kind of an intermediary platform. These platforms should allow you to upload content to the cloud, and then stream the video to Facebook Live from there. They might also allow the scheduling of streams. That way, you can upload the video clip and publish it at any time.
5. Don't stick to one platform
One thing you'll notice about these intermediary platforms is that they allow plenty of flexibility when it comes to streaming to multiple websites at the same time. This is another reason to try Facebook Live even if you already have an established audience on another social platform. There's simply nothing to lose if you don't have to pick only one social platform.
Multistreaming, or streaming to multiple platforms, is the best way to reap the benefits of streaming to more platforms without having to do extra work. A good multistreaming tool helps you keep everything focused in one place — streaming, scheduling, and audience interaction. Plus you get the benefit of a greater reach and a wider audience.
Live stream everywhere,
all at once
Get started for free
Pairing Facebook and YouTube is sort of a standard Facebook Live tip for multistreaming. That way, you've covered the biggest social network and the biggest video platform (and second biggest search engine) in the world. That's a tried and tested strategy, and it's very easy to perform if you pick a good simulcasting tool. However, there are more platforms you can use, including Twitch, so don't be afraid to experiment.
Final thoughts
Facebook Live has two distinct advantages that make it worth looking into. One is that it offers the reach of the world's largest social network. The other is that it allows you to publish the hottest form of content right now — live video. If you're able to harness these two advantages well, you can use them for anything from reaching new audiences to giving the existing ones more options to stay in touch with your content. All you need is some know-how, affordable hardware, and some multistreaming software. That, and these five Facebook Live tips.