You can go live on Facebook from your personal profile, a group, or a page. Facebook lets you go live on either desktop or mobile as well.
Let's look at desktop options first.
To go live on Facebook from your desktop, you can use Facebook Live Producer, Facebook's built-in live streaming studio. If you want to go live from a web browser and have tons of customization options, then you can use Restream Studio. You can access Facebook Live Producer by going to facebook.com/live/producer. It works best with either a Chrome or Firefox browser.
To go live from your Facebook Business page:
Press the Live button that appears at the top of your page's feed. This button redirects you to Facebook Live Producer.
To go live from your Facebook Personal profile:
Open Facebook Live Producer.
On the left-hand sidebar, under Post, you'll see your streaming destination.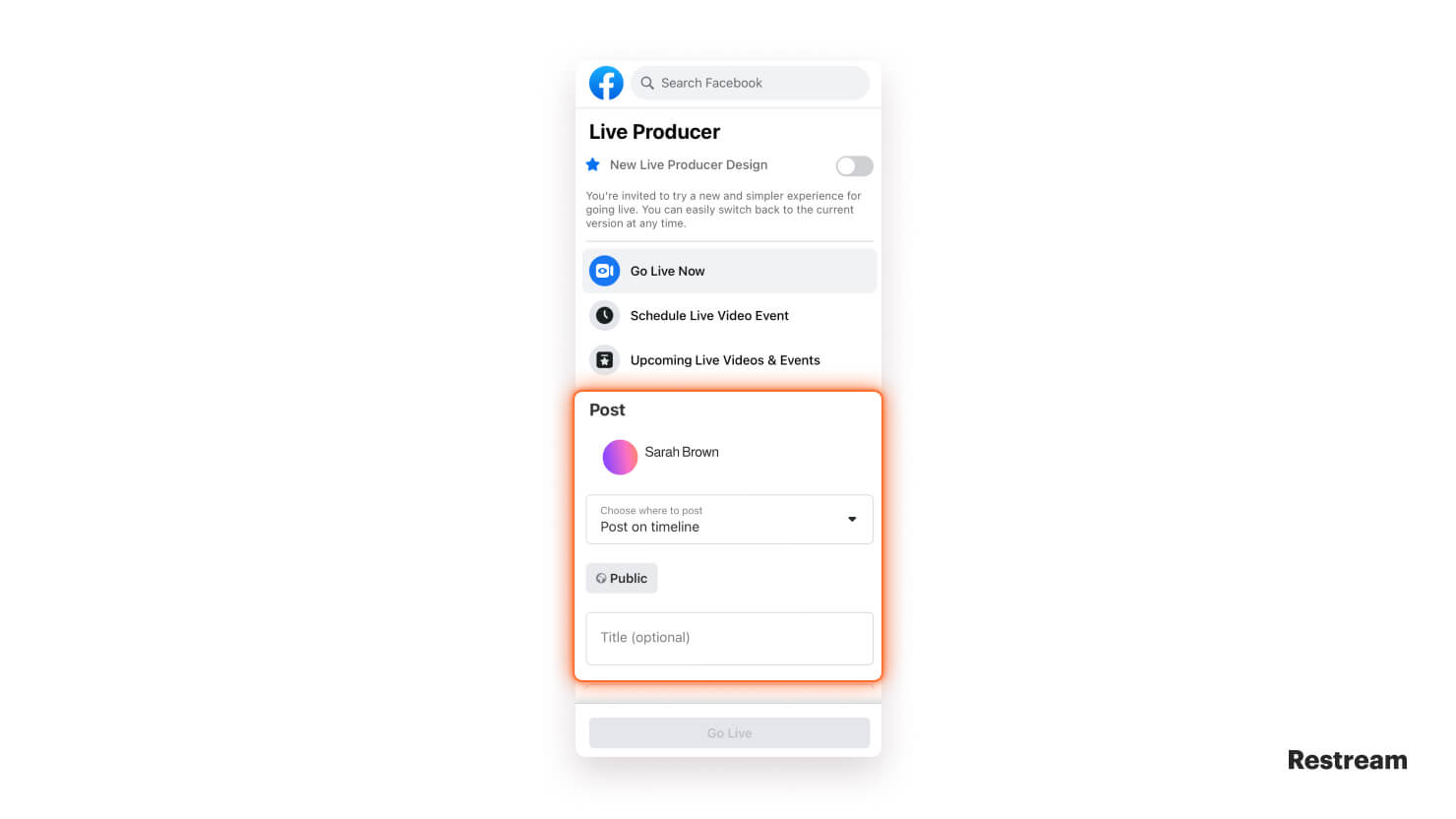 On the dropdown menu below your name, you can choose "Post on timeline," "Post to Page you manage," or "Post in group." To stream from your personal profile, select "Post on timeline."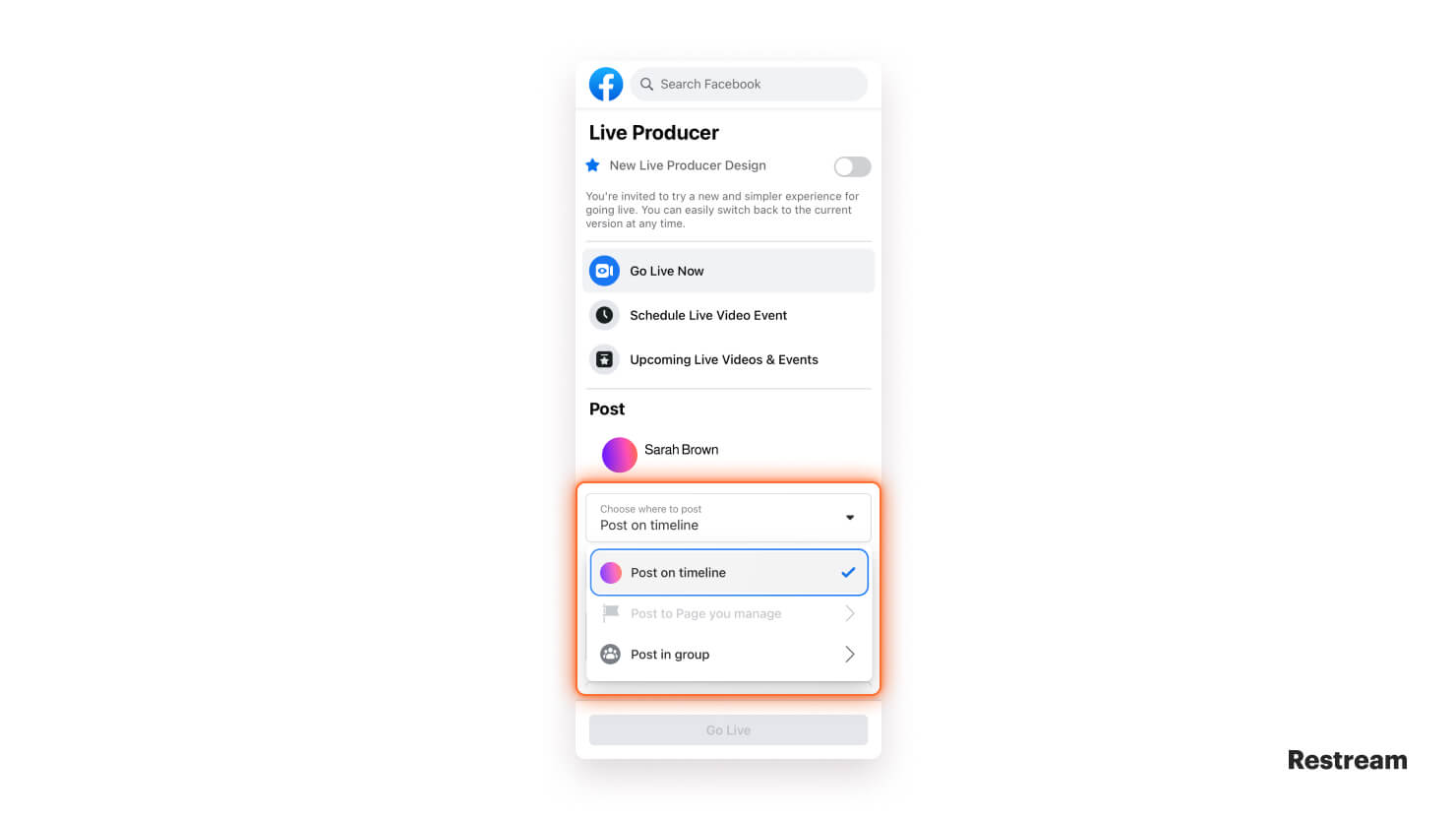 To go live from your Facebook group:
Repeat the same steps as streaming from a personal profile, but choose "Post in group" as your streaming destination.
When you're ready to go live, you'll click the Go Live Now button in the top left corner of Facebook Live Producer. But first, there are a few more settings to take care of.
Add a title and description to your live stream so viewers know what it's about.
Click the Use Camera button in the middle of the screen
Add your webcam and mic as media sources in the Setup box that appears below the Use Camera button.
Once you've added your camera and mic, you're ready to go live! However, this method works if you're only planning to go live on Facebook and not any other platforms. It also limits you to using the Facebook Live Producer studio, which has fewer features.
Facebook also lets you go live from the mobile app.
Go live from your Facebook page in five steps:
Open the Facebook app and navigate to your page.
Tap the Publish icon. The New Post window will pop up.
Select Live Video from the dropdown menu on the New Post window.
Adjust your settings. You can add filters, change from portrait mode to landscape mode, and make other small modifications.
Hit the "go live" button!
---
🔥 If you want to broadcast to more than one platform simultaneously (also known as multistreaming) or use a live streaming software to edit your live stream, you will need a stream key from Facebook. However, there's an easier way to multistream. When you connect Facebook and your other favorite platforms to Restream, you don't need a stream key. Here's how to set it up:
Log into your Restream account (or create one if you don't have an account already).
On your dashboard, click "Add channel." You'll see a list of streaming platforms that integrate with Restream.
Select Facebook Live from the list of available channels.
Connect your Facebook account to Restream and give Restream permission to access your account.
You don't need live streaming software, either. Once you've added all your live streaming channels to Restream, you can launch our Live Studio. Restream Studio lets you go live directly from your web browser and has more customization options than Facebook's live studio. Make your stream professional and engaging by adding your branded graphics and logo, inviting guests to the stream, sharing your screen, playing background music, and more.