Live video streaming is the next revolutionary notion you are going to include in your marketing strategy. Video content marketing is a billion-dollar opportunity. Just have a look at the statistics:
As you can see, live video streaming is the most profitable way of video marketing. So why miss this opportunity? Keep reading to learn more about how you can use live video streaming for your business.
1. Use pre-event teasers and notifications
Before the main live streaming event, your audience has to be notified about it. Make teaser videos and images, and share them on your social media channels (don't forget to include an engaging caption). It is best to start your pre-event campaign at least two weeks prior to the live video streaming.
Another great way to notify your audience about your live video streaming is to use pre-created messages. For example, when you go live with Restream, the Social Alerts feature will automatically post your live video stream to all the connected channels.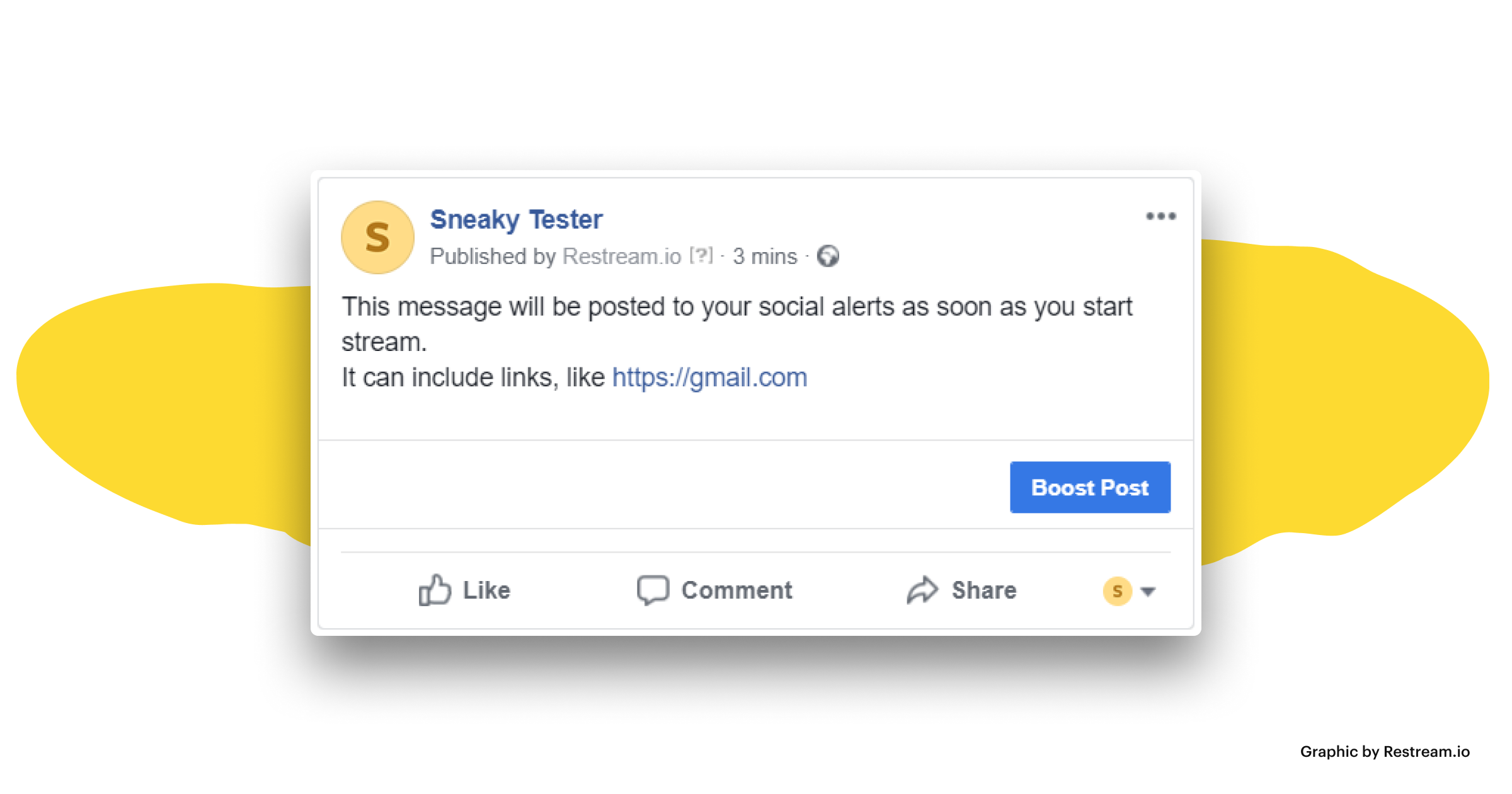 2. Live stream hot events and product launches
One of the best ways to earn sales from your live video is to stream new product launches. Demonstration videos are always interesting, especially when you show how to use the product and the desired result it will bring.
A really good way to drive sales from live video streaming during product launches is to invite an industry influencer. Their opinion is going to be highly important for your audience. People usually avoid trying new products without having much information about them. When they see a live example of product usage, they will feel less stressed about buying something new.
Here, you can offer the "Buy Now" discount. We will talk more about this below.
3. Offer "Buy Now" discounts
Lots of people are impulsive buyers. They will make a purchase if they are not in a good mood, for example, thinking a new product will make them happier. Another reason could be a huge discount with a limited time period. This is your chance to promote your product in your live video and offer discounts to the viewers who will buy it now, until the end of the live video streaming.

Your viewers will think they have the last chance to buy your product at a low cost. Some will boast they were among the first ones to have the product.
Don't forget to repeatedly mention your discounts and the deadline for making a purchase - only as long as you are live!
4. Organize live auctions and competitions
This is similar to offering "Buy Now" discounts. It's a bit more challenging, however, as your viewers are going to compete against each other to be the only winner.
This could run in the form of question-answers. Ask questions about your brand/product, and the first commenter will get that product for free or with a great discount. This will raise awareness of your products.

There will surely be users who have always wanted to purchase your products but couldn't afford to do so. They will not miss this chance, becoming a happy customer and later your brand advocate.
5.  Make your live video streaming a webinar
If you have really powerful content and are sure there is a lot of demand for it, make it a webinar, go live, and monetize it. You will have the right to charge for it as exclusive information.
Webinars take lots of preparation, so make sure what you offer is worth the effort you put into the organizational phase. Unless you have something really valuable and exclusive, it's not worth hosting a webinar.
Also, make sure you have an email marketing campaign ready for your live webinar streaming subscribers.
6. Stream to multiple platforms
Don't just choose one platform to go live on. This will reduce the chances of monetizing your live video. Stream to all the channels your audience is on. This will give you an additional chance to run ads on your videos.
Thanks to tools such as the Restream Studio, multistreaming can be as easy as turning on a webcam and clicking a couple of buttons. The Studio allows you to invite guests, apply custom visuals to brand your live streams, lets you monitor the chats from all your streaming channels, and much more!
Final thoughts
Live streaming is on the rise and is nowhere near to be falling down in popularity. Let's quickly recap all the ways available for you to take the most out of live streaming:
Use pre-event teasers and notifications
Live stream hot events and product launches
Offer "Buy Now" discounts
Organize live auctions and competitions
Make your live video streaming a webinar
Stream to multiple platforms with Restream Studio
These are the main instruments to maximize the effect of live streaming as a tool to drive sales. Remember that live streams revolve around building a strong relationship with your audience and creating a strong demand for your brand. Because Restream Studio makes it so easy to get started with streaming to multiple platforms at the same time, you can expand your reach quickly, efficiently, and without adding too much to your overhead.