Intro
Who doesn't like a good two-for-one deal? Imagine if you'd be able to achieve a whole slew of marketing goals — build trust, humanize the business, attract investors — while also boosting the business' talent recruitment effort, with a single event. Behind-the-scenes content has lots of potential in that department.
Why is it so good for marketing, HR, and sales? Why do businesses, brands, and celebrities use it so widely? Let's find out.
Behind-the-Scenes in the major league
As an effective type of content, behind-the-scenes video is regularly whipped up by businesses when they need to connect with their audience. Let's see how they're doing it, and who else likes to use behind-the-scenes video:
Megan Markle, the Duchess of Sussex and member of the British royal family, shared a behind-the-scenes video from a photoshoot for her clothing line. The shoot brought attention to Smart Works, the women's charity to which Markle is a royal patron.
Target, the American retailer, teamed up with the singer Gwen Stefani for a live behind-the-scenes stream from the filming location of Stefani's music video. The footage eventually accumulated over 75,000 views.
Dunkin Donuts, the American coffee company, live-streamed a behind-the-scenes video of their kitchen on Valentines Day. They got over 40,000 views.
My Protein, the sports nutrition and apparel company, decided to celebrate their birthday with a live behind-the-scenes stream. They showed the office, interviewed employees, and engaged audiences in a prize draw, showing how much you can do with a live stream.
General Electric, the American tech and electronics conglomerate, took viewers behind the scenes of the Star Talk Radio with host Neil DeGrasse Tyson, Bill Nye, and Sally Le Page. It was GE's major foray into using Periscope as a content channel.
As you can see, there are no rules here. Brands use behind-the-scenes video, as do businesses big and small, and individuals — be they celebrities or even royalty. The reasons and the desired effects might be different, but one thing is in common. They all count on behind-the-scenes content to work.
What makes Behind-the-Scenes video so successful?
The secret to the boom of behind-the-scenes video as a type of content is down to a combination of factors. Some of them have to do with the theme of the content:
It humanizes the business by showing people at the core of a business or a brand. Audiences don't relate to businesses or brands easily. They do to people.
It is very engaging because it plays to people's curiosity. Viewers might stay to see just what happens next.
It has an air of exclusivity. It can provide a very rewarding experience for the viewers, especially for the more loyal and invested ones.
It connects viewers and business in a deeper way. It might also increase trust in the business, or just have a generally better opinion about it.
Video, on the other hand, is a format that:
Offers great performance — it gets three times more engagement than any other type of content on Facebook. It is the preferred form of content for learning about products for 68% of consumers.
Is boosted by live streaming — live streaming video increases its reach and engagement rates at lower costs than other ways of reaching wide audiences, such as paid advertising.
Is available everywhere. Mobile devices are taking over desktop devices helping your live stream reach an even larger number of people.
That's why behind-the-scenes content works, and why live-streaming it works even better.

Ideas for your Behind-the-Scenes video
There are plenty of things that go on in your business that can be the focus of your behind-the-scenes video. Here's a couple of ideas to get you started:
Workflow video — a look at brainstorming sessions, client meetings, and other business activities. It's great for fans, but even better for attracting employees or clients.
Product launch and update — a type of video that shows the goings-on in high-pressure and demanding situations. Great for humanizing and demonstrating competence.
Expertise video — a showcase of business results, expert opinions, and other thought-leadership content. It's great for positioning your business in your industry.
Team-building video — a video that shows your team handling various team-building tasks. A great demonstration of company culture for potential clients and employees.
Funny video — you can make fun and humorous content that won't embarrass your business. Do it to get positive emotions associated with your brand.
Personal video — everything from an employee's birthday celebration to the daily update about the office pet and mascot. Show the human side of your business.
Here's how you can choose the type of behind-the-scenes content to create. Pick your audience. Pick the message you want to send them. That'll point you in the right direction for the type of behind-the-scenes content you need to create.
Read Next: How to broadcast interviews and Q&As online📍
Where to broadcast your Behind-the-Scenes live stream?
The years of marketing practice, backed up by common sense, say that the best place to live-stream your video is where your target audience likes to go. If you look at it that way, you can stream to:
The general platforms. They don't specialize in a single audience. You get the benefit of the largest number of users, and the broadest demographic spread from:
Business and lifestyle & event platforms. One is the ideal place to reach businesspeople or professionals, the other is for people who like to follow brands:
Gaming platforms. Gaming is becoming less taboo among 30-somethings, which only makes gaming platforms more popular. The two leading ones are:
Regional platforms. In some cases, the best way to reach an audience in a county is by going to a regional platform that's cornered that market. The examples of these platforms include:
DouYu in China
AfreekaTV and KakaoTV in South Korea
How to stream to several platforms at the same time?
Streaming to several websites at the same time can be a very effective strategy for boosting the reach of your behind-the-scenes video. This type of streaming is called "multistreaming," and you achieve it by using special tools or services.
Easy live streaming for everyone
Run professional live streams from your browser.
Get Started
Restream is a multistreaming service, and as such it helps you reach many websites at once with a single live stream. Some of the main things Restream lets you do include:
Increase your reach – Restream supports over 30 platforms natively, allow you to broadcast your stream live to your audiences on as many platforms as you'd like
Keep existing setup — you won't need additional hardware, software, or bandwidth. The only thing you need is to stream to a single service that will broadcast your video further to other platforms.
Start using it in no-time— thanks to its user-friendly interface, a simple connecting procedure, and a thorough knowledge base, it's very easy to use.
Pay according to your needs— the basic service is free, and the advanced plans are also affordable.
Also, Restream has many useful features to help you improve your live streaming experience, such as chat management, video scheduling, performance and audience analytics.

How to make a rocking Behind-the-Scenes video?
Once you have your tools, platforms, and content ideas lined up, it's time to hit that record button and start streaming the video. But if you want your video to do very well, you'll need some advanced tips.
Here are some things you should consider doing before the stream:
Prepare media support in advance. Give timely notification to people who can provide word-of-mouth and free media publicity. Don't be late with this.
Use coworkers as brand ambassadors. Spread the word through professional and personal connections and on social media. Everyone can be an ambassador.
Notify your audience in advance. Build anticipation with social media announcements and ask for advice or questions. Keep them posted and engaged.
Don't push the video on coworkers. Identify co-workers who are uncomfortable with being in the video. Include only the people who want to participate.
Don't fuss about quality. Shoot with what you have, a smartphone or a professional camera. Interesting content should be your first concern.
Be ready to be spontaneous. Make behind-the-scenes videos a part of workplace culture. Be prepared to go live when things just happen.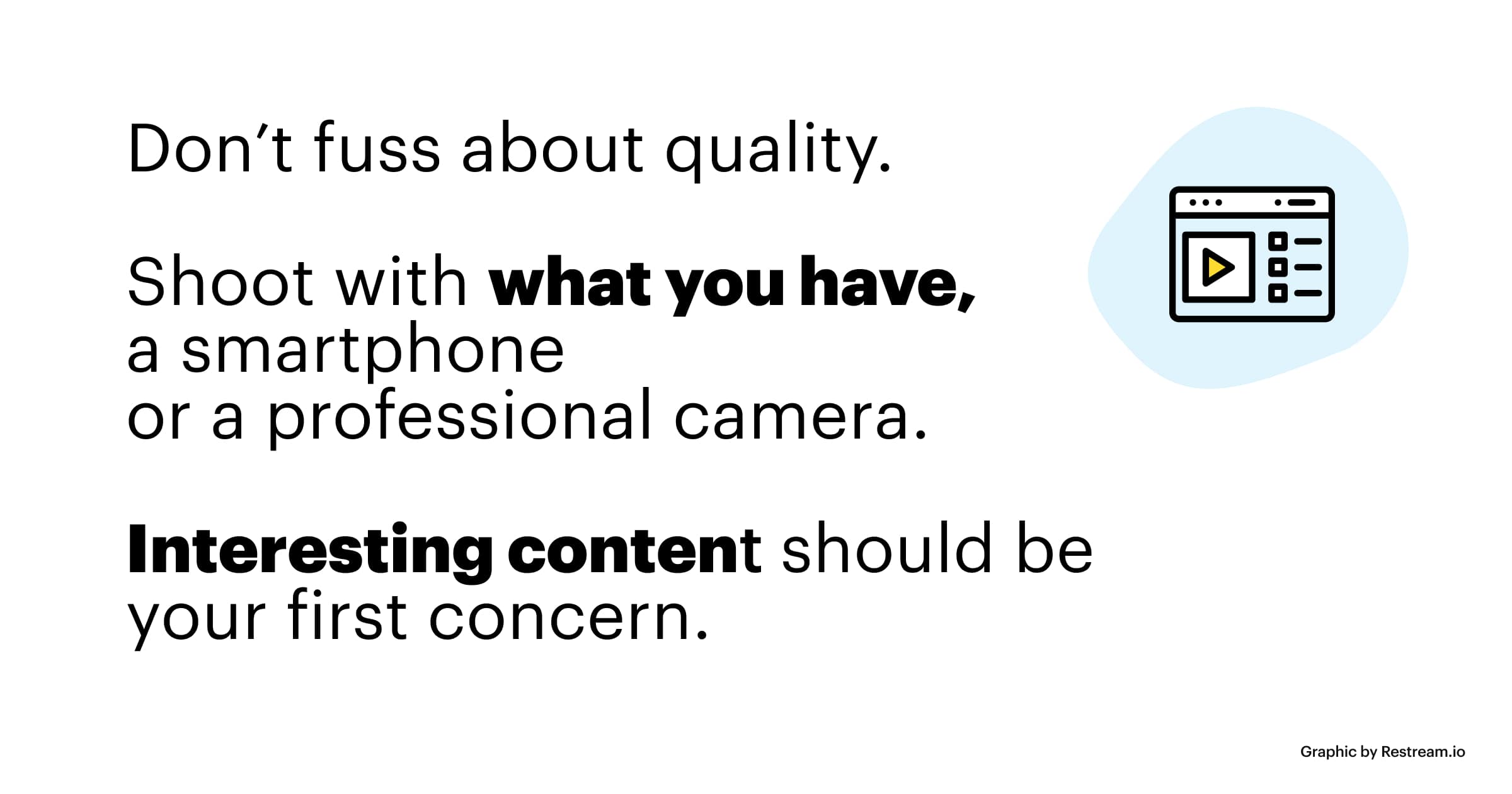 For the video itself, great tips you should consider are:
Be as sincere as possible. Show your workplace as it is, without much staging or scripting. Don't lose authenticity.
Know what to show. Small mistakes that humanize your team and don't affect the quality of your work are okay. These hiccups can be endearing.
Keep it in your team's comfort zone. Don't do anything that would embarrass or make your employees uncomfortable. Don't sacrifice workplace relationships for laughs.
Play with the type of content. Pick two or three behind-the-scenes video themes and combine them. A fun video can demonstrate your skills.
Live stream your video. Instead of creating an edited video, go live with a behind-the-scenes look. It will be more engaging.
Get the viewers in on the action. Encourage them to ask questions during the stream and reply to at least some of them. Interaction is key for engagement.
Sell appropriately. Choose giveaways over direct sales during a behind-the-scenes video. People don't like self-serving content.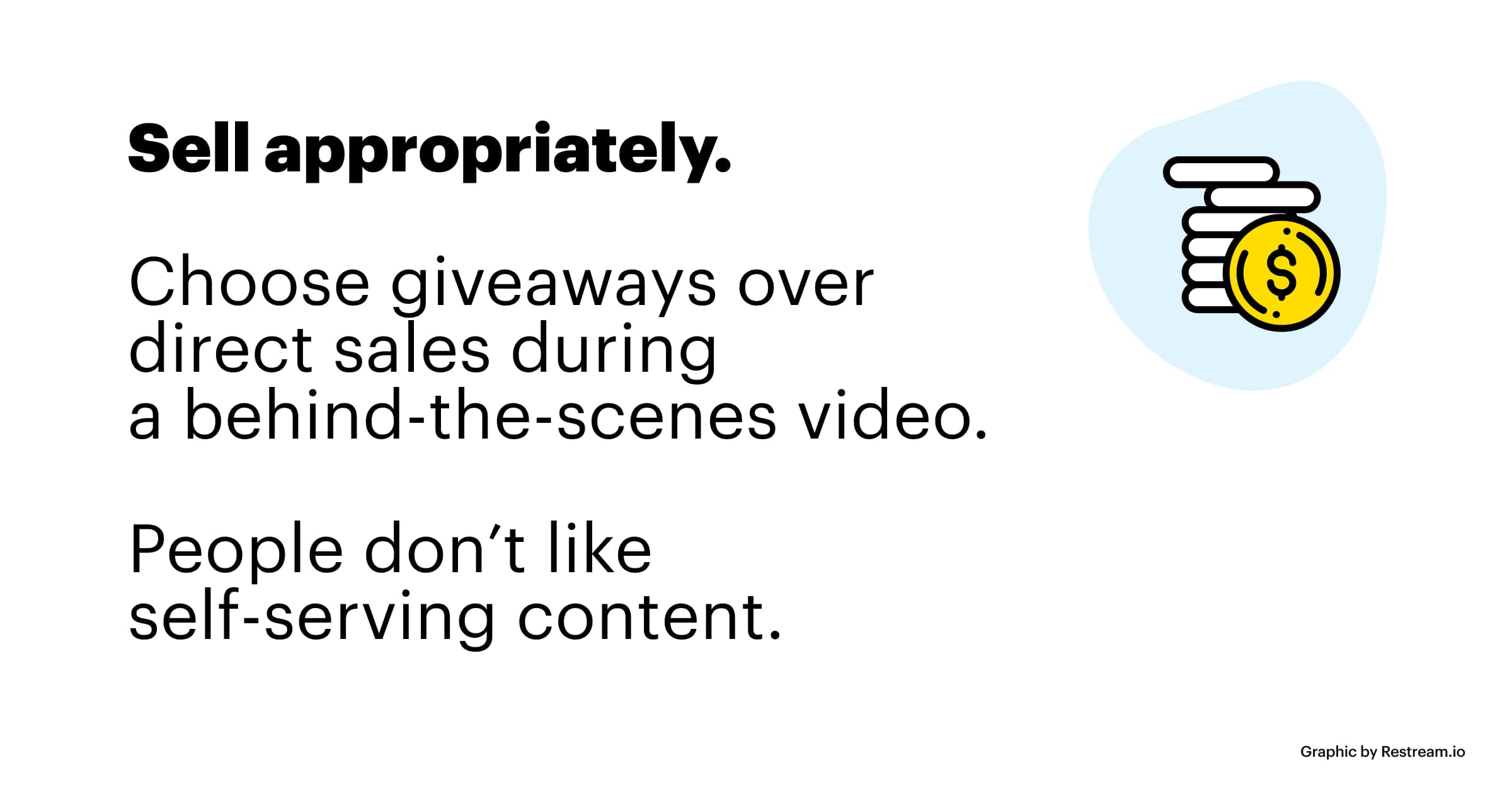 Once the event is done, you can:
Keep in touch with the audience. Get them into a remarketing campaign, an email marketing campaign, a lead capture form. Get them while they're interested.
Review the effects. Check performance metrics and what kind of comments your stream got from viewers. Make each video a learning opportunity.
Behind-the-scenes videos are first and foremost useful, but they can be very fun and exciting to make. You can exercise your creativity a bit. Remember, though, that your videos should always work first, and entertain second. Use these tips to avoid mistakes creeping in your blindspots.
Conclusion
Businesses will always worry about the overhead. They'll always look for ways to get the most out of every resource they invest in business activities — as they should. It's not just about keeping the costs of business down. It's about being more effective.
Behind-the-scenes videos get that effectiveness thanks to their versatility. They can be a tool you use to address some key business, marketing, human resources, and even public relations goals.
With a live-streamed behind-the-scenes video, you get:
A tool you can use for branding purposes, investor relations, lead generation, and talent engagement and recruitment.
A variety of themes you can pick from depending on your industry, type of business, or even company culture.
An inexpensive form of content, with low costs of production and practically no costs of distribution.
An incredible reach, thanks to the variety of channels you can use and live video's inherent ability to engage.
So that's behind-the-scenes live video for you, a tool that lets you speak to customers, potential employees, or investors. By using Restream, you can easily find all three on the platforms they use, at the same time.