Live streaming to multiple platforms is a complex technology. But does it really have to be challenging for streamers? The answer is no. With Restream, multistreaming is simply a matter of a few clicks, so you, fellow reader, can sit back and relax. You don't even have to handle the chats from your platforms — Restream does it for you.
We constantly improve our products to assist you in achieving your streaming goals in the most effective and comfortable way. One of the latest updates for your live streaming companion is the Chat Overlay feature. This simple yet amazing innovation displays your cross-platform chat with the audiences on your stream. Keep reading to learn everything about this improvement.
What is Chat Overlay?
Chat Overlay is a new and free addition to Restream Studio's arsenal. Streamers can add an overlay to their streams which shows incoming messages from all platforms. The messages from your audiences will be displayed directly on the screen. Whether it's you or your viewers typing comments in the chat section, Chat Overlay will show all of them.
Benefits of Chat Overlay
Chat Overlay allows viewers to see the messages from other platforms. It makes your streams more engaging and helps build your community faster. For example, let's say you are live streaming to Facebook and YouTube at the same time with the Chat Overlay feature turned on. Your Facebook audience will be able to see the messages from your YouTube audience and vice versa. In other words, Chat Overlay is an amazing way to unify the community across multiple platforms.
How to activate Chat Overlay
Activating the Chat Overlay feature is super easy. You can do it directly in your Restream Studio by simply switching the toggle. Let's quickly go through the activation steps.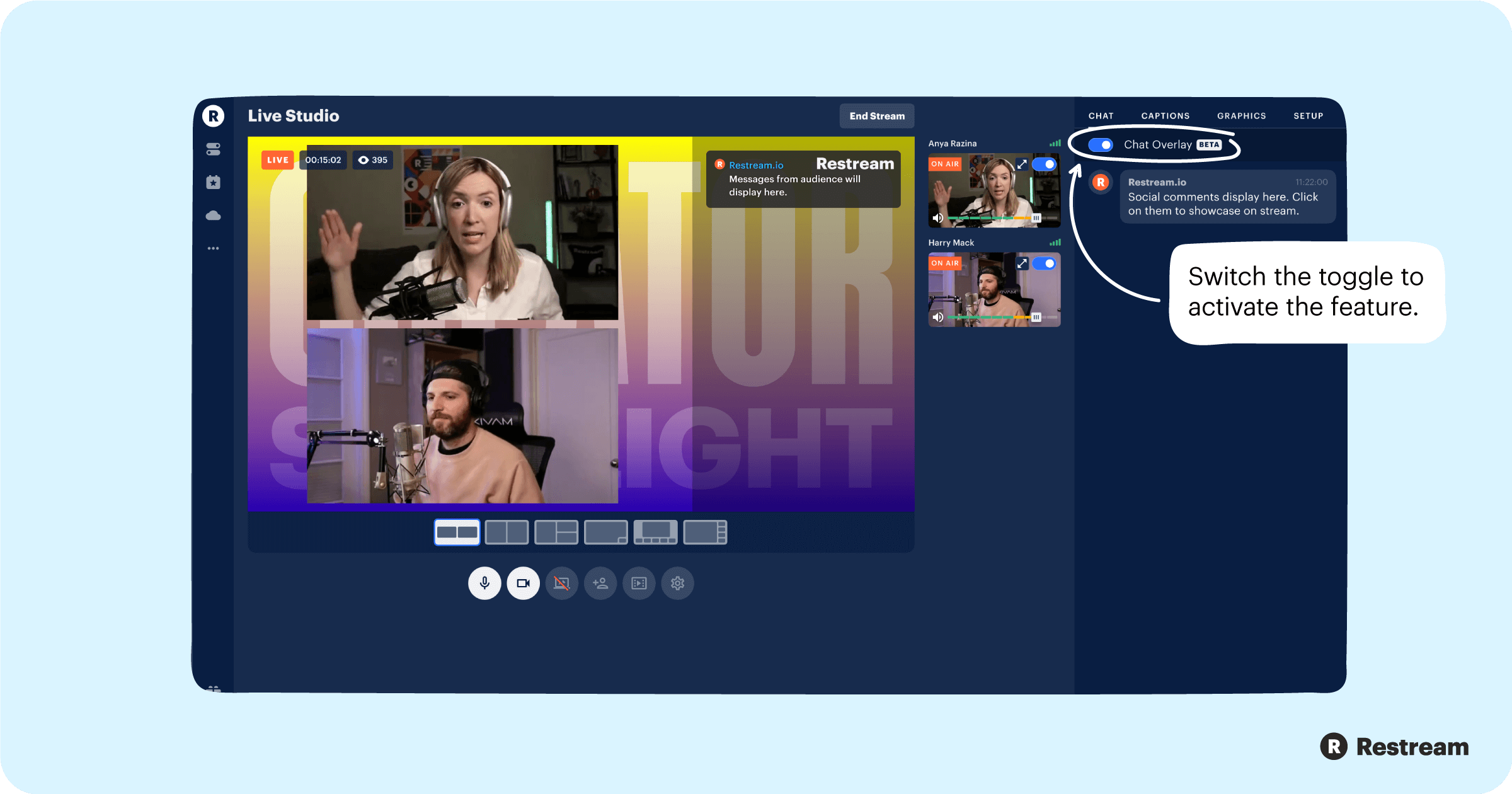 Log in to your Restream.io account or sign up to create one if you are a new user.
Add the channels you would like to live stream to.
Click Enter Live Studio in your dashboard.
Select the Chat tab located at the right top corner of your screen.
Switch the Chat Overlay toggle to activate the feature.
How to use Chat Overlay
Chat Overlay allows your audiences from different platforms to communicate with each other. With the help of this feature, you can create cross-platform discussions between your viewers. But how exactly is it useful?
Chat Overlay helps the viewers see what others are saying, so it's easier to follow the stream.
Also, it helps unify the community around the streamer's personality.
And finally, Chat Overlay makes it easier for you to keep your viewers engaged.
Who can benefit from it?
If you live stream to multiple platforms at the same time, Chat Overlay can definitely have a positive impact on your stream performance. Generally speaking, using Restream Studio and enabling Chat Overlay helps you create a unique community and reach more people across the world. Basically, anyone can find use in Chat Overlay, but this feature is most valuable for:
Chat Overlay helps you and your audiences share knowledge, skills, and experience in a much more engaging and effective way. This feature is super easy to enable, and what's even better — it's absolutely free! Stay tuned and don't miss more awesome Restream updates!