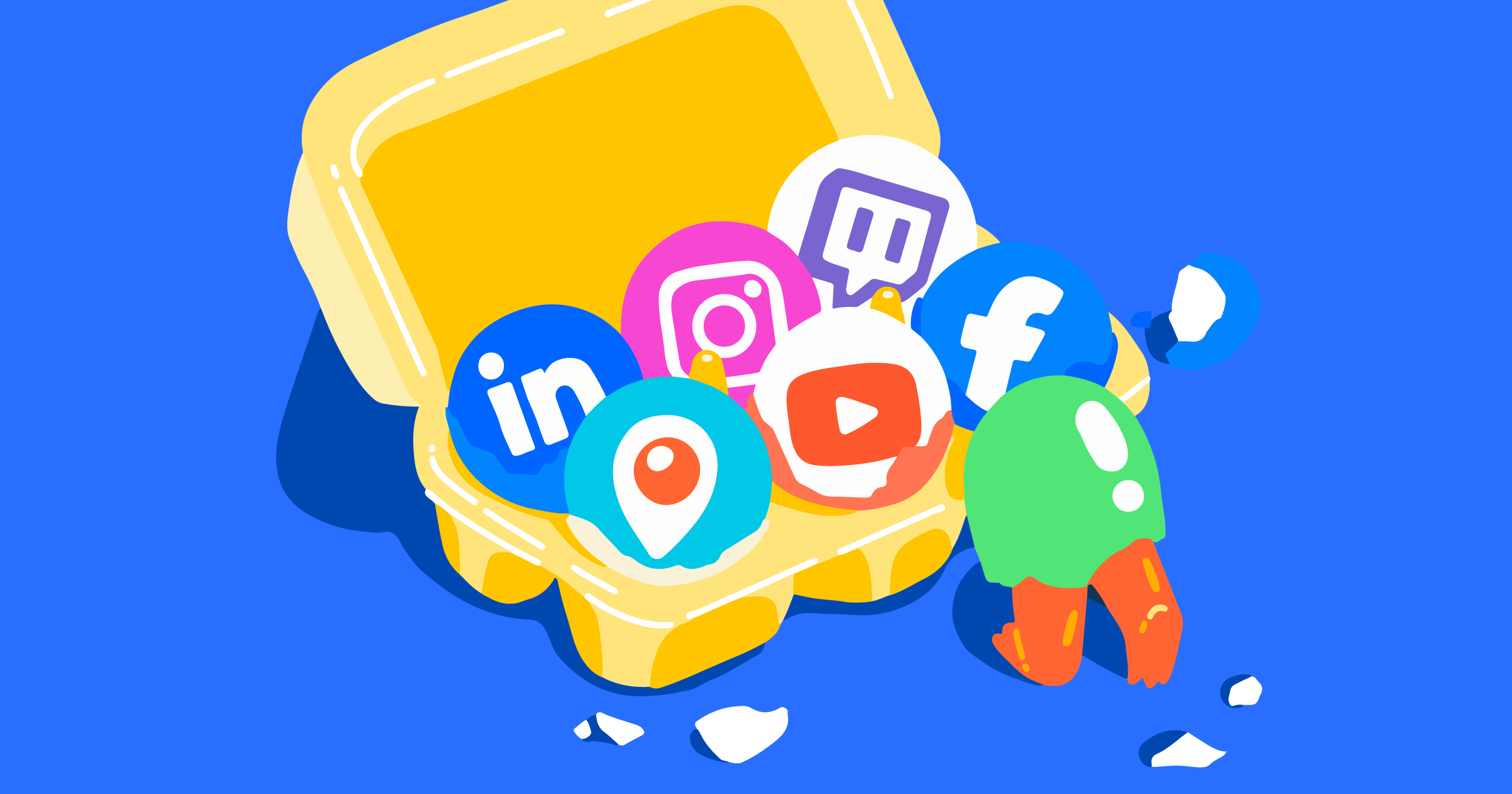 A future in which video is an incredibly popular form of content prominent on every social network isn't a possibility anymore. It's the present. The barriers have been broken by affordable video recording technology and an abundance of ways to share video content online. Everyone can make video content, upload it to any of the popular video streaming websites, and become a part of an industry that was $42.6 billion big in 2019. That number is forecast to grow more than 20% annually in the next couple of years.
For the better part of this decade, video sharing websites have been implementing live video streaming services. Social networks had to speed up development even more, as they first had to enable video sharing and then come up with live video streaming services.
But they've done it. Live video streaming is the frontier where platforms and content creators are doing some great work. They are finding new ways to leverage the power and immediacy of live streaming video to achieve whatever business or personal goals they have.
Among the most popular and effective uses of live video streaming sites is bringing events closer to audiences who cannot attend them. If you're wondering which free live video streaming sites and apps you should use for your events and why, here's a list of the most popular ones in no particular order. You're bound to find a good solution among them.
1. YouTube Live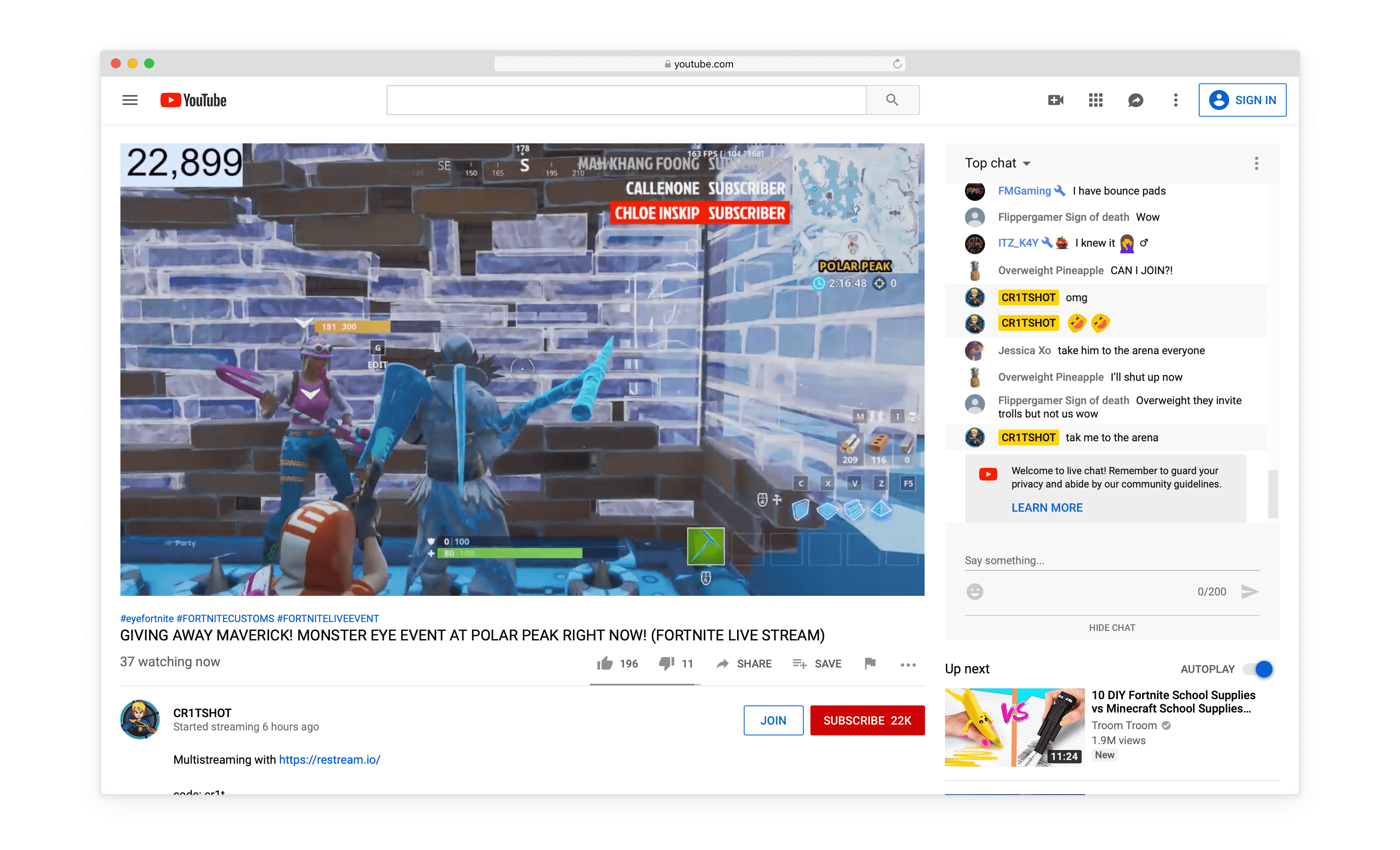 YouTube is arguably the most popular video-sharing platform in the world. Among other things, YouTube is famous for being a website where people watch more than a billion hours of video content a day. It's also the website where people perform more searches than on real search engines, giving YouTube the title of the second most popular search engine in the world.
YouTube's live video streaming service is called YouTube Live. It's available, free of charge, to any creator who verifies their account and activates the live streaming feature. You have a couple of options to start streaming to YouTube Live:
Simple streaming with your webcam, right from your browser
Streaming from your mobile device via the YouTube app
Streaming with an encoder
Which option you'll choose is completely up to you. Streaming from your mobile device can be incredibly practical when streaming an event you're attending. If, however, you need to set up some real gear for video streaming, using an encoder to stream to YouTube Live is the option you'll have to use. It's also an option that will give you the best stream quality.
2. Facebook Live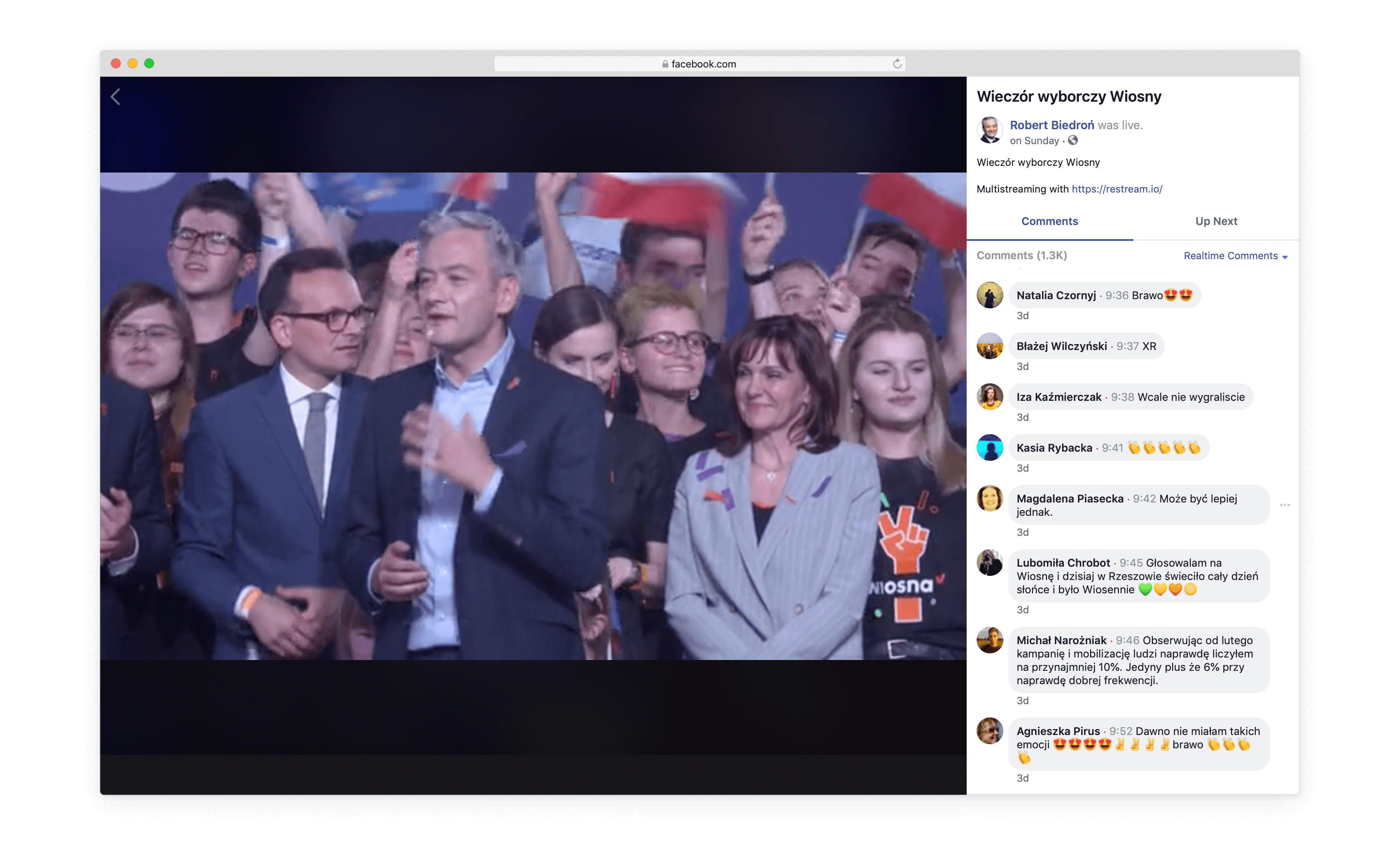 Facebook wouldn't be the behemoth of a social network it is if it hadn't allowed its users to communicate using every possible form of content. Still, the social network seemed to be particularly keen on making live video available to its users. Only a short while after launching the Facebook Live service, Facebook's CEO Mark Zuckerberg predicted that, within five years, video content will dominate Facebook.
While you're waiting for Zuckerberg's prediction to come true, you are free to use Facebook Live to stream events to your profile or your page. If you're wondering why you should use Facebook Live to stream events, here are a couple of possible reasons:
Facebook is the social network with the most users in the world.
You can stream from mobile or desktop.
Your videos are saved to your profile or page after the stream.
Overall, Facebook Live doesn't offer the same video quality as YouTube Live and doesn't come with handy monetization options. There are some great ways to take advantage of the good things Facebook Live has to offer. Plus, the number of people who are on the social network is so staggering that it alone would suffice to make Facebook Live a go-to live video streaming site for events.
3. Instagram Live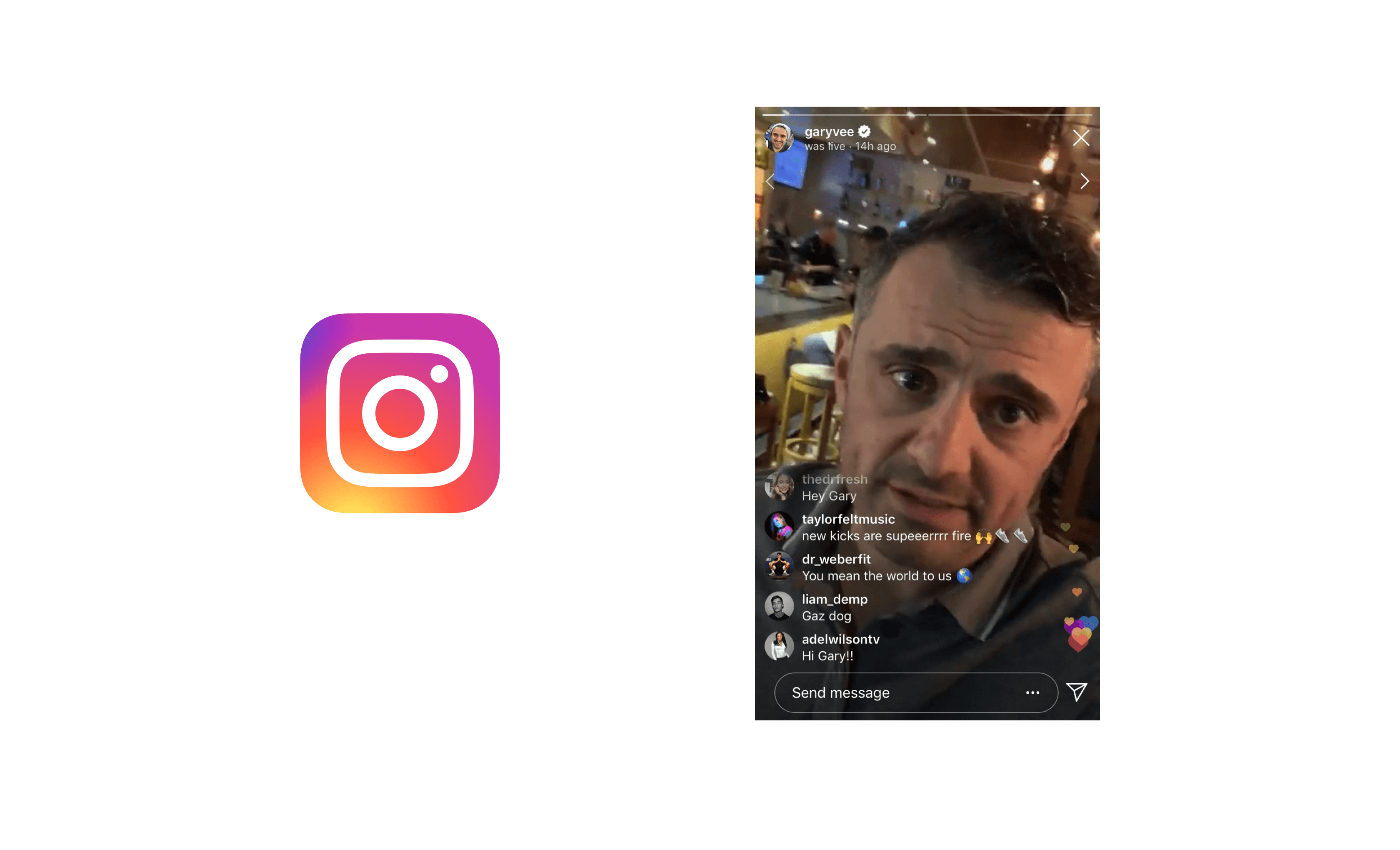 Is Instagram the new Facebook? The verdict isn't in yet, but we know that Instagram is incredibly popular and that its rise has been incredible to witness. It's the social network that doubled its user base between June 2016 and June 2018, and that was widely seen as the answer to the issues that were plaguing Facebook early in 2018.
Instagram couldn't be among the top social networks if it didn't have a live video service. Located within Stories, Instagram Live is the social network's answer to the live video craze with a twist. So after you've made a live stream on Instagram, you can publish the video to your stories, where it will stay for 24 hours before being deleted. On the plus side, you get:
Use of Instagram filters for your video
The ability to turn comments on and off
A notification blast when you start streaming
If you want to find a great way to leverage Instagram Live for events, think about using it to deliver behind-the-scenes footage or short snippets of content you wouldn't mind disappearing after a day. Also, remember that Instagram has a 60-minute cap for live stream video length, but you can easily restart your stream after those 60 minutes end.
4. Periscope/Twitter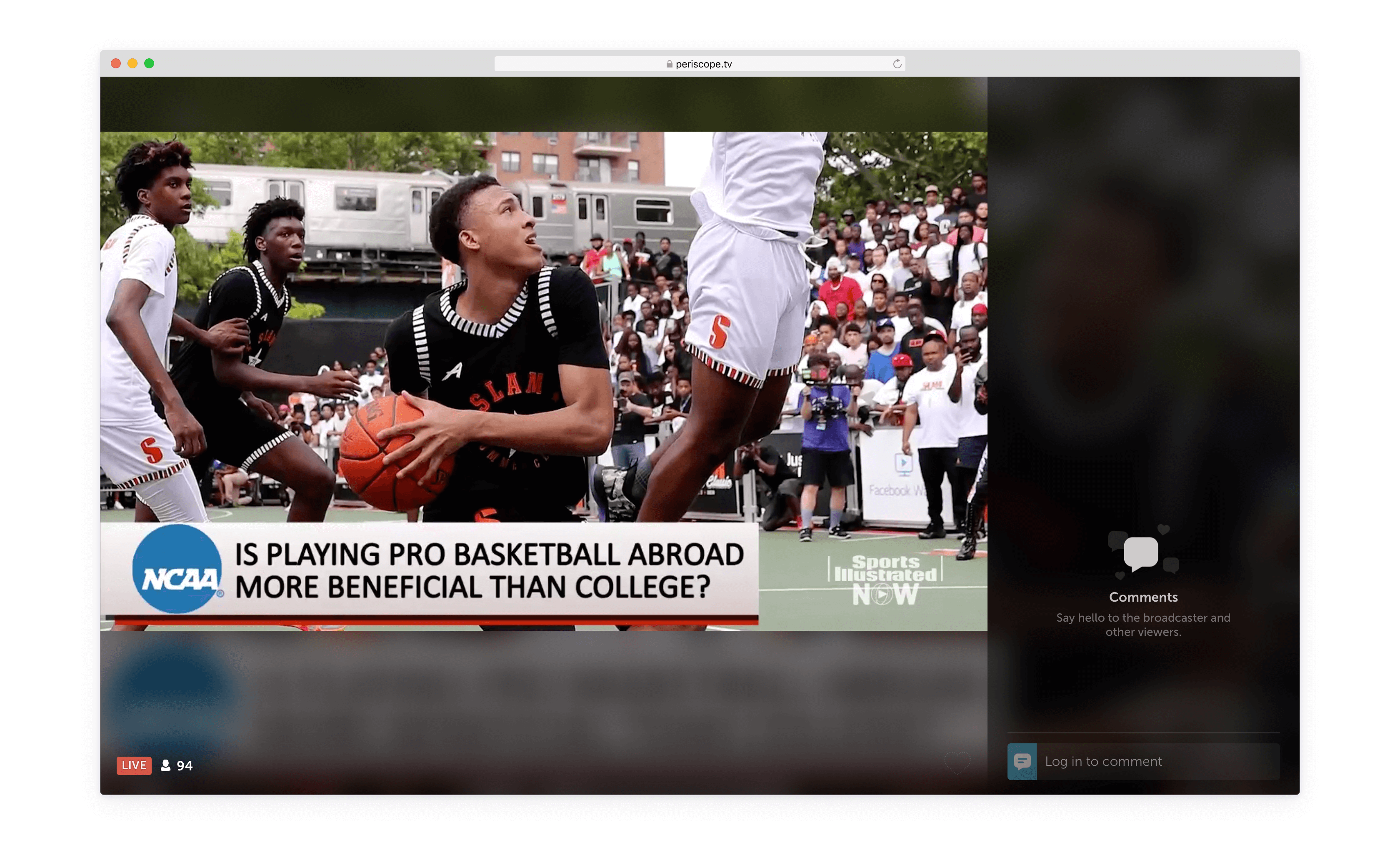 Periscope is Twitter's answer to the rise of live streaming. Periscope comes in a standalone app for both Android and iOS, but it's also used to power the Twitter app's live video functionality. Some might say that Periscope has been Twitter's response to Facebook Live and that the two are similar to some extent, but Periscope is an altogether different beast that offers benefits no other streaming apps do.
For example, you can stream audio-only broadcasts to Twitter from Periscope. That's a neat feature for anyone who is thinking about using social networks for podcasting. More recently, Twitter has made it possible to invite guests into live streams, so you can have your audience's audio commentary appear in your broadcast.
If you decide to use Periscope to live stream events, you might consider:
Enabling auto-save to your camera roll so you can post the video to other sites later
Using hashtags in video descriptions to improve searchability
Following the best practices for posting content on Twitter
Remember that Periscope is Twitter for video. The rules that apply are very similar, if not the same. If you're adept at using Twitter and know how to attract an audience, you should be able to get the attention your event needs.
5. Twitch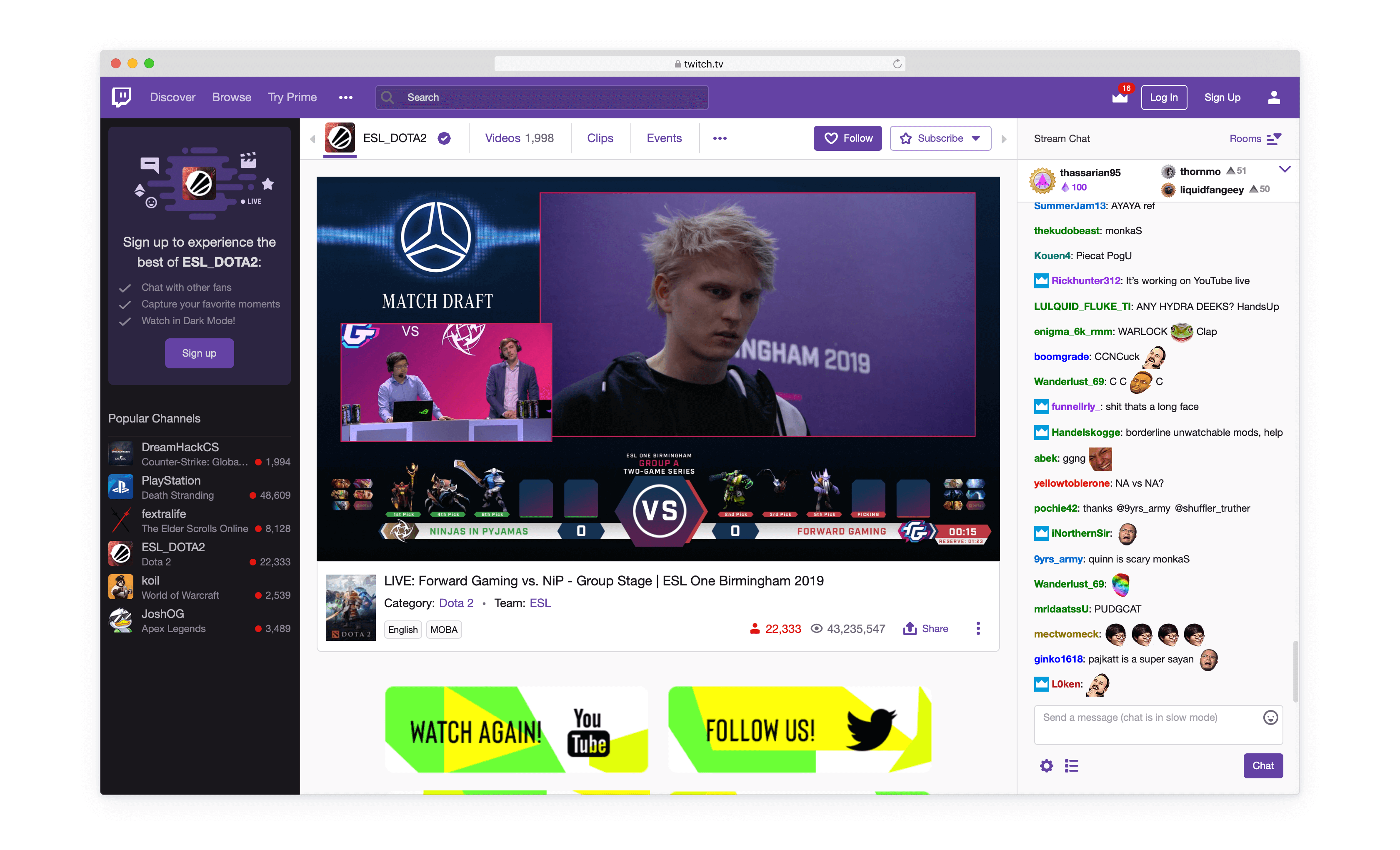 Once upon a time, Twitch was the video streaming platform where you'd venture only to watch or stream gaming-related content. With time, the honchos at Twitch figured out their members have other interests besides gaming, and so they opened the gates for other types of content.
Twitch is the streaming website that spun off the original streaming platform, Justin.tv. For the first couple of years, it functioned as a gaming-only streaming platform. It doesn't anymore, but there's still a dominant presence of the gaming community on the website. This means that, if you decide to stream live events on Twitch, the usual advice would be to do so only if they have something to do with gaming.
But Twitch and its users are much more complex than that. There are a couple of strong reasons to risk using Twitch even if the events you stream have nothing to do with gaming:
Twitch is the live video streaming market leader — it has the most live stream video hours watched of all the sites.
Twitch's recent growth pattern shows that creators and audiences are showing more interest in non-gaming content.
Twitch has responded to the new developments by implementing new non-gaming content categories.
Twitch is by no means a general live video streaming site like YouTube or Facebook Live. But it's not only a gaming website anymore, and it might be a great platform for you to stream non-gaming live events.
6. LinkedIn Live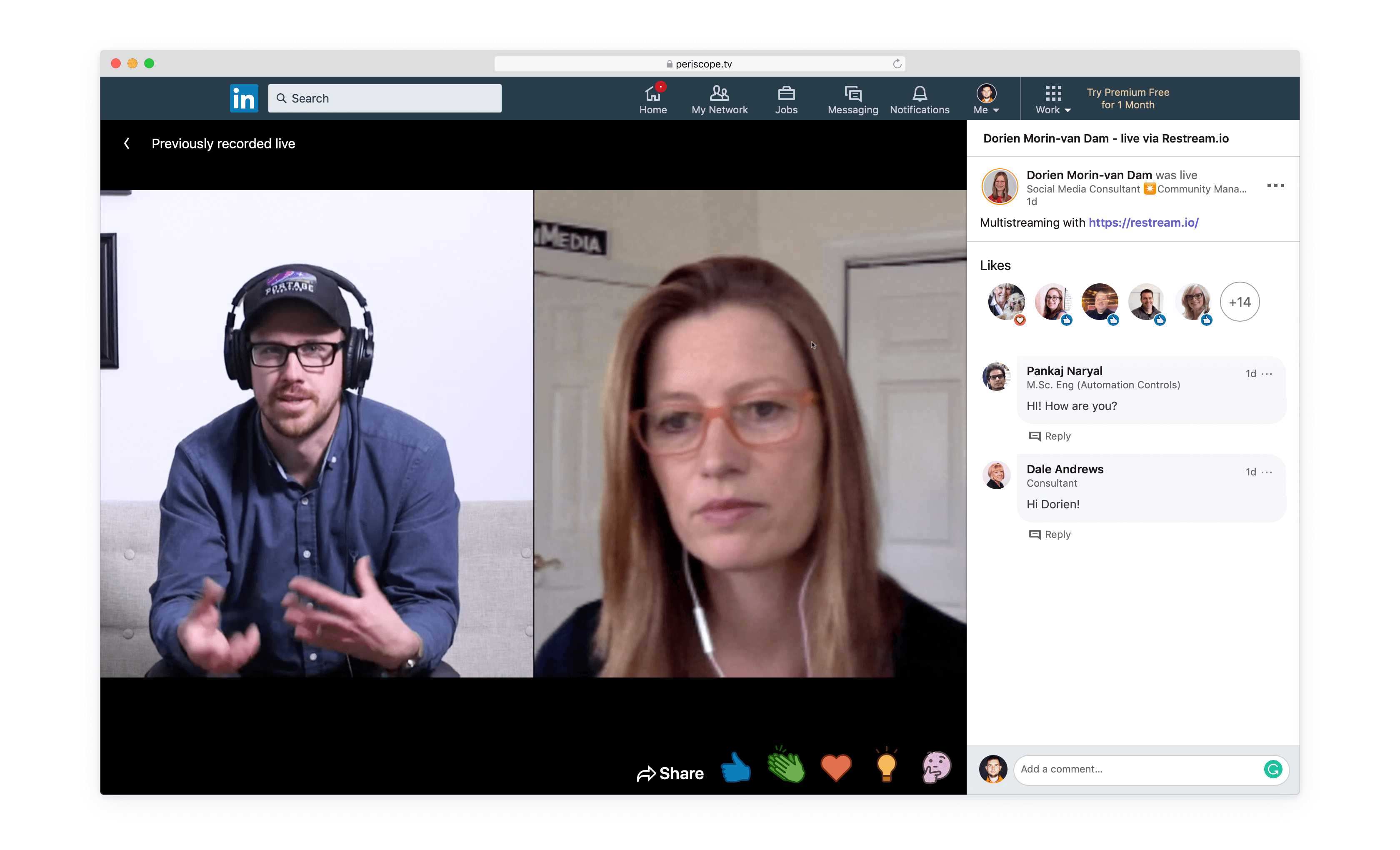 LinkedIn is the latest social network to jump on the live streaming bandwagon with its own video streaming service, LinkedIn Live. LinkedIn launched the service in February 2019 to a number of selected partners and members. In the months following this beta-type release, LinkedIn allowed network members to apply to become LinkedIn Live broadcasters. The real question here is, why would you bother?
Months after the initial release, there's still a lot we don't know about LinkedIn Live. We don't know how it compares to other live streaming sites. We don't know how often LinkedIn greenlights broadcaster applications. We don't know if and when LinkedIn will allow all members to use the live streaming service.
But you still might give the service a try and send in an application. Especially if any of the following applies:
Your main audiences are professionals or business owners.
You plan to stream from industry events.
You are interested in B2B marketing.
It pretty much boils down to this: if LinkedIn is a social network you use for professional reasons, their new LinkedIn Live feature might open up new ways to use the social network. If, on the other hand, you're looking for just another platform to stream events on, skip LinkedIn, at least for now. Come back later, when LinkedIn has decided what to do with the Live feature.
Bonus: stream to several live video streaming sites simultaneously
Every live video streaming site can only go so far in helping you broadcast your event. Each website comes with a set of pros and cons that make choosing a live streaming website a process in which you have to measure what you get by broadcasting there, as well as what you lose.
But the real way to make the most out of the opportunities these platforms offer is to stream simultaneously to more live video streaming sites than just one. Live video is more engaging than recorded video. When you stream to multiple websites, you can engage with audiences you have on every video platform you use.
There's no need to choose which audiences get to see your event live and which have to wait for the recorded footage. All you need to do is use a multistreaming service like Restream and you'll be able to stream your content to any video streaming platform you choose.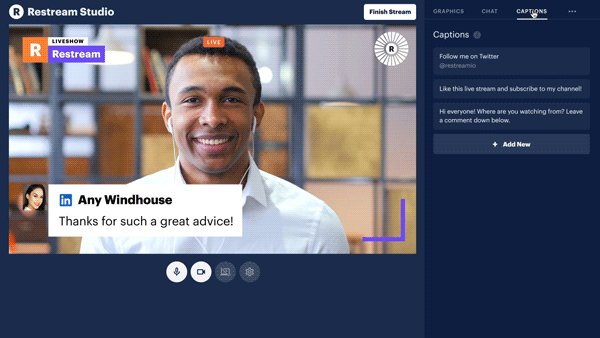 Start your broadcast today.
Reach a wider audience across all social platforms.
Get Started
The whole process with Restream is incredibly simple. After signing up for the Restream service, you'll be prompted to add video streaming accounts to the service. You do that by simply logging into your accounts from Restream's dashboard.
Then, when it's time to start streaming your event, you have two options. You can stream right from your webcam, with nothing more than a browser, using the Restream Studio. It's easy and accessible, and it lets you do some great things by adding visuals to the stream.
Or you can opt for a more professional setup and use all the gear you want and an external encoder. Either way, your video will appear in front of your audiences, on whatever live video streaming site they use.
Conclusion
Live streaming video is a powerful way to connect with an audience. It's a format that drives engagement and as such is perfect for fostering a sense of community.
When you use live streaming to show video of an event, you are giving your audience access to things they wouldn't be able to see otherwise. But if you really like to bring your audience in, you should stream to whatever platform they use. You can do that easily if you use Restream.