Since the advent of native videos across multiple social platforms in 2016, brands have started implementing this media in and out to build awareness and reach. Today, branded live streaming content has grown to become one of the most effective ways to garner more viewers, leverage the power of already existing communities, and — most importantly — build a strong connection with customers.
Did you know that 47% more people are watching live video content today than last year? Users aged 18 through 34 are watching live content on a regular basis. The average time a viewer spends watching a live video stream on a mobile device is 3.5 minutes (an important piece of stats we're going to come back to later). In a survey, 43% of viewers said they watched out of curiosity for compelling content.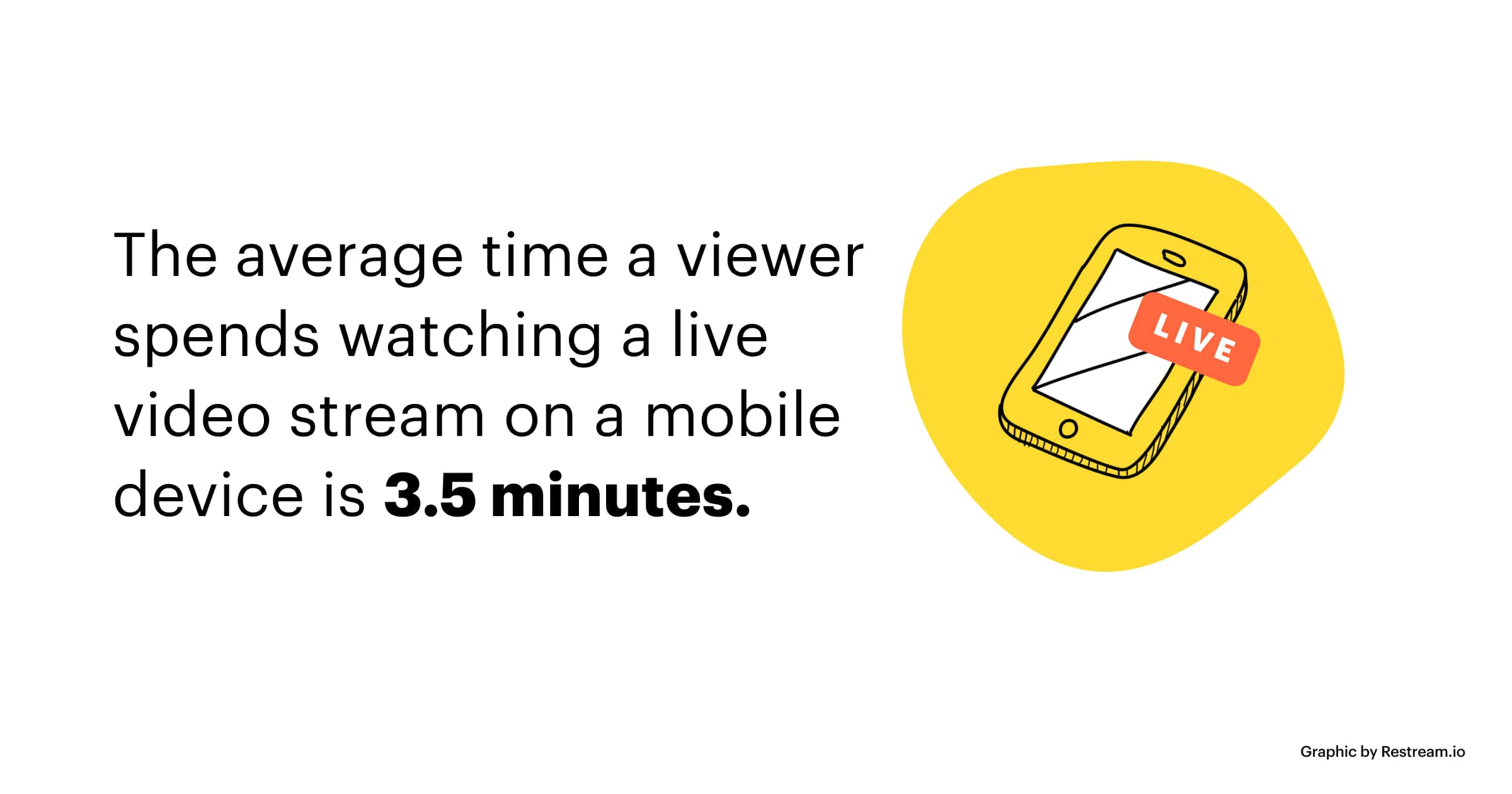 Why live streaming can be useful to a personal brand
If you choose to move forward using live streaming sessions, you will give your personal brand the boost it needs. A fact: in 2018 brands spent over $90 billion on video content. This figure is said to rise to $100 billion by 2023.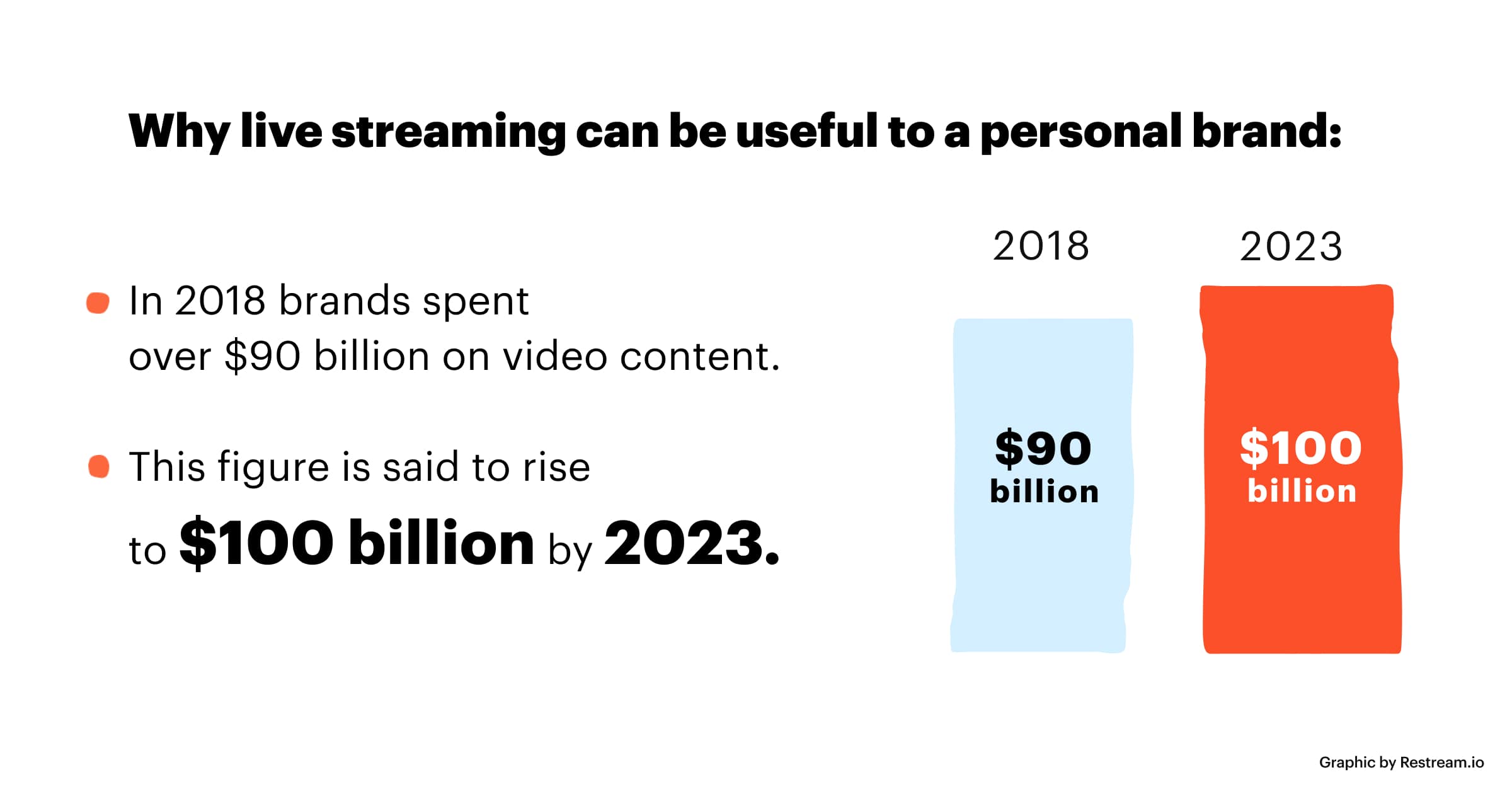 A shocking 90% of modern customers claim they are more inclined to trust a well-built personal brand recommendation on a product or a service, while only 33% trust what a company says about itself.
Live streaming is a huge stepping stone on your way to earning their trust. When communicating directly with your customers by means of live streaming you do a couple of very important things — you humanize the brand, send trust signals, and personally provide solutions.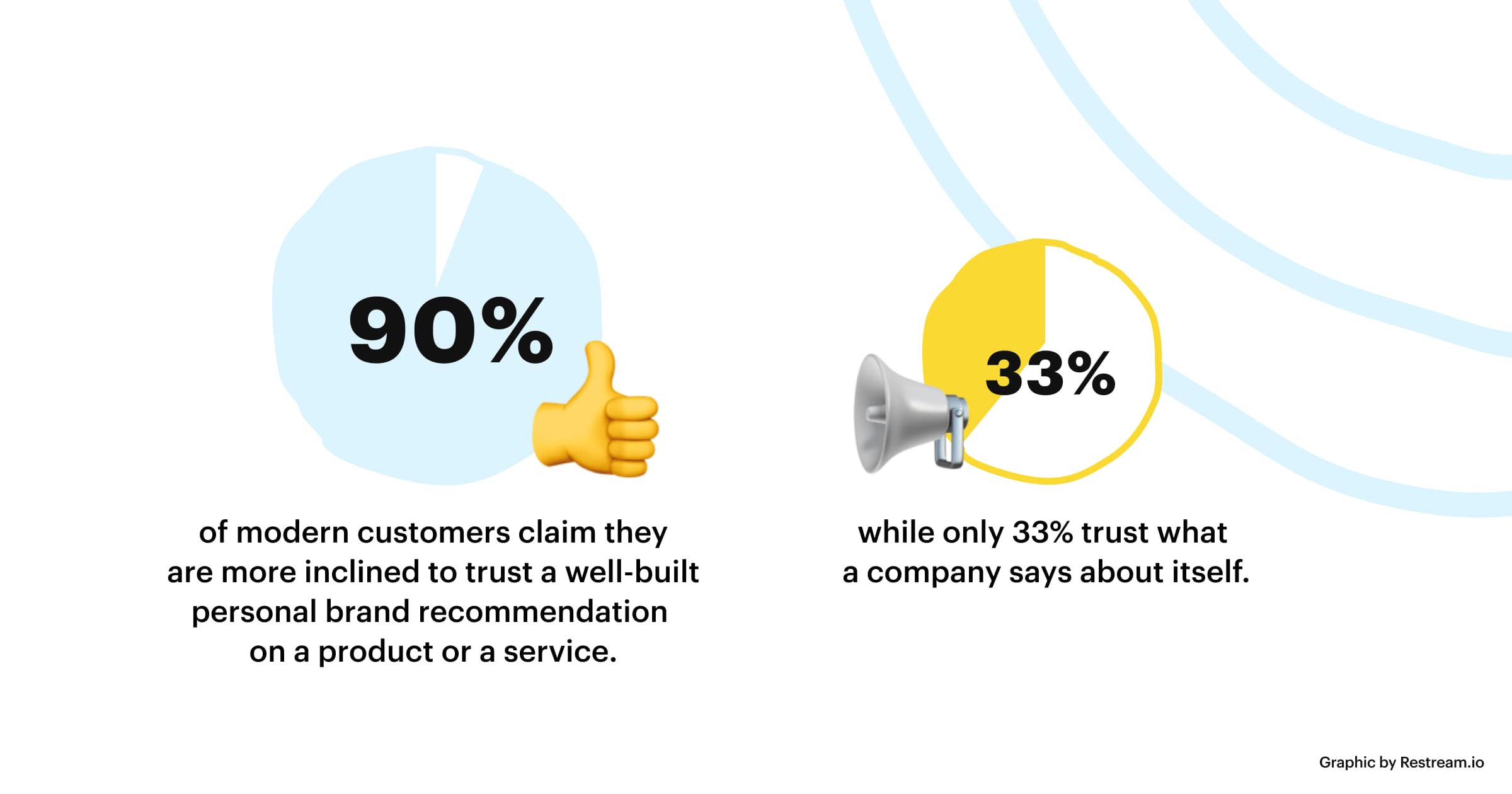 You get to do all of these things because of the following features of live streaming:
It increases your reach. Every social network has a live streaming feature, giving you access to a larger audience.
It gives you an opportunity to go beyond informing. Being creative is great, as is being personable.
It fosters engagement. Live streaming means two-way communication thanks to comments and emojis.
It's easy to set up on the platforms people are already using. From social networks to special platforms, there's no shortage of places to stream to.
It's cost-effective. You can start streaming for next to nothing, but also have every cent you put into production deliver a noticeable impact.
The tradeoff is that you're putting yourself under increased public scrutiny. That's something you have to calculate as a price of building a personal brand — it's not inherent to live streaming alone.
What's the best place to live stream to?
When it comes to marketing, content distribution stands probably the highest of all. Even if you've invested the vast majority of your time and effort into creating stellar content, if it is not consumed, it's like it never existed. Furthermore, we're talking about a live stream that airs.

If you choose to go that extra mile, commit to regular live stream sessions, and multistream it further, you might as well think of every place you're posting it in advance. To make it easier for you, we've broken down the popular platforms for your personal brand live vids that get the most traffic nowadays:
Facebook Live — It's the most popular and probably the most accessible way to broadcast whatever it is you're doing. It's sharable and thus beneficial to any brand in any industry.
LinkedIn Live — What's great about LinkedIn? It's a site where every person's profile clearly communicates their skills and — more importantly — business interests. So there's no guessing, just business. Once you've established your contact base, it's time to create your own value proposition statement and follow along with the related content.
YouTube Live — This one seems the easiest of all. It may also look as if personal branding has originated here. Either you choose YouTube as a primary live stream distribution platform or one of the bunch — regular, consistent, unique content is key.
Twitter Live — This one is about the intimacy you share with your viewers and the simplicity that is implied by using Twitter on a regular basis. It may actually soon become the go-to platform for personal brand builders.
Multistreaming to all of these channels or those most appropriate for your goals is an excellent technique that will enhance your views, build awareness, and do a great deal of good in the process of building your personal brand.
Read later: The only multistreaming guide you'll ever need📍
Tips on building a personal brand with live streaming
Live streaming is the next wave of video branding. Let's look into advice on how to build a personal brand using this new wave. Simply logging into a platform and switching a camera on may not cut it anymore. Here are some tips to help you along:
1. Put some resources into providing a good video and audio quality
Do not skimp on your streaming setup. Try to broadcast from a quality laptop the first couple of times, to test the waters. When you're using a removable webcam to live stream, things can get shaky. This is where a tripod comes to the rescue. Apparently, selfie sticks are in right now, but there is just no way you're escaping shaky frames while keeping a long metal rod steady.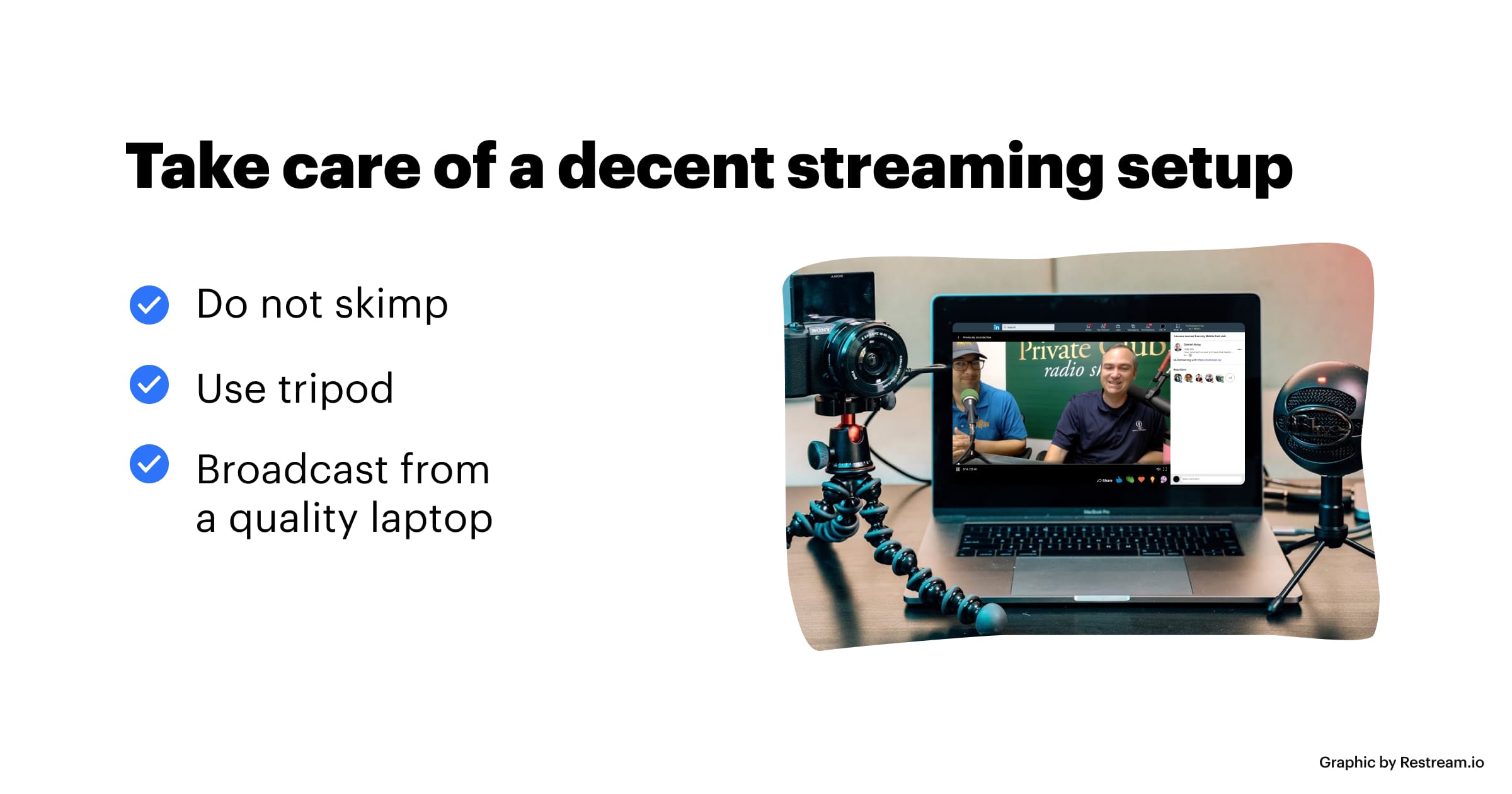 2. Announce who you are and where you air from every time
By setting up alerts ahead of time, you can let your audience know about the upcoming live stream. You can accomplish it in a few easy steps within your Restream account. All in all, you know well that a proper shout-out is worthwhile.
3. Make your live video personal
Create a mini-show of your own performance/message/lecture/insights or what you see and want to share with your viewers. Connecting with your community on a personal level is important. Season your streams with charisma. Your audience will be drawn to your content mostly thanks to your personality. Avoid connections that keep breaking off: it may ruin the whole shebang.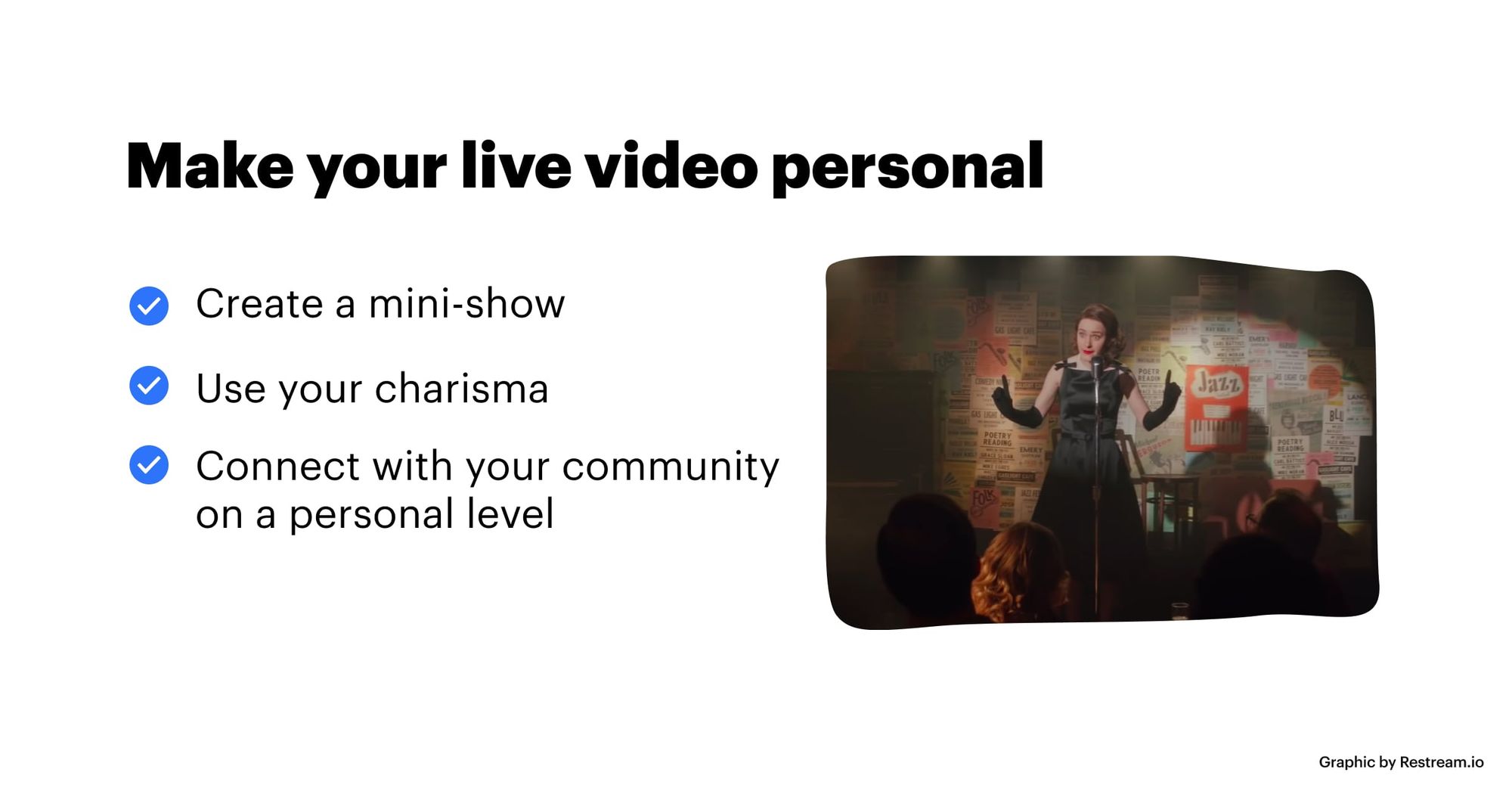 4. Provide fast message delivery
You are jumping on a live stream trend, and there are loads of great personal brands that do the same. Even the most devoted of your fans will only be watching you for so long. Deliver key messages early — within five minutes is ideal. Longer videos don't get clicked as often. Also, voice the value viewers will get from your broadcast to keep them motivated.
5. Make your narrative sound unscripted
Reading everything from a script is one of the worst things you can do to your live broadcast. Viewers are fast to notice it and even faster to leave. Be prepared instead. Having a bullet-point list of three to five points is ideal. This will keep you concentrated and laconic.
6. Interact with your viewers
Unleash your charisma and let it play out during your stream. Talk to your viewers. A Q&A has been proven to be a strong communication booster. Fancy up your live stream with emojis and animations to encourage movement in the comment section.
7. Make a point of bringing value to your audience every time
It's the meat and potatoes of personal brand videos. You may want to decide the value of your personal brand in the strategizing stage of your marketing process (the very beginning), and be consistent about it.
8. Go live regularly
Even though it's live streaming, there is still nothing wrong with creating a scheme and persisting with it.
9. Make it fun
Use humor appropriately. Place a joke here and there to bring your audience closer and connect on the human level. Forcing anecdotes every time an awkward pause creeps in may look fake.
10. Provide truly interesting insights during a live stream
Diversify and work on your creativity. If you think about it, you can launch almost any type of content within your personal branding strategy: interviews, live stream offline events, sneak peeks into your office or behind the scenes of your marketing team. Bring analytics in and learn what format of content your audience consumes best.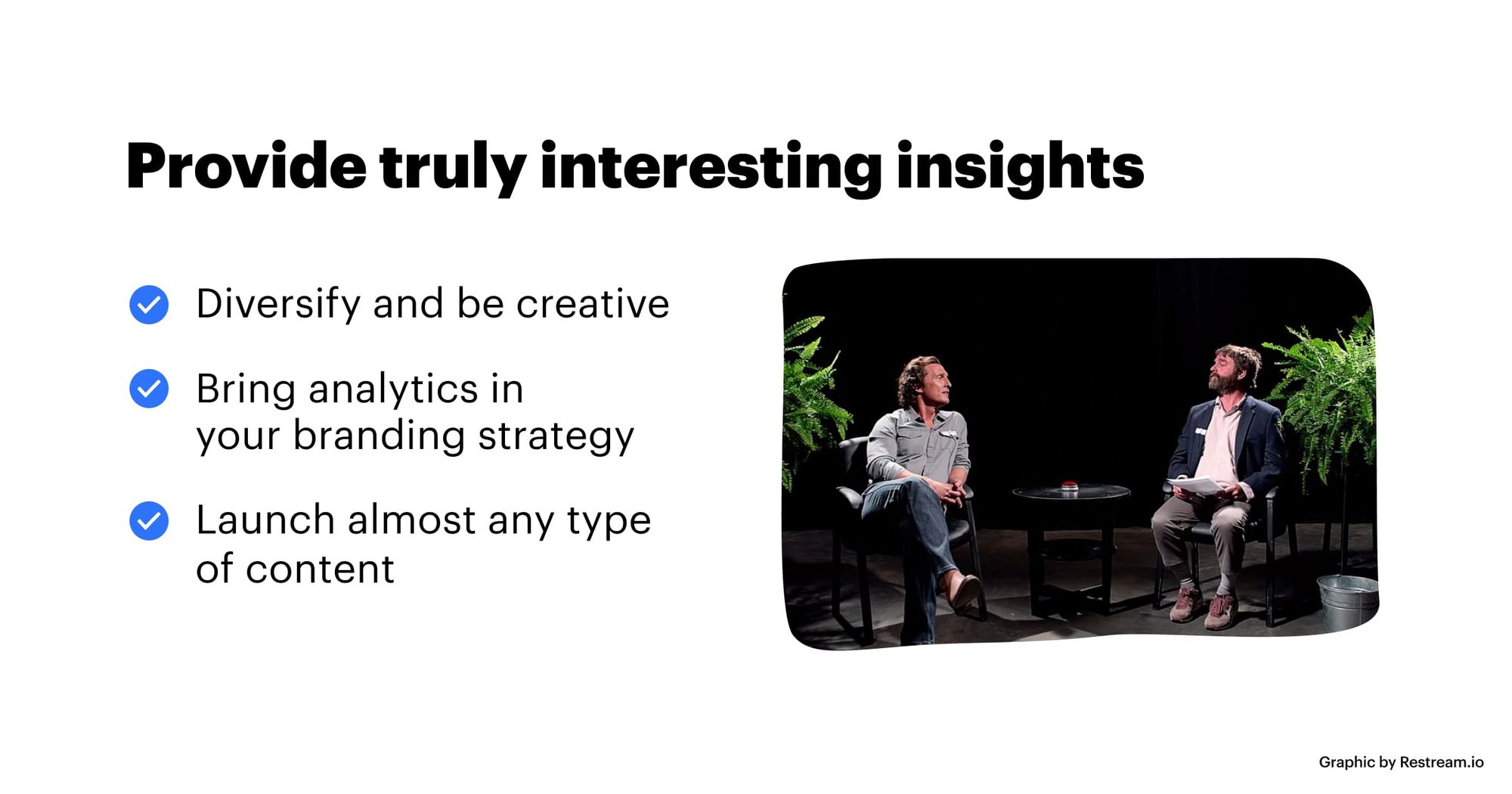 How to boost personal branding with multistreaming
You'll have to put a lot of work into building your personal brand with live streaming, and you'll see a few shortcuts on your way. You should grab any opportunity you can to get a bigger bang for your buck.
And that's what multistreaming is for.
With multistreaming, you can broadcast a single live stream to any number of social networks or streaming platforms simultaneously. The way Restream, a multistreaming service, works is to allow you to do that without asking for any additional resources from you — your gear and bandwidth requirements stay the same whether you're streaming to one platform or three of them.
The launch of Restream Studio is the best example of why multistreaming is so great. Thanks to the Studio, you'll need only a browser and a webcam to:
Access more than 30 platforms at the same time, such as Facebook, YouTube, Twitch, and Twitter.
Employ animated overlays and customized watermarks to personalize your live stream.
Easily create a talk show thanks to built-in guest inviting capacity.
So whether you're on the go and don't want to lug tons of equipment with you or you maybe just want to give mulitstreaming a shot before committing to it seriously, Restream Studio will help.
Easy live streaming for everyone
Run professional live streams from your browser.
Get Started
👉 Learn more: Restream Studio: Everything you need to know
Wrap up
Statistically, companies with strong personal brands tend to outperform their competitors and see higher conversion rates. In other words, live video helps you stand out in crowded business fields. Keeping this in mind, you want to live stream engaging content that captures the audience and — most importantly — provides continuous value to your viewers. Schedule your streams regularly and try to keep them as authentic as you can since it IS a selling point. And when you're multistreaming, do it with Restream Studio.