Intro
Author bio:
Sam O'Brien is the Senior Website Optimisation & User Experience Manager for EMEA at RingCentral, a Global VoIP, video conferencing and call centre software provider. Sam has a passion for innovation and loves exploring ways to collaborate more with dispersed teams. He has written for websites such as Socialnomics and Bytraject. Here is his LinkedIn.
---
Live streaming is a popular feature of many apps and platforms. It allows users to create and share videos in real time — a bit like live TV. Live streamers enjoy being "in the moment" with the ability to participate in what's happening live at an event — albeit remotely — wherever they are in the world.
It's anticipated that by 2024 91 million subscribers will be using live streaming.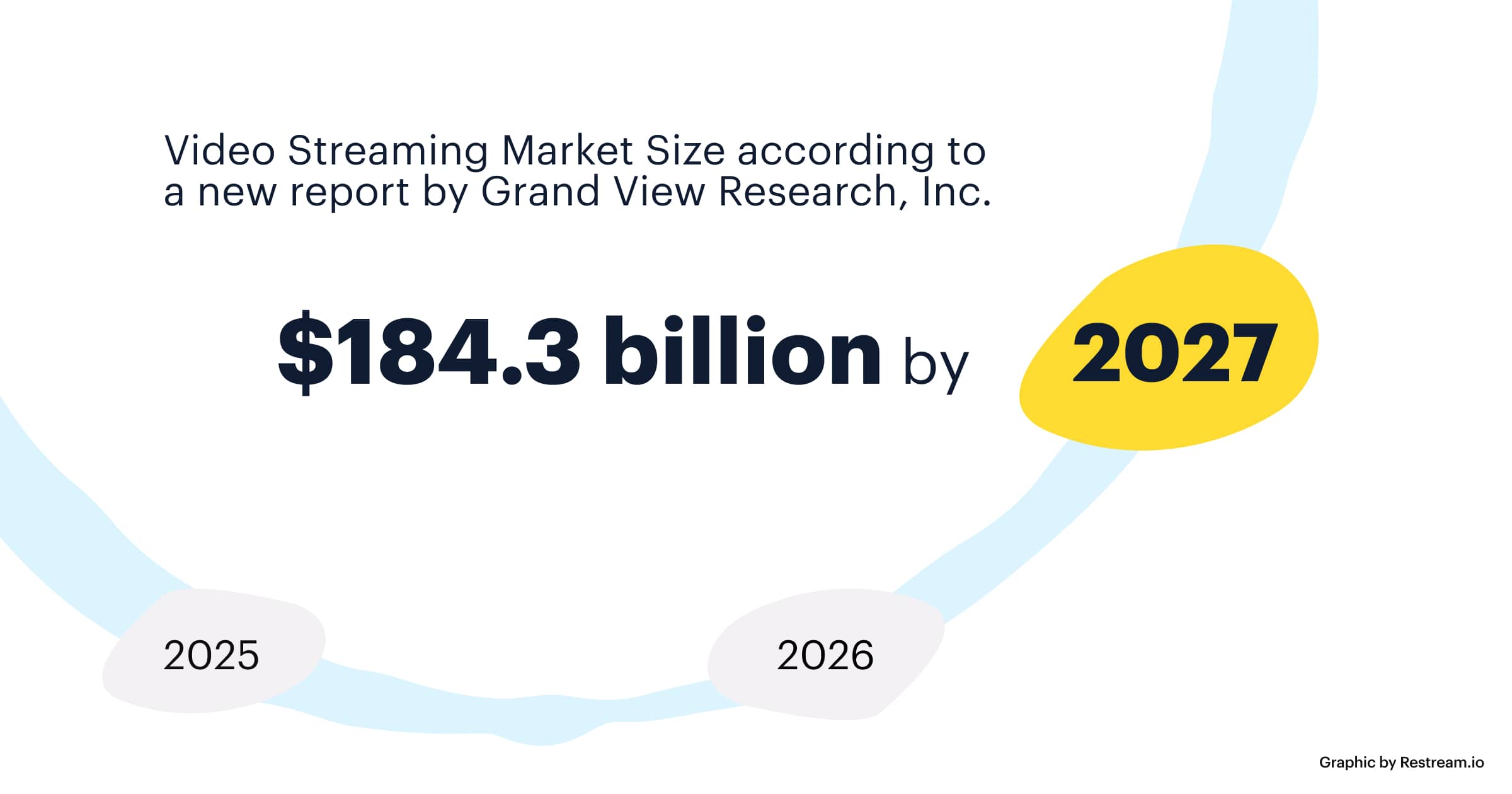 The demand for live streaming has grown significantly not only as a way to stay connected with customers but employees, too. The latest live streaming technology allows companies to enhance their remote working practices by, for instance, offering live inductions and onboardings. So much so, that it's become an indispensable tool used by many businesses.
What you need to get started with live streaming
To get started with live streaming you need a camera and a platform (for example, a website or app) from which to live stream. You'll also need, as a minimum, a tripod, lights, extra cables, and numerous people on hand to assist. It's also important to identify the right venue for your live streaming event, as well as the type of event you'll be hosting.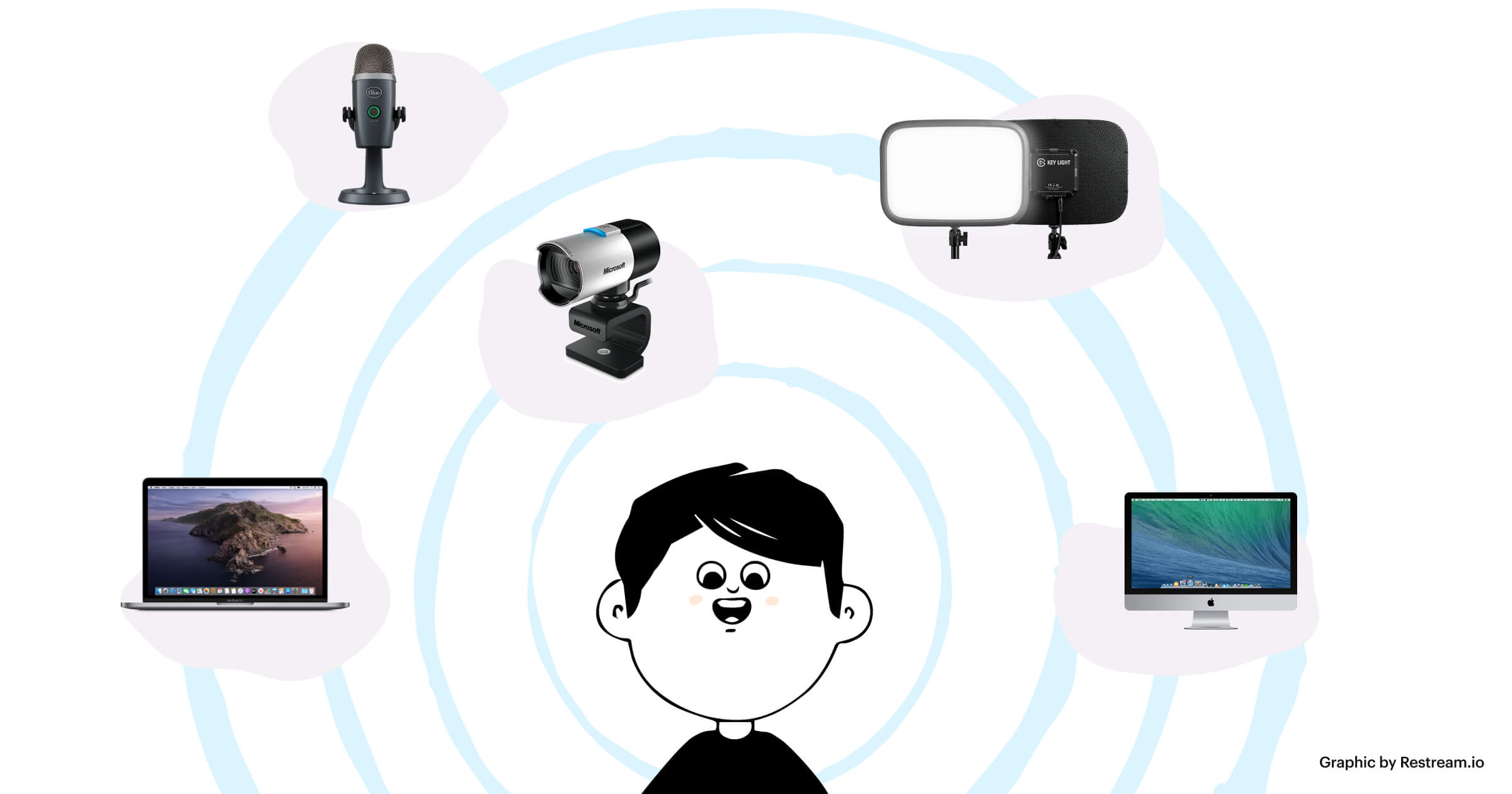 From a yoga class to a "behind the scenes" streaming video, there's a variety of ways to connect with an audience. But whatever type of live streaming event you're planning, there are certain best practices to follow and some common errors to avoid.
In this post, we'll look at some of the most common live streaming mistakes and how, with careful planning and a detailed understanding of the processes involved, you can sidestep them.
1. Failing to plan ahead 📄
The difference between a successful live stream and an unmitigated disaster often comes down to the quality of the planning beforehand. To ensure all goes like clockwork on the day, you need to test all known variables well before the event is due to take place. Once you're live, there's no room for manoeuver.
For starters, make sure your content is going to be of interest to your intended audience. Don't simply choose topics you find personally interesting, or use content that's designed simply to elevate your brand. It's essential to keep your audience top of mind.
Ask yourself:
What will the audience get out of your live broadcast? Why will they want to give up their precious time to watch your live stream rather than doing something else?
As part of your preparation, test your equipment and your connection and rehearse event timings weeks before you are due to go live.
Make sure you have all the materials you will need at hand — from images, slide-decks, or sections of pre-recorded video. Be clear about how each segment will run into the next so you can transition from topic to topic seamlessly.
If you're running a live streaming event to an international audience, factor in different time zones or holidays.
2. Not promoting the event sufficiently 📉
Announcing the live streaming event once or twice on "social" isn't enough to get the word out. You'll need to do some serious research into finding out where your potential online audience hangs out. Then, create posts tailored to the style of each channel. Clarify the benefits viewers can expect from joining your event and let them know when and where the event is to take place.
Make it easy for attendees to sign up for your event — whether via your website, email, or by phone (if you anticipate a large number of calls, consider adopting an upgraded phone system for small business.)
Keep promoting your event regularly. Send an email seven days before the event and remind viewers just before it's about to start that they need to log on. Use an email platform like MailChimp to monitor your click through rates, so you can see which of your messages is resonating the most.
Create a great landing page on your website to advertise the event — or a "splash page" so that this is the first thing visitors see when they land on the site.
3. Having poor quality streaming 😢
Just as customers expect good VoIP call quality when they call an organization, high quality streaming is the prerequisite for an amazing live video event.
Viewers will watch for at most 90 seconds if your connection is poor quality.
To make sure you offer a high quality streaming experience, confirm you have enough bandwidth for your live broadcast before you stream.
Accessing bandwidth can be tricky if you're broadcasting from a remote location, such as a sports stadium or hotel. If you must use a shared network, test the upload speed to make sure the required bandwidth will be available. Ideally, avoid using the house wifi to stream — if possible stream from a venue with a dedicated ethernet connection.
Consider the lighting at your streaming location. If there's not enough natural light use artificial lighting.
Don't forget audio quality. You wouldn't implement a VoIP phone system that didn't deliver a 100% great audio experience for your customers. No matter how good your video quality, people need to hear you clearly in order to have a satisfactory experience. Invest in a separate mic to ensure the best audio quality.
Make sure speakers stay close to the microphones and pay attention to background noise like the hum from a computer or the room's air con.
Have a designated person on hand to monitor and detect audio quality issues. And it goes without saying that you need to unmute the audio once your broadcast goes live!
Read later: Ways to ruin your streaming career📍
4. Not making your event interactive 👀
Unlike reading a blog or watching a pre-recorded video, live streaming should be a two-way dialogue.
Live video can create a personal connection between the host and audience, provided you incorporate polls and viewer questions. The results can also be shown as graphics over the stream. Creating a feedback loop between broadcaster and viewer makes the audience feel they are really there. Chat and messaging are other useful tools to help create interpersonal connections. Consider using a setup which:
Involves the host looking directly into the camera and directly at viewers.
Involves the ability to respond to feedback, comments, and questions.
Includes presentation software to create create graphics, diagrams and charts that will maintain viewers' interest and ensure attentive participation.
Adds gamification and rewards — award points to viewers and show leaderboards of viewers via usernames.
Easy live streaming for everyone
Run professional live streams from your browser.
Get Started
5. Not making use of post live streaming data 🤷‍♂️
One of the key benefits of live streaming is the insights and data you can collect from your event. From user profiles to how viewers behave during a live broadcast, you can identify which aspects they found most engaging.
Find a way of measuring the results and capturing data and your analytics will tell you how effective your content is and what you need to modify. Whichever streaming solution you use, it should be able to give you standard analytics like:
Number of unique visitors
Number of returning visitors
Geo-location of participants
Amount of bandwidth used
Post event, offer viewers the opportunity to join your mailing list so you can send them updates and info about upcoming live streams. Ask viewers to fill out a survey, too, with their email addresses.
You can also link your platform to Google Analytics to track traffic sources. This will help you measure the success of linked promotional campaigns.
Use the data to improve your live content strategy. If you find, for example, lots of people from a certain country joined, you could consider streaming in a different language next time.
So that you can provide the session to people who can't attend you need to ensure you record your live event. It's possible to live stream an event using the basics of a VoIP phone system which has an internet connection.
Make sure the system has a good enough specification and is reliable enough to communicate effectively with a wide audience. Viewers don't want to watch intermittent sound quality or a connection that suddenly drops out.
Wrapping things up
Live streaming is the next best thing to a face-to-face event, and even has some advantages over the latter. It is less costly and enables you to reach a far wider audience than previously. Given the recent pandemic, it's also become an essential aspect of the future of work.
Provided you think ahead and keep away from routine mistakes you'll be well placed to deliver a great live streaming experience. Even though you won't be able to predict everything (it's a live event after all), being prepared will give you the confidence that you can cope with the unexpected.
And if you think handling the entire live streaming process on your own is a stretch too far, you could choose a live video hosting platform to help with some aspects.