Author bio:
Crystal King is a Social Media Professor for HubSpot Academy. Crystal created HubSpot Academy's popular Social Media Marketing Course which has awarded over 50,000 certifications to professionals across the globe. Crystal has led global social media programs for companies such as Keurig and CA Technologies,and taught classes in writing, creativity and social media at Harvard Extension School, Boston University, UMass Boston and GrubStreet, one of the leading creative writing centers in the US. She is also the author of two novels, The Chef's Secret and Feast of Sorrow. Follow her on Twitter: @crystallyn.
---
When it comes to Video, YouTube is undoubtedly the king. And live streaming is just as important now as static video. So much so that the live stream that holds the record for the most concurrent views on YouTube was Felix Baumgartner's space jump which had over 8 million peak viewers.
Of course, you can live stream on almost any social media platform now, so what makes YouTube different?
I asked YouTube influencer and video expert, Nick Nimmin, for his opinion:
"With YouTube Live you can have direct interaction with the people that are interested in your company. You can also answer questions about the products and services that you offer. You can also put direct calls to action in your live stream, where you can tell people: Hey, to find out more information, we have a link down in the description where you can check out our website, or you can sign up for our email list, or you can pick up the product that we happen to be showing you right now on the screen, or whatever it happens to be. You can have that direct interaction with the people that are participating in your live stream."
One of the reasons why you might want to consider using YouTube live instead of another platform—particularly Facebook live—is that YouTube is the second biggest search engine. It's one of the best places to be for taking advantage of SEO and getting found in both YouTube and in Google.
Want to learn how to create a YouTube Marketing Strategy for your business? Check out HubSpot Academy's free YouTube Marketing Course and equip yourself with the knowledge and tools needed to build a YouTube Marketing Strategy for your business.
Before you can get started live streaming on YouTube, you need to make sure you do a couple of things:
You need to verify your account by going to youtube.com/verify. This also gives you the ability to upload videos longer than 15 minutes.
If you want to be able to embed your stream on your website, or some other external location, you need to have an AdSense account that you can link to your Google account. This also allows you to monetize your stream.
If you're new to creating live video content, then check out this resource.
To be successful, you'll need to have great content, and you'll want to encourage user engagement — that's the key multiplier for live video. You'll also need to market the live video beforehand so people can plan to view it, which will garner you more outside followers than if you relied on your existing audience to be alerted when you go live.
Nick Nimmin says there are a few things to think about when it comes to producing your videos:
"My tips for any business that wants to go live is don't look at a live stream like it's not as good as a static video in terms of what you need to put into it. People develop videos and they'll say, 'Oh, I have to make sure the audio sounds great. I have to make sure the lighting is good. I have to make sure how I'm presenting is good.' But then as soon as they go live, all of that goes away and it's a bad environment with bad sound, a real echo-y room, and all of that. It creates a totally different experience."
"Because of that, I really recommend that you get your tech together in terms of making sure that everything sounds good and everything looks as good as you can. You can do that relatively cheaply with a webcam or two and with some inexpensive audio solutions. Overall, it's really important to make sure that you're also considering the quality of your live performance."
And just like other types of video you would see on YouTube, you need to have a story that you're telling. Whether you're interviewing someone or talking directly to an audience, you need to have a structure to the story that you're trying to tell. What is the problem you're solving for the viewer? Or how are you entertaining or informing them? Also, consider what the call to action is going to be in your live video.
Do you want them to go back to your website? Do you want them to subscribe to the channel? Do you want them to purchase something specific? If so, you might want to direct them to click a link in the description. But regardless, you need to have some sort of CTA that your viewers can take action upon. You have the ability to add CTAs to your videos through the use of cards, which may give the viewer the option to click on a button or take action while your video is happening, and it's worth taking advantage of this option.
Before you go live, you want to make sure that you're pre-promoting your event. This will help with channel velocity, which will give your video a boost from the algorithm and enable it to be seen by more people when it is live.
Then, determine when you're going to have the event, and start to share that via social media, email, and on your website. For some of the different types of live video that HubSpot created, we offered a landing page where people could sign up to be reminded when the event was going to be live. You should also be reminding people to subscribe to your YouTube channel so that they can easily see when you're live when they're on the platform.
Here's how that works. First, if you don't have one already, you'll need to create an account on Google, which you'll then use to create one on YouTube.
There are three types of streams: mobile, webcam, and encoder. Choose the one that's best for what you're streaming.
Live streaming via mobile
Good for vlogging and quick updates from your phone or tablet. You'll need 1,000 subscribers, and a phone or tablet with a camera. Learn how to mobile stream.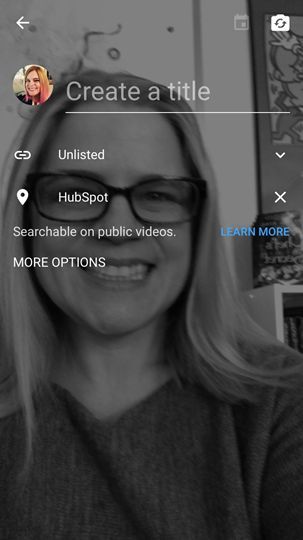 Live streaming via a webcam
Quickly live stream from your computer using a webcam. You'll need a computer with a webcam. Learn how to stream with a webcam.
Live streaming via encoder
Encoders let you stream gameplay, overlays, and use hardware like preamps, mics, and cameras. This type of stream is commonly used for gaming, sporting events, concerts, and conferences. Learn how to stream using an encoder.
Using an encoder used to be the primary way to stream on YouTube, and they have only recently added the ability to stream via a webcam. If you prefer to use encoding software, there are a bunch of different options, and YouTube recommends one called Open Broadcast Software. This is free open source software for both Mac and Windows users.
YouTube requires a 24-hour buffer between the time that you enable live streaming and your first live. Once that 24-hour period is up, all you have to do is log into your YouTube Studio.
Then, click the "Create" button in the top right corner.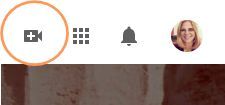 This will prompt a drop-down that asks you to choose between uploading a video or going live. Choose "Go live."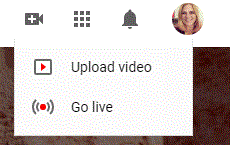 YouTube will then take you to YouTube Studio, where it will prompt you to complete some basic info such as its title and category. You'll also need to decide if you're going live right away or scheduling it for a certain time.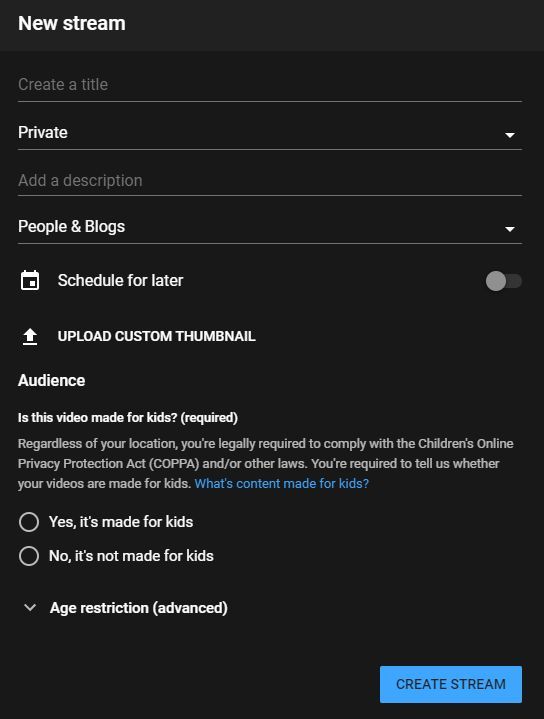 If you choose "Schedule for later," you'll be given options for scheduling and this will enable the creation of a link that you can use to promote the live event.
You'll also need to indicate if you want your event to be "Public" or "Private" and if it is suitable for kids or not.
The "Private" option accomplishes two things: You'll be able to generate a link that attendees will get only after they fill out a registration form, and the video won't stream directly onto your YouTube page.
Once you're done, click "Next." You will be asked to smile to take a thumbnail, so make sure you're camera-ready. From there, you have the option to "Go Live" or "Share" your content.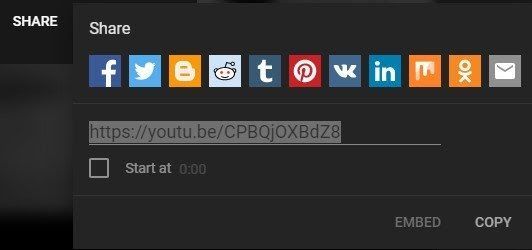 Click "Share," and that will generate your event's URL. This will enable you to use on a landing page where attendees fill out a form to register for this specific event.
Generally, this type of live stream is embedded on a thank-you page behind a landing page form.
On the other hand, if you chose to use an encoder, when you click "Create Stream," you'll be taken to the YouTube Studio.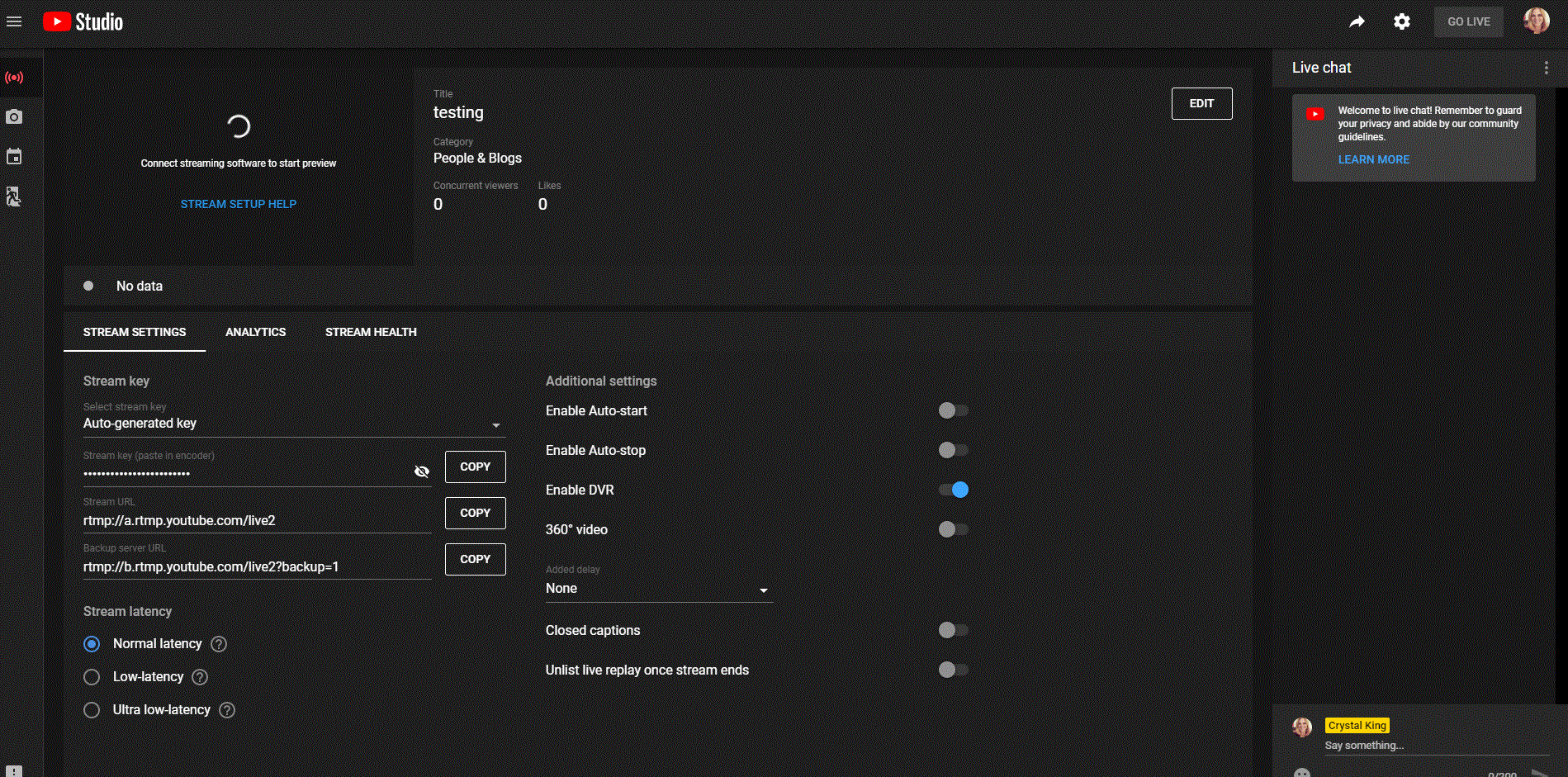 In the top left corner of this page, you will see the stream. Live chat appears on the right side of your screen. Video details and settings take up the bottom half of the screen. There are also URLs needed for the encoder, as well as other settings that will be helpful if you are using encoding software.
While you're streaming, you have the ability to see and respond to chat, if you have that enabled. This could be tricky depending on the format of the live event that you're doing. It's sometimes helpful to have someone moderating and responding to those comments in real time and feeding questions to the person hosting the live event. If you're vlogging and doing a live event, you might be in charge of looking at those comments directly, and that's okay. Reading comments and responding in real time can be a real personal touch.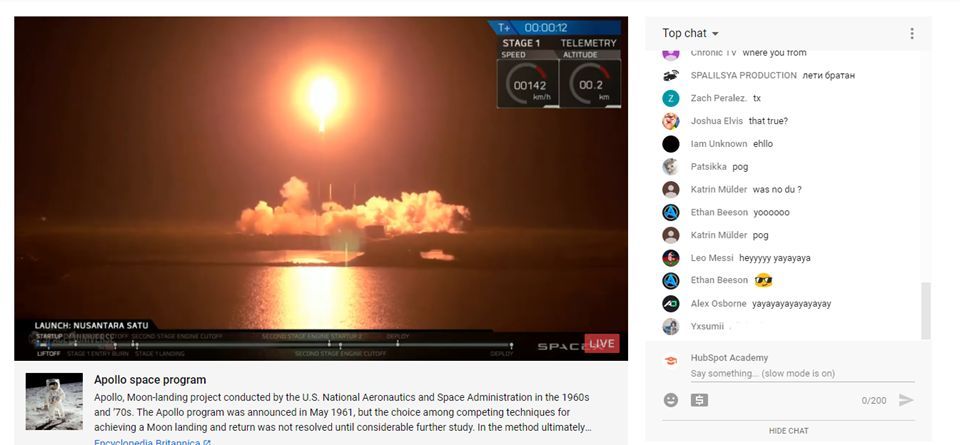 After your event is over, you'll have the option to edit the video.Your video will also be added to the video uploads and available to YouTube viewers based on the settings you set for privacy before you started the stream.
Make sure you take a look at the analytics. You'll get an idea of when people joined, when they dropped off, and what really resonated with your viewers.
One last thing about YouTube live videos: You may want to reuse these videos. You can easily download them so that you can  upload your event to Facebook, Instagram, or other social media platforms. You can even embed them to your website.
So there you have it: all the basics that you need to understand before using YouTube Live. Don't let it be daunting, don't let it scare you, just go out there and give it a go. You'll be surprised at how much engagement you'll be able to get from your viewers when you're talking with them directly.
Your live streaming companion
simple, professional, reliable
Get Started