Intro
👨‍💻
Author bio:
Jude Abraham is a Marketing Manager for Elementor. With more than 10 million active installs, Elementor empowers just anyone to create stunning WordPress websites, code-free.
You can find him on 👉
LinkedIn
---
YouTube, Facebook, Twitch — we all know the names of the biggest live streaming platforms.
Streamers rely heavily on these networks, and with good reason. If you want to succeed as a live streamer, you simply have to be seen on social media and live streaming sites.
However, public sites have their limitations — restrictions on monetization, strict platform content guidelines, and platform algorithms that can limit your channel's discoverability.
Streamers need a place where they have complete control, where they can set up income streams how they like, where they don't risk having content taken down for guideline violations, and where they can optimize for searchability so new fans can find your content.
Streamers need their own websites.
Why you NEED a website, pronto
A website helps you establish your brand as a live streamer or influencer. Your own digital space lends you legitimacy. You'll look more professional to your fans, who may want to learn more about you and your content.
But looking professional isn't the only perk to having your own website. Having your own website lets you::
Generate more income with additional revenue channels.
Optimize for discoverability beyond social media networks.
Create more opportunities for fan engagement.
Have another place to stream if you get suspended from a social or streaming platform.
Let's look at each of these reasons in more detail.
1. Additional revenue channels
Your website lets you generate revenue with methods that aren't available on social platforms. Sure, you can mention that you sell merch during your live stream, but you'll need an online store to link to. A website is the perfect place to host your online store.
Sure, you can mention that you sell merch during your live stream, but you'll need an online store to link to.
2. Significant SEO benefits
If you're building your streaming brand, it's important that you appear first in Google search results. Without a website the top results for your brand name will likely be your social media handles. And social media handles can't show your brand's complete offerings.
If you optimize your website, target the right keywords, and commit to an SEO-driven strategy, your website will rank more highly than your social media channels when people search for you.
Google and other search engines prioritize content that's relevant and helpful to users. So focus on providing this kind of content. For example, you might want to create a blog section on your site that answers your target audience's most common questions.
3. Increased engagement and brand awareness
An optimized, user-friendly, professional-looking website offers you credibility within a saturated market and sets you apart from other streamers by building awareness around your brand. As a streamer, you can attract more fans by creating your own website and inviting them to it.
For example, you can set up a dedicated landing page where audience members view your live streams. This landing page can contain a call to action, like signing up for your email newsletter. In this way, you can capture your target audience's information and follow up with them later with relevant content or offers.
4. Backup in case of suspension
YouTube is notorious for constantly reshaping its policies. YouTube and even Twitch are demonetizing more and more videos for violating brand-new policies. They're even suspending some streamers completely. When your account has been suspended, it can be hard to find out the platform's rationale, as well as how long your suspension will last. Frustrating, right?

But if you have a website, you can live stream from there instead of from social media, and your fans can still find your content.
Content ideas for live streamer websites
A website opens so many possibilities. Here are a few examples of what you can do with a live streamer website.
👉 Host your repurposed content
The more places your content appears, the better your visibility will be. If you repurpose the audio from your live stream as a podcast, you can embed the Spotify or Apple Podcast link on your website.
Another great repurposing idea is to pull snippets and images from the stream into social media posts. You can then embed these social feeds on your website.
👉 Transcribe your video content into blog posts

Repurposing content as a blog post is a pretty effortless task, especially with the help of a transcription tool. It requires minimal editing effort, and having text-based content with your target keywords can help elevate your SEO ranking. In addition to driving more organic traffic to your website, transcribed live stream blog posts can also help build your brand identity among an endless ocean of streamers.
👉 Monetize your content

When it comes down to it, what you really want to do is earn some cash. Monetizing your content is a lot easier on your website than on social media platforms because you aren't bound by the platforms' constraints. You can sell merch or online courses, earn passive income through Google AdSense, or enroll in affiliate programs:
1. Online store
Sell merchandise, online course subscriptions, and more on your online store. You can also sell a premium subscription where you share exclusive expert tips, and your most engaging content.
2. Passive income
Once your website is up and running and seeing a steady stream of traffic, you may also consider earning passive income through Google AdSense and similar advertising platforms. Platforms like AdSense let you start earning by displaying relevant ad content on your website. Don't worry; you get to choose exactly when and where the content is displayed.
3. Affiliate marketing
Another, slightly more active, earning option is affiliate marketing or referral programs. In these types of programs, you encourage visitors to click on links with exclusive deals from partners. You then receive a cut from the purchases that result from your link.
👉 Live stream to your website with Restream
With Restream's embedded video player, you can host live streams on your own website using either Restream Studio or encoding software like OBS. Setup is easy —  just add some HTML code to your site. Then, you can stream just like you normally would to a platform like YouTube or Facebook.
If you use Restream Studio, you can host your stream on your site without having to download any extra software. You can even create an event for your live stream ahead of time using Restream Events, and upload a thumbnail to display on your embedded web player for when you're not live.
Watch our tutorial or read our help article to learn how to use Restream's embedded video player.
Tips on how to create your own website
We've covered why a live streamer needs a website and what you can use it for. Here are four tips to keep in mind when you're creating your site.
👀 Choose the right website builder
With so many website builders available, it can be hard to choose the best one to fit your needs. Some website building apps will lock you in with seemingly great introductory offers, but they might inhibit your ability to export your content should you wish to shop around in the future.
You can set up shop in website builders such as Wix, Squarespace, Webflow, or Editor X, which offer gorgeous front-end functionality. Be mindful that these builders come with caveats, such as a closed system with a limited ability to integrate third-party plugins.
If you're looking to future-proof your website content and differentiate yourself from the crowd, go with an open-source platform like WordPress. There's a reason a whopping 43.3% of the web chooses WordPress as their go-to platform. With website builders such as Elementor available to use with WordPress, the industry-leading CMS is second to none in terms of functionality. With WordPress, you'll also get the ability to integrate over 50,000 plug-ins — the majority of which are free to install — providing you with plenty of flexibility for your site.
📌
If you go with WordPress, you'll need to choose a hosting plan. You could find your own hosting service and link it to your choice of website builder or choose a website builder that includes
cloud hosting
as part of an appetizing package deal.
😎 Strategically gate content
Increase website signups by gating specific videos, either by requiring a login or a subscription. To do this you'll need to use a video host, such as Vimeo or Wistia.
If you have your heart set on using YouTube, however, you can still gate your content with your WordPress site. There are two ways to do it:
Use Patreon. Patreon is one of the most popular platforms for independent creators. It allows you to release exclusive content to your fans if they pay a monthly subscription fee. You can use Patreon to give your paid subscribers access to your streams via Patreon's YouTube embedded player. However, all YouTube videos uploaded to Patreon are registered as unlisted. This disables any ads from popping up and will prevent the videos from appearing on Google searches, making them unfindable for anyone other than your subscribers.
Install a membership plug-in. You can restrict your video content to paid or registered members using a plug-in for your WordPress site. You can set up online courses, private forums, social communities, purchasing clubs, and much more.
📌
Gating content lets members join your website and get a different, better experience than anonymous visitors.
🛒 Create an online shop
If you're thinking of setting up an online store, it should definitely factor into your decision when selecting a website builder. Some platforms are better equipped for e-commerce than others. Shopify, Thinkific, and Squarespace specialize in this area.
It's worth noting that if you choose to build your site with WordPress, you can still add an online store to an existing website with WooCommerce. This premier e-commerce plug-in is used by millions of SMBs around the world. Elementor has a WooCommerce website builder that allows you to create a WordPress-based store, code-free.
👇 Case study: perfect the checkout process on your online store
If you want to set up an online store on your site, you need a smooth checkout process. You need to keep your visitor stimulated and hyped to convert, while minimizing the chances of bouncing before they reach the finish line.
Rhett Shull is a prime example of a streamer who nails this process. A prominent YouTube guitar teacher and personality, Shull is no stranger to streaming. He boasts a considerable presence on social media and a YouTube channel with almost half a million subscribers. Using his social media accounts to promote himself as a musician, Shull live streamed his band's first show on YouTube during the early stages of the pandemic.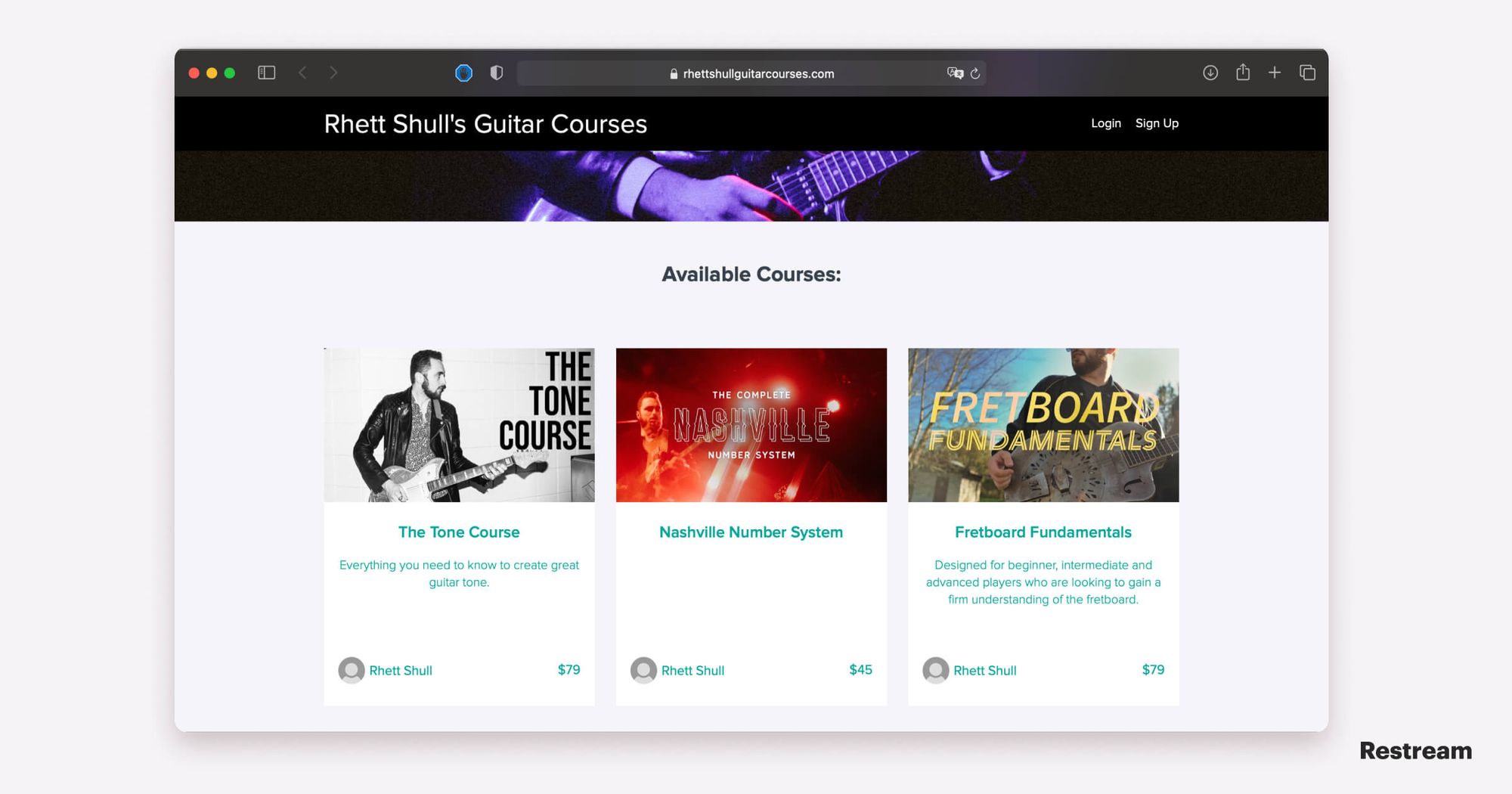 Here's where things get interesting:
Shull sells guitar courses on his website, and you can see what the landing page looks like in the above image. At the top of the page, you can see a trailer for the course, showcasing what you'll be privy to if you choose to purchase it (the purchase button is at the bottom of the page).
The video is hosted with Wistia. No ads pop up, and there are no buttons through which visitors can flush out to YouTube during this high-leverage moment. The content is gated and encourages you to stay on Shull's site, increasing the chances you'll purchase his course.
🤑 Monetize old streams
In addition to selling merch and online courses, you can give a second life to older video content if you set up your e-commerce section correctly.
You can choose to gate specific streams or videos and require visitors to subscribe in order to access them using a platform like Patreon. If you go down that route, make sure to remove this older content from other platforms like YouTube and Facebook.
Case study: a streamer's website in action
One live streamer who has mastered the art of providing and monetizing content on his own website is Ian Anderson Gray. By using live video effectively, Ian helps entrepreneurs increase their authority, impact, and profit. In addition to his blog, he is also the founder of Seriously Social, a resource for live video and social media tools.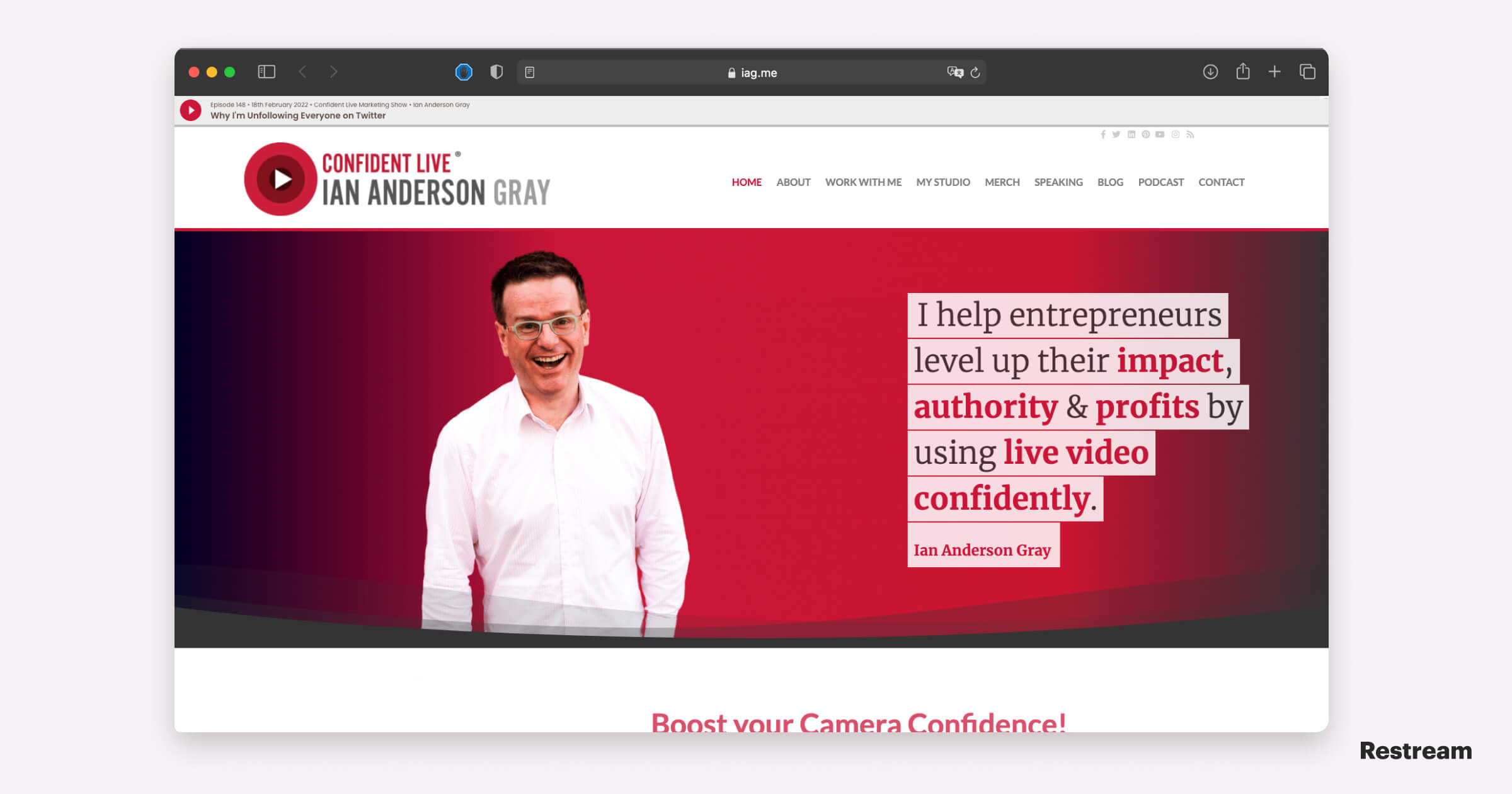 Through his YouTube channel and online learning offering, Confident Live Marketing Academy, Ian has successfully used content to monetize his brand. In fact, the majority of his audience consumes his content on his website.
Multiply your views and engagement
Reach a wider audience by streaming to multiple platforms simultaneously.
Get Started
Closing thoughts
As a streamer, creating your own branded website enables you to highlight your best content, boost your user base, and maximize each of your channels by leading your audiences to a singular point. You can use an awesome website builder with the best marketing tools around to move your website's visitors towards signups and purchases.
Keep ownership and control over your content and your streaming operation with a central dashboard. Post alternative forms of content by repurposing your live stream videos, engage directly with your audience without any restrictions, and build a loyal community of viewers.
Set yourself above the pack and create your very own live streamer website today!